The Nido environment is an integral part of the Montessori Method if you're going to introduce Montessori from the start.
Learning in this type of setting allows infants and toddlers to explore and interact with their surroundings, develop a sense of age-appropriate personal responsibility, and learn at their own pace.
In this article, you'll find out how this particular educational strategy nurtures young, developing minds while allowing them the opportunity for optimal learning opportunities.
So read on as we explore how the Nido environment works.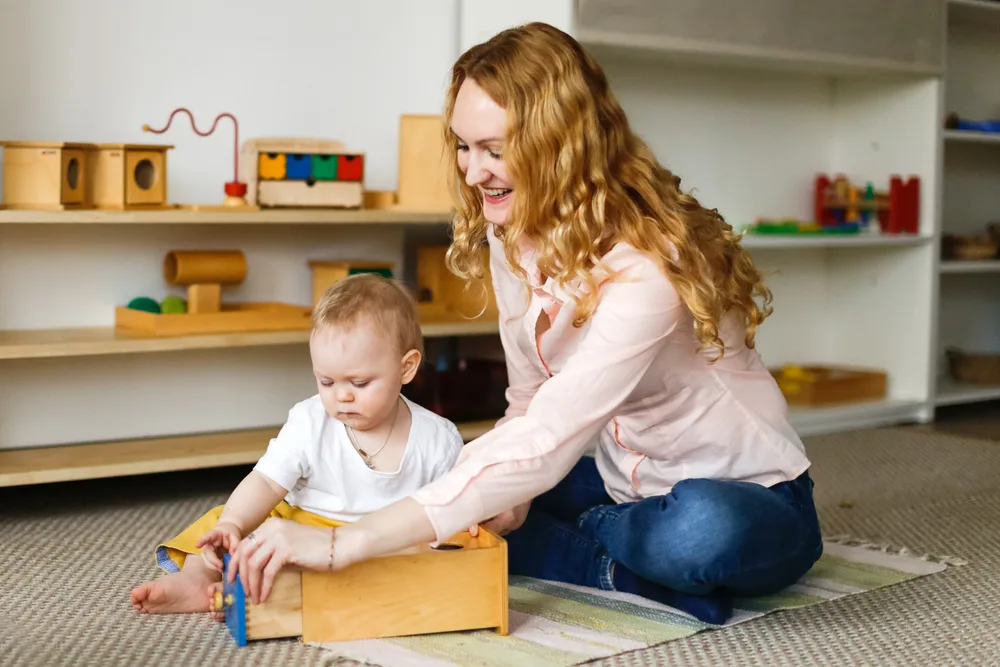 What Does Nido Mean?
Maria Montessori coined the developmental phase known as Nido in Montessori schools to create a safe and nurturing environment for infants to learn and grow.
The term "Nido" is the Italian word for "nest", which captures the essence of comfort and safety -critical to this early learning stage.
Montessori believed that infants needed a relaxing and cozy environment, reminiscent of home to feel loved and secure while exploring new experiences.
The purpose of the Nido program is to facilitate the developmental milestones of infants by providing activities and materials that encourage movement, exploration, and sensory experiences.
What is the Nido Phase of the Montessori Education Program?
Montessori's first Nido phase is for infants from several weeks old until around 16 months of age.
The Nido classroom will be a safe and warm environment where each infant can learn and explore while being guided by trained adults.
In a Nido environment, the child should feel respected for their individuality and given the freedom to explore their interests and develop at their own pace.
Additionally, it is a place where children can begin to learn essential life skills such as feeding themselves and toilet training.
In Montessori, the Nido phase is considered an essential part of the educational journey.
The Nido Classroom
Every Nido Montessori classroom is a carefully crafted environment designed to be a safe, calming, and inviting space for babies to explore.
The setting is characterized by soft furnishing and rugs, rocking chairs and child-sized furniture, accessible low shelving and railings, and baskets filled with a selection of toys.
The decorations are typically muted with gentle, peaceful colors that promote a sense of serenity.
In addition, the classroom is designed to encourage independent movement and promote character building.
With materials that are carefully selected to engage and satisfy a child's curiosity.
Under the watchful eyes of knowledgeable and compassionate caregivers, infants are encouraged to learn and explore at their own pace, with the option to move as freely as they're able to and engage in activities that interest them.
All activities and interactions are carried out in a respectful, patient, and gentle manner, with caregivers trained to be keenly attentive to the needs of the babies.
Each and every baby receives personalized attention with caregivers addressing the infants by name and using language of consent before administering care.
Overall, the Nido classroom is a nurturing space that provides a warm and supportive environment for young learners to grow and develop.
Toys and Learning Materials in the Nido Montessori Classroom
The educational toys and learning materials in the Nido Montessori classroom are designed to uphold the Montessori approach of authentic and meaningful learning experiences for infants and toddlers.
The minimalist approach is incorporated into the selection of toys so that the classroom does not become overwhelming for the students.
Young learners will benefit from the carefully curated materials to enable them to concentrate, solve problems, and experience a feeling of accomplishment.
It is important that the toys available to the children pique their interest, and they can play with them until they feel ready for another activity.
Each toy is selected to promote specific developmental skills we mentioned before such as gross and fine motor skills, sensory development, and cognitive growth.
Montessori-inspired toys include soft stuffed animals for sensory exploration, wooden blocks for stacking and building, shape sorters, color-matching games, and puzzles.
Each toy is presented in an aesthetically pleasing and accessible manner for the children to choose from.
The Montessori Nido Program
Every Montessori school is different and you will see the differences if you visit more than one classroom environment.
Despite this, the Nido program should follow Maria Montessori's curriculum and activities.
Curriculum
The Nido curriculum in Montessori schools for infants and toddlers is carefully designed to cater to the unique needs and developmental stages of each child.
The curriculum focuses on providing a safe and nurturing environment that encourages each individual's infant's development in their own time.
The environment is structured with developmentally appropriate furniture and materials that help infants and toddlers move freely without relying on too much adult assistance.
The curriculum also emphasizes language development, with adults using proper nomenclature to teach children a wide range of vocabulary.
For this age group, the curriculum essentially consists of a solid routine, age-appropriate toys and activities, freedom within limits, and loving, respectful care.
Classroom activities
Nido Montessori classroom activities are designed to meet the natural milestones children develop during their first several months.
These activities aim to promote independence, organization, and coordination.
It increases concentration when learning, encourages their social and emotional development, and cognitive development.
Everyday routines provide the main foundation for this age group, with activities that cater to their needs. These classroom activities include:
Parent Involvement
Often, in a Montessori infant environment, parents and caregivers are invited into the classroom for a few hours a week to learn about child development and how to incorporate Montessori into the home environment.
Overall, the Montessori Nido environment provides an incredibly nurturing and essential learning atmosphere for infants and toddlers.
And as you can see, there is absolutely no focus on academics.
The Nido environment is simply a loving space for infants and young children to explore and develop, pressure-free.
Now you can understand why so many people parents choose the Nido Montessori environment over traditional daycare.
Cheers and don't forget to subscribe!