Everything You Need to Know About the Montessori Method with Babies
Most people think about using the Montessori method when it comes time to put their child in preschool. But you can also use these principles much earlier – starting from the time your baby is born. Let's examine Montessori with babies!
Babywearing and Montessori
Babywearing is a trend that has taken off in recent years. But it's not a new concept at all.
In some cultures, people have been babywearing for thousands of years.

What's the appeal when it comes to wearing your baby in a sling or carrier?

-Your baby might cry less.
-It helps promote a strong bond between parent and child.
-It can provide more stimulating environmental interactions for your baby.
-It opens up their world of learning opportunities.
-It can help your child avoid plagiocephaly, which is also known as flat head syndrome.
-It can help regulate your baby's body temperature and heart rate.

But is babywearing okay from a Montessori viewpoint? There is a split consensus on that.

Some fans of Montessori argue that babywearing restricts a child's movement and independence. But others think that it can help a child learn independence by stimulating their minds and offering new educational opportunities.

I understand the concerns of both sides, but I believe Maria Montessori, the creator of the Montessori method, was fine with babywearing. She addresses the matter in her book, The Absorbent Mind.
She discusses all the different manners mothers use throughout the world to carry their babies with them throughout the day.

"One observes, too, that the little one, going about with his mother, never cries unless he is ill or hurt in some way. Sometimes he may fall asleep, but he does not cry."

She said that modern psychology attributes a child's non-need driven crying to "mental hunger."

"And this is the truth. The child is bored. He is being mentally starved, kept prisoner in a confined space offering nothing but frustration to the exercise of his powers. The only remedy is to release him from solitude and let him join in social life," she wrote.

I take this to mean that Montessori approved of babywearing because of the stimulation and educational opportunities it provides for a baby. It opens up a whole new world to them.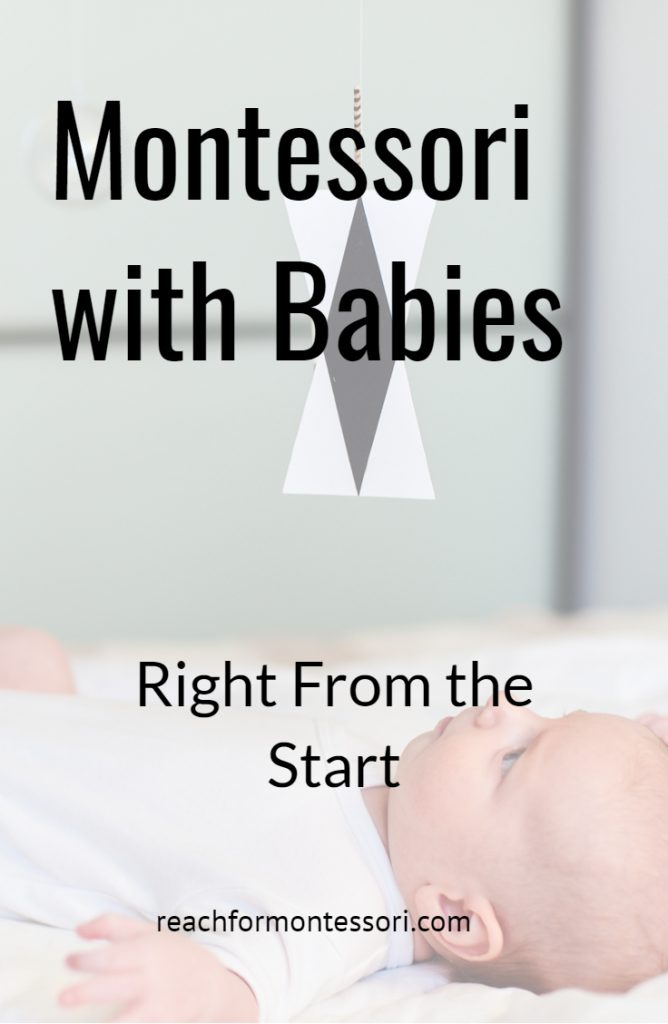 Montessori-Aligned Items for Babies
When shopping for baby gear and toys, there are a lot of Montessori-friendly items for you to consider. You'll want your baby to have toys that promote learning.
Give them a limited selection of toys and let them decide which ones interest them at that moment.

As with all toys, you'll want to make sure the items you select are age-appropriate. That will ensure a safer playing experience – you'll be lessening any choking hazards, which is something you'll always want to be on the lookout for as a parent.

If you're shopping for Montessori toys, keep these things in mind:

-Avoid toys that are solely meant to entertain: Light-up toys that make a lot of noise won't be inspiring for your child. They'll encourage them to sit there and watch rather than explore or learn.
Instead, choose toys that require some sort of action or effort from your baby.

-Look for realistic or educational toys: When looking at stuffed animals, go for ones that actually exist. Pick an animal like a cat or a dog over fictional ones like unicorns.
-Toys like blocks or shape sorters can be a tremendous learning opportunity for children.

Wooden toys:
If you have the choice between wooden or plastic toys, opt for wooden. It's much easier for children to understand that wood comes from trees than it is for them to grasp where plastic comes from.
Plus, wood is more environmentally-friendly and perhaps safer for your child to use.

To help your child have the freedom they need to play with the toys of their choice at any given moment, they shouldn't be placed in bins or other containers children can't reach.
Put them on the floor of your child's nursery so they can always get to them when they want them.
---

Keep in mind that your child doesn't need countless toy options – it's better if there are just a few at a time to choose from. Having a smaller selection will encourage your child to play more fully with a toy and really explore it rather than casting it aside in their haste to get to another.

Order is essential with the Montessori method, just as keeping orderly is crucial for you as an adult who runs a household. Keeping a small selection of toys out at any given time will keep you happy because there won't be a mess on the floor, but it will also help your child have some sense of order in their room.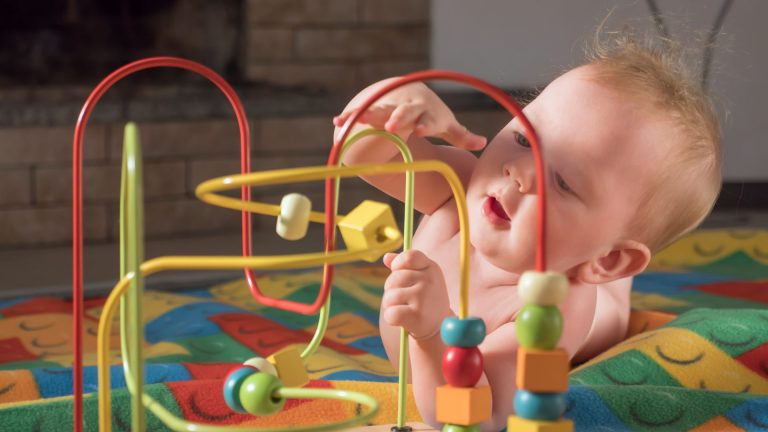 Freedom of Movement
Montessori adheres to the principle of freedom – freedom of choice, education, and movement. Being able to move freely and explore is as vital for babies as it is for toddlers and school-aged children.

To help ensure that your child has freedom of movement, many Montessori advocates encourage the use of a floor bed from the time a child is about two months old. This will allow them the freedom to explore when they want instead of being confined to a crib until their parents decide to take them out of it.

Instead of a Pack 'N Play set up or baby swing in your living room, your baby should have the opportunity to be placed on a blanket on your floor. Then they can control what movements they make.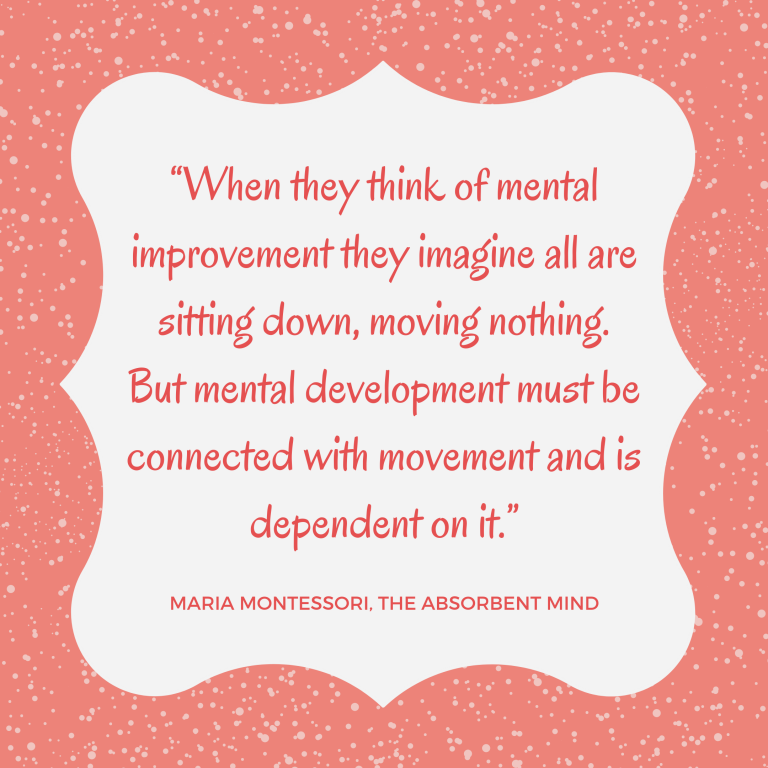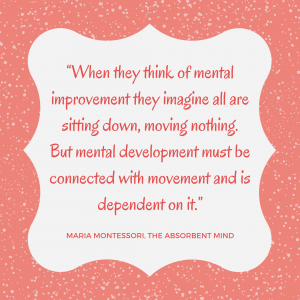 Giving your child a fair share of unstructured time in which they can explore and work on their movements is a good thing, even for babies.

Learning a bit of independence now as a baby will prove invaluable to your child when they start their formal Montessori education. They'll be used to making decisions for themselves and working independently as they try to learn about the world around them.

By honoring their need for freedom, they'll already be fully immersed in the principles of Montessori and leading their own educational efforts by the time their peers are being taught in a highly-structured, teacher-led environment.
Montessori with babies is so simple! It's all about love, respect, and freedom!
Cheers and don't forget to subscribe!