In this article, you will learn why, how, and where you should set up your Montessori playroom. You will also learn how to set up each space, such as art, reading, and gross motor areas.
How to create a Montessori playroom
So, you've got kids and you've got a room. Your idea was for them to actually spend some time playing in this room. (I'm going to suggest turning this space into a Montessori playroom.)
Instead, they follow you around, whine about being bored and begging for snacks. (Or something to this effect.)
It's probably not that their toys are boring or that you are just really, really interesting and make the best snacks. It's more likely that their play space just isn't very appealing.
What you need is a lesson on how to organize a Montessori play room. Having just moved into our fourth (We're not moving for at least another 20 years!) house in two years, I've become somewhat of a playroom organizing expert.
And having three children now (5, 3, and 18 months), I've got some playroom pointers for different age kids.
Now, I'm going to take you on a step-by-step journey on how to organize a playroom!
Where should the playroom be?
The first ingredient you need is a room. If you have the option, pick one that's bright and inviting, with plenty of natural light.
You want your kids to want to go in there and play.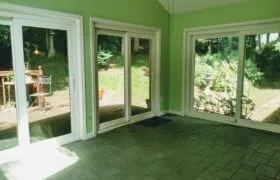 We choose the sunroom for our playroom, for this and many other reasons. In our previous homes, we simply picked the room with the most/biggest windows.
If you don't have a room with large windows, light-colored walls and neutral décor can brighten a room up and really make the toys stand out!
Even painting windows on the wall can create the effect of being able to look out into nature!
Setting up and organizing the room
Next, comes the furniture. Kids enjoy having things just their size.
So, small furniture in their very own playroom is going to make them feel pretty special.
First off, your kids are going to need a place to draw, color, and craft. A child-size table and chairs will do the trick.
(Ikea has some great choices. We've had this green table for a few years, but if I could go back in time, I'd opt for a more neutral-colored, natural material table, like this one. It is a total coincidence that the table set matches the walls, but it does make the table fit in a little better.)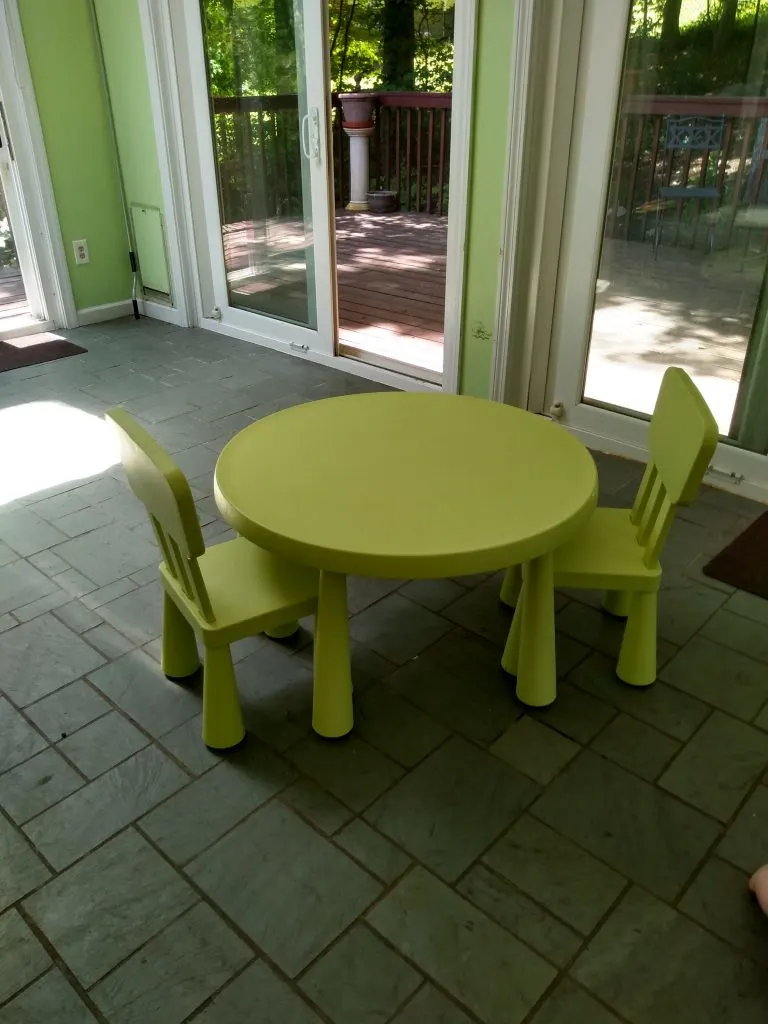 The next thing you'll need is shelving units to hold books and display toys and activities.
My two favorites are the Ikea BESTA shelves and the Ikea Kallax (We don't live close to an Ikea anymore, unfortunately…and also, fortunately.)
Target and Walmart carry similar shelving units, however, for the price, Ikea shelves have stood the test of time…and movers. I can't say the same for Walmart or Target shelving units.
For why you want to use shelves instead of toyboxes, click here!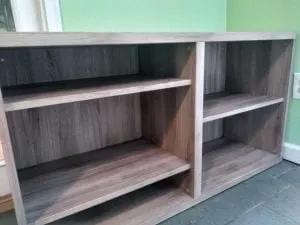 Of course, there is no need to purchase anything new if you are handy with woodworking or if you have a little extra time to look through yard sales, estate sales, and thrift and antique shops!
(If you take nothing else from this article, know that shelving units for toys and activities are the key to figuring out how to organize a playroom!)
So, we've got a child-size table and some shelving units…we're getting there! Next up is a climbing structure.
Indoor climber and reading nook for your Montessori playroom
Children have too much natural physical energy to be expected to sit and play for extended periods of time. They need to climb and jump.
My suggestion for this is a rainbow rocker. Not only will this nifty wooden rocker fulfill your child's need to rock, climb, and jump, but it is beautiful and provides your child with opportunities for open-ended play.
A Pikler Triangle is another popular option for those who have enough open space for your children to work on their gross motor skills.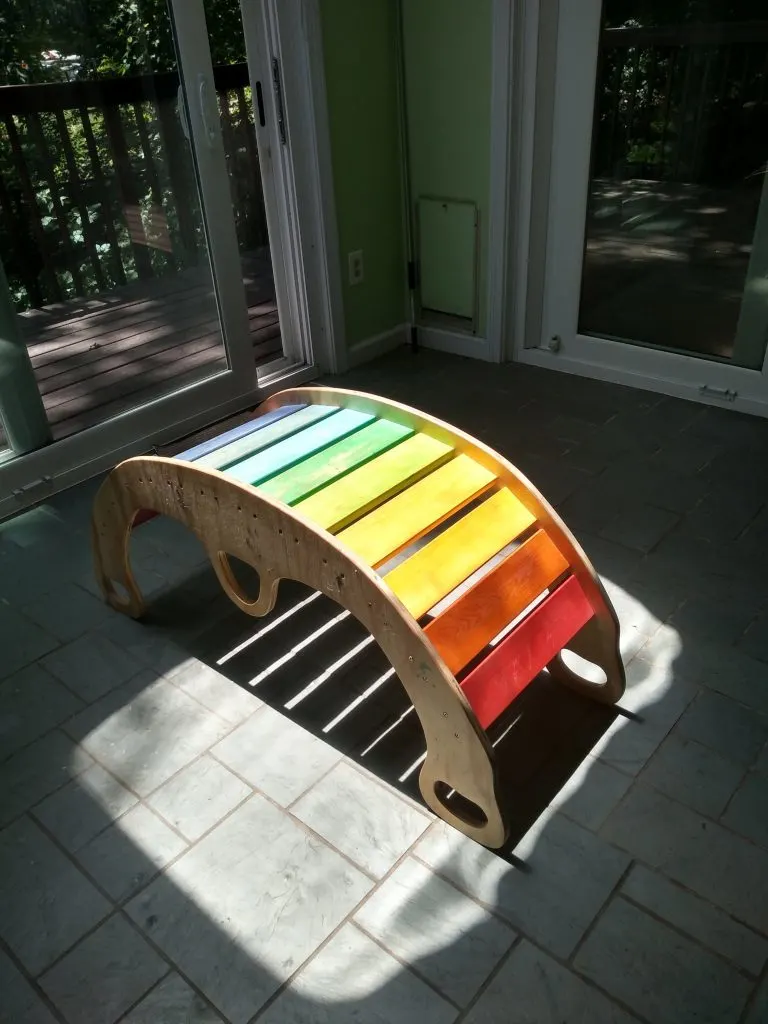 So far, your kids have a place to sit and color (to help build their fine motor skills), shelves to display their toys and hold their books, and a climbing structure for physical activity. Next up is a cozy reading corner!
For your reading corner, you'll want some softer child-size chairs, a lamp, and a basket containing a blanket or two so your child can have some control over their comfort while they flip through their favorite books.
For the reading corner, I suggest the Ikea Poang chairs. Any neutral-colored lamp and small baskets will do.
And, of course, the blankets should be comfortable and small enough for your child to cover themselves. Remember, this room is all about independence!
We've covered all the bases! Now, we just need some plants, rugs, books, and activities!
What toys should I put in the playroom?
The Montessori toys and activities you put on the shelves should reflect your own child's current interests and play schemas.
Right now, our 5-year-old is an avid reader and crafter. So, the reading corner and small tables are where she spends her time, our 3-year-old is heavy into dinosaurs and cars, and our 18 month old currently enjoys the challenge of the coin box and shapes puzzle.
And of course, there are plenty of things they all can enjoy, like Duplos, magnatiles, wooden blocks, threading activities, and the stacking rainbow.
Wooden toys and other items made from natural materials, in neutral colors, are favored in Montessori homes, however, plastic is not altogether banned.
Montessori toy rotation and organization
Now that we've set up our fabulous Montessori playroom, here is where you learn how to organize a playroom while keeping up with your children's interests.
Rotation, rotation, rotation! Rotating your child's toys and activities will keep the shelves enticing while making sure that your child satisfies their current schemas and interests.
I have a wire rack and a wooden cabinet in the laundry/utility area of our home. In our previous houses, we didn't have this space, but closets and bins worked just fine.
Just make sure you put a list in the bin of the contents, so you don't have to dig through things to find the item you are looking for!
How often you rotate toys is going to depend on what you observe your child playing with. No need to operate on a schedule!
If a toy or activity has been left alone for a week or so, switch it out with something else.
Sometimes, I switch unused items with activities related to things my kids are showing interest in and sometimes I re-introduce toys that my kids maybe weren't quite ready for the last time I had them out.
This gives them another shot at the development and mastery of skills.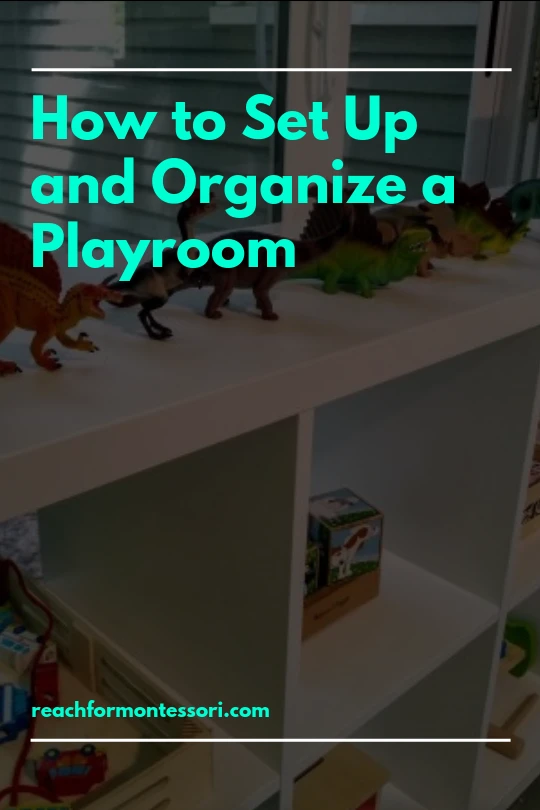 How to declutter a playroom and keep your Montessori playroom organized
Now that you know how to organize a Montessori playroom, you've got the toys and books out, and you've got some items that are now stored and ready for rotation. We're almost there!
Now, for how to keep your playroom tidy and free of clutter.
This part is one that will have you spending a little bit of time in the playroom with your child. There shouldn't be an excess of toys and activities in the playroom, and everything should have its place on the shelf.
So, when you are showing your child a new (New to the shelf, anyway.) toy or activity, you also show them how to put it back in its rightful place when they are finished with it.
"Now that we're finished putting the coins into the slot, let's put the coin box back on the shelf, where we found it.
If you want to keep playing with it, just remove the coins from the drawer and do it again! Let's just be sure we put the coin box away when you are finished."
Teaching your child to care for the neatness of their own special space in the house takes time and patience, but I think you will find that children crave tidiness and order.
Kids are typically calmer and happier in an immediate environment that makes sense to them.
I hope you enjoyed this post and I hope your child enjoys the wonderful playroom you organize for them!
Cheers, and don't forget to subscribe!