In my previous post here, I discussed the importance of Process Art in Montessori and what exactly it is. Here I put together a list of purely process art activities for toddlers and preschoolers.
While boredom isn't bad, some kids don't gravitate towards art as much as others, so you may need to engage them more with some different ideas or mediums. Or maybe you just need to work on cutting skills, so I broke it up by different categories so you can easily find ideas that work for you.
A lot of these activities use things you already have around the house so you don't need to spend any extra money. You can use all sorts of things, just think outside the box!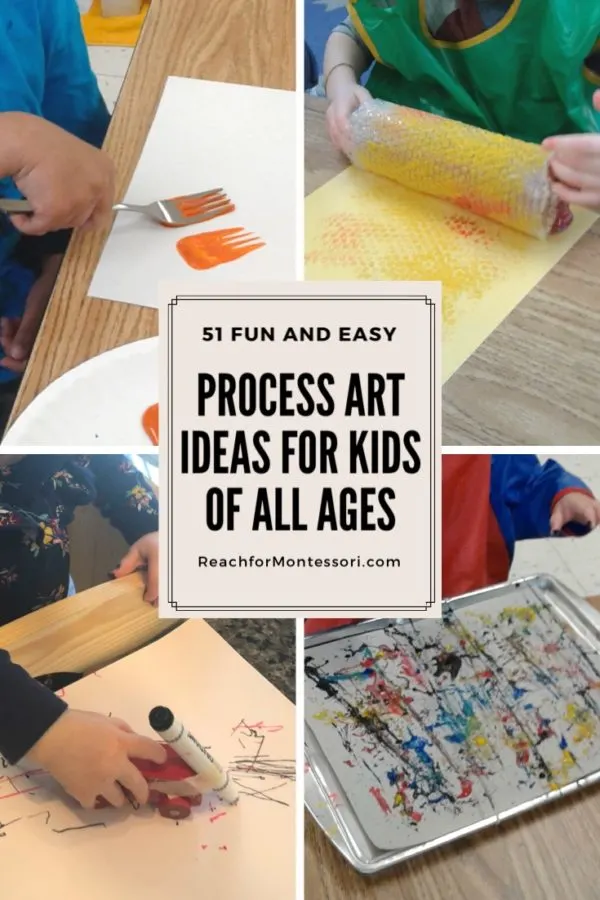 51 Fun and Easy Process Art Activities for Toddlers and Preschoolers
Process Art Ideas Using Crayons/Markers/Colored Pencils
Inside Cardboard Box – Next time you get a delivery with a big box, let the child sit in it and draw!
Drawing With Your Feet – Sit in a chair and try drawing with your toes. Great for gross motor skills.
Driving Cars – Tape markers to the back of toy cars and drive them around on paper. Tip: markers work better than crayons.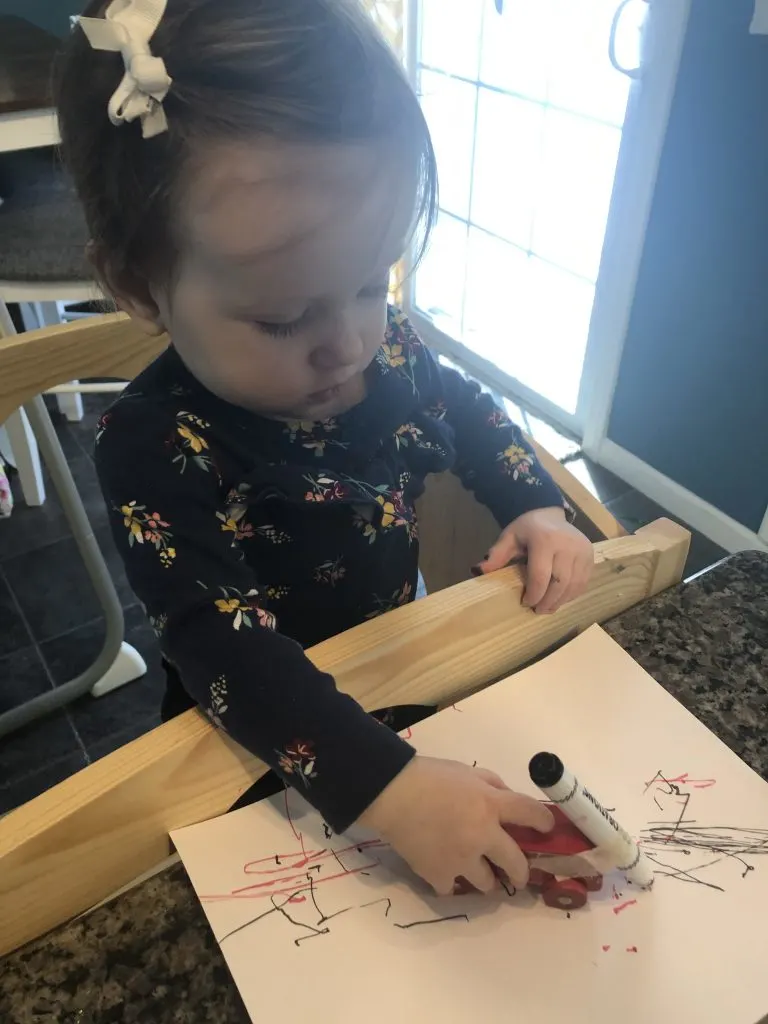 Drawing Under Table – Tape paper underneath a child sized table and let them draw laying down.
Shadow Tracing – Put toys near paper to create shadows and trace the shadows. Then the child can use their imagination to create something from the outlines.
Coffee Filters – Color with washable markers, then spray with water and watch colors change and run. Or squeeze water and food coloring on them using eye droppers.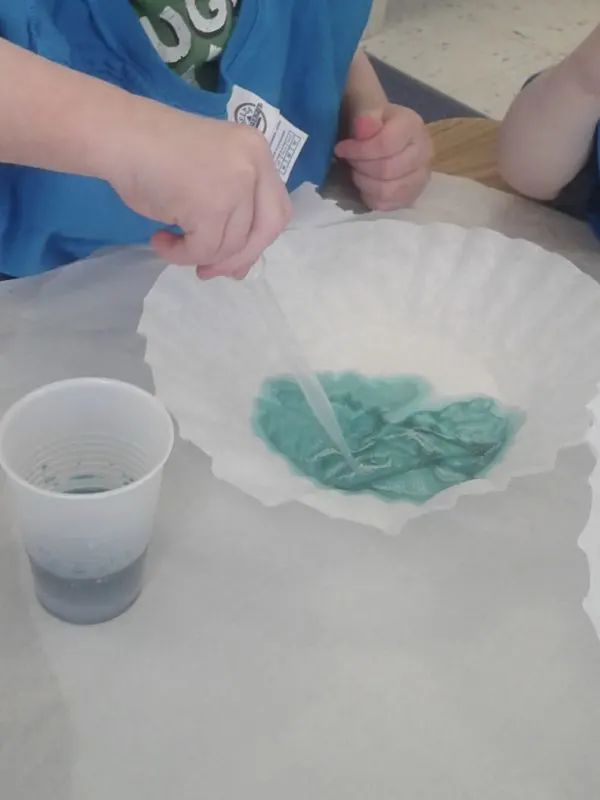 Leaf Crafts – leaf rubbings or paint faces on the leaves.
Googly Eyes – Place eyes on plain paper and let child create something around it.
Stencils – This may not seem too creative, but it can be. Allow your child access to a variety to choose from and they can still create something all their own.
Process Art Ideas Using Paint
Stamping With Kitchen Utensils – Potato masher, plastic forks, dish scrubber, etc.
Stamping With "Junk" – Reuse things like wine corks, bottle caps, the bottom of water/soda bottles and paper towel rolls (which can be bent into shapes or cut up).
Fruit or Vegetable Prints – Cut fruits in half to see seeds, or cut things like potatoes in to different shapes.
Paint Resist – Make patterns using contact paper, tape, glue or a white crayon and then paint over. Tip: The glue and wax tend to come out better with watercolors.
Using toys – Lego stamping, animal prints or driving cars through paint.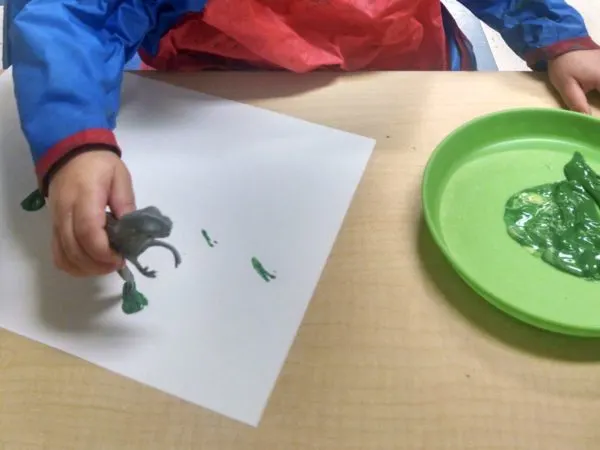 Cooked Spaghetti Paintbrushes – Find instructions here from Fun Littles, these are super fun.
Rubber Band Art – Put rubber bands around a baking tray with a sheet of paper, put paint on the rubber bands, then snap bands.
Splatter/Spill/Squirt Paint – Splatter with paintbrushes, use cups or bowls to spill, or squirt bottles (like condiment bottles). This is fun to do outside where they are free to get really messy!
Painting Nature Objects – Things like pinecones (like Sue's activities here)
Spray Bottle Art – Kids love squeezing water bottles and it's a great fine motor activity! Just be sure to water down the paint so it doesn't clog the nozzle.
Salt – Sprinkle on painting and once dry, shake or scrap the salt off. The salt makes really pretty marks on the paint. One of my favorite process art ideas is combining this with spray bottle and paint resist art!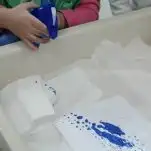 Put It Out In The Rain – Place a watercolor painting out in the rain for a few minutes to see the effects of it on the art.
Bubble Wrap – They can just use pieces to stamp, tape it around their hands OR tape it around a rolling pin (I've used sensory bottles in a pinch!).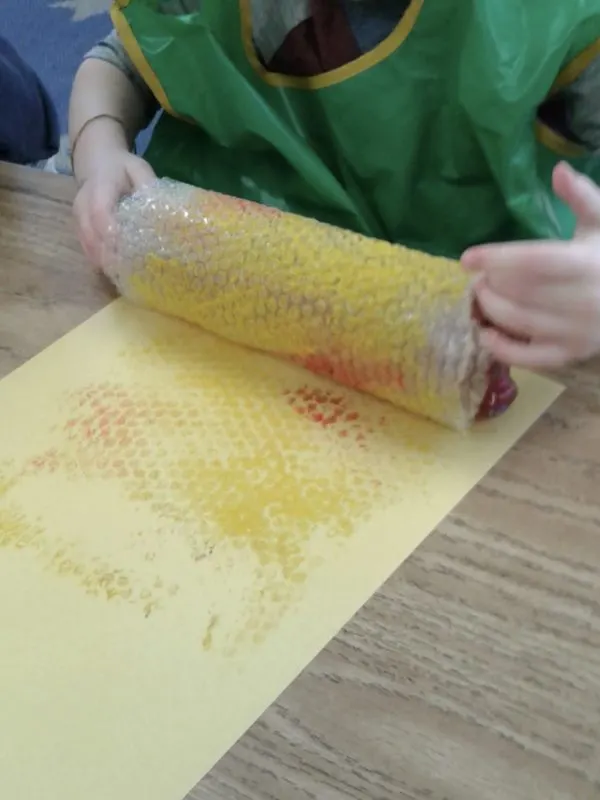 Crumpled Paper Art – Find instructions here at Buggy and Buddy.
Symmetry Paintings – Fold paper in half, paint one side, then fold it over on the paint and press. Then talk about what the painting looks like. I love doing this along side "Little Cloud" and talking about what you can see in the clouds.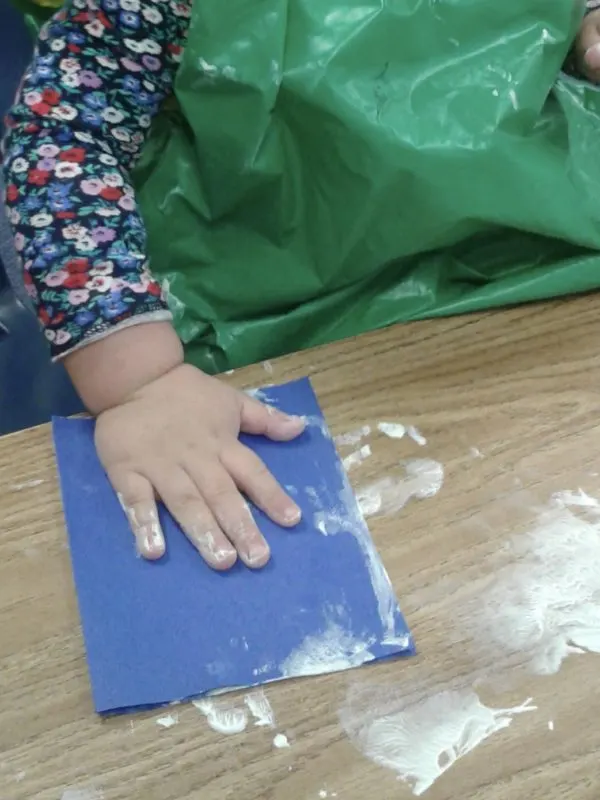 Paper Plate Twisting – Check out instructions here.
Rolling Balls or Marbles – Place paper and paint in a tray and move to roll the balls around in paint. For extra fun, play music to get them moving.
Mess Free – Put paint in a ziploc baggy or place plastic wrap on top, then child smooshes and presses paint around.
Blowing Through Straws – Use straws to blow watered-down paint around on paper (great for oral motor development).
Paint Scraping – Put globs of paint on paper and use a squeegee or old credit card to scrape paint around.
Cutting and Gluing Process Art Activities
Favorite Things Activity – Cut different "favorite" items from magazines and make a collage.
Collage Materials – Let them create anything they'd like using a variety of materials: torn tissue paper, scraps of paper, feathers, yarn, buttons, felt, etc.. You can also have them participate in cutting up the materials for cutting practice.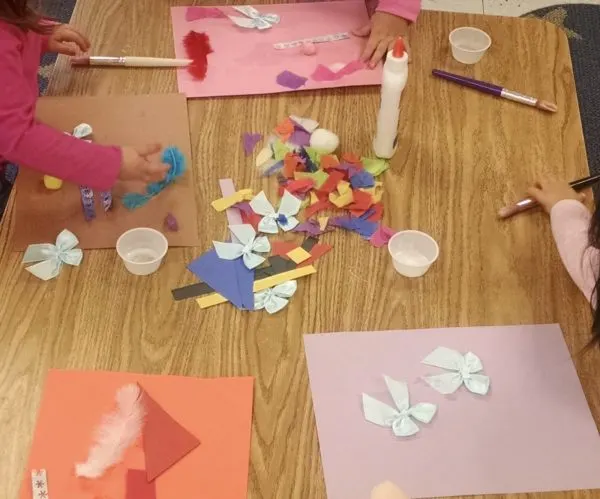 Suncatchers – Mix glue with food coloring in a plastic lid (Note: this takes a long time to fully dry)
Nature Materials Collage – Go on a nature walk and then have them make their own collage or nature scene.
Magazine Cutout Face Collage – Have them choose and cut out the face pieces themselves. You can discuss Picasso while doing this activity.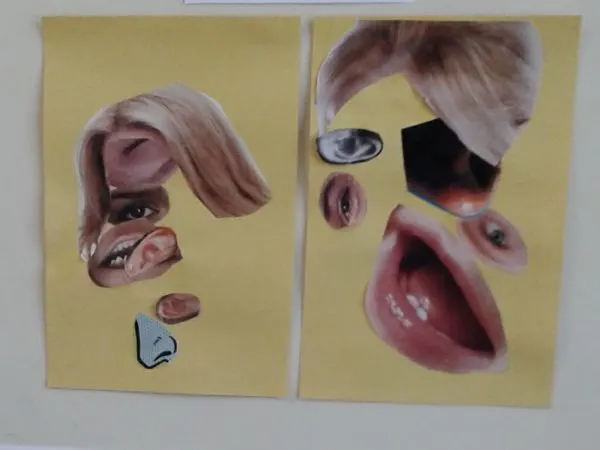 Shapes – Cut different shapes then create something out of it.
Items For Cutting Practice – Play dough, streamers or paper plates. Different textures and thicknesses will help work those cutting skills.
Haircuts – Make a face out of a paper plate and give them a "haircut".
Other Process Art Ideas
Stickers – Sometimes stickers don't seem like a creative outlet, but it is really great for fine motor skills and concentration. They are perfect for a mess-free busy activity too! In the shopping links I included foam shape stickers that will really encourage them to use their imagination.
Contact Paper – Tape contact paper up on wall or table and let them stick torn tissue paper, yarn, or any other collage materials or make sun catchers.
Papier-mâché – Make different sculptures by creating a base and dipping scraps of paper in a mix of glue and water.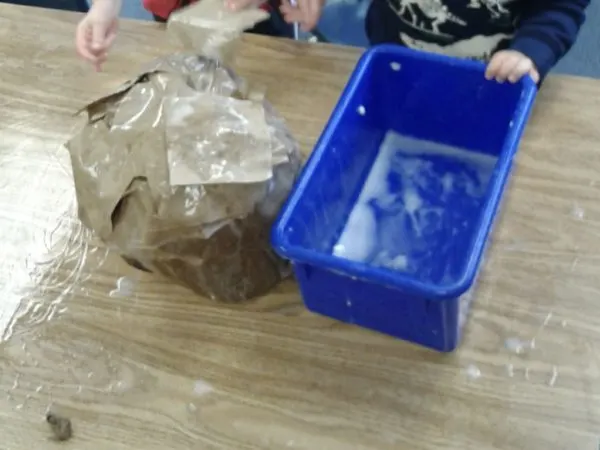 Collaborative and/or Ongoing Art Project – This is one of my favorite process art ideas! Hang a large paper on the wall or easel and let your kids and their friends draw, paint or glue as they wish!
Body Tracing – Trace your child's body then have them decorate using fabric, felt or markers.
A Nesting Box – Check out Sue's instructions here.
Painting With Shaving Cream – Add food coloring to make it colorful. Another fun activity is mixing it in a cooking tray and pressing the paper on top.
Flour and Paint – This makes a cool texture with dimension.
Chalk on Black Construction Paper – Perfect for a rainy day.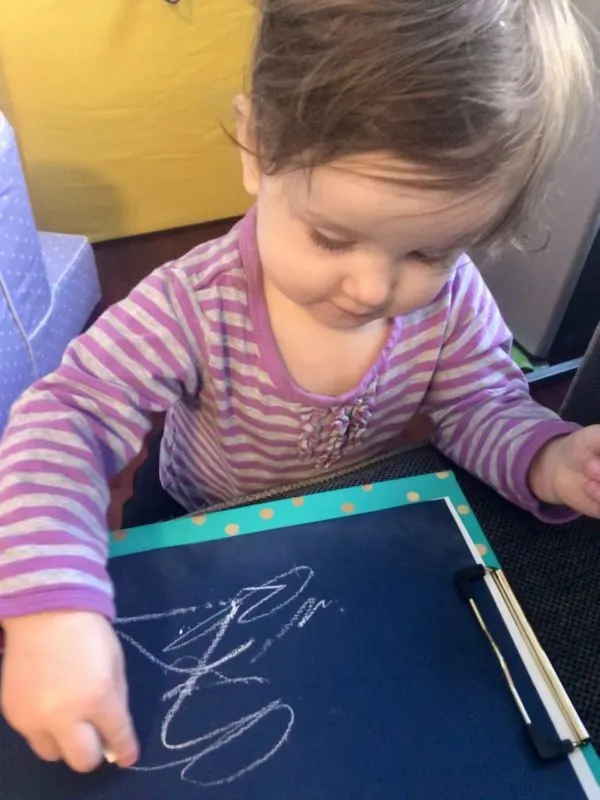 Reuse K-Cups – Check out these fun craft ideas from Happy Hooligans using Keurig K-cups.
Air-Dry Clay – Air-dry clay is great for sculptures. We did a snowman activity for my daughter's first birthday and they all came out so unique to each child. Some didn't make snowmen, but instead made a snow-turkey and a snow-dinosaur!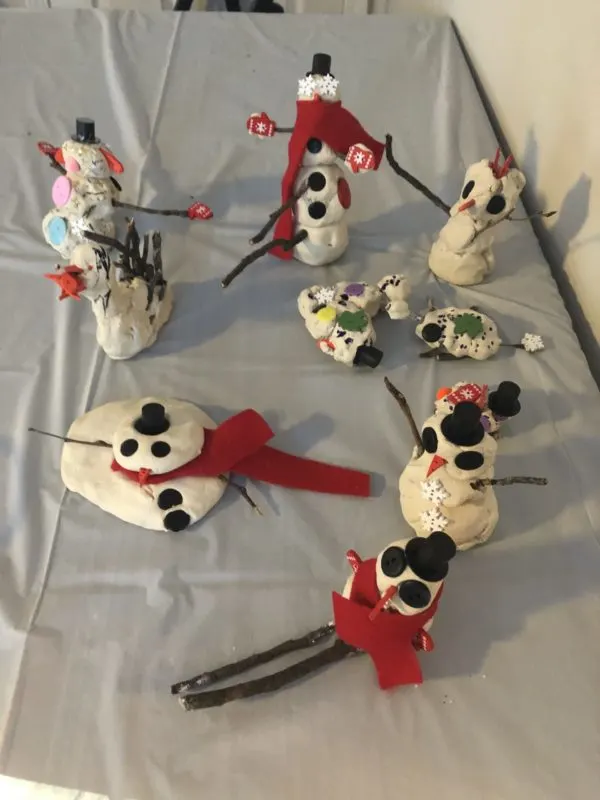 Popsicle Sticks – They can make things like barns or houses.
Ink Dotters – Check out our shopping links for these.
Egg Cartons – Anything from a mobile to animals. There are some amazing ideas from Red Tricycle here.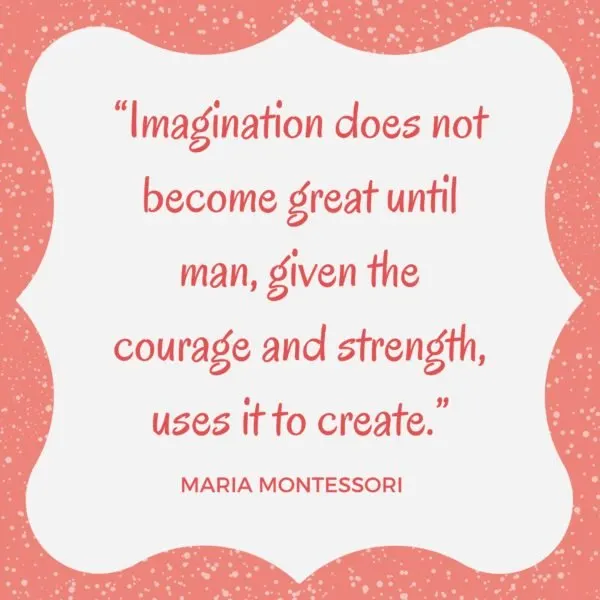 I hope your child enjoys doing these super fun process art ideas and it helps encourage a love of art while developing their fine motor skills and creativity!
Some of these can be good for travel or restaurants as well.
Is there anything I've forgotten that you've done yourself? I'd love to hear your process art ideas!
Cheers and don't forget to subscribe!