The Montessori-Minded Mom has one owner and two regular and beloved contributors.
Meet Sue:
Hello! I'm Sue, the owner of The Montessori-Minded Mom @reachformontessori.com. I am an early childhood education/development enthusiast and Montessori is my absolute passion.
I am credentialed in Montessori education and I hold a nursing degree with several years of both pediatric and adult psychiatric experience.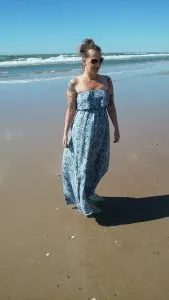 We went full-on Montessori in our house when my first child was about 18 months old and the difference in our home was amazing.
My second child has been Montessori from birth and my third child has had this benefit, as well. You may see some pictures of my children engaged in various activities throughout my website.
My goal is to share the joy Montessori has brought to our home and help you experience the same joy with your own children! Along with Montessori, I also share articles geared toward gentle parenting, which aligns perfectly with Montessori.
---
Meet Melissa:
Melissa Kennedy is a Stay at Home Mother of two amazing girls, ages 2.5 years old and 7 months. She is passionate about child development and has over 15 years of experience working with children in various settings.
Melissa first became fascinated with Maria Montessori while obtaining her CDA (Child Development Associate credential). She implements Dr. Montessori's methods in raising her daughters, peppered in with some other educational theorists, and using Gentle Parenting methods.
She loves being able to share her knowledge with new parents and learning new things from seasoned ones. When she's not trying to come up with new activities for her daughters, she is reading and probably drinking wine
.
---
Meet Theresa:
Dr. Brons holds a B.A. in Psychology, an M.A. in Mathematics, and a Ph.D. in Pure Mathematics. She currently works in data analytics and has teaching experience in the middle school and college years.
She enjoys her amazing nieces and nephews and agrees wholeheartedly that Montessori education is the way forward.
Montessori resources
::DISCLOSURE::
Reachformontessori.com uses affiliate links through Amazon, CJ Affiliates, Awin, and Rakuten at no cost to you. If you click and purchase a product from an affiliate link, I receive a tiny commission. This does not increase the price for you! Thanks so much to anyone who has used an affiliate link to support this site!
Any product recommendations I make are true to my feelings. The majority of my recommendations are for products I have experience with and that I believe would benefit your family.