Maria Montessori believed that children should be allowed freedom of expression and this includes artistic expression. How do you encourage your child to express themselves through art? By allowing them to be creative through Process Art.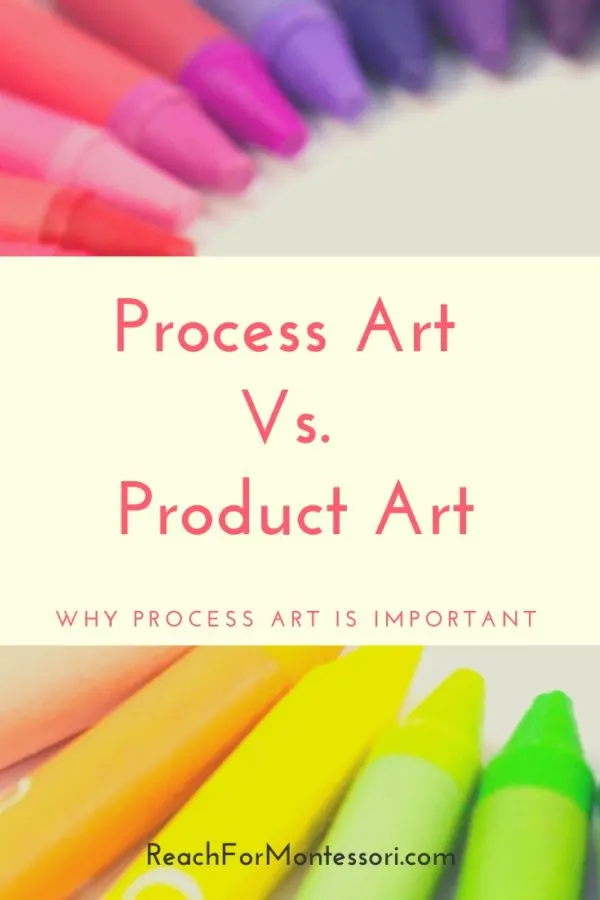 What is Process Art?
Process Art is about the creative process of making the art, and not about the end product. On the other hand, Product Art is doing a project to make a particular end product, with a specific end "look".
The most important characteristics of Process Art are:
There is NO specific way of how it should look.
There is NO right or wrong way to do it.
It is important NOT to correct how/where they draw, glue or paint things.
The finished product is completely the child's own.
It should be an open-ended, enjoyable experience.
What are the Benefits of Process Art?
It's important to understand that art isn't just for fun, it is vital in a child's development for so many reasons:
Self-Confidence and Expression (which will foster emotional intelligence)
Cognitive development (problem solving, cause and effect)
Math and science (counting pieces, experimenting with supplies)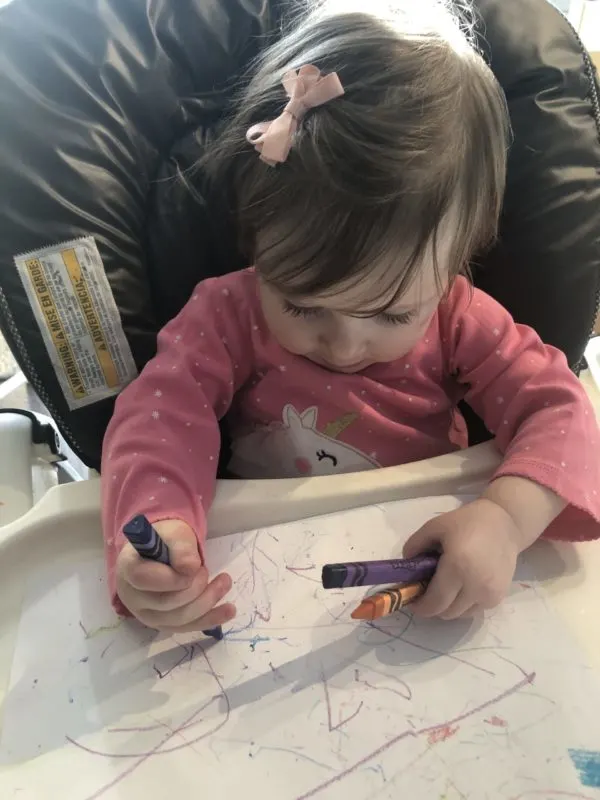 Why Shouldn't We Correct Them?
You may worry that if your child's art doesn't look like the other kids' in their class, that they may be behind in some way and that you should teach them the correct way.
But rest assured that that is absolutely not the case and it is more important to let them do it their way.
Imagine if you're working on a fun, creative project for work or at home that you're putting your heart and soul into.
Maybe you've done some thinking outside of the box, and you're really proud of it.
And even better, while doing the project you learned a few things. Then, a manager or your significant other starts critiquing you.
They tell you everything you did was wrong and that it doesn't look right.
How does that make you feel? Would it motivate you to do it again or would it suppress your desire to be creative?
You may even doubt or forget the things you learned.
While it is sometimes hard not to show a child "the right way" to do things, it's important not to correct them.
Children take joy in creating and not about the end result.
We do not want to become their inner voice doubting themselves.
So, if they put an eye where a mouth "should" be, instead of correcting them say: "what a cool eye!"
Or better yet: don't say a word! Maria Montessori believed that it is best to not interrupt their concentration.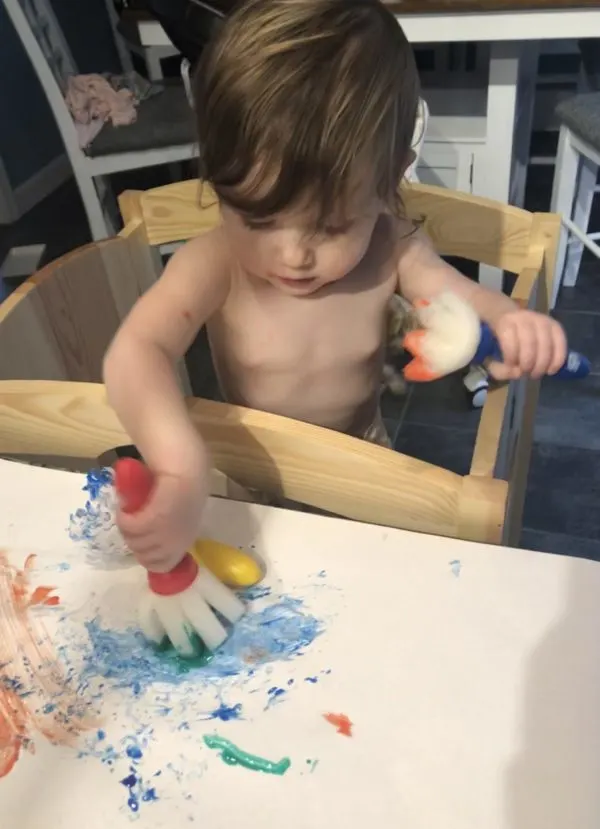 Tips To Encourage Process Art
As always, allow messes! Truly allowing them to explore materials and how they want to work with them will encourage cognitive development and problem-solving skills.
In Montessori fashion, they can help clean up the mess when they're finished.
Discuss their artwork. Ask them about the colors they used or how they made it. For example: "Did you use a paintbrush or your fingers to make this part?"
Give specific, effective praise, such as "You worked so hard cutting these shapes!"
Resist overtaking their art. I've often had children ask me to draw something for them on their paper and I always decline.
I say "this is your artwork," and I encourage them to draw whatever it is they asked me to.
This goes both ways: try not to make requests or suggestions. You'll be pleasantly surprised at what kids can come up with on their own!
While you can have them do projects with different steps, they should not be rigid and restricting.
Try avoiding coloring books or worksheets for the first few years. Read more on this here.
They're capable of taking in the most information while in their first plane of development. So, start doing arts and crafts early!
If they don't seem to like arts and crafts, don't push it, but always have options and try different mediums. They may hate painting, but love gluing or sculptures.
Creating An Art Space to Nurture Creativity and process art
You don't need to have a huge, extensive craft area for it to be functional and inviting. Simply a small table and chairs, like the one pictured below, is perfect.
Make sure supplies are easy to access and age-appropriate. Knowing what your child can handle with little or no supervision is important.
You may prefer to rotate art supplies along with your toy rotations, but plain paper should be available at anytime.
Display their artwork at their eye level. Seeing something they created all on their own builds their confidence and encourages them to create more.
Here are some ideas for supplies. You can find many around the house or check out your local dollar store: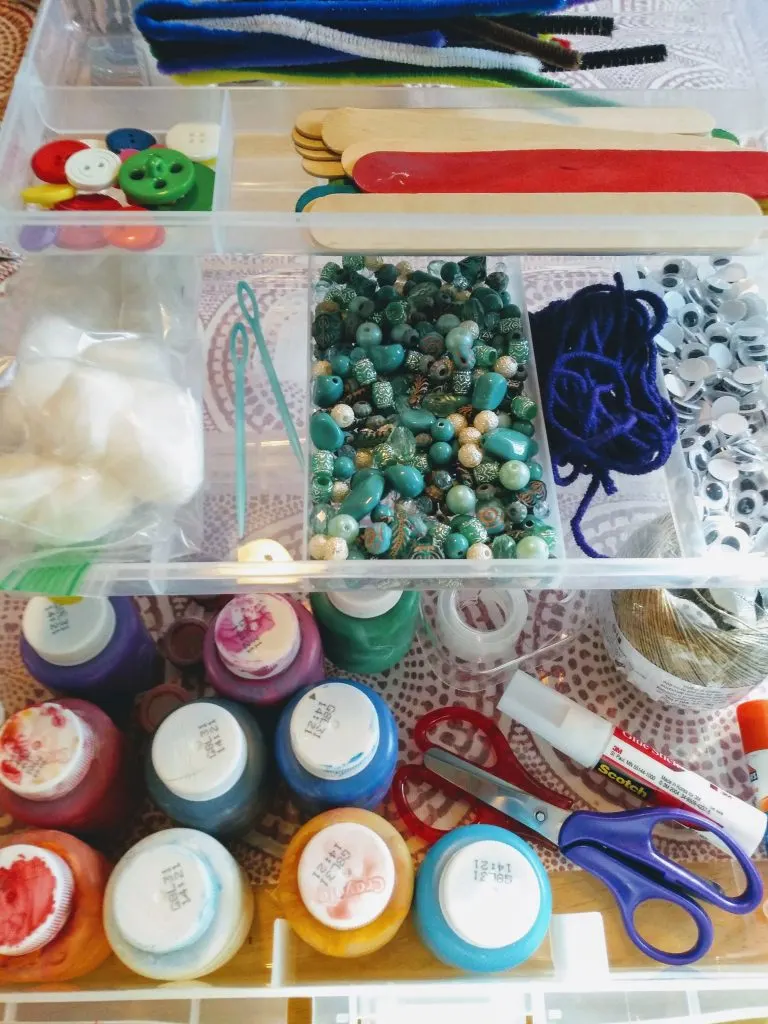 white and construction paper
chalk
modeling clay or play doh
sponges
stamps and ink pads
washable markers, crayons and/or colored pencils
washable paint and paintbrushes
tissue paper
scissors
pieces of fabric
feathers
string
paper plates
magazines and/or newspapers (for collages)
stickers
stuff found in nature
paper towel rolls
bubble wrap
rubber bands
beads
cottonballs and/or cotton swabs
smock
buttons
pipe cleaners
pompoms
glue or glue sticks
wood craft sticks
Please note, some of these are choking hazards and should not be left out for younger children.
Sue has some fun craft activities here as well.
Other Ways To Instill A Love Of Art
There are numerous books that you can introduce to your children at a young age. Check out the links included in this post.
Take trips to your local art museums. Some art museums even have children's programs or events.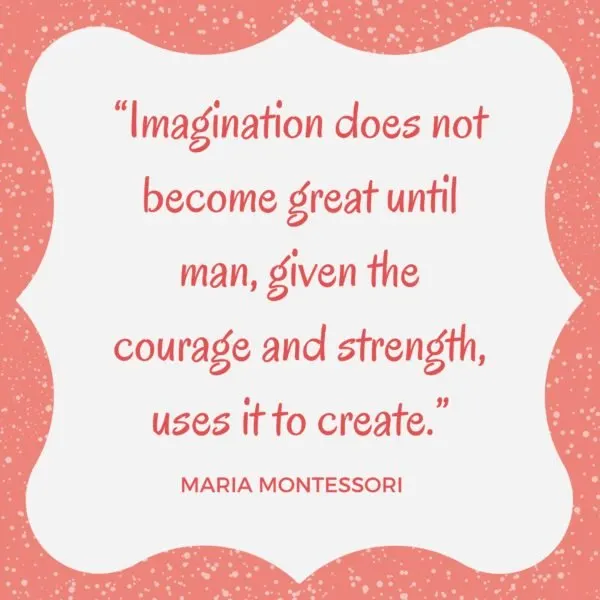 While not every child will have a career in the arts or become a world-renowned artist, every child deserves to be given the space and encouragement to create and express themselves.
As Pablo Picasso said "every child is an artist." Even though it may be hard sometimes, we need to learn to step back and allow our little artists to flourish!
For a list of fun and easy process art ideas check out our post here.