Montessori isn't just for the classroom. In fact, doing Montessori at home is totally possible. It might not be as difficult as you think, either.
Whether you are looking to homeschool the Montessori way or you just want to bring a bit of Montessori into your home life, there are really just 8 things you need to do.
In this article, you will learn how to easily help your home function in a Montessori-aligned fashion.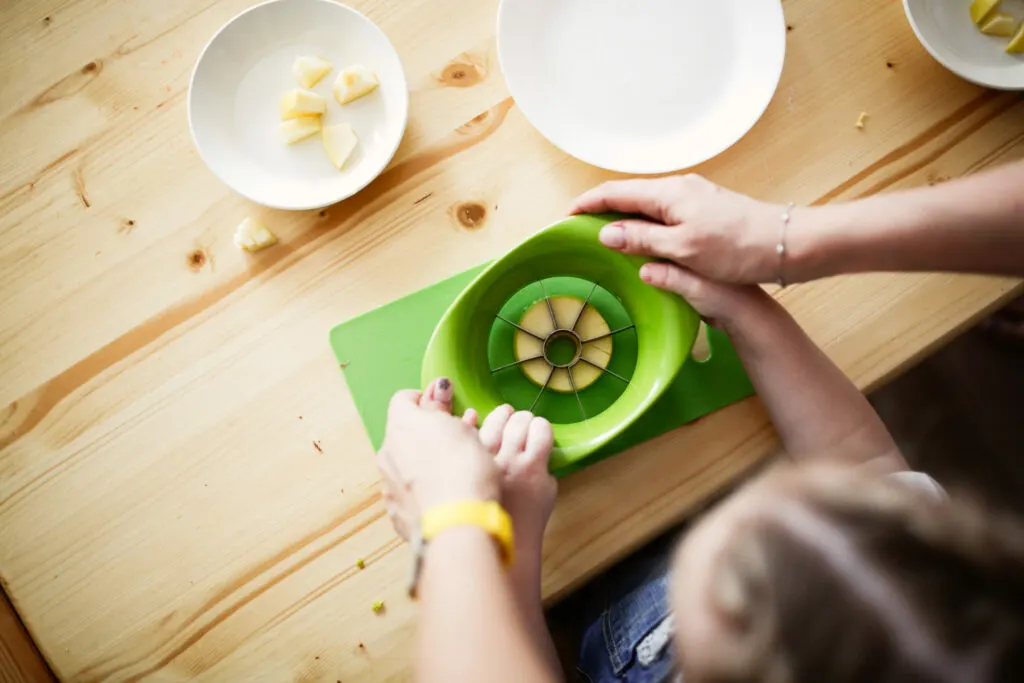 When to start Montessori at home
Montessori can start right from birth, or even earlier. You can begin your Montessori journey the very moment you learn about the Method – there's no need to wait.
And just as it's never too early to start, it's never too late, either. Changing the way you speak and act towards your child, setting up accessible areas of your home, and incorporating hands-on learning can start at any age.
Many Montessori practices are actually used in nursing homes. So, no matter your child's age, now is a great time to start.
How to impliment Montessori at home
1. Parenting
Implementing a Montessori parenting style is the most important item on this list. Without intentional parenting, nothing else on this list will make your home Montessori.
Caregivers in Montessori show children respect and grace. Montessori parenting relies heavily on parents understanding what is developmentally appropriate and meeting the child where they are at.
2. Home Set-Up
Setting up your home the Montessori way means making sure things your child needs for independence are visible and accessible.
For babies and toddlers, yes spaces can be set up in different areas of the home so the child can experience safe and independent exploration.
For preschool-age children, playrooms containing activity display shelves and different areas for gross and fine motor activities
Kitchen helpers, floor beds, and accessible washing stations in bathrooms are just some of the ways parents make their homes Montessori.
For more tips on Montessori home areas:
3. Independence
Allowing independence is important when implementing Montessori at home. When a child has the ability and desire to complete a task on their own, they should be allowed to.
This could mean that when a child shows the desire to button their own jacket, they should be allow to try. If they have difficultly, time should be allotted to show them how to do it successfully.
Caregivers should refrain from hovering and completing tasks for their child when they are not explicitly asked to do so.
Give the child some space so they have the opportunity to experience the joy of success, as well as the frustration and subsequent lessons that come with nonsuccess.
4. Practical Life
Practical Life activities are activities of daily living that children are invited to participate in. In a home setting, caregivers often choose to involve their child in activities that are already set to take place.
Sometimes, though, caregivers set up activities on trays to teach children certain skills in a methodical fashion. The children can then apply the new skill in real ways.
These activities have many benefits, not just the development of new skills. Through these activities, children learn to follow steps, control their body movements, and interact appropriately with their environment.
5. Focus on Motor Skills
Gross motor skills involve the large muscles of the body. Climbing, running, and throwing are some examples of gross motor activities.
Encouraging fross motor development helps children better control their body movements, which is helpful for both academic learning and the development of life skills.
Here are some resources for gross motor development:
Fine motor skills involve the small muscles of the body. Helping children develop fine motor skills is important for the pincer grasp development that is needed for future handwriting.
There is no need to set up elaborate fine motor activities. Plenty of play using Legos or Play-doh is great for fine motor development.
Practical Life Activities (from the previous tip) incorporate both groos and fine motor skills, too!
6. Hands-on Learning
When your child shows interest in learning something, introduce the concept in a hands-on fashion, rather than through rote memorization.
For example, if your child has been counting in sequence or attempting to identify quantities, use items like rasins, beads, or acorns to show them how different quantities look and feel.
7. Read Up
Reading books on Montessori's methods, written by Maria Montessori herself or those familiar with her teachings, is a great way to get insight into the reasoning behind why you are changing up your parenting style and setting up your home a certain way.
When you understand the theory, it can help you identify more ways to make your home life more Montessori.
8. Don't Stress about whether or not you're doing Montessori at home the right way
It's easy to feel overwhelmed when you see the beautiful shelf work and activities people post on social media. Many Montessori parents are able to go above and beyond when it comes to planning and executing activities for their children.
The essence of Montessori isn't high-ticket wooden toys or weekly learning themes – these things aren't Montessori at all, in fact.
If you are respecting your child's developmental needs and facilitating independence wherever possible, you are already doing Montessori at home.
Cheers and don't forget to subscribe! If you are looking for Montessori-aligned parenting advice and/or how to present Montessori materials and activities at home, this is the place to be!