Can Montessori Work in Nursing Homes?
Montessori is not just for children. Not anymore. Montessori in nursing homes is becoming more common.
This may come as a bit of a shock, but Montessori is being used with people of other ages, in particular the oldest and sickest among us. And the results have been life-changing for many residents of nursing homes and long-term care facilities.
Typically when the word "Montessori" comes to mind, so too do visions of little children engaged in learning and playing. You may not immediately think of senior citizens and Montessori in the same context.
For the last twenty years, though, the Montessori approach has been gaining in popularity amongst caregivers in nursing homes and assisted living facilities.
The method has been found to be hugely successful for the elderly and ailing, particularly those suffering from dementia.

Is Montessori for Older Adults?
As you know, Montessori is an educational and developmental approach that was initially designed by Dr. Maria Montessori to be used with young children.
So when considering whether or not Montessori is designed for nursing home residents or elderly people in general, then you could make an argument that it's not.
At least not specifically. That doesn't mean that there aren't aspects of the Montessori approach that can be extended to these populations, though. Let's dig deeper.
Montessori for Dementia
In recent years, Montessori has come to the forefront of alternative dementia treatment. How exactly did this come about?
Well, the concept of using the Montessori approach with dementia patients stems from the idea that these patients, like children, need individualized, sensorial experiences in order to thrive.
Scientific studies conducted over the past two decades have revealed that dementia patients participating in a Montessori program experience less agitation and wandering (two common symptoms of the neurological disease) and become less reliant on medication to control their dementia.
Further research into Montessori and its effects on older adults reveals that it's not just for dementia patients. In fact, it appears that most nursing home residents can benefit from Montessori-style activities and experiences.
Studies show that the approach can result in increased feelings of self-worth, greater levels of engagement, and more communication with staff, family members, and fellow residents.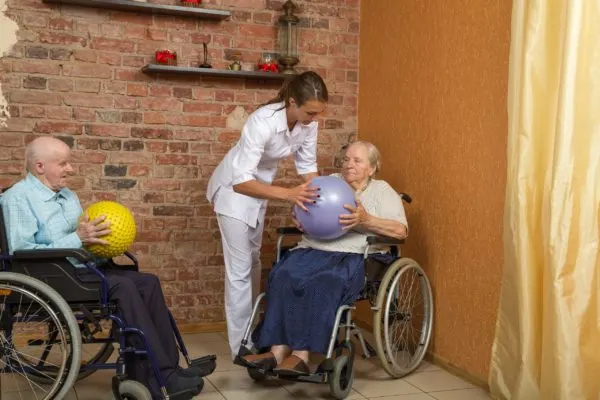 Montessori for the Broader Nursing Home Community
How Does Montessori Work Within the Nursing Home Environment?
Applying the Montessori method to aging adults and those with dementia isn't exactly a seamless transition, but it seems to work.
Although there is some level of adaptation required, many of the core principles of the Montessori approach for children translate well to a nursing home or assisted living environment. These include:
Anyone who has implemented Montessori with children knows that teaching independence is at the core of the approach.
For nursing home residents, though, Montessori is more focused on enabling these individuals to keep the independence they still have.
Dementia patients who are losing motor skills and other major areas of function quickly become dependent on caregivers to perform even the most basic tasks.
Through Montessori-inspired activities that facilitate use of these skills, aging adults can maintain functionality longer and extend their independence.
Dementia not only strips patients of their independence; it can also remove any remnants of a person's dignity as well.
Sufferers of this neurological disease often lose their sense of identity as they struggle to remember how to perform their routine chores, practice self-hygiene, or even recognize the ones they love.
Though it can't remedy these side effects altogether, respect can go a long way towards improving a patient's wellbeing and restoring their sense of self.
Of course, the benefits of a respectful environment can benefit all residents of assisted living and care facilities, not just those with dementia. In a nursing home environment, Montessori caregivers demonstrate respect continually through encouragement, conversation, and even humor.
Restoring Meaning and Purpose to Life
Dementia is a cruel disease that chips away at a patient's sense of self-worth by removing elements of meaning from their lives. Elderly people who were once quite capable find themselves confused and befuddled, seemingly overnight.
There's a ton of anecdotal evidence (and some scientific studies as well) that demonstrate Montessori's ability to restore some sense of purpose to a dementia patient's daily routine.
By crafting activities that appeal to a patient's interests and creating opportunities for them to succeed at a simple task, Montessori caregivers can give those in their charge a sense of accomplishment and renewed confidence.
Disease isn't the only thing that runs rampant in nursing homes and assisted living facilities; for many residents, boredom is the true plague. To address this situation, many well-meaning activity directors plan one-size-fits-all group activities, but these often fail to stimulate many residents.
Montessori activities, on the other hand, are tailored toward the individual and are offered rather than forced. Within a prepared environment, Montessori caregivers rotate materials such as puzzles, books, and games to keep things interesting.
Thus, in a nursing home setting that utilizes a Montessori approach, you're much more likely to hear gleeful laughter and excited banter rather than the grim silence typically associated with these types of facilities.
Montessori's ability to restore joy into the lives of older adults and those suffering from dementia is perhaps one of the most uplifting aspects of this approach to long-term care.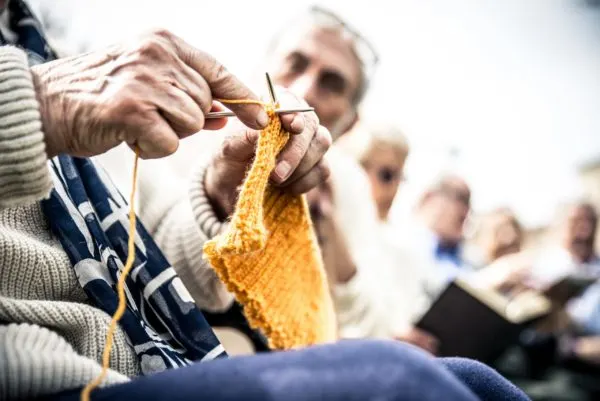 Montessori In Nursing Homes: The Takeaway
No matter what your personal circumstances, the success stories about Montessori in nursing homes are both exciting and encouraging. Perhaps you have a relative in a care facility who could benefit from this Montessori-inspired patient centered care approach.
Given the large amount of promising research, it's certainly worth considering.
Even if the information isn't personally relevant at the moment, it's still validating to know that the pedagogy has far-reaching implications beyond childcare and early education.
In a way, it solidifies the Montessori method as a developmental tool that's not just for children, but for humanity as a whole!
What are your thoughts and experiences regarding Montessori for older adults and those with dementia?
Cheers and don't forget to subscribe!