Are you looking for the best Pikler Triangle for your baby, toddler, or preschooler? If so, you've come to the right place.
There are so many Pikler Triangle options on the market these days and it can be overwhelming to try to pick out the one that's best for your child.

I decided to help my readers out a bit and go over some important information to consider before purchasing one of these awesome Montessori climbing toys.

Here, you find out when you should introduce a Pikler Triangle, the benefits of a Montessori climbing triangle, and safety considerations.
You'll also find out the best 9 brands of Pikler Triangles on the market.
Let's get right to it and find out which Pikler is right for you.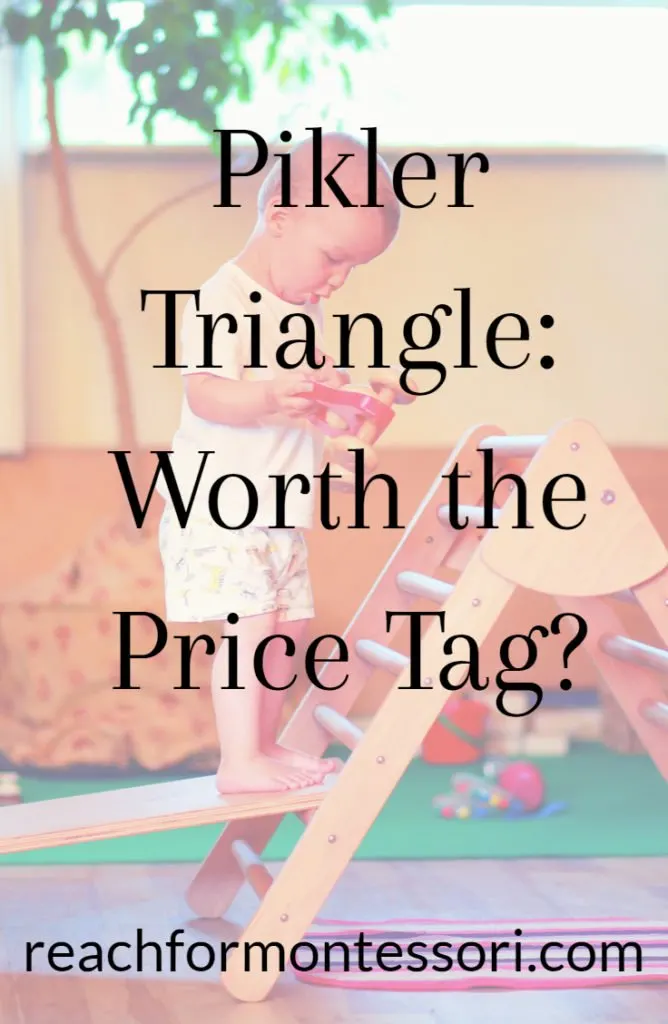 (This post contains affiliate links. Purchasing from these links costs you nothing extra, but helps with our website upkeep.)
What Is a Pikler Triangle?

Pikler triangles are a toddler climbing toy that has been trending for the last few years.

They were originally designed by Dr. Emmi Pikler over 100 years ago and only recently began gaining popularity because of the benefits they offer toddlers for the development of gross motor skills.
Benefits of Pikler Triangles for Babies and Kids
Pikler triangle provides many benefits to our children, some of these are:
Proprioception
Confidence
Balance
Benefits associated with risky play
Pikler Triangles also give children opportunities for gross motor imaginative play.
Is it safe for toddler climbing?
A Pikler triangle is considered safe by the majority of Montessori parents.
Looking at these climbing triangles for the first time might scare new parents, though.
After all, there is a chance that a baby could bump their chin on the climbing dowels or get themselves in a situation when they are higher up on the triangle and fall.
Many caregivers choose to put a soft rug or a foam mat underneath the triangle to mitigate these risks.

With toddlers and babies, you'll always want to supervise gross motor play – and this goes for the Pikler, as well.
Overall, though, the Pikler is considered a safe toy.
What is the best age to introduce a Pikler Climbing Triangle?
Pikler triangles are great for toddlers and preschoolers, but they can actually be introduced as early as 6 months.
Depending on your baby's development, they may use the triangle to start pulling up to a standing position and may even attempt to climb.

Obviously, younger ages will require closer proximity to an adult so you may want to sit on the floor near your baby while they play.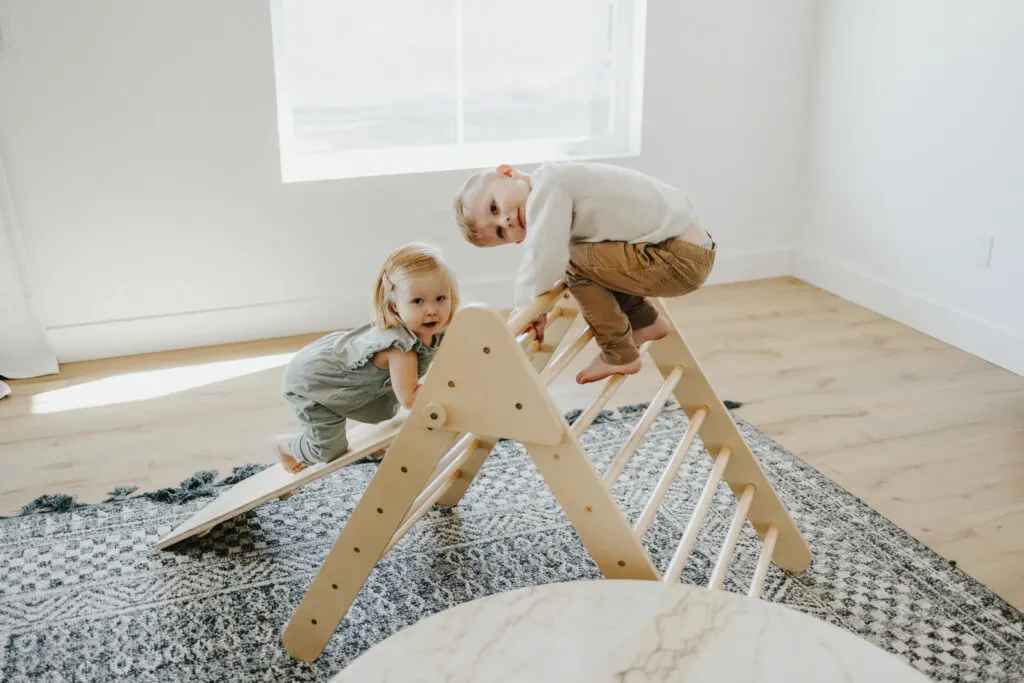 Is a Pikler Triangle Montessori Approved?
Before I answer this one, It is important to note that there is actually no such thing as a "Montessori toy", only items that are aligned with the philosophy. Dr. Montessori.
The Montessori Philosophy is based upon the idea of letting the child develop in a natural way through freedom of movement and exploration.

In Montessori institutions, a child is allowed to explore and learn from different activities, including gross motor and Practical Life.

A Pikler triangle is made of natural materials and encourages development, which means that it lines up quite nicely with Dr. Montessori's philosophy.
So although the Pikler triangle isn't officially considered "Montessori," it is one of the popular "Montessori toys" being purchased today.
How is a Pikler different from other toddler climbing toys?
Most climbing toys are intended for older children which means they are often difficult for little ones to use.
The spacing on the "steps" and the size of the handgrips on most climbers just isn't conducive for little hands and feet.

However, there are a couple of other toddler climbers on the market that are worth mentioning.
Below, I've listed the most popular alternatives and given a quick overview of how they compare to the Pikler Triangle.
A nugget is basically a foam couch that can be transformed into a toddler climber and it's also extremely pricey and notoriously difficult to get your hands on.

However, the idea of the Nugget has been around for a long time. Basically, it's just a convertible climber made of foam.
Pikler Triangle vs Rocker
A rocker is actually another toy that's focused on toddler development. It's also nicely aligned with Montessori standards.

A rocker is a great option for both creative play and climbing because it can be flipped over and used as an arch. However, it does have its disadvantages.

For starters, it's a bit of a space hog – rockers just don't fold.
Many Pikler Triangles models have the ability to be folded and stored easily.

Also, rockers are a slightly more dangerous option for little ones (especially if they have older siblings).
If you have the budget and the room, though, you may actually want to consider a combo unit that comes with both the triangle and the arch.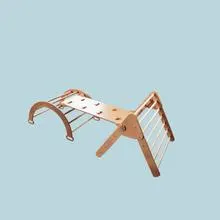 Is a Pikler triangle worth the investment?

It's hard for any one person to tell you whether or not you will feel like a specific item is worth the investment.
But what I can tell you is that we love our triangle and If I had it to do all over again, I would purchase another one without a doubt.

So if you value independence and free play while simultaneously helping your child's brain and body develop new skills… the YES! It's 100% worth the investment.

The best Pikler Triangles – top hand-crafted picks
Piccalio has some beautiful and eco-friendly Montessori-aligned gross motor toys in their shop.
This Pikler is called the "Mini Climber", however, its specifications are actually standard-size.
This climbing triangle is well-made, highly rated, and is one of the safest Montessori climbers on the market.
| | |
| --- | --- |
| Product Details and Measurements | |
| Measurements: 30.5"H x 27.5"W x 36.5?D | Weight Limit: 132 lbs |
| Dimensions when Folded: 35.5 in H x 27.5 in W x 6″ D | Safety: Exceeds ASTM, U.S. CPSC safety standards |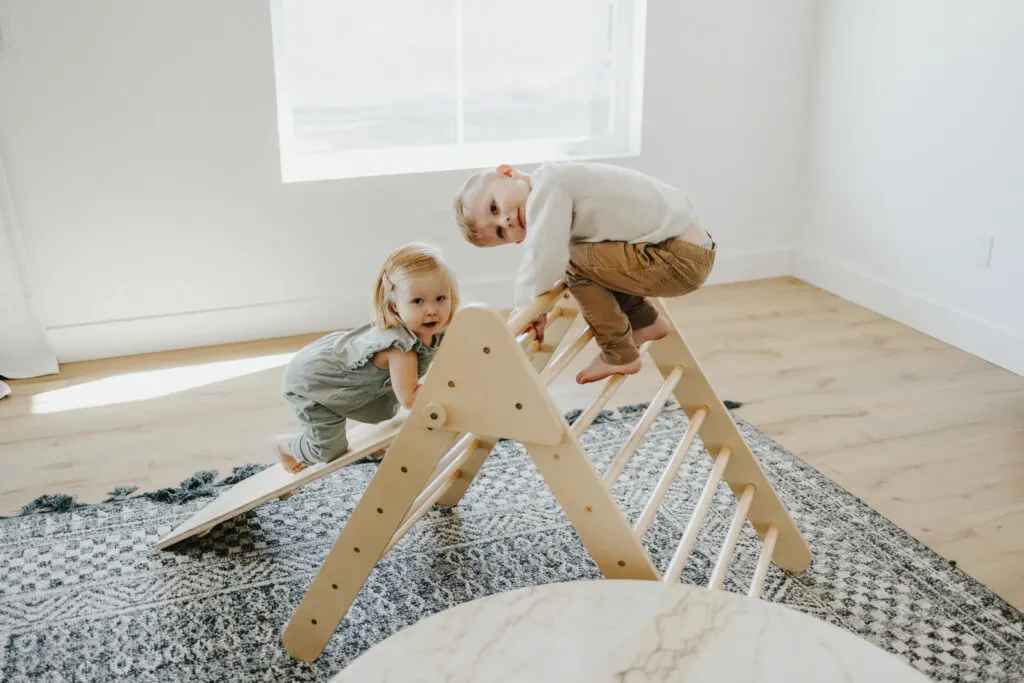 Lily & River Pikler Triangle
Lily & River has a wonderful selection of gross motor toys available, including their popular climbing triangle.
| | |
| --- | --- |
| Product Details and Measurements | |
| Measurements: 31.5″W x 31.5″D x 24″H | Weight Limit: 90 lbs |
| Dimensions when Folded: 31.5″W x 6.75″D x 28″H | Safety: Made with Sturdy birch wood |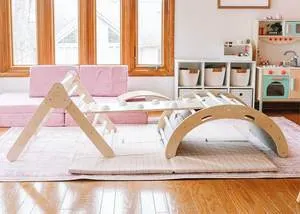 This is a fun Pikler-like set. It has a variety of different configuration options and allows for lots of imaginative play.
The dimensions of the PlayBox Set depend on the configuration you choose.
Montessori Climber has one of the sturdiest and most popular Montessori climbers on the market.
This company also offers a ramp/slide and a climbing dome that attaches.
| | |
| --- | --- |
| Product Details and Measurements | |
| Measurements: 31.8″H x 34.6″W | Weight Limit: 125 lbs |
| Dimensions when Folded: 35″H x 34.6″W x 7″D | Safety: Locks closed when folded |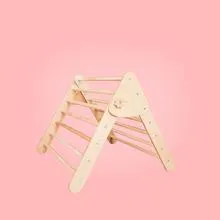 Pikler Triangles on Amazon
There are so many choices available today that it can be hard to choose exactly which one to purchase.
Amazon makes finding (and ordering) the best Pikler triangle easy, though.
If you're not invested in getting your child a handmade Pikler, Amazon has some great choices.
Best folding Triangle Option
If you need the convenience of storing away your Climber, then this is probably the best choice for you.
The Costzon has been around for a while and is highly rated and trustworthy.
| | |
| --- | --- |
| Product Details and Measurements | |
| Measurements: 48″L x 28″W x 43.5″H | Weight Limit: 132lbs |
| Dimensions when folded: 28″L x 7.5″W x 47″H | Safety: ASTM Certified |
Best Pikler and Arch combo unit
Even though this Pikler is on Amazon, it's made by small business owners.
It comes with everything you see in the picture, including the triangle itself, the ramp, and the arch.
This is a fantastic deal for a combo unit.
| | |
| --- | --- |
| Product Details and Dimensions | |
| Triangle Measurements: 31.9″H x 30.2″W x 34.3″L | Weight Limit: 132lbs |
| Arch Measurements: 18.5″H x 20.2″W x 38.1″L | Safety: CE and CPC certified |
Best Transformable Pickler Unit
Now this one is pretty neat. It's very customizable and can be used for endless imaginative play opportunities.
I did not include the measurement because, just like with the PlayBox Set, the measurements depend on the configuration you use.
Best Pikler Trigles on Esty
Esty is a great place to find Piklers. And the best part about getting your Pikler Triangle from Etsy is that you are supporting small businesses.
It's a win-win for everyone!
Woodland Hearts has a 3-in-1 Pikler Triangle that is also foldable.
Baby Street Fun has a colorful take on the classic Pikler that is highly rated and quite affordable.
Does your child enjoy climbing?
Cheers and don't forget to subscribe!