If you are wondering which Montessori climbing toy is right for your child – Pikler triangle vs Nugget – then you've come to the right place.
Both of these gross motor toys are popular in Montessori homes and they're both great choices.
Each has its own benefits and drawbacks, however, and it's important to know what those are before making such a major purchase.
In this article, I lay out the main differences between Piklers and Nuggets (and similar foam play couches).
I will also go over some major considerations for those trying to choose between these 2 items.
Let's get to it.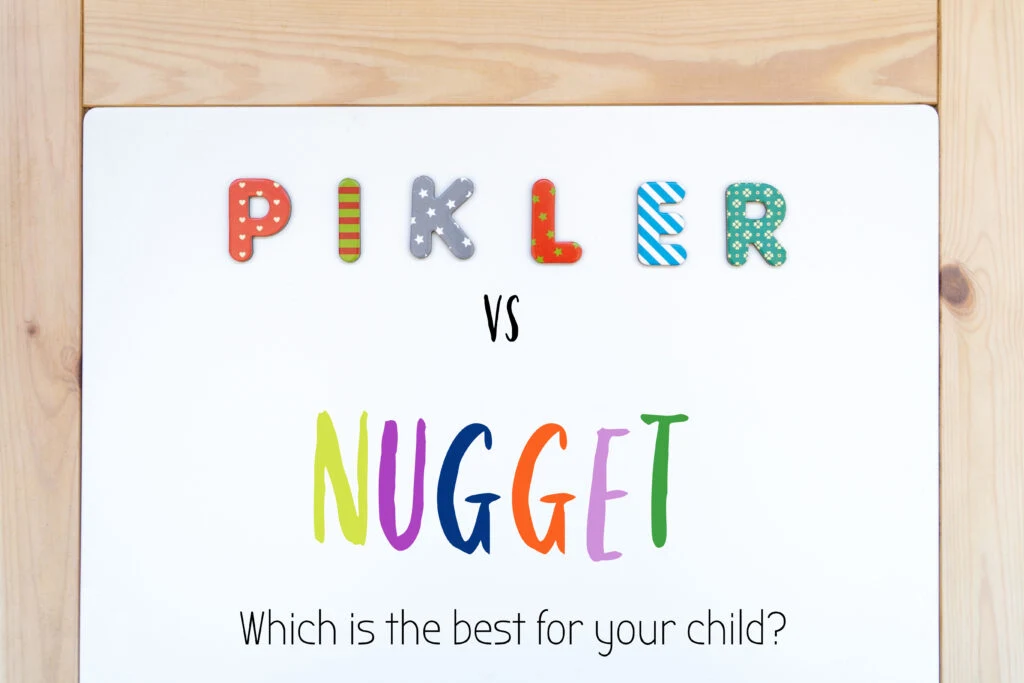 (This post contains affiliate links. Purchasing from these links costs you nothing extra, but helps with our website upkeep.)
What is the difference between a Pikler triangle and a Nugget couch?
Before we compare the Pikler triangle and the Nugget couch let's briefly go over what each of these items is.
These are 2 very different play items that are used by young children in completely different ways.
Many families own both of these gross motor toys and are happy with that choice. Afterall, they serve different purposes to some extent.
For many families, however, buying 2 large toys that cost well over $100 each simply isn't in the budget.
A Pikler traingle is a wooden climbing toy. It has a wooden frame in the shape of a triangle and a series on dowels on each side.
It was designed and built by the Hungarian childhood expert, Dr. Emmi Pikler.
Below is an example of a typical Pikler triangle. This one is made by Piccalio.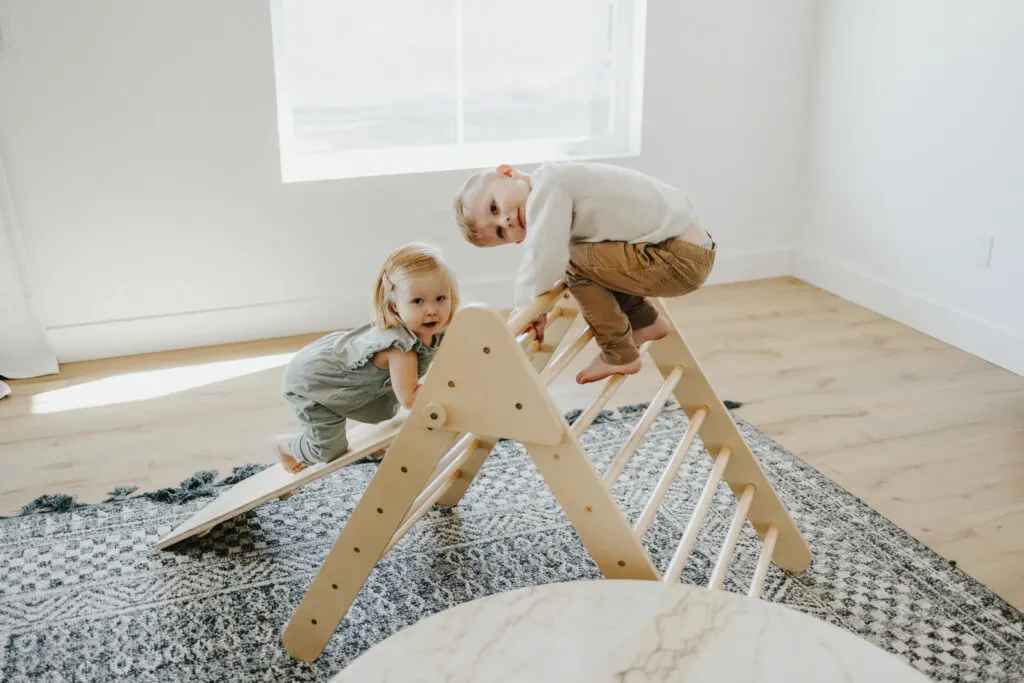 A Nugget is a foam play couch that was invented in the 2010's as a reimagining of the college dorm couch.
It's very popular with Montessori and Waldorf families.
There are plenty of different manufacturers of foam play couches that are similar to the Nugget.
Below is an example of a Nugget-style couch.
The main differences between the Pikler triangle and the Nugget are the materials with wich they are made, the space they consume within a play space, and their function.
Piklers are almost always made of solid wood, whereas Nugget-style couches are made of soft foam that's covered in cloth.
Nugget couches are lower to the ground, but take up more floor space when configured into a proper couch. Piklers are smaller overall.
Both Pikler triangles and Nuggets can be used for climbing, however, Nugget-type couches can be used for relaxing, heavy work, and stacking, as well.
Pikler triangle vs Nugget – which is right for your child?
There's a lot to consider in the Pikler triangle vs Nugget decision. Here are some Pikler & Nugget facts to help you pick which one to get for your child.
Cost
Both Piklers triangles and Nuggets are fairly expensive, and with the add-ons and customizations for each one of these toys, things can really add up.
Piklers cost around $200 for the basic structure and around $350 for a set that includes a slide/climbing wall.
Nugget play couches run about $250 for basic colors and a bit more for ones with covers that have patterns or designs.
Space
If your child has a small-ish playroom, the size of the climbing toy you purchase will factor into your decision.
Nugget
Nugget couches measure 66″ (5.5 ft ) in length and 33″ (2.75 ft) deep. Other foam play couches, like the Fort come in smaller sizes, however.
The Fort measures 26″ deep and each couch block varies in length from 13″ to 26″.
Pikler
Pikler triangles come in different dimensions. In general, though, they measure about 2.5′ x 2.5′ and are about 3′ tall.
With add ons like slides, more space will be consumed, of course.
Many Piklers are collapsable for storage.
Safety
Both the Pikler triangle and the Nugget couch are considered safe by most parents and are welcomed into the homes of even the most cautious caregivers.
Both of these structured are even considered safe enough to be included in children's "yes spaces".
Nuggets are often chosen over Pikler triangles in homes with very young babies, however.
Some parents are concerned that their little one will climb up the rungs of the Pikler and fall or have one of their legs slide through – and this can happen.
How parents mitigate this risk is by placing a thick, soft rug or a foam mat underneath the Pikler.
Sustainability
As I mentioned before, Piklers are made from wood. Though we should always be aware of the impact our purchases have on our planet, wood is a renewable resource.
Nuggets and other foam play couches are made with polyurethane foam, which is recyclable.
This type of foam is expensive to recycle and often does not make it to a recycling center, though.
Function
Both the Pikler triangle and the Nugget are great for kids who like to climb. There are differences in the full functions of both of these toys, however.
The Pikler can be used for some imaginative play – moreso when accessories like a slide and play arch are purchased along with the main triangle.
With Piklers, children will climb, slide, build forts, and more. Mostly, though, Piklers are ideal for children with climbing needs.
Nuggets, on the other hand, offer less climbing opportunities and more imaginative play opportunities.
With Nuggets, children will build forts, castles, tunnels, and more. They will also use the couches for reading and relaxing.
Nuggets are ideal for children who enjoy gross motor open-ended play. They are also great for children with heavy work needs.
---
Both Piklers and Nuggets are awesome. They help toddlers and preschoolers meet their gross motor needs while indoors.
Which one do you believe is the right gross motor climbing toy for your toddler or preschooler, the Pikler triangle or the Nugget (or Nugget-type) couch?
Cheers and don't forget to subscribe!