If you're looking for some wonderful Montessori climbing toys, you have come to the right place.
I've put together a list of 7 of the sturdiest, most fun Montessori-aligned climbing toys availible and I'm so excited to share it with you.
Some of the climbing toys on this list might be familiar to you, while others will be things you haven't heard of.
If you're setting up a Montessori-style playroom or a play area for you Montessori homeschool room, most of these climbing toys would be a great addition.
Let's get right to it.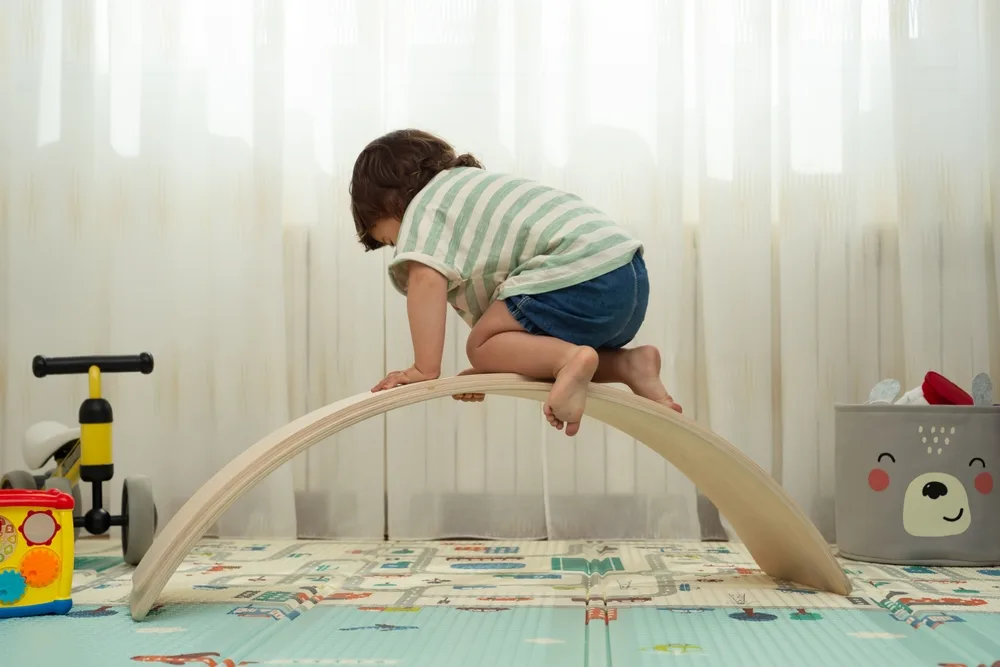 (This post contains affiliate links. Purchasing from these links costs you nothing extra, but helps with our website upkeep.)
Is climbing good for kids?
Yes, climbing is great for children. Not only does climbing help a child's gross motor development, but it also has cognitive and emotional benefits, as well.
Through the act of climbing, children gain problem-solving skills, academic performance, and can even experienced improved balance and better moods.
Not only is climbing good for kids, it's instictual. Children are natural born explorers and when they're young, they employ their whole bodies in their exploration.
Are toddler climbers worth it?
If you're wondering if purchasing a toddler climber will be worth the cost, there are a few things to consider.
Age
The age of your baby or toddler is likely the most significant factor to consider.
If you purchase your climbing toy when your little one is under the age of 1, this will likely be a more worthwhile purchase than in your child is 3.5 years old.
Ability
Most babies begin to pull themselves to a standing position between the ages of 6 and 9 months.
If they are given the opportunity, they will try to climb when they've mastered standing.
Every child excells in different areas at different ages, though.
If you buy a climbing toy early on in your child's development, they'll obviously get more use out of it.
Interest
Young children aren't all interested in the same activities. Not at the same age, anyway.
If you've got a little one that is very interested in gross motor play, a toddler climber may be worth it.
This is especially true for children who don't have many other indoor clibing opportunities.
As with any toy, there will be periods when the climber doesn't get much use. Typically, children will show renewed interest, though, later on.
They may even use their climbing toy in a different way, for more advanced and creative play.
When should you introduce a Montessori climber?
You can introduce gross motor toys, like a Montessori climber, as young as 6 months old.
Babies will first use Montessori climbing toys, like a Pikler triangle or PlayBox, to help them to a standing position.
As they begin to advance in their physical development, they'll progress to using these toys for their intended purpose – climbing.
7 types of Montessori climbing toys for toddlers & preschoolers
Before anyone emails me or leaves a comment, I know there's no such thing as a "Montessori toy". I've written about that many times on my site.
There are toys that aligned with the Montessori ethos, however.
Generally, parents and caregivers who follow Montessori choose simple toys for their children – ones that encourage natural discovery rather than passive intake.
Below are 7 Montessori-aligned climbing toy options that aligned well with the Method.
I was so excited to come across this fun Montessori climbing set called the PlayBox Set.
This play set is environmentally friendly, sturdy, and, best of all, highly convigurable.
There are so many fun opportunities for gross motor, imaginative play with the PlayBox set.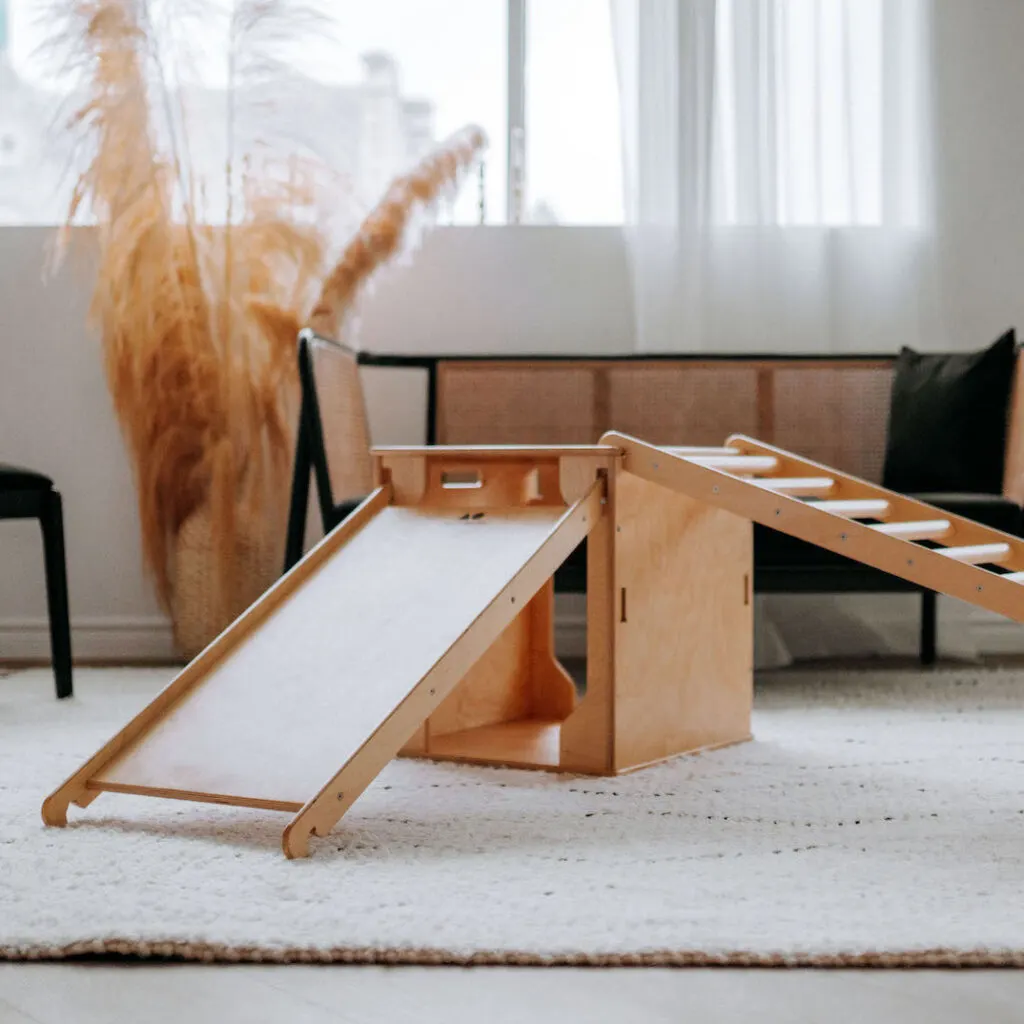 One of the most popular Montessori-aligned climbing toys is the Pikler triangle.
These are sturdy climbing toys that are set up in the shape of a triangle. There are rungs on each side that children use for climbing.
Some Piklers come with ramps and other extensions that increase a child's play opportunities.
Below are links to 3 of the top brands of Pikler triangles, Lily & River, Montessori Climber, and Piccalio.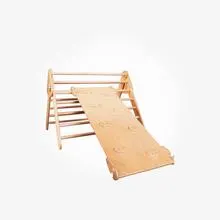 Play foam couches, like the Nugget, are very popular in Montessori homes.
These are fun, safe, and provide so many opportunities for climbing, heavy work, and pretend play.
Rockers
We've had our rocker for nearly 6 years now and I'm always to excited to tell people how much use it's gotten over the years.
The rocker/climber in the photos below is from All Circles and it absolutely beautiful. It's well-made and sturdy, as well.
As you can see, it can be used as a climbing toy, as well as a balance and rocking toy.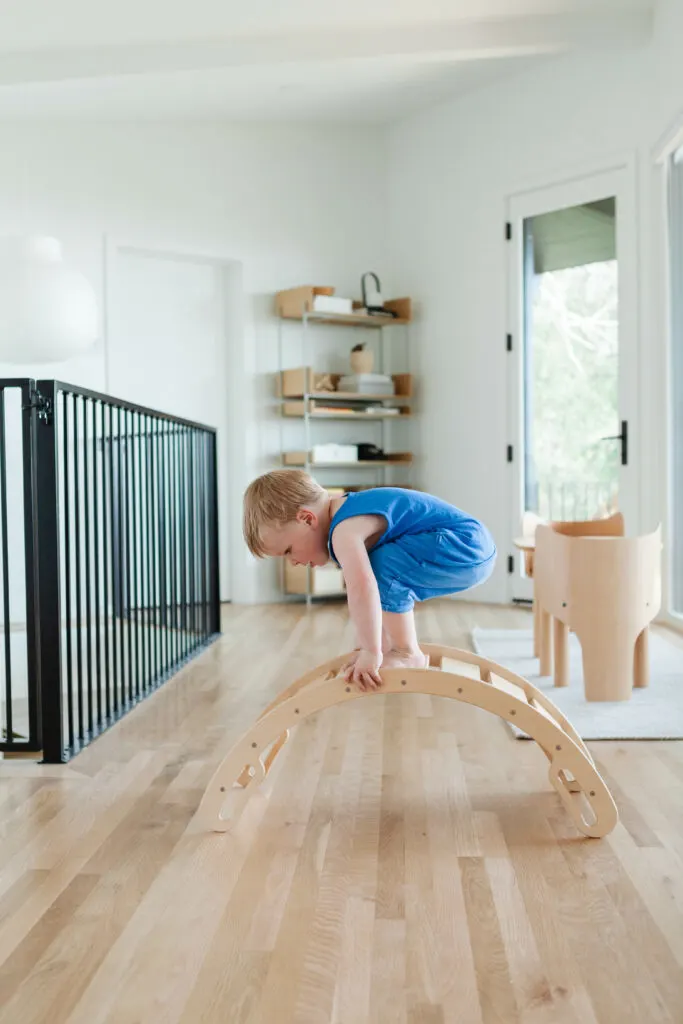 If you've got the space for it, I highly recommend an indoor gym like the one below.
This is a great option for families who live in cold weather climates and have little ones who've got energy to release.
The slide, the rock wall, the ladder – the whole setup is a dream for kids.
Climbing domes are great outdoor gross motor toys. Parents who have the space in their home often opt to set their climbing domes up inside.
Below is a popular climbing dome that's designed for outdoor use, but can be setup inside.
Balance boards are not known as climbing toys, but they actually work well for climbibg toys for babies.
If you aren't comfortable getting a larger climbing toy, like a Pikler, a balance board might be for you.
You place a mat underneath, flip it over, and you've got yourself a great climbing toy.
When your child gets older, they'll use it as a proper balance board and possibly as a trajectory schema toy.
There you have it – 7 awesome Montessori-aligned climbing toys.
Do you have one of these toys at your home already? If so, how does your child like it?
How much use does your little one get from it? Do you have any advice for parents who are shopping for climbing toys?
Cheers and don't forget to subscribe!