If you're interested in getting or building your child a mud kitchen, but you want more information on them, you've come to the right place.
Today, we're going to go over some general information on mud kitchens, learn about their benefits, find out when to introduce them, and get some recommendations on the best mud kitchen brands.
We'll also find out whether or not these amazing outdoor play kitchens are "Montessori" and get some accessory recommendations to enhance your child's play experience.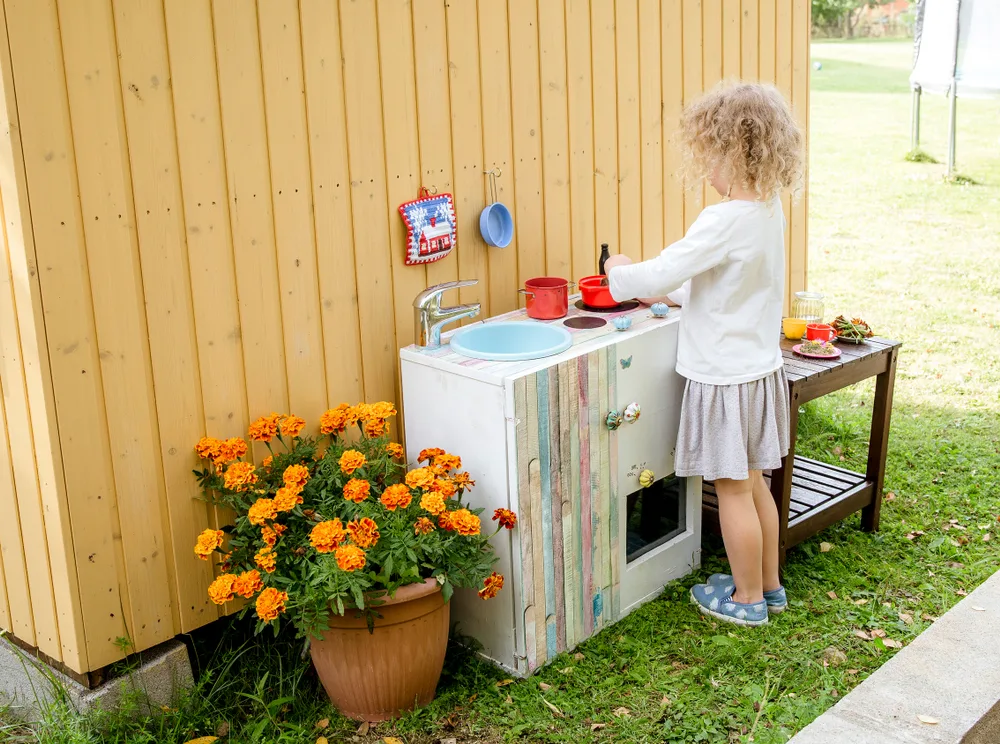 (This post contains affiliate links. Purchasing from these links costs you nothing extra, but helps with our website upkeep.)
It's amazing to watch my children engage in pretend play. The games and scenarios they come up with are so wonderful and creative.
When the summer months come around, they take their play outdoors where it gets taken to new levels with their mud kitchen.
What is a mud kitchen?
A mud kitchen is a play kitchen that is designed for outside use. Generally, with a mud kitchen, young children use items from nature, including dirt, water, leaves, sticks, and anything else they can find.
These fun outdoor toys come with a variety of different features, which vary by brand.
It's typical for mud kitchens to have a sink (some have double skinks), a flat surface for "food preparation", and a place for storage.
They are similar to water tables, however, they have the appearance of a small kitchen, which is appealing to young children.
Mud kitchen benefits
Muds kitchens come with a variety of amazing benefits for kids. Let's explore what those benefits are.
Through independent exploration of their outdoor environment, aided by the mud kitchen, children's muscles of creativity are developed.
Whether your child is playing with their mud kitchen using accessories or just working with their hands and dirt, they are working the small muscles of their hands.
Any type of loose parts play, including mud kitchen play, builds a child's literacy skills.
Children plan outdoor kitchen activities, which utilize sequence and storytelling, both of which are important literacy skills.
When children play with their mud kitchen, they are prompted to perform a variety of large muscle movements.
They stand, walk to find materials, and carry large and heavy items to and from the play kitchen.
Young children learn through their senses. Mud kitchens provide a place for children to immerse themselves in sensory exploration.
What age is a mud kitchen for?
Mud kitchens can be introduced as early as 1 year of age with supervision.
As your child gets older, they will play with the kitchen in a variety of different ways.
Many children enjoy playing with their outdoor kitchen well into the elementary years.
My daughter will be 9 this year and she still enjoys heading outside with her little brothers to bake up some mud pies.
As a child gets older, they will begin to work science and art into their outdoor kitchen play sessions.
If you want to extend the life of your investment, not only should you take care of the wood, but you should rotate out the accessories and see to it that your child has new tools as they age.
Is a mud kitchen Montessori?
Some parents might be concerned about whether or not certain toys, like mud kitchens, are Montessori.
Certain types of toys certainly align with the Montessori philosophy, however, there is no such thing as a "Montessori toy".
So, no, mud kitchens are not Montessori. They do, however, align with the Montessori ethos and have been embraced by Montessori parents and caregivers.
Top 5 mud kitchens
This is a very simple outdoor play kitchen. The running water comes from a tub you fill and place underneath the counter.
This is a great option for families who want running water for their mud kitchen but also want to stay conscious of their water consumption.
If you are looking for a sturdy wooden outdoor play kitchen with a double sink, this is a great option.
It's weatherproof, has a working faucet that hooks up to a garden hose for running water, and it's delivered almost completely assembled – all you have to do is put the legs on.
This is a fun mud kitchen that has plenty of counter space, which lends itself to lots of creativity and imaginative play.
The design is simple and the plastic composite frame and counter are very sturdy. This is a great option if you're looking for a mud kitchen that will last.
Accessories are included and the stainless steel sinks are removable for easy cleaning.
This extra large mud kitchen extends to 56″, making this a great option for families with multiple children.
It comes with a sink and a water dispenser, a cooktop, plenty of storage, and a generous workspace.
The Cotzon mud kitchen is a simple and affordable option for families who don't want to go all-in on one of the larger and pricier options.
It has everything you need, though – a place to hang pots and pans, a sink, a cooktop, and a storage room.
Making your own mud kitchen vs buying one
If you don't want to spend a lot of money on a mud kitchen, and you're good at working with wood, building your own mud kitchen is a great option.
It's also a way for you to customize it to suit your own child's needs and interests.
The Lean Green Bean has a very cool mud kitchen design that's fairly easy to follow.
Frugal Bon Vivant is another website that has a great DIY mud kitchen plan – this one has a double sink.
There's a lot to consider, especially safety, when building your own mud kitchen.
This is why many families simply choose to purchase one online. Safety considerations are generally worked into the play kitchens you purchase.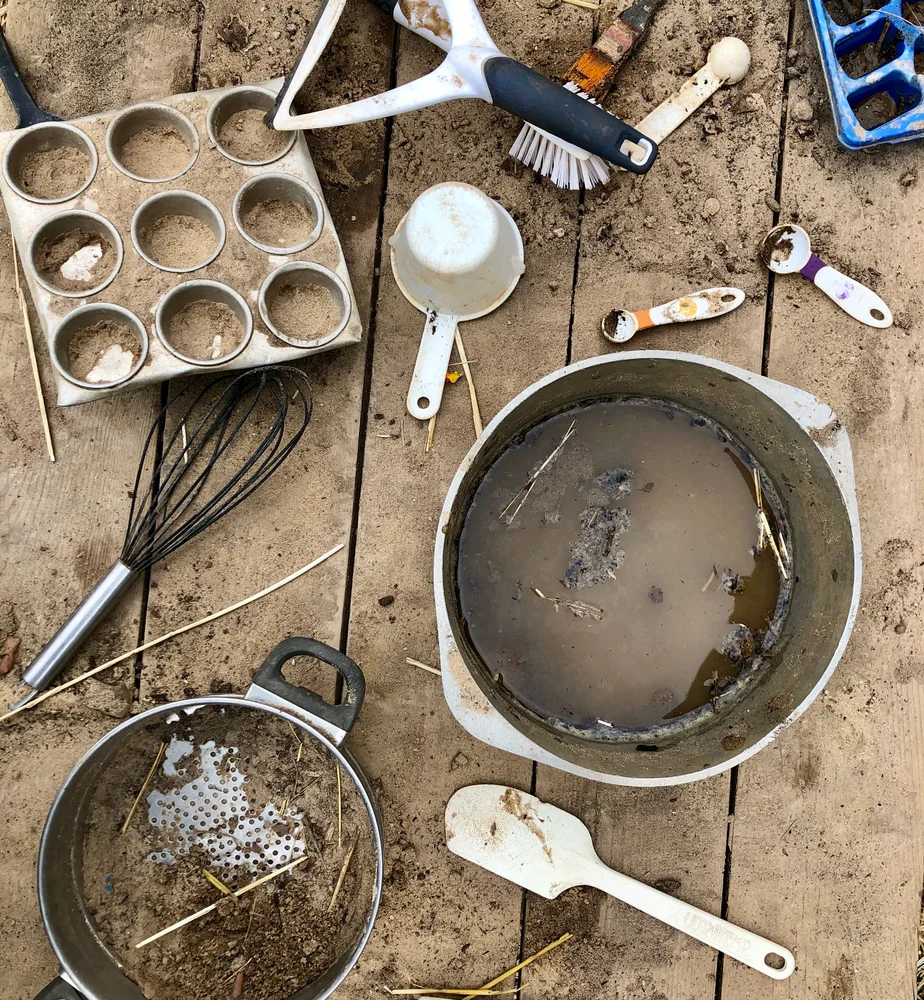 Mud kitchen accessories
For sure, kids make use of everything around them when they're playing in their outdoor kitchens.
There are some accessories that can be an asset to their play, though.
Here are some things to add to their outdoor kids' kitchens that help make things a bit more interesting.
I loved this set of play kitchen items for my children's play kitchen. The straining spoons get used for plenty of "cooking experiments".
These kitchen items are unique and a lot of fun for toddlers and preschoolers.
Play food is a fun addition to the natural items your child will incorporate into their play while outside.
These are great ideas for accessories, however, you don't need to purchase anything to go along with your child's outdoor kitchen.
Watering cans, plastic bowls and cups, spoons, and other real-life kitchen items work just fine if you have them to spare.
---
Does your child have a mud kitchen? If so, what kinds of activities do they enjoy doing with it?
Cheers and don't forget to subscribe!