In this article, you will learn a bit about water tables, what age they are great for, and you'll get some great recommendations on water tables for toddlers and preschoolers.
---
Summer is the season for getting outside and exploring. It's also the season for cooling off and splashing around in water.
Now is the perfect time to take a look at some water tables for toddlers and pick out the one you think they will enjoy the most.
There are so many choices of water tables, though. Each one is unique and has different features.
Let's dive right in and learn a bit about which water table is best for your child.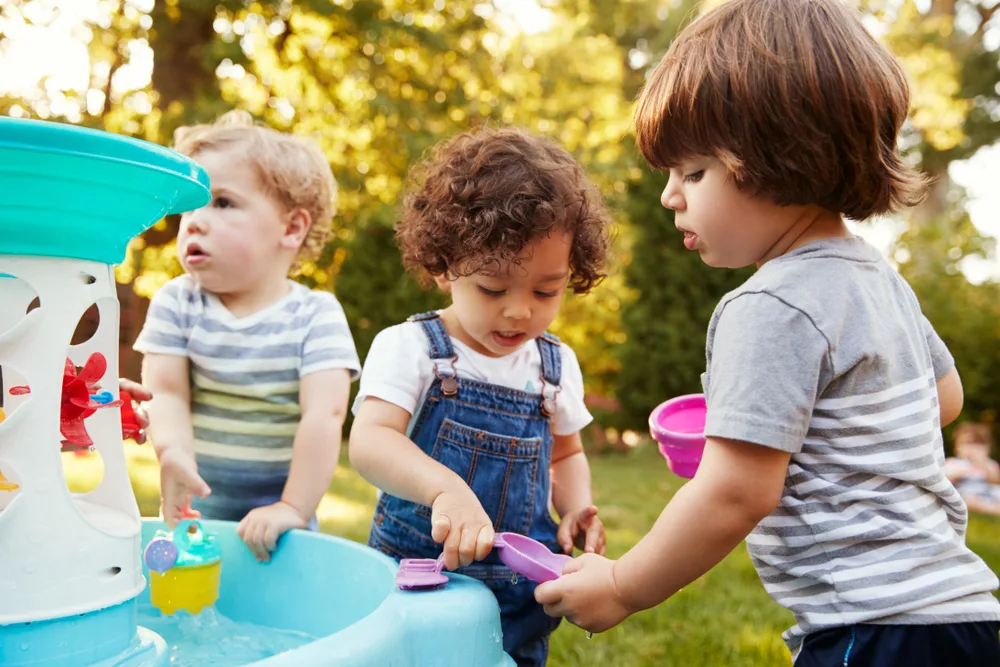 (This post contains affiliate links. Purchasing from these links costs you nothing extra, but helps with our website upkeep.)
Is a water table worth the cost?
Playing with water has some great benefits for young children, but not everyone has access to pools or lakes in which they can splash around.
And though many young children would happily play in a bathtub all day, that's really not practical or safe for most families.
Purchasing a water table for indoor or outdoor water play is not only more practical than filling up a bathtub, it's more cost-effective.
While water tables can get pretty pricey, depending on the features, you can generally find some pretty decent ones for around $50 or less.
They are typically made of plastic, which means they will last a long time if you take care of them.
Many parents and caregivers find that water tables are well worth the price – myself being one of them.
My children have been enjoying the same water table for close to 4 straight years. I believe it only cost me around $35.
Under $50 for 4 summers worth of fun? That's worth it to me!
What age is the best for a water table?
Water tables are fun for kids of all ages, however, many caregivers choose to introduce them around the age where babies start to pull themselves to a standing position.
There are water tables that lay on the ground or floor. These are great for babies who can not yet stand, but still enjoy splashing a bit in water on a warm day.
Are water tables Montessori?
While water tables are not a Montessori invention, there are many Montessori-aligned water activities they can be used for.
Here are just a few Montessori water table ideas:
Baby doll washing station
Hand-washing small clothing items
Self-care practices, like handwashing and face washing
What water tables are the best?
The best water table will have all the features you are looking for and be suitable to your child's individual needs.
There are some water tables on this list that are better suited for smaller toddlers, while others work best for preschool-age children.
The 9 best water tables for toddlers and preschoolers
This is a simple water table option that can be used for both sand and water for free play, as a sensory table, or as a dishwashing or doll washing station.
It comes with the toys featured in the photo. If you plan to use the water table in for Montessori activities, the toys can be used in the bathtub.
This is a fun, multi-functional water table that's much lower to the ground than many of the other options.
This is great for sensory play for babies and small toddlers, but it's also great for preschool-age children, as it allows them to sit and play instead of standing the whole time.
This is designed to be portable, so it comes apart easily, which is nice. This option is definitely best for outdoor sensory play.
I love, love, love this water table! It's easily the most versatile on the list.
This option has a spout that let kids pump their own water, a bin for sensory play, and a cover for the bin that allows the table to function for arts and crafts activities, as well.
If there's one downside to water tables, it's that kids often play with them in the hot sun, which can cause shorter play periods.
This water table, however, comes equipt with an umbrella, so kids can play in the shade. It comes with some fun gardening-type accessories like a watering can, which kids find a lot of fun!
This is water table is great because it can be used indoors on a table-top or outdoors on the patio or ground for some fun sensory exploration.
It comes with a waterwheel and a pitcher so kids can experiment with learning about the flow of water.
This is one of the coolest water tables on this list! Kids can perform all kinds of fun experiments with this one, including making rain, studying the motion of the water through the water wheel, and more.
This does come with a lot of accessories, which can be used with the water table for imaginative play or in the bathtub if your child is overwhelmed by them.
This water table is unique because it has 4 separate compartments and can be modified for Montessori-aligned sensory and learning activities, or be left as-is for loads of imaginative play.
This is also a great water table for small classrooms or homes with multiple young children.
This water table comes without some of the frills of the others on this list, but it's still perfect for toddlers and preschoolers.
Its simple design and lack of accessories mean children can flex the muscles of their imagination! It has a water wheel and a rainmaker, as well.
This is a fun alternative to a traditional water table.
It sits on the ground to allow children to relax a bit while they experiment with the flow of water. It has multiple partitions, as well as a hand pump, to help aid children in their scientific discoveries.
I hope you've found a water table on this list that your toddler will love! We're about to break out the water table for our own kids and we can't wait!
Cheers and don't forget to subscribe!