Young children enjoy activities that involve water. Fortunately, there are so many fun Montessori water activities to choose from.
The activities below can be presented as shelf work, in a casual way throughout the day, or on a sensory table.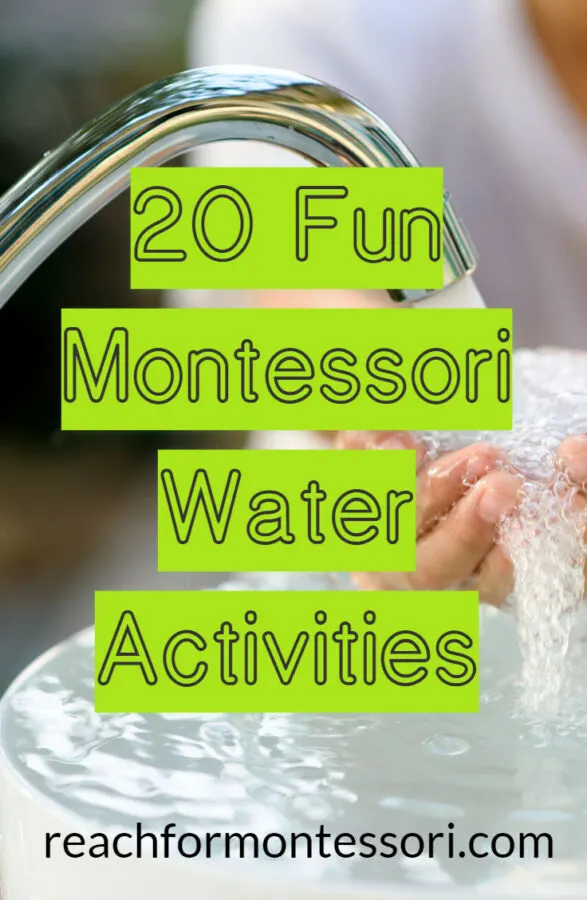 (This post contains affiliate links. Purchasing from these links costs you nothing extra, but sends a few cents our way for website upkeep.)
20 Montessori activities that help satisfy a child's need to play with water
1. Water Pouring
Water pouring is a simple Practical Life control-of-movement activity. It appeals to young children, as they get to use a glass pitcher for what is often the very first time.
Food coloring is often added to the water to help children discriminate visually the amounts of water in each container. Click here to learn how to introduce this activity: Montessori Water Pouring Activity
Supplies needed:
2. Washing windows
Washing windows and glass doors is a chore for adults. It's a lot of fun for children, though.
Melissa and Doug have a nice window washing set for kids (just set pretend pieces to the side) or you can gather the supplies yourself and put them in a handled shower caddy.
Supplies needed:
Sale
3. Arranging flowers
Letting a child create a beautiful flower arrangement is a great activity for kids that involves water.
You can use fresh flowers from your garden or silk flowers. (Children can clean the petals of silk flowers.)
Supplies needed:
Learn how to set up a flower arranging activity here.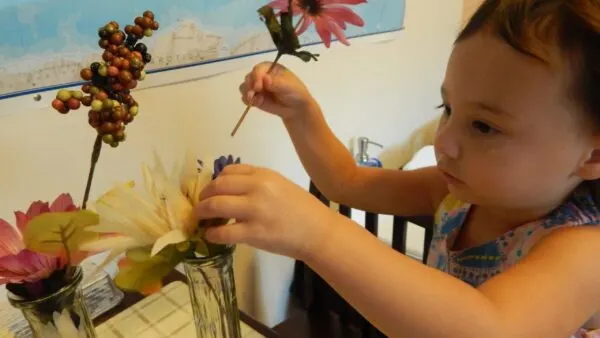 4. Bathing a baby doll
Setting up a baby doll bathing activity is a Montessori water activity children find both satisfying and all-engrossing.
Children enjoy undressing, washing, towel-drying, and redressing "their baby".
Supplies needed:
5. Cooking activities
Cooking activities always involve a bit of water. Even when there isn't a lot of water involved, there's pouring and measuring other liquids, which provides similar sensory feedback.
6. Hand washing
Teaching your child to wash their hands is a great Practical Life activity with cosmic lesson benefits.
Many parents find their young children want to spend a great deal of time at the sink anyway – using those opportunities for teaching proper handwashing is a great idea.
7. Color mixing
Color mixing is a fun and educational sensory and art activity. With this activity, kids get to use fun things like pipettes and food coloring, all while interacting with water.
Supplies needed:
8. Land and water formations
This simple, hands-on geography lesson is a lot of fun and gives kids the opportunity to play with water while learning.
To learn how to present this fun activity, click here: Montessori Land and Water Forms Lesson
Supplies needed: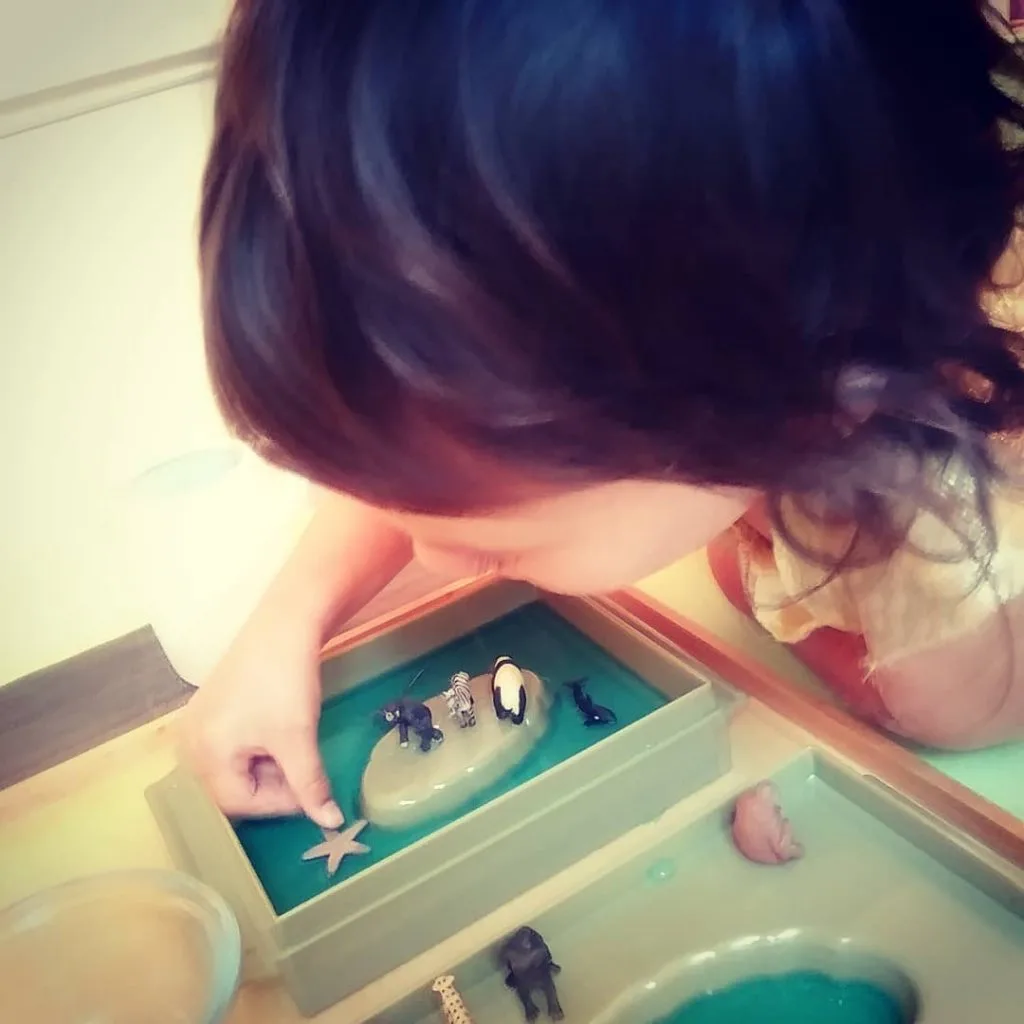 9. Watering plants
If you have house plants, but no green thumb, you've got a problem. If you also have a young child, though, you have a bit less of a problem.
This is because young kids absolutely love to use watering cans to pour from.
Supplies needed:
10. Serving water for meals
Since children enjoy pouring water from child-size pitchers, it's a great idea to set up small glasses for everyone around the table and have your child serve the water at mealtime.
Supplies needed:
11. Face washing
Teaching your child to wash their face is an important hygiene lesson.
Turning water play into a lesson on how to properly care for their skin, while keeping the soap out of their eyes is a great Montessori water activity.
12. Transferring water with a pipet
Transferring water using a pipette is a fun Montessori water activity that helps kids develop their fine motor skills in preparation for a proper pincer grasp.
To set this activity up, you simply fill one bowl about 1/4 of the way full and have your child transfer the water into the empty bowl beside it.
Adding food coloring helps your child visualize the amount of water in each bowl and makes it a bit more fun, as well.
Supplies needed:
13. Pet care
Involving your child in caring for the family pet is a great activity that helps develop empathy.
Since every pet we keep requires water to live, having your child help care for them can satisfy their need to touch and pour water.
14. Coloring a flower
Coloring flowers is a fun science experiment for kids that involves water. Click here for the instructions and science behind the activity.
Supplies needed:
15. Cleaning under fingernails
Teaching this important skill to kids isn't as tedious as it may sound. When your child has a keen interest in playing with water, they will likely be happy to learn this new skill.
Supplies needed:
16. Setting up a water station for self-serving
Practical Life skills are encouraged at a young age in Montessori home environments.
Setting up a water pouring station gives young kids a chance to interact with water while practicing their control of movement skills – and, of course, getting themselves a bit to drink.
Supplies needed:
17. Water transferring with a sponge
Transferring water with a sponge is a great tray or sensory bin activity, but it can be done outside on a sand and water table, as well.
Supplies needed:
18. Washing dishes
Washing dishes is such a satisfying activity for young kids. If you've observed that your child is craving water play, you can involve them with dishwashing at the kitchen sink with their learning tower or you can set up their own dishwashing station.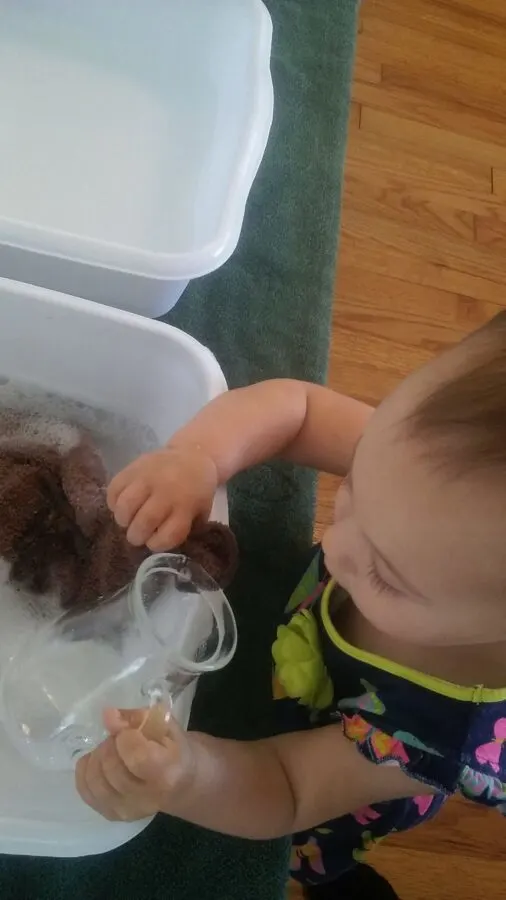 19. Citrus sink or float experiments
Using an orange, lemon, or grapefruit, you can set up a fun sink or float experiment for kids. This is a great way to incorporate learning with water play.
Supplies:
2 citrus fruits
clear large bowl for water
To perform the experiment, fill the container with water. Peel (or have your child do it) one of your fruits and leave the other with the skin intact.
Drop both in the water to see which sinks and which floats. This is a simple density experiment that involves both water and delicious citrus fruit – a great activity for warm weather.
Read here for the full experiment.
20. Sharing tea
To me, there's nothing more comforting and relaxing than a cup of hot tea. When my daughter was about 2.5 years old, she asked if she could try pouring some tea from the kettle.
We ended up sharing a really nice cup of tea. She felt very proud of herself for pouring the hot water, waiting patiently for the tea to steep, and stirring in the honey.
I realized she really enjoyed all the water activities involved in the process – the pouring, stirring, etc.
Supplies:
What Montessori water activities does your child enjoy?
Cheers and don't forget to subscribe!