In this article, we'll discuss why Montessori uses glass instead of plastic. Learn when to introduce glass dishes to your child, what happens when a child breaks a glass dish, as well as other considerations.
Why does Montessori use glass?
The use of glass instead of plastic when it comes to dishes in Montessori may be somewhat of an enigma to those unfamiliar with Montessori or to those who are just starting to learn.
Seeing young children and even babies drinking from glass cups and carrying glass dishes to the table or sink may take many concerned parents aback.
What if they drop a dish and it shatters? Won't they step on the glass and need a trip to urgent care? What is the purpose of risking having to buy more dishes all the time? This just seems to dangerous and…senseless.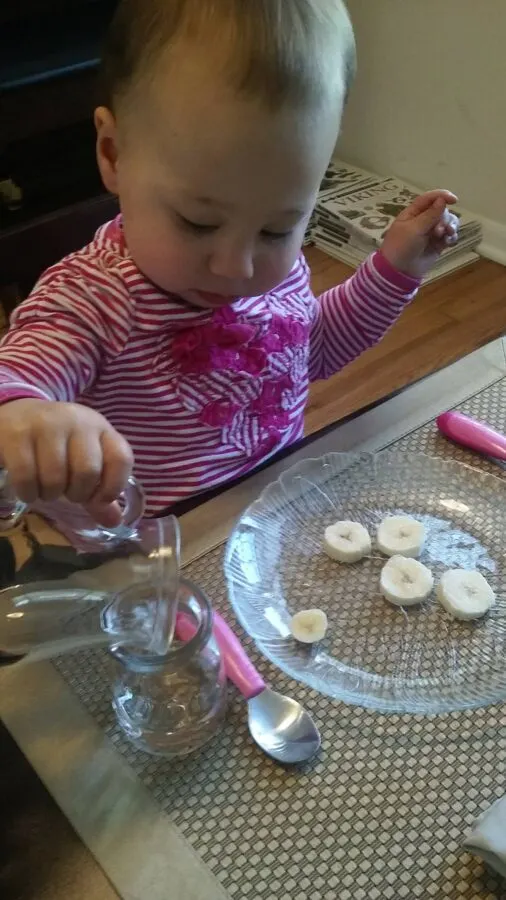 There is solid reasoning behind the use of glass over plastic in the Montessori learning environment and at home, though. It's something called "control of error".
When children use glass dishes, they learn very quickly how to control their movements as not to break them. Using these controlled movements is beneficial to brain development. It also offers lessons in caring for fragile items.
It's been proven that taking risks such as this is actually great for their development!
What if my child breaks a glass dish?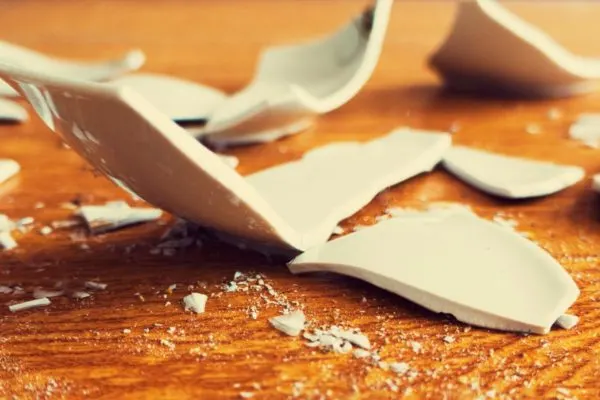 When you implement Montessori in your home, it's all about finding lessons in real-life activities. If your child breaks a dish, here are some teaching opportunities that you can take advantage of:
Safety around broken glass
How to properly clean and dispose of broken glass
How not cleaning the mess thoroughly could cause injury to themselves or someone else in the household
That it's not a major disaster or something to feel guilty about when something glass breaks. We clean it up safely and move on with our lives.
How do I teach my child how to clean broken glass?
The first thing you need to do when your child breaks a glass dish (which isn't going to happen as often as you might think it will, by the way), is have them move away from the broken glass and put some shoes on.
When you return with your child to the scene of the crime, find a cardboard container from your recycling bin to place the glass in and gather a small brush and dustpan. (Unfortunately, broken glass should not be recycled.)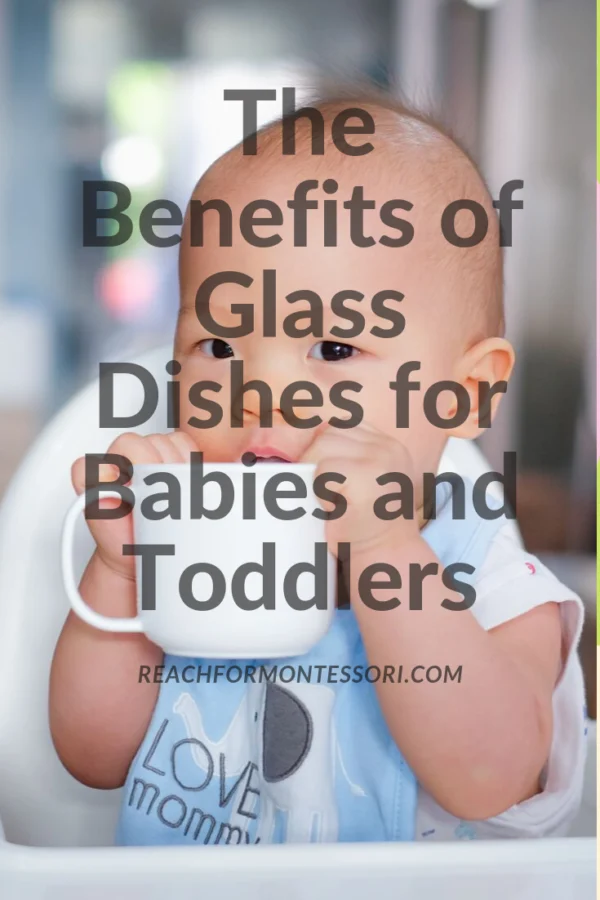 Show your child how to pick up the larger pieces carefully and place them in the box, then allow them to do it.
After the larger pieces are placed in the box, demonstrate for your child how to brush the smaller shards of glass into the dustpan and carefully dump them into the box.
Ask your child to stand back and let them watch you sweep a large area surrounding the break. Explain to your child how when glass shatters, tiny pieces can travel quite far.
If you have a child size broom, you can allow your child to help you sweep.
After all the glass has been swept from the floor and placed into the box, tape the box closed and label it as "This box contains broken glass".
Explain to your child that we do this so the people who handle our trash outside of our home know to be careful if they come across the box. (A great cosmic education lesson!)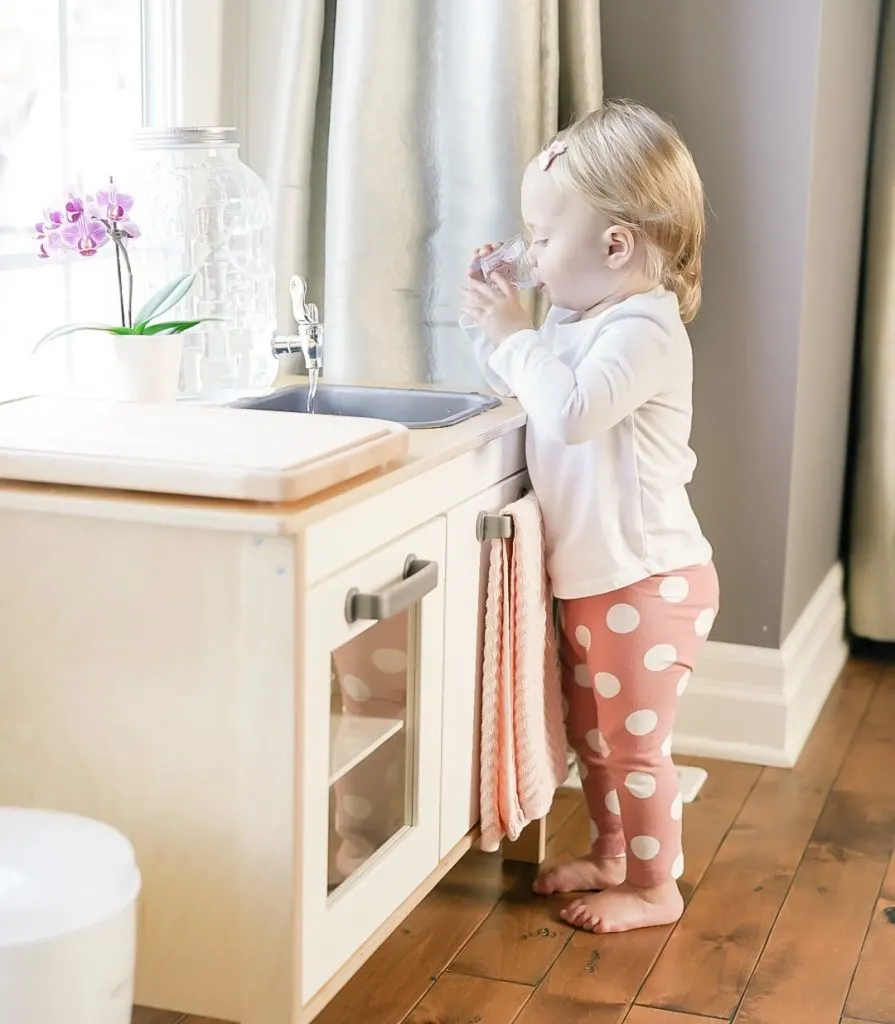 Glass instead of plastic: other considerations
Glass is more pleasing to look at than plastic. Adults aren't the only people that appreciate being surrounded by aesthetically pleasing things.
Walk into any Montessori classroom or homeschooling environment and you'll notice that beautiful, natural materials abound…and that the children respond positively to this.
Glass is so much better for the environment than plastic, too! This is a huge one for me!
It's no secret that plastic is destroying our environment. Not only does it require more fossil fuels in the production of plastic, but more fossil fuels are used in the recycling process, as well.
And, truth be told, most people don't recycle anyway.
There is also the issue of the chemicals contained in plastic leaching into the food we eat. That doesn't too healthy…or tasty!
So, you see there are a lot of good reasons to use glass instead of plastic.
When can I introduce glass dishes to my child?
I recommend introducing glass dishes right off the bat. There really is no need to wait.
You can start with a glass weaning cup as soon as you introduce water to your baby. I like to introduce bowls next, then plates when your child can walk and be taught how to hold their plate properly and safely carry it to and from their eating area.
I suggest using tempered glass dishes. They can withstand drops from high chairs and tables quite well.
For those concerned about breakage, let me help ease your mind.
We purchased a set of 4 glass dishes 5 years ago. (Keep in mind, I have 3 young children who use these.) No bowls have been broken, only 1 glass has been broken (It was taken outside and dropped on a stone walkway.), and not a single plate has broke!
Sometimes, the children use our other glass wear and we have had a few of those break…not a single injury, though.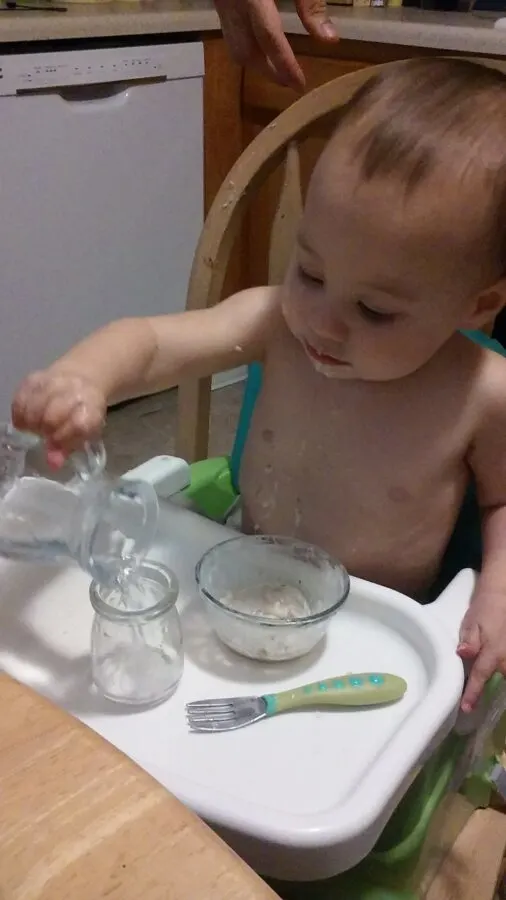 I'm interested to hear your thoughts on allowing children to use glass dishes! Comment below!
Cheers and don't forget to subscribe!