Toy rotation can seem like a lot of work, or you just don't know where to start, and why should you do it anyway? This Toy Rotation Guide will help answer all your questions.
Benefits of Toy Rotation
How many times have you said to yourself "they never even play with all these toys!"? Well, it's not an exaggeration, there's actually very real truth to that statement.
The University of Toledo performed a study and discovered toddlers would "focus better and play more creatively" with less toys present. There are also connections between an excessive amount of toys and behavioral issues, and I've even seen a claim that less toys help alleviate sibling fights.
Too many toys equals too many choices, and it overwhelms the child. Think about it, have you noticed that your child will take something out as soon as you've cleaned up the playroom?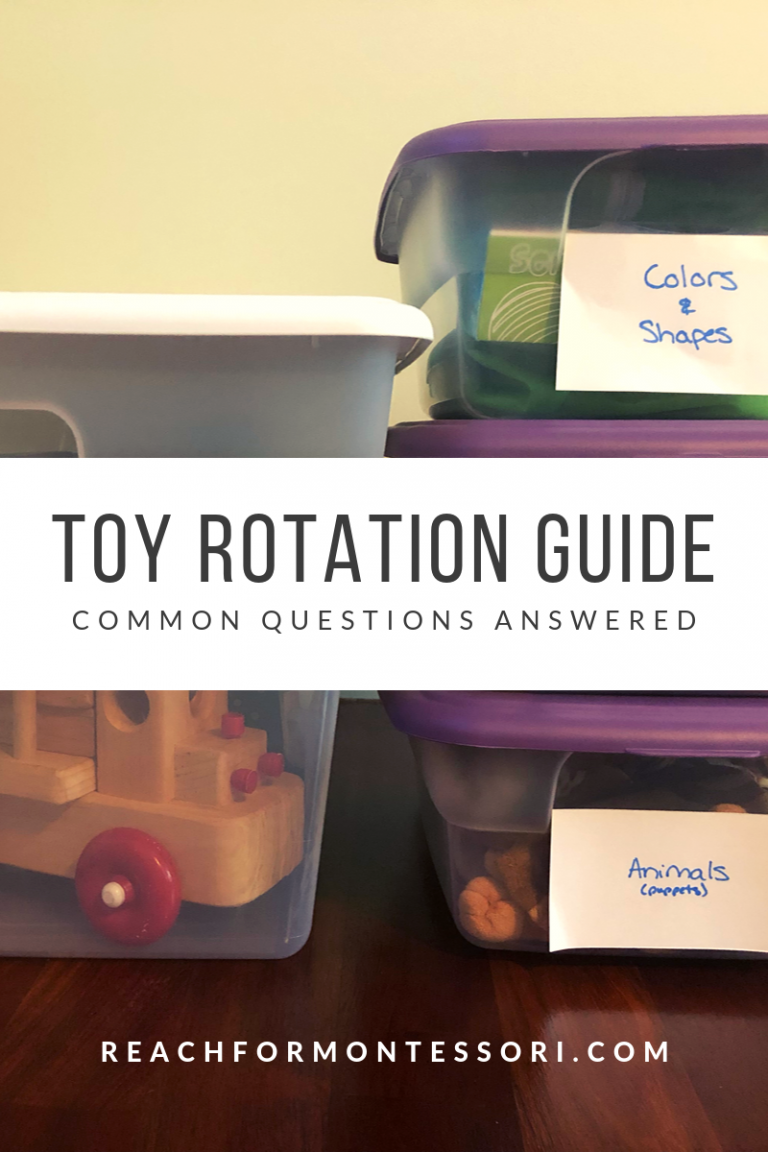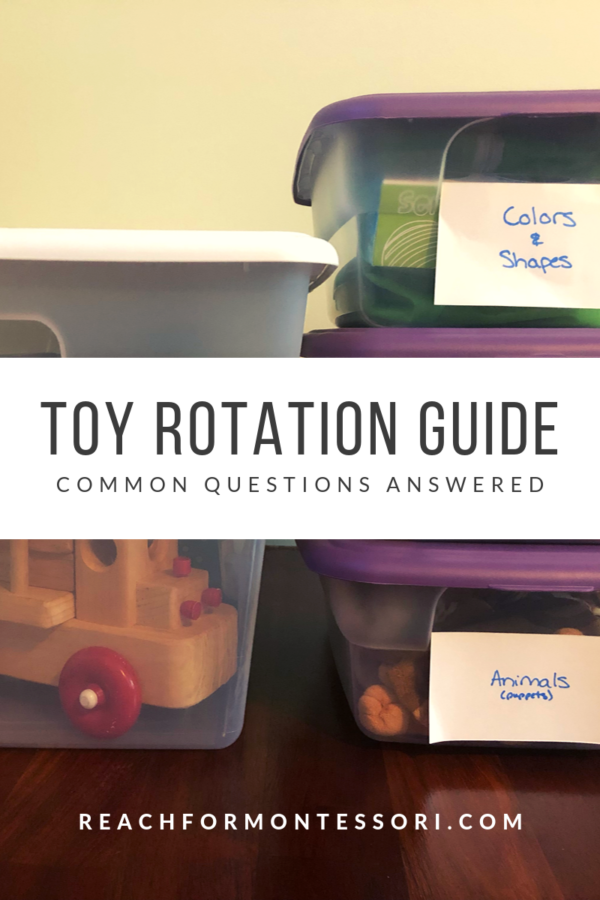 Because the neatness and order has made the toy easier to choose.
How do you feel when your space is chaotic? Don't you feel calmer and more productive when it's organized and uncluttered?
We shouldn't expect children to function any differently.
Are you worried about your child getting "bored" with only a few toys out? Check out Sue's article about the benefits of allowing your child to get bored. It is actually incredibly important.
But wait, is toy rotation Montessori-aligned? Absolutely! Structure and order are one of Maria Montessori's six principles of a prepared environment!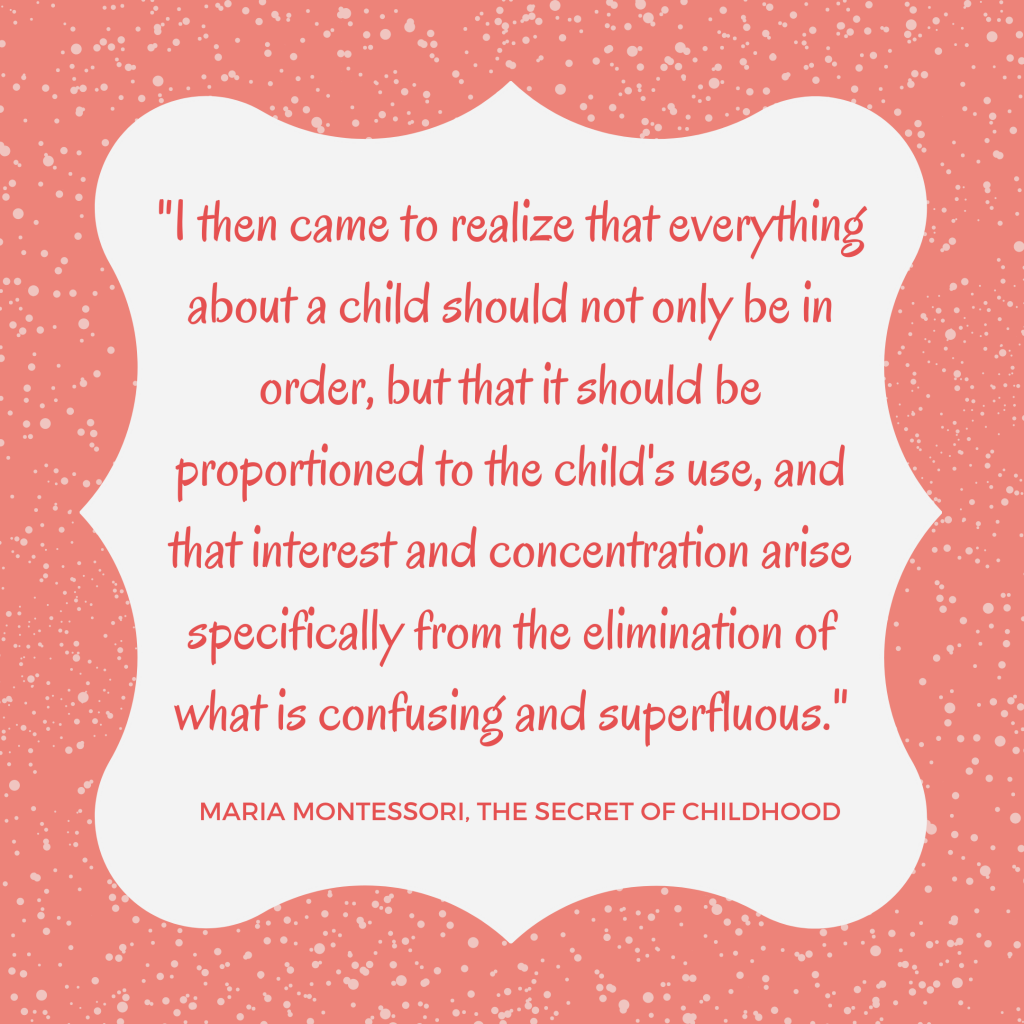 How to start your toy rotation
Purge, purge, purge! When the kids are in bed, or at school, collect every toy in the house in one room.
Dispose of anything that's missing pieces, broken or unsafe. Weed through duplicate toys or toys that may have the same purpose (example: two different shape sorters).
If you're trying a full transition to a Montessori home, you can go a step further and sort out electronic toys and toys that don't isolate a concept. The toys that you are getting rid of can be sold or donated.  
If you're worried about your child's reaction to this change, particularly older children who will notice toys are missing, you have a few options. You can ease into it by taking out a little bit every few days or so.
Or you may want to prepare them or have them help you purge their toys. Make it a teachable moment and they can participate in donating them as well.
Storage and Organization
Once you've purged all the toys, sort them.
You can sort them by theme (e.g., animals, things that go), or type of toy (e.g., building toys, fine motor, puzzles), or even by age range if you have multiple children. Then, figure out the best storage system that works for you and store them out of your children's sight.
I bought cheap plastic bins from Walmart to sort mine by theme. Eventually, my goal is to have a storage shelf in our basement to keep all our unused supplies and toys, clearly labeled.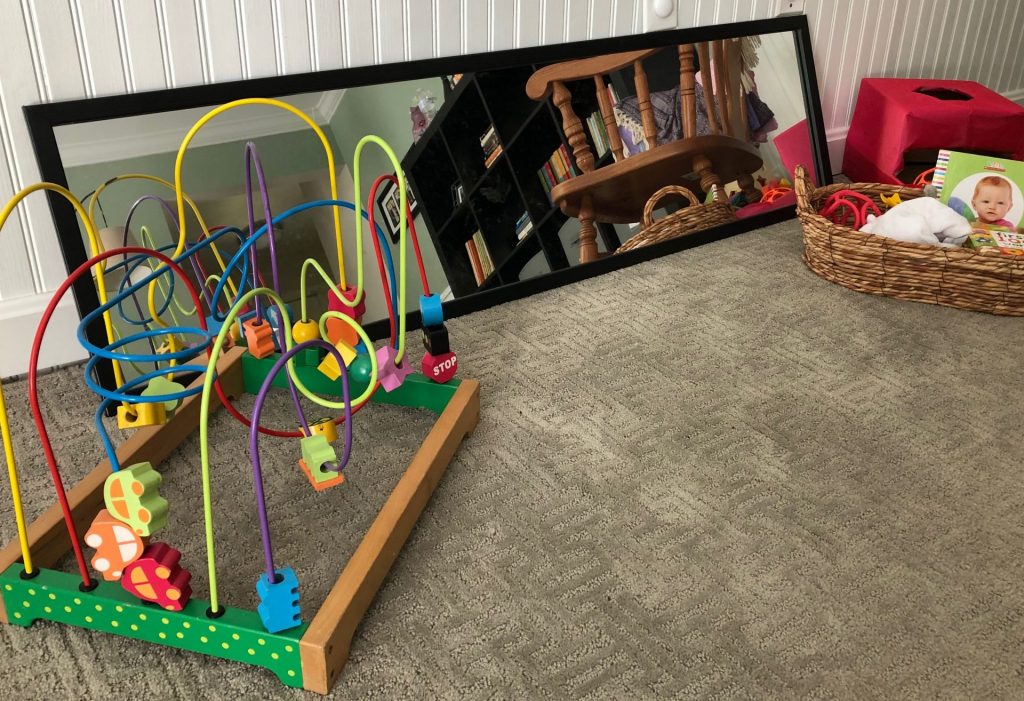 How to decide what toys to put out?
Once you've purged and sorted, now you can put out the toys for your first toy rotation. I try to do themes, but you absolutely don't have to if that doesn't work for you.
Either way, you ideally want a balance of toys/activities that cover different developmental domains/areas of learning.
Below is our current theme of Colors and Shapes and I've listed the examples of how I try to have each area of learning covered.
Disclaimer: my toys are not all 100% Montessori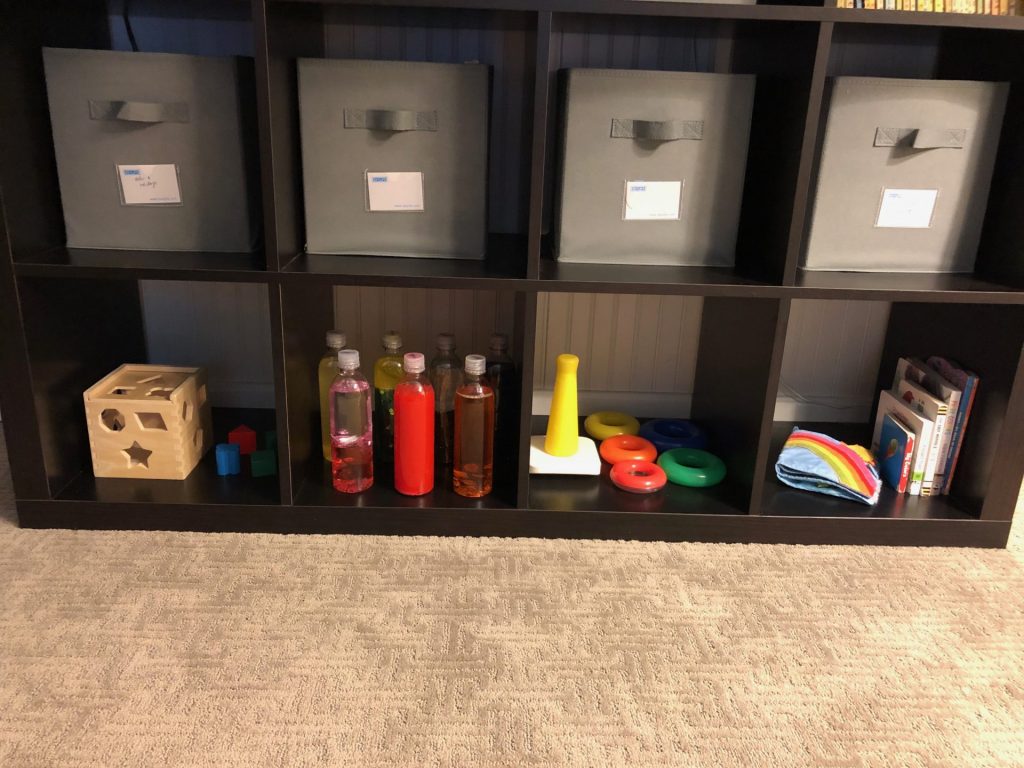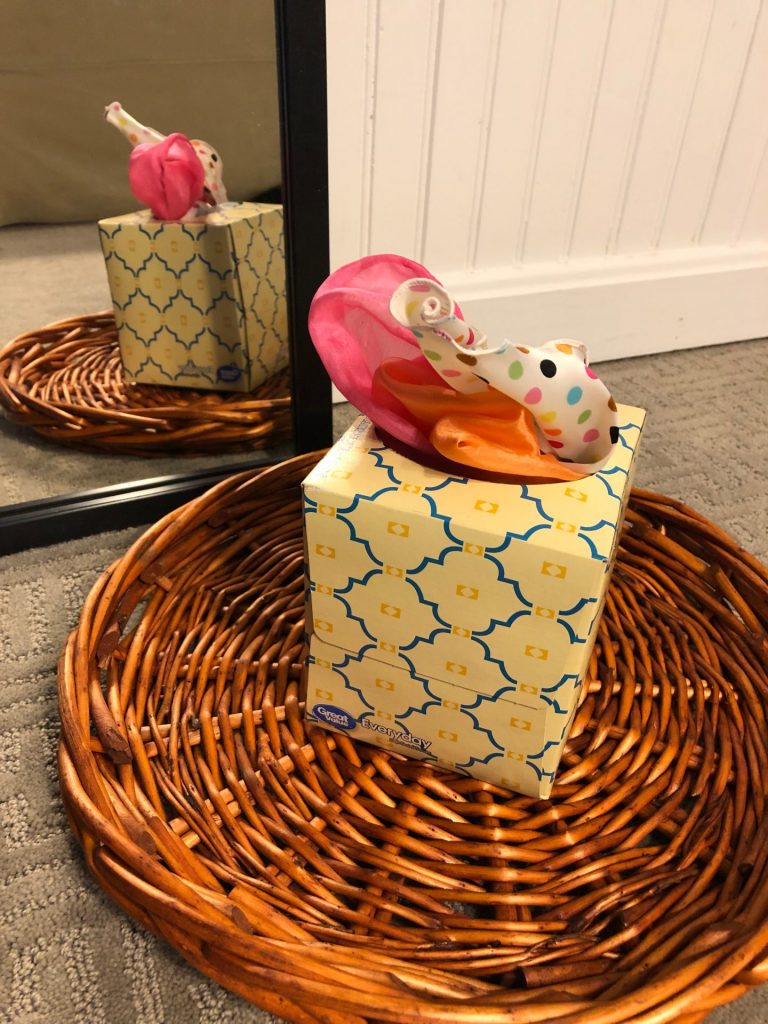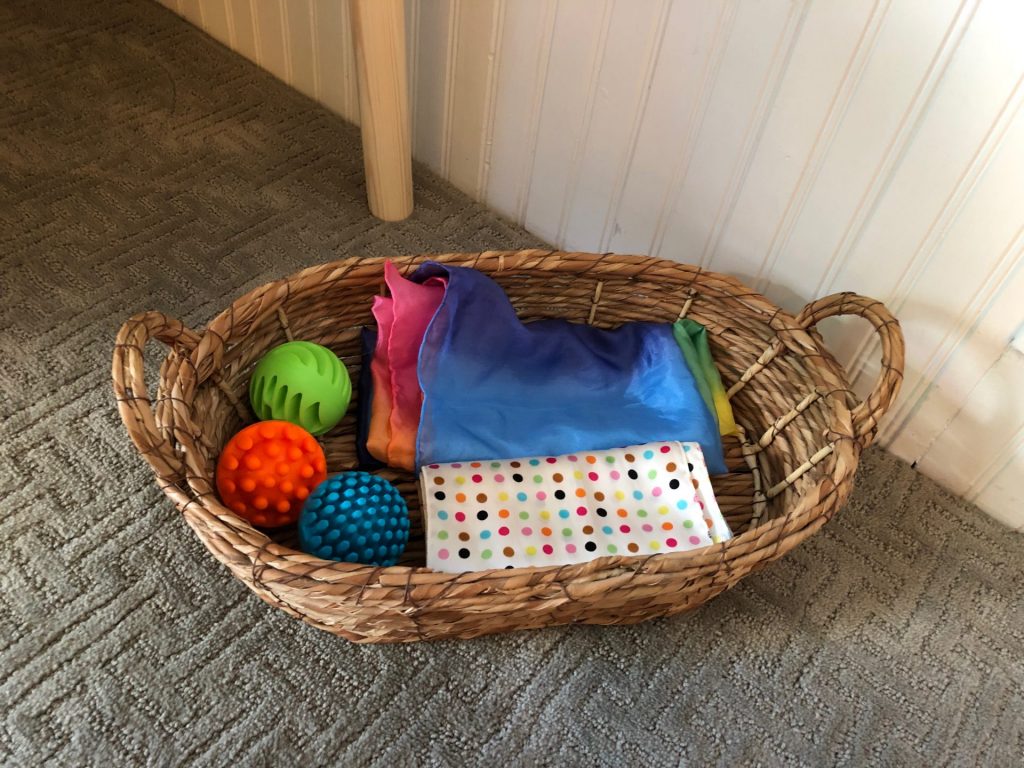 This is just an example, there is no right or wrong. When figuring out what to rotate in and out, just use your best judgement. There are also certain things I leave out continuously. For example, my daughter loves music, so her musical instruments are always out.
How often should I rotate toys?
I don't believe there is a uniform answer for this. It depends entirely on your child(ren) and your supplies. My suggestion is to try somewhere between every 1-4 weeks, but be flexible.
I aim for monthly rotations, but when I did an animal theme, she had very little interest in the animals, so I ended up changing things out after two weeks. Now we are doing colors and shapes and she is enjoying it much more.
Because I happened to have a good amount of supplies for this theme, I switch one or two things once a week and will probably leave it out longer than a month.
Follow your child's interests, if a theme or rotation isn't working for you, it's okay to change it up.
Maybe you aren't ready to take the plunge fully into a toy rotation system like this or just can't figure out a way to organize. That's okay too!
You can do it on a smaller scale, by putting away one bin of toys that come out as special toys when you have a rainy day or find that they need a change.
Keeping toy rotation during the holidays
Now that you've done all this work, you realized the holidays are right around the corner and are worried you'll be starting from scratch with a bunch more, um… crap.
Two options: you can use Sue's tips on accepting the gifts you don't want or before the holidays, give people a wish list using these two gift guides: A Very Merry Montessori Christmas Gift Guide: Ages 0-6 and Montessori Gifts For Kids.
I hope this Toy Rotation Guide helps declutter your home and I guarantee you'll see a change in your children and how they play with their toys. I'd love to see your different toy rotation systems and hear how they work for you!
If you enjoyed this article and want to keep updated on the latest, don't forget to subscribe to our mailing list!