If you're looking for Montessori materials for 2-year-olds, you're in the right place.
The Montessori educational philosophy encourages children to be independent, resourceful, and curious explorers. But it isn't just restricted to the classroom – Montessori 2-year-old can be used at home.
For parents of toddlers, there's a wide range of Montessori 2-year-old toys you can introduce into your home to support their development.
And thanks to the internet, it's easy to get your hands on a wide range of educational tools for young children.
So how do you know what you need?
Well, first, reject any mainstream plastic toy marketed as essential for children.
Aside from the potential toxicity concerns of plastic toys, they don't provide long-term learning opportunities or support their development in a meaningful way.
Instead, look out for the following five characteristics.
(Oh, and we should say that the term materials is used instead of toys, as Montessori founder Dr. Maria Montessori believed other toys to be superfluous. But regardless of the label, they're still designed to be played with.)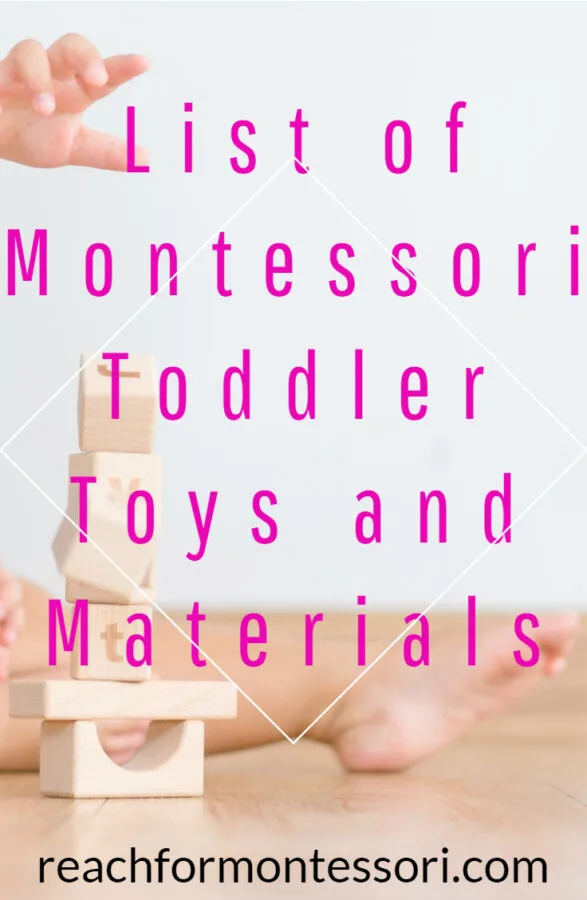 (This post contains affiliate links. Purchasing from these links costs you nothing extra, but helps with our website upkeep.)
5 Key Identifiers of Montessori Toddler Materials
It's made from natural materials.
One of the key ways to identify Montessori toddler materials from the sea of children's toys is what it's made from.
Common materials include wood, clay, metal, rock, or textile; this helps to stimulate a toddler's senses and allows them to experience different textures, weights, and smells.
Although they incorporate color to aid in sensory development and help encourage identification-based learning, Montessori materials tend to stick to a more refined color palette than other mainstream toys.
A good rule of thumb is if you're happy to display it on a shelf — or more likely have it scattered around the living room! — then it's probably a Montessori material (or at least inspired by one).
It's free from distractions.
You won't find loud noises, bells, or shiny surfaces near a Montessori material. That's because Dr. Montessori felt these "loud distractions" hinder a child's ability to focus, providing superficial involvement rather than long-term interest.
Not only are these noise-free toys better for a child's development, but they make playtime more peaceful for the parents too.
It does one thing.
A Montessori material is a one-trick-pony in that it is designed to develop one skill or concept at a time. While they can contain multiple difficulty levels to grow with the child, they typically focus on one area, such as understanding dimensions.
It's true-to-life.
The Montessori philosophy is designed to support real-world interaction and develop key skills in reading situations rather than relying on a rulebook. As such, materials often resemble the real world, allowing a child to develop their own imagination.
For example, a stuffed animal would be something like a zebra or a horse rather than a unicorn.
It's child-sized.
Regardless of which side of the nature/nurture debate you sit on, it cannot be denied that children love to get involved with whatever jobs their parent is doing, whether that's cooking, vacuuming, or the weekly food shop.
Montessori materials build on this innate desire by offering child-sized alternatives that make it easy for them to join in.
This could mean child-sized toys or items such as the convertible helper tower, making it safer for toddlers and young children to participate in activities happening at, say, the kitchen counter.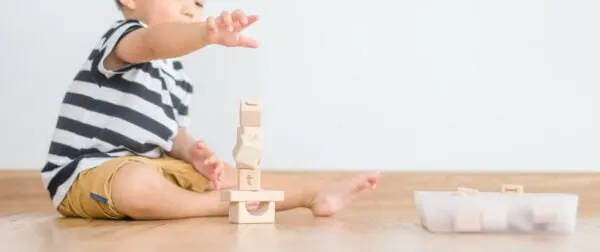 The Best Montessori materials for a 2-year-old
Now that we've covered how to identify a Montessori material, there's one more thing to know about them. Broadly speaking, they can be categorized into three main types.
These different types help develop sensory development, real-life skills, and basic mathematical and scientific principles, respectively.
However, as most Montessori materials are aimed at children three years and over, sensorial toys offer the most significant engagement for toddlers aged 1-3 years.
Montessori 2 year old toys
The following Montessori materials and Montessori-inspired toys are considered appropriate for toddlers. As a bonus, many items on this list can still be enjoyed by those aged three and above, therefore providing a longer lifespan than your average toy-store find.
Shape Puzzles
In a Montessori school environment, you'd find multiple puzzles ranging in difficulty, but for home use, a multi-piece option is the most practical.
These puzzles help develop shape and dimensional understanding and have an in-built control metric; there's only one place for each piece, so your child can understand if they've made an error without being told.
Montessori Multi Shape Wooden Puzzle Toy…
Perfect wooden puzzle for babies. Play with your toddler and…
This montessori toy helps babies with gripping skills and the…
The wooden puzzle is safe for babies. Lightweight. No sharp…
3D puzzles or ones with more complex shapes are designed for children 24-36+ months. For parents of younger children, options with easy-grip handles make them more accessible for smaller hands.
Block Puzzles
Block puzzles are perfect for encouraging creative play as typically they have more than one outcome.
They can be used to create the intended shape or refashioned to create new and unusual outcomes.
Wooden stacking rainbows are a great example of Montessori-aligned block puzzles.
Dinhon Wooden Rainbow Stacking Toys, 12…
Innovative building block toys: Unlike traditional building…
Comprehensive skill development: Dinhon's rainbow blocks can…
The perfect family game: when children are playing alone, this is…
Stacking Cups and Stones
Ideal for developing visual discrimination, grip, and coordination, stacking cups and stones are some of the most popular Montessori toddler materials.
They can be enjoyed by children of any age and used to create structures of various shapes.
Sale
BOBXIN Stacking Cups Baby Building Toy,…
Stacking Cup Toy – Toddler stacking cups are composed of 8 cups…
Fun Cups Game – Children can freely stack high cups or compete…
Educational Toys for Babies – These stacking cup baby toys can…
Panda Brothers Wooden Balancing Stones -…
UNIQUE FUN GAME – Our Panda Brothers Wooden Balancing Stones are…
WOODEN STACKING ROCKS SET – Each stone is a solid polyhedron with…
SKILL DEVELOPING TOY – Stimulate your child's sense of…
Color Matching
Another popular Montessori material, color matching toys, helps develop visual discrimination, organization, and vocabulary.
StarMall Montessori Color Resemblance…
16 beechwood skittles painted in four shades of each of the color…
4 wooden stands to hold each set of skittles;4 wooden color…
It is a matching,Jigsaw and manipulative and sorting and memory…
Ball Run
For toddlers, ball runs help to prepare them for reading by strengthening their visual tracking senses.
One to be used with supervision, it's important to choose an option without the bells and whistles to prevent overwhelm and allow the child to focus.
HABA Kullerbu Spiral Track – 26 Piece…
This adaptable and expandable ball track is a great introduction…
Nothing can easily shake the Kullerbu tracks. The ramps, straight…
Kullerbu is the perfect combination of wood and plastic parts and…
Elite Montessori Ball Tracker
🌱It consists of four different coloured wooden balls in…
🌱The light-weight wooden ball moves slowly enough for the…
🌱The child learns to grasp and he is able to place the ball in…
Gross Motor
The above helps develop fine motor skills, but gross motor skills (big muscle movements) should be prioritized too.
Adding in some climbing/balanced-based toys can provide the necessary stimulation while being enjoyed for many years to come.
Some even support the weight of an adult, so the fun doesn't have to stop in childhood.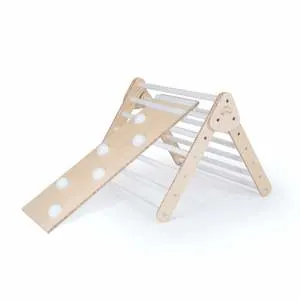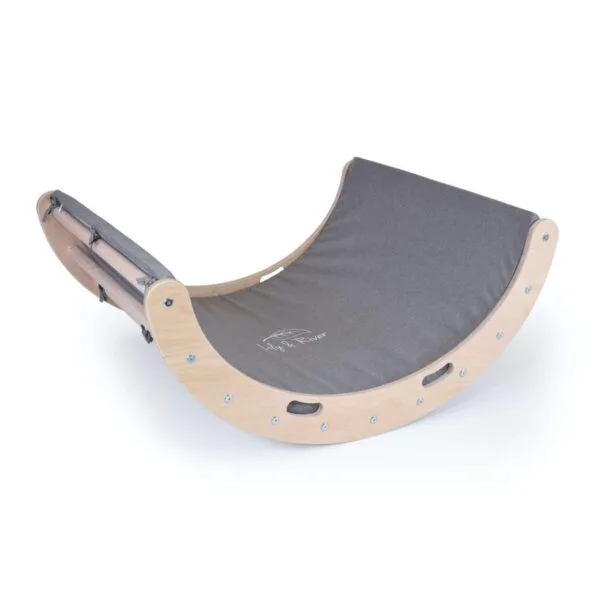 Learning Towers
Finally, the learning tower is not so much an educational toy as a facilitator for participatory play.
While it might not be safe for a two year old to balance on a chair to help with the cooking, a learning tower keeps them safely contained while raising them to the appropriate height.
For parents trying to reinforce handwashing, this makes it easier for little ones to access the sink for washing hands and brushing teeth.
These items are great for having your toddler safely participate in cooking activities.
Sale
As a parent, you know your child best. So use your judgment to decide which of the items on this list are appropriate for your toddler's development stage.
Remember, it's about encouraging, not enforcing exploratory play.
What is 2 year old's favorite Montessori material?
Cheers and don't forget to subscribe!