Teaching a child colors doesn't have to be a chore for you or them. In fact, it should be kept simple and fun, as that is how kids learn best! If you are wondering how to teach a child colors, here are 8 fun ways!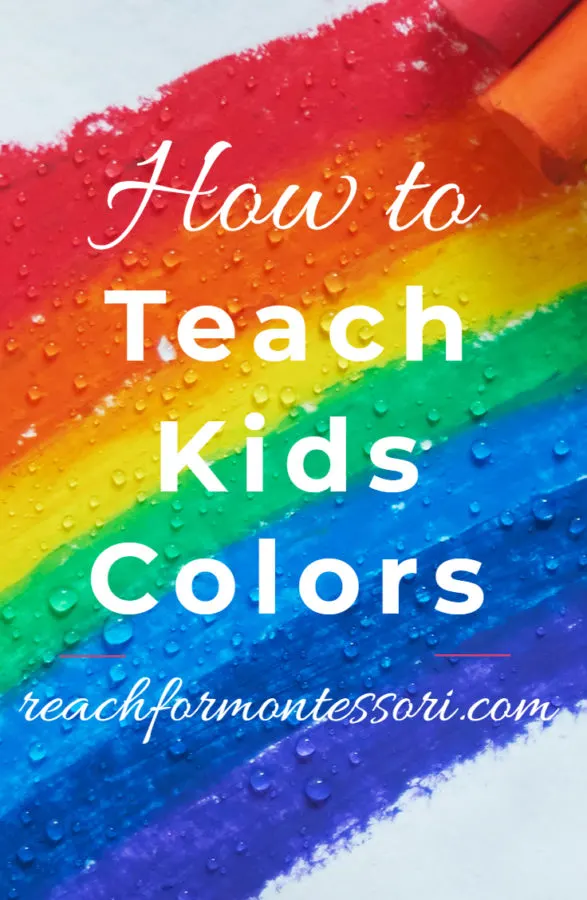 How to Teach a Child Colors: 8 fun ways
Children are naturally drawn to all things colorful. Taking advantage of this natural inclination can be done in many ways.
Sensory bins
While decidedly not Montessori, sensory bins can have many benefits for children, whether implemented in the home or in an occupational therapy setting.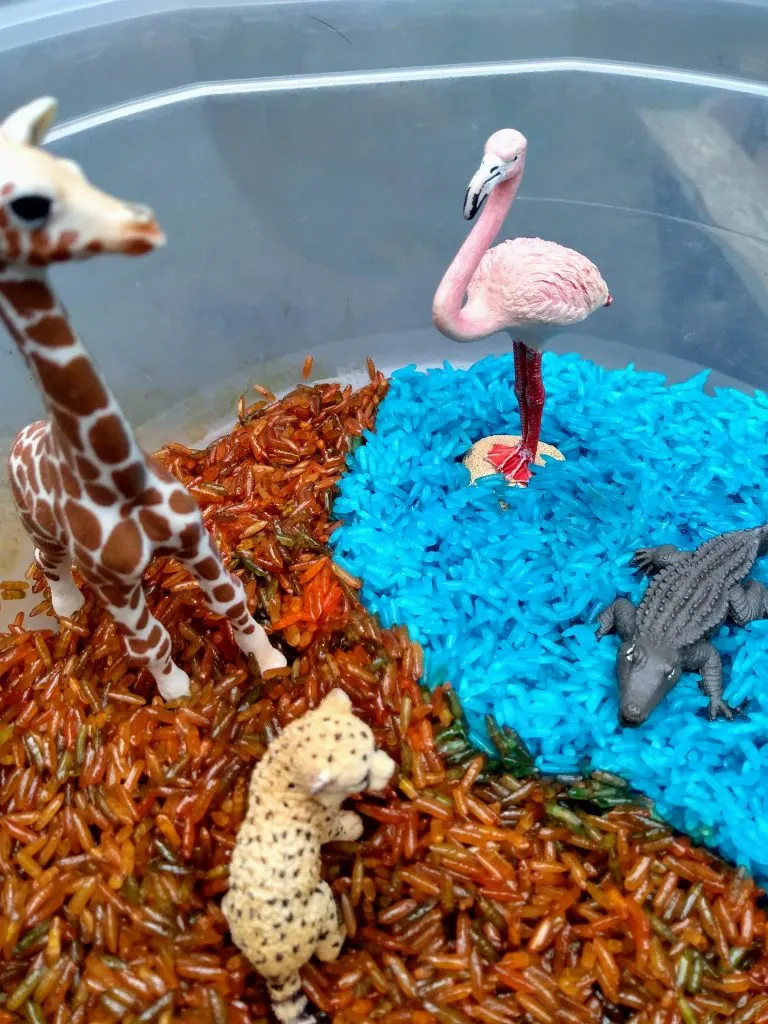 Colored craft sand can be purchased or you can color your own rice and set up colorful playscapes to discuss with your child.
All you need for coloring rice is: rice white vinegar (or rubbing alcohol), and some food coloring.
Little Bins, Little Hands has step-by-step instructions on how to dye rice.
Coloring and painting
Coloring and painting are great ways to teach a child colors. Process art allows a child to explore, create, and learn all at the same time!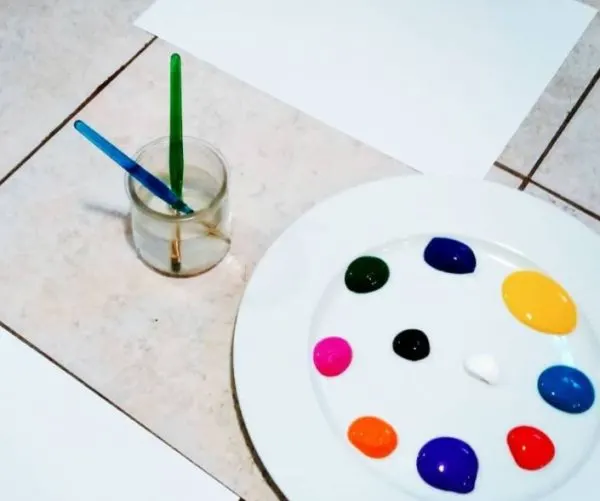 "I am coloring the dog brown. You have a blue crayon. What will you use the blue crayon for?"
Set up a fun art space, gather your supplies, and let the colors fly!
Click here for 51 fun process art ideas!
Preparing colorful foods
Cooking with little kids has so many benefits.
Fine motor and gross motor skills are refined, healthy eating habits are encouraged, bonding happens, and it's a great Practical Life activity, as well as a sensory experience!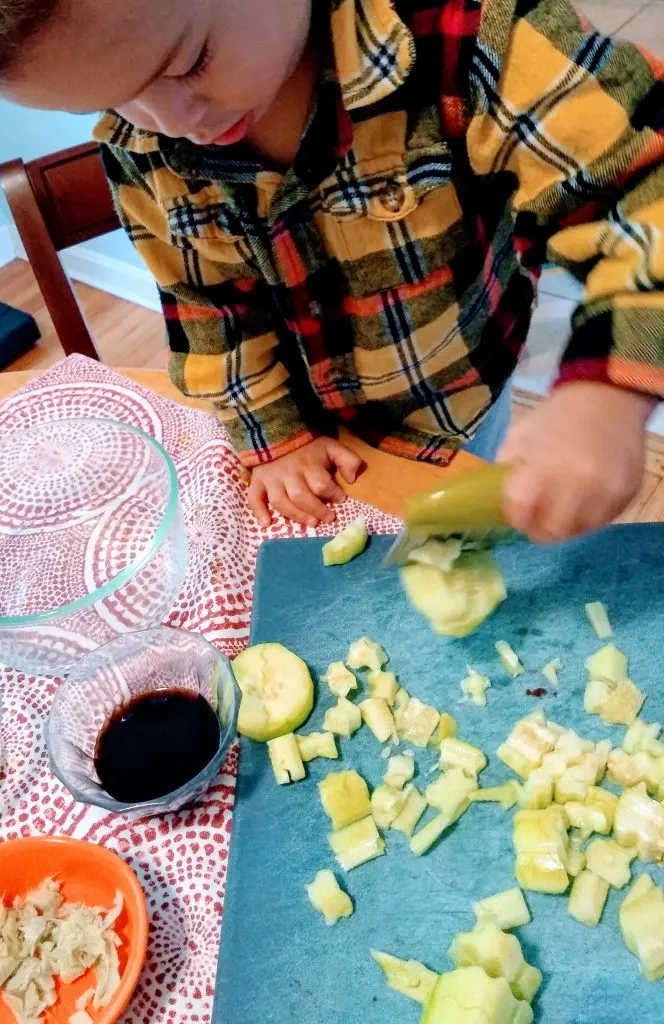 "Look at these juicy red tomatoes. Let's chop them up and add them to the salad! Look at the colorful salad. It had green lettuce, orange carrots, purple cabbage strips, and red tomatoes. So many different colors!"
Color matching games
Young children love games, especially matching games. Carefully prepared color-matching games come with the added benefit of refinement of visual discrimination.
This can be observed in Montessori classrooms with the Color Tablets, a Montessori activity introduced in the primary years. (Ages 3-6)
You don't have to shell out big money for traditional Montessori color-matching materials, though. This activity can be set up for your child right in your home.
Living Montessori Now has a great guide for using paint samples to make your own color tablets.
Button sorting is a great way to improve fine motor skills while teaching a child colors, as well.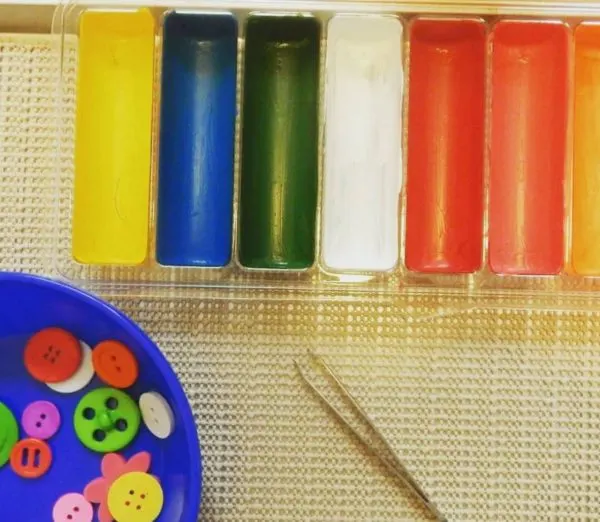 Colorful conversations
Language acquisition is in full swing during the toddler and preschool years. During the fun conversations you have with your child to help their speech development, point out colors in your surroundings and compare them to objects are a different color.
"I see you are playing with your trains. Look at all these colors! Your yellow and blue trains are connected and over here you have two green trains that are coupled up."
Singing songs with colors
Language, rhythm, and learning come together with color songs.
This is just a handful of songs that feature colors. For a longer list, visit Songs for Teaching.
Laundry and dressing
Laundry is the bane of many of our existences. It has to be done, though. (I find this unfortunate.)
Kids don't find laundry to be a chore, though. For young kids, it's as fun an activity as everything else.
And from matching socks to finding different color shirts, kids can learn colors in a snap!
"We have a red sock right here. Let's see if we can find the red sock that matches it."
Color mixing
What young child doesn't like playing with water? Throw in a pipette for transferring and the deal is almost too sweet.
Color mixing can help young kids identify colors in a fun and concrete way.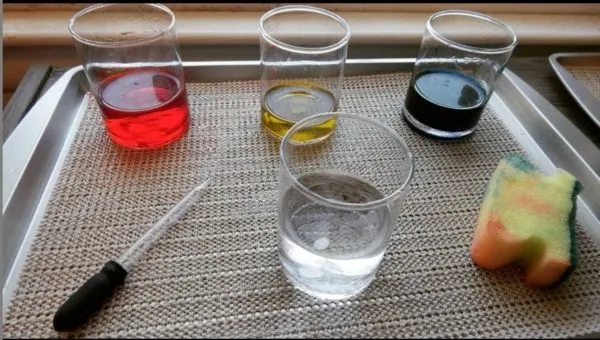 If your child is not quite familiar with their colors, there is no need to teach about primary and secondary colors. You can keep the supplies around for future sensory and art lessons.
If you've been brainstorming on ways how to teach kids colors, you see now that it can be fun and easy!
You can make efforts to do it, and these efforts do come with added benefits, but it really happens in very natural ways.
I don't recommend quizzing young children in the traditional sense.
If you are curious to know if your child has learned their colors after some of these fun activities, there are ways to test their knowledge without putting pressure on them.
"Can you hand me the blue crayon so I can color these pants?"
or
"Would you like to have a snack with me? Today we can try green apple slices. Can you hand me a green apple to cut?"
Stress-free, from start to finish!
Below are some fun books we have that teach kids colors! Integrating learning colors into everyday activities, like reading, is great, as well!
Cheers and don't forget to subscribe!