---
An art area for toddlers is a fun addition to any indoor play space. In fact, many would argue it to be a crucial aspect of a play space, or even a focal point!
You see, art is not simply the creation of a creative product. It's so much more.
And it is the process that counts the most, as well as all the skills that are developed within the process.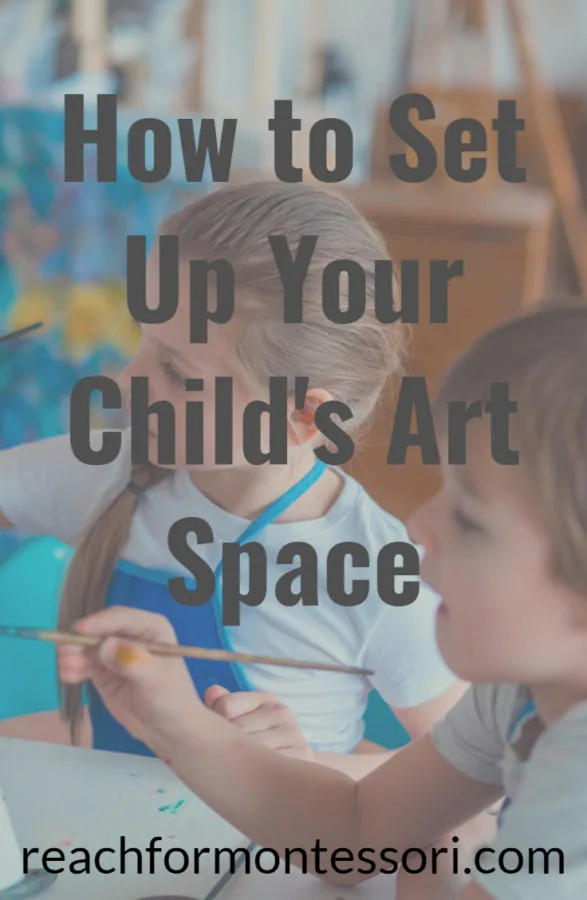 Art helps children develop many skills, including:
Critical thinking
Literacy
Creativity
The list goes on and on, but you get the idea. Art has more to offer than self-expression and creating beauty, though those two things are pretty wonderful.
Setting up an area wherein children can engage in process art and create art through loose parts play has only benefits for kids. And what a wonderful way to show your child that you respect their desire to create!
I'm going to show you how to set up a useful, and visually appealing, art area for toddlers.
After you have perfected the space, check out this article. It contains a list of over 100 items to choose from to put in your child's art area.
Also, don't forget to check out these 51 Process Art Ideas!
I scoured the internet, looking to find some awesome DIY toddler art areas.
And I found some great ones!
The above art space is simple, organized, and functional. A pegboard is used to create storage while keeping the child's art supplies visible and accessible.
The opportunities afforded by using a pegboard are really only limited by your imagination. The corkboard above the art area ideally would be eye-level for preschoolers and older children, so they could admire their artwork, but it works well for toddlers, as push pins can be a hazard.
The above art area for toddlers and preschoolers makes great use of the wall space surrounding the desk. Plastic wall-mounted organizers keep the items organized, while still visible and accessible to the child.
Items that may not be appropriate for unrestricted use are stored out of reach but are still easily accessible to caregivers.
This art space is great. I love how a metal dowel was repurposed to hold markers and colored pencils, right at desk level.
The plastic tray on the desk is the type that can be purchased for $1 at a party supply store. These trays are great for crafting supplies and other loose parts that can be used in art.
The easel near the desk gives a child options on where they would like to create their masterpieces.
The artwork is beautifully displayed above the area. While ideally, it would be at eye level for a child to enjoy, there are many reasons caregivers choose to display artwork out of a child's reach. And that's ok.
---
Setting up an art area for toddlers is a creative process in itself!
Follow your child's interests when choosing art supplies and pay close attention to their play schemas to help you with ideas for art activities and you can't go wrong!
I hope to see some of your art spaces in my inbox! Send me some photos of your awesome art areas, with written permission for use, and get them featured in this article!
Cheers and don't forget to subscribe!