What makes a baby book Montessori?
---
If you are looking to implement a Montessori philosophy in your home right from the start, you may be wondering what to look for when selecting books for your baby. Selecting Montessori baby books is easy when you know what you're looking for.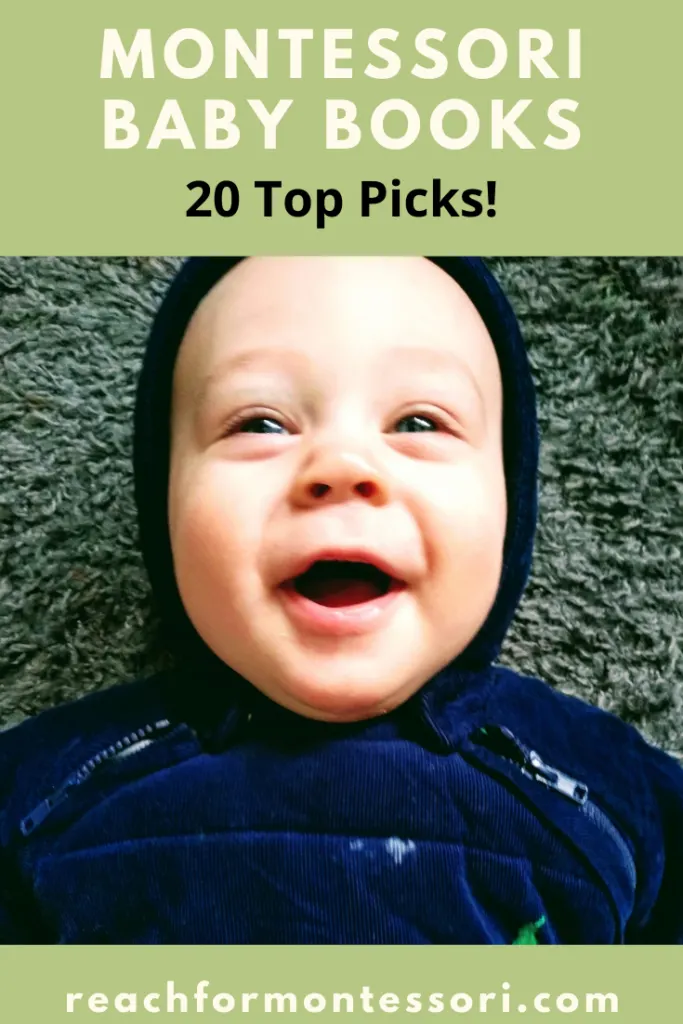 Montessori baby books will have the following features:
Promote diversity and inclusion
Representation of a span of races, ethnicities, abilities, sexual orientations, and genders
Realistic characters and story lines (read here for more about this)
Aesthetically pleasing
Robust language
While the list below is comprised of Montessori books for babies, many children enjoy these selections well into the toddler years and beyond!
Montessori Baby Books
Contrast books
During the first few months of life, babies can only see black and white. Many Montessori parents choose to expose their babies to things with large black and white geometric shapes on them, like high contrast mobiles and contrast cards.
Contrast books are an important addition to a baby's repertoire of high contrast content. When purchased in a board book form, the can be propped up for easy viewing for tummy time or to give your baby incentive to roll.
*the following are sponsored links*
---
Tactile sensory books
Montessori is all about learning through the senses. Tactile sensory books, like the Touch & Feel series, help babies explore different textures before they are able to move around on their own to experience their surroundings.
Introducing these sensations within a book gives parents extra opportunities to give language to the different sensations their babies are experiencing.
*the following are sponsored links*
---
Rhythm and rhyme books
Not only do books with fun rhythms and rhymes stand a better chance of keeping your baby engaged, they are also great for their growing brains.
These books are a lot of fun. "Reading is fun" is the message we want to convey right from the start.
*the following are sponsored links*
---
Emotions in story lines
Though infants are not yet able to identify and verbalize their feelings, it's never too early to expose them to stories that address a variety of emotions. Establishing the habit of reading emotion-themed books right from the start gives them early exposure to material that will help them develop emotional intelligence.
*the following are sponsored links*
Books with faces
Babies love looking at faces. It has been shown that babies, even before birth, prefer faces to other objects.
Montessori baby books with faces are a great way to expose your baby to a variety of skin colors, facial features, and cultural concepts. They are also great for linking facial expressions to feelings.
*the following are sponsored links*
---
Finding just the right selection of Montessori books for babies can be a lot of work. These are some great books and following the points given for selecting Montessori baby books toward the top of the page can help you select even more!
Cheers and don't forget to subscribe!