Montessori musical instrument games for toddlers
I was raised around music and grew up playing different musical instruments. My parents are both musicians, one of them professional for a time, and I have passed that passion onto my children. I have found Montessori musical instrument games for toddlers a fun way to aid in this.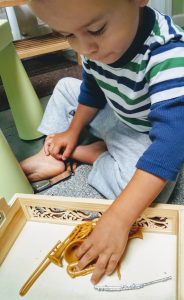 It's not just my children, though! Most all young children enjoy music!
Another thing most all young children enjoy, especially toddlers, is playing matching games! And it's so fun and so easy to combine the two!
Musical instrument matching is a great activity for toddlers and beginning readers. It's Montessori aligned and the nomenclature cards that are used with it can be used for years to come!
The first activity is for young toddlers and is a simple musical instrument matching game.
This may seem silly or pointless to some parents, but it's a challenging and rewarding game for toddlers of different ages.
For young toddlers, using the picture only portion of the 3-part card will suffice. For older tots, approaching the primary years, I recommend using the control cards; that is, the card with the picture and word.
How to play the musical instrument matching games
You will lay out the instrument photos in a line and present a basket of miniature instruments to your toddler.
Demonstrate how to locate the corresponding instrument with its photo card by running the miniature instrument slowly by all of the photos, then back again to the matching photo card.
The tiny instruments are not necessarily needed for this game, they just add an extra sensory element to the game. You can simply use both the control card and the picture card.
Memory games in Montessori
This activity not only familiarizes your child with musical instruments, but also strengthens the connections that are being made in your child's developing brain!
Both matching and memory games are great for helping your child develop:
-visual discrimination
-visual memory
-concentration
-classification skills
For a fun memory game, simply shuffle and line up the control cards face down, then do the same for the picture cards. Easy!
These simple and fun games serve as brain building exercises for your music loving little toddler!
The nomenclature cards (3-part cards) can be used throughout the primary years. Also, the miniature musical instruments, should you choose to purchase them, are great for sound games later on. So, the materials used in this game for toddlers will not be wasted…they will be used for years to come!
I hope you enjoyed the article and get even more enjoyment from the activities!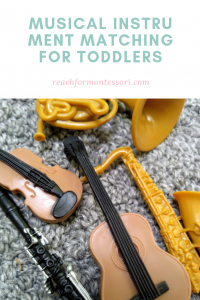 Cheers and don't forget to subscribe!
*sponsored links below*