Christmas is here, once again! As joyful as this time of year can be, it's the time of year most of us stress out about what Montessori Christmas gifts to buy for most precious ones for their first hand full of Christmases.
While there is no such thing as a "Montessori toy", there are plenty of Montessori-align play items that make great Christmas gifts for children being raised in a Montessori fashion.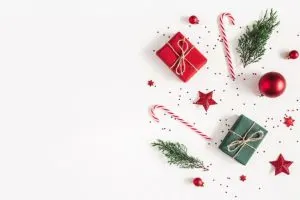 Great Montessori Christmas gifts for kids
If you are into Montessori-style gifts, you'll be putting in just a little more thought into the gifts you give; no buttons and lights, no annoying "learning" toys, and hopefully you can avoid plastic. Wooden toys are favorable.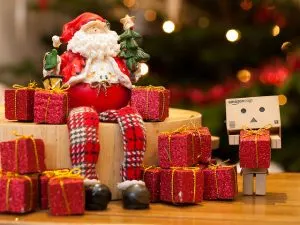 (This post contains affiliate links. Purchasing from these links costs you nothing extra, but helps with our website upkeep.)
Having a 14-month-old, a freshly-minted 3-year-old, and a 5-year-old, I can definitely help you with your Christmas shopping this year.
I have the gifts broken down by ages for you. If you are looking for gifts across age groups, I can't recommend the following items enough!
Toniebox and Tonies (They just release Tonies Blocks and they are amazing. I highly recommend the ocean set.)
Montessori Climber (Cold weather means gross motor is going to be happening indoors more.)
Montessori Christmas gifts for babies
0-3 months
Topponcino. Now, this could be a gift for an expectant parent or for a newborn. Montessori babies love their Topponcinos!
Mobile. It's a must-have for babies! Montessori mobiles are all about simplicity and contrast.
Contrast cards. It's a fact that contrasts capture a baby's attention and there is science behind why your little one is going to be captivated by these contrast cards!
3-6 months
Board books are a great introduction to a future of loving to read. Eric Carle books are a favorite in Montessori households as the images are high contrast and the stories are simple and engaging for babies.
For more Montessori-aligned book recommendations, check out our list of inclusive and diverse books and our list of baby books.
Sometime between 3 and 6 months, babies learn that they can use their hands for more than just chewing on.
This is one of my favorite milestones and how special it is for a baby to have the first toy they grab to be made from a natural material!
Rattles. Babies at this age are beginning to learn cause and effect. One of their first experiences of this is often with a baby rattle…and I absolutely love this one!
6-12 months:
Object Permanence
Object permanence box. This is a Montessori staple and it's been a big hit with all my kids at this age.
Babies enjoy figuring out why things happen so they can try to make it happen again. A mini ball run/ hammer toy is great for exploration.
Shape sorter. This is fun and so, so great for a baby's brain development!
Montessori Christmas gifts for toddlers
12-18 months:
Threading toys. Threading toys are great for developing hand-eye coordination and concentration. My 2 older kids both enjoyed this as young toddlers…actually, they still do!
Car ramp/ball racker. My son received this as a gift for his 1st birthday and a year later, not a day goes by where he doesn't play with it!
Blocks. The ultimate in open-ended toys! Every child should have a set of good-quality blocks!
Montessori Christmas gifts for 18 months to 3 years
Schilling bells. My kids absolutely love music! We got our daughter these bells a few years ago and they have stood the test of time. It is wonderful to hear my 4-year-old adapt songs from the piano to the violin, to the bells. These have brought a lot of joy to our house!
Schleich animals. These animal figurines are crafted with impeccable detail and they even make real-looking footprints in clay! There simply is no substitute for Schleich!
Schleich barn. Now, this is a gift that reaches across age groups, actually. My 1, 3 year old, and 5-year-old enjoy this equally! The quality and detail are great.
Montessori gifts for preschoolers
Magna-tiles. My children love them some Magna-tiles! These nifty little shapes provide hours of fun and help foster creativity. This is a great gift for children who enjoy building and love open-ended toys!
Snap Circuits Beginner. This is a pre-school age friendly version of Snap Circuits. The instructions are drawn for the child, instead of written. It's perfect for pre-readers who are interested in making cool things happen with electricity!
Train set
Gifts for kids of different ages
Now, if you're like me and have children of different age groups, here are a few suggestions. The following toys make great Montessori Christmas gifts for ages 1-6, or even beyond.
Climber and rockers
It's hard for me to imagine not having this in our house. The kids use it to rock, climb, get comfy reading, roll cars and balls in it, jump from it, turn it on its side and give puppet shows, color match – the opportunities for play are endless!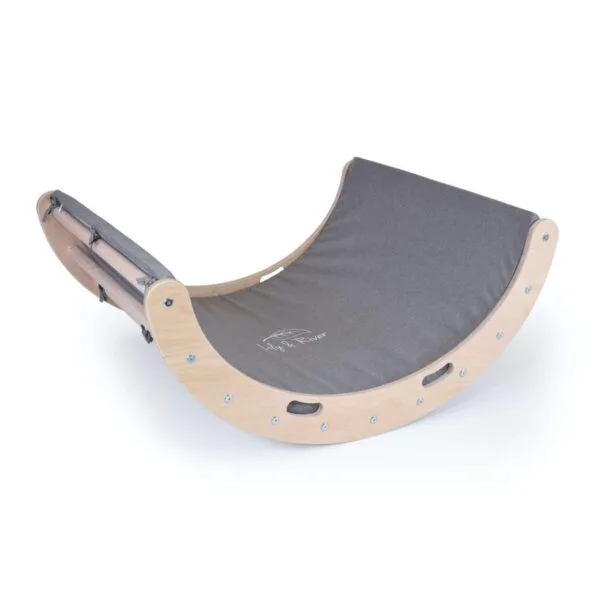 Tis the season for it to be way too cold for lots of us to go outside! Kids have energy to burn in all weather, though!
I've already shouted the praises of the Grimm's Rainbow. It's one of our favorite open-ended toys. The opportunities for play are boundless.
Watch out for cheap, plastic imitations, though. The original rainbow is cut from a single piece of wood and is kept rough to grip for easier building.
Just like a child's interests, children's skill levels will vary. Children progress in different areas at different paces. Only purchase items with their development and interests in mind.
Sometimes we impose our own goals and interests on our children. It is so important not to do that! Watch your child closely to see what they love to do!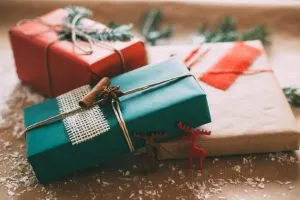 I hope this list was helpful for you. For stocking stuffer ideas, check out our Montessori stocking stuffer guide.
Tell me, what was your child's favorite, and most utilized, gift was last year! Hoping to hear some great responses!
Cheers and don't forget to subscribe!