In a Montessori classroom, gross motor activities come in the form of free play on the playground and are worked in throughout learning activities. In Montessori homes, however, parents and caregivers find gross motor toys to be quite helpful.
And while there is no such thing as a Montessori toy, Montessori caregivers do tend to give preference to gross motor toys with some of the same features you will find in traditional Montessori items.
Toys with natural materials, simple designs, and developmental benefits are all widely considered to be Montessori-aligned.
If you are looking to purchase Montessori-aligned gross motor toys for your own child or a loved one, you have come to the right place.
In this article, we will go over the benefits of gross motor toys for children and you will get recommendations on some beautiful and well-made items that will fit well into your Montessori home setup.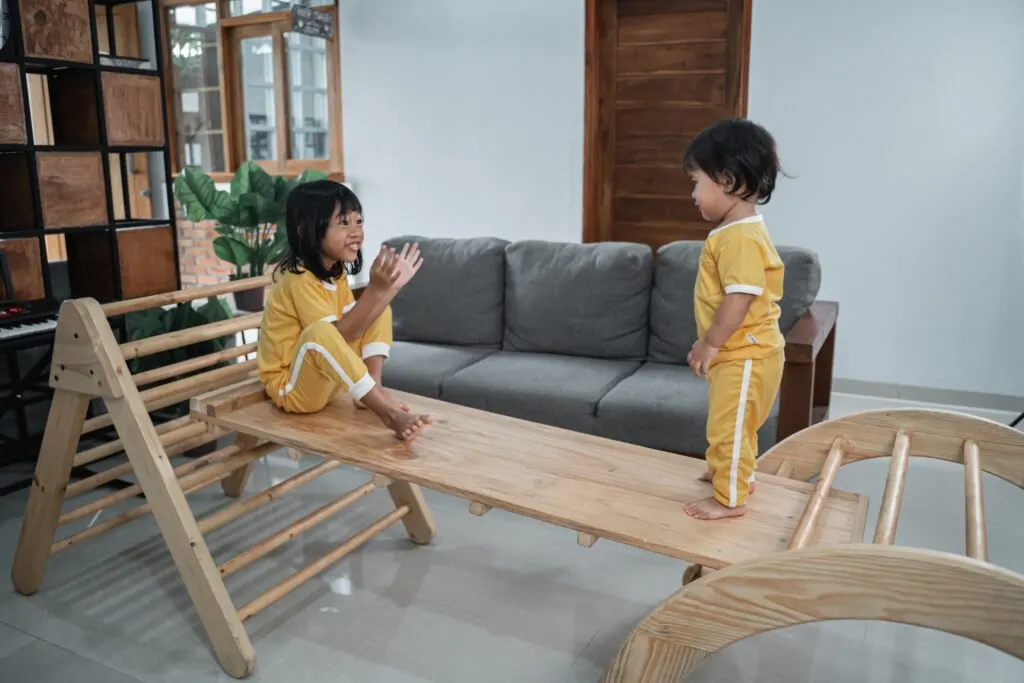 (This post contains affiliate links. Purchasing from these links costs you nothing extra, but helps with our website upkeep.)
The benefits of gross motor toys in a Montessori home
You are likely already aware that children have a need to move their bodies – a lot. Without enough physical activity, not only do children's bodies suffer, but their brains do, too.
Children who do not get enough gross motor activity throughout the day demonstrate shorter attention spans and poorer retention of information.
The benefits of physical activity for children go beyond the prevention of poor memory and shorter attention spans, though.
According to Dr. Deborah Smith of Clemson University, gross motor play, specifically climbing, helps children develop problem-solving and decision-making skills.
Also, research has shown that the part of the brain that controls finger motion is the same part of the brain that is responsible for math-related learning.
The skills developed on gross motor equipment help children in their academic development – how neat!
Montessori gross motor climbing toys
There are many different types of climbing toys available these days. I'm partial to rainbow rockers, as our rocker is the first large gross motor toy we purchased for our Montessori home.
Pikler Triangles and Nugget-style foam climbers are extremely popular in Montessori homes, as well.
All of the toys on this list are great for a child's development. You can make your choice based on the space you have in your home, as well as your budget, as many of these toys do come with a bit of a price tag.
Rockers
I've made it no secret that my children love their rainbow rocker. We've had it for nearly 5 years now and it still gets used in one way or another every single day.
Lily & River has one of the most popular and highest quality rainbow rockers available. The cushion on this one is a feature that is unique to this manufacturer.
Rocker/climbers are great gross motor toys, plus they can function as reading cubbies, puppet theatres, and car tracks.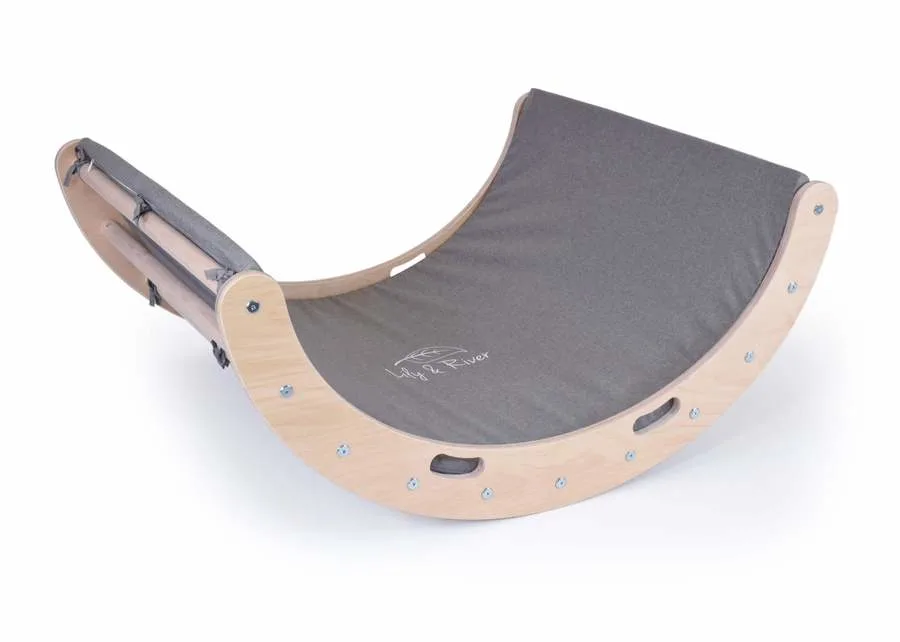 Here's a view of the rocker when it is turned upside-down. As you can see, it's great for climbing, as well.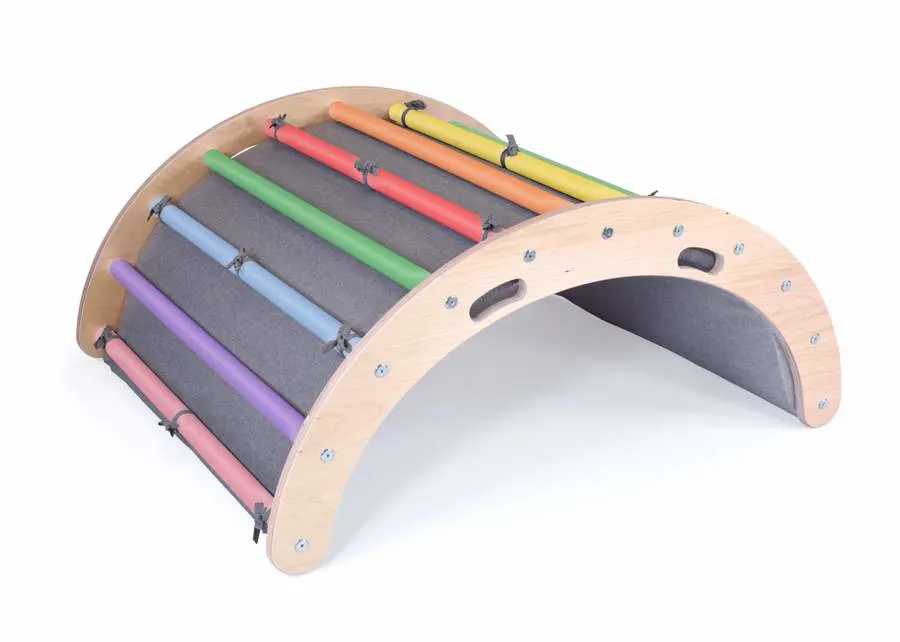 Climbing traingles
Pikler climbing triangles are probably the most popular gross motor toy for Montessori families. They are visually appealing and typically fold for storage, which is great for clearing the space for other activities.
Piccalio has a well-made and absolutely beautiful option called the Mini Climber. It folds and can hold weights over 130lb.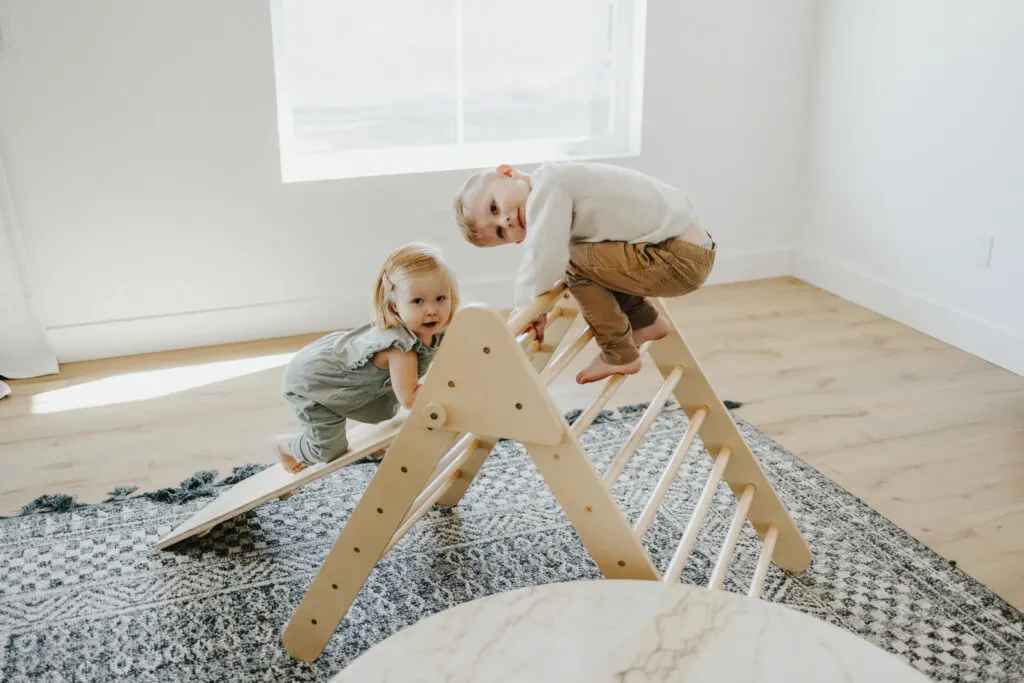 Montessori Climber has a very popular Pikler. This one can be purchased on its own or you can get the ramp and arch with it for more versatility.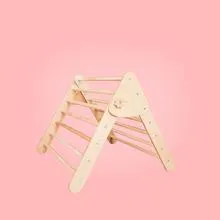 Another great option is the Lily & River climbing triangle. The set shown here comes with a ramp with grips, which doubles as a slide.
There are several really beautiful color options available and interest-free payment installations are accepted, which is rare for a company to offer these days.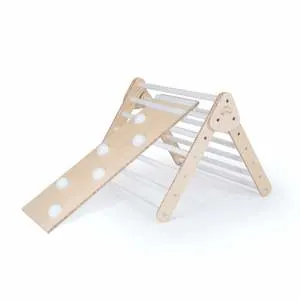 Foam Play Couch
You have likely heard of foam play couches, as they are very popular in Montessori homes.
Children's Factory has an absolutely fabulous foam couch that has some of the features of the more well-known brands – plus some of its own.
Their foam couch provides plenty of open-ended, gross motor play opportunities, as well as comfort.
Climbing Domes
If you've got a large space in your playroom or a space in your yard for gross motor play, climbing domes are great.
This Albott Dome Climber can support the weight of multiple children and it comes in different sizes – a small size for indoor spaces up to an 11ft dome for outdoor spaces.
Balancing toys
Balancing toys are fun and developmentally healthy for all children, however, any Occupational Therapist will tell you how much they can benefit children with Sensory Processing Disorder.
Whether you are looking to supplement your child's in-office OT or you're looking for a fun gross motor toy (or both), these balancing toys are great options.
Lily & River has what is likely the most well-made, durable balance board on the market. This is a very popular item in the Montessori community.
Not only does it help children develop balance and coordination, but, just like the rainbow rocker, it can be used as a reading "chair" or car track, as well.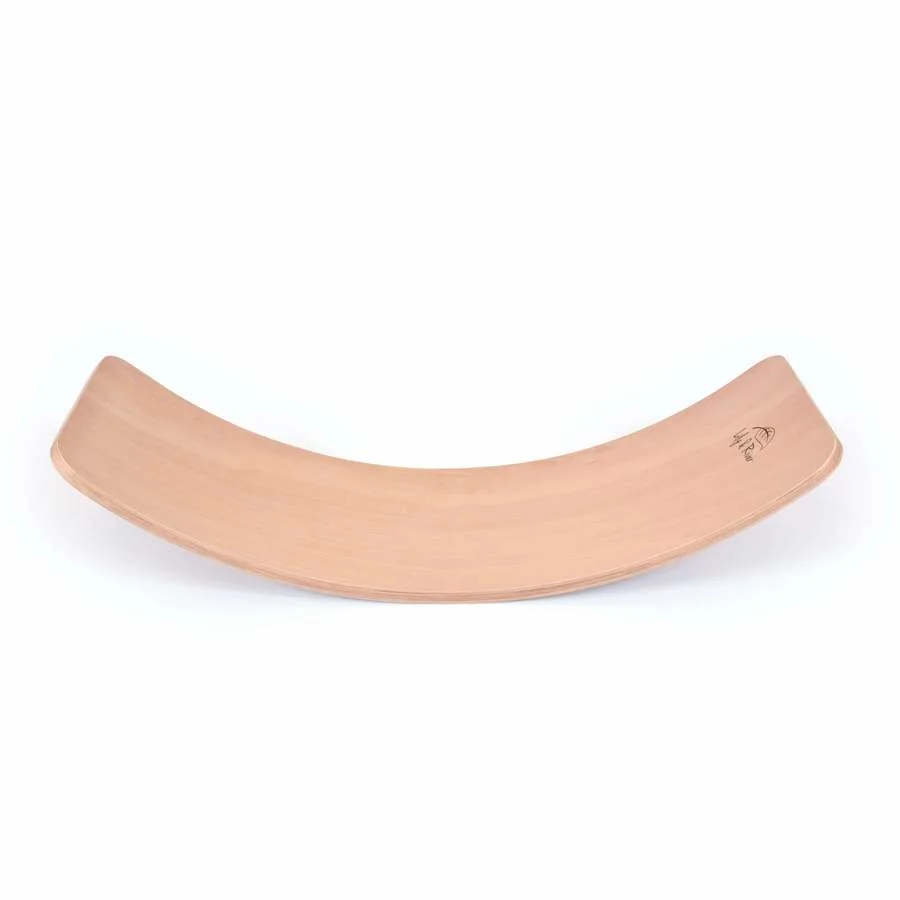 Stepping stones
Stepping stones and hilltops are a really fun way to help children develop balance and coordination.
Lily & River has a beautiful set of stepping stones in their shop. These are great because they don't take up a lot of space when stored and they have grips on the bottoms so they won't slip out from under the child.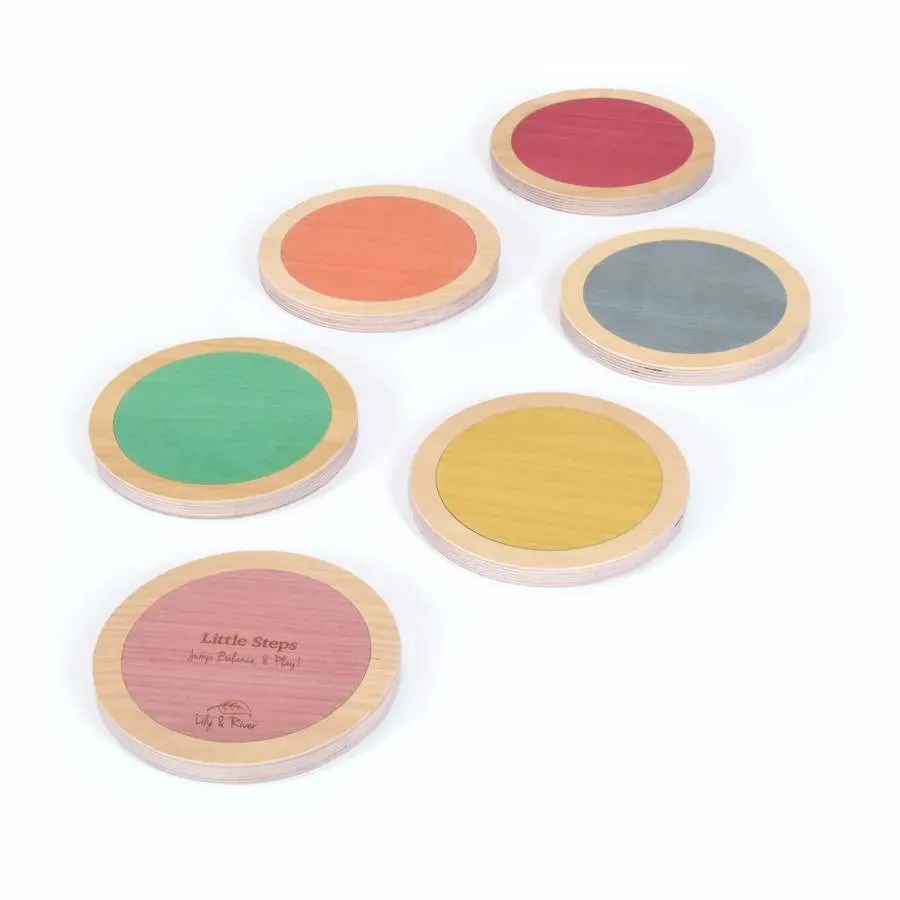 If you have ever been in a Montessori chat group around the holidays, you've likely heard people recommend the Gonge Hilltops.
My children thoroughly enjoy setting up obstacle courses and challenging themselves using these.
Balance Bikes
Balance bikes are a favorite in my home. They get lots of action both inside the house and outside.
Strider balance bikes are the most popular in the Montessori community. These are a little pricier than other balance bikes, however, they are extremely well-made and can be used by subsequent children in the family.
My 3 children were all gifted Velo balance bikes and they absolutely love them. In fact, they've been invited to ride on their friends' balance bikes in the past and they all commented on how much more comfortable their own bikes were.
We started with the Velo bikes around the age of 15 months when they were steady with walking and they still get use at the age of 5.
Maximum effort/heavy work toys
Children of all ages benefit from and enjoy maximum-effort activities. Sometimes, though, it can be hard to satisfy this need.
That's where large building toys come in. Through play with these toys, children can experience the physical, mental, and emotional benefits of heavy work.
Large building toys
Big Building Blocks has a highly-rated, eco-friendly option. With these blocks, children can engage in imaginative play while they develop spatial reasoning and spend energy.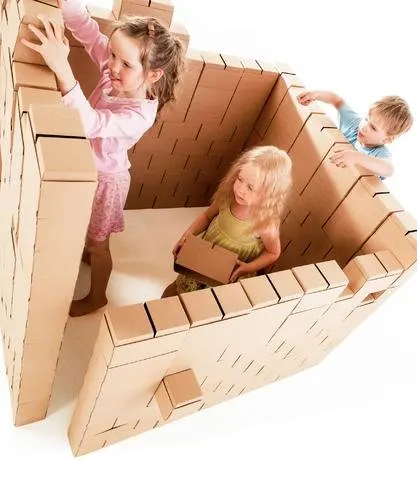 If you are looking for something more durable, Costzon has some amazing foam building blocks.
They are quite a bit heavier than the previous option, which makes them perfect for children who need the extra sensory feedback.
There you have it – the ultimate list of Montessori gross motor toys.
Most of the toys on this list are great for inside use. If you are looking for Montessori-aligned toys specifically for outdoor spaces, check this out: Montessori Outdoor Toys: 10 Top Picks.
Cheers and don't forget to subscribe!