Outdoor play has so many amazing benefits for children and Montessori parents look for certain things when choosing toys for their children. Picking out the right Montessori outdoor toys can be a challenge with all the options out there.
Since there is really no such thing as a Montessori toy, I've picked out the best outdoor toys that align with the Montessori philosophy.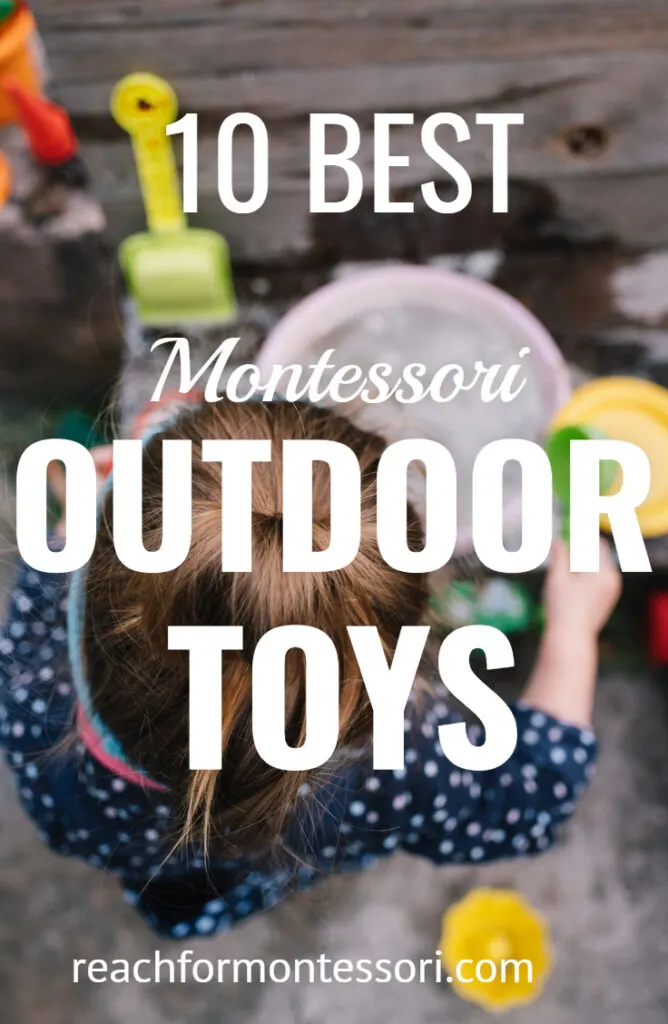 (This post contains affiliate links. Purchasing from these links costs you nothing extra, but sends a few cents our way for website upkeep.)
10 Montessori outdoor toys kids will love
Practical Life is a big deal in Montessori. Giving a child items that help them accomplish real tasks is not only beneficial to their development, but it provides them with a lot of fun, as well.
A kids' gardening set with tools that really work can provide independence while helping with gardening tasks and it's wonderful for imaginative play, as well.
CUTE STONE Kids Gardening Tool Set,…
Kids Gardening Tools Set: Kit includes Child Sized Wheelbarrow,…
Fun Wheelbarrow : This wheelbarrow is as functional as it is fun…
Indoor & Outdoor Use: Younger Children can use these tools…
These are a great way for kids to develop gross motor skills, balance, and coordination. Stepping stones are an engaging toy that kids will want to play with again and again. (Inside and outside)
Whether it's hopping from stone to stone or making a long "bridge" across an imaginary pond, stepping stones are a fun, Montessori-aligned, toy for every age.
NATIONAL GEOGRAPHIC Stepping Stones for…
TEST YOUR BALANCE – Show off your balancing skills while jumping…
MADE TO LAST – Our unique foam formula is both flexible and…
DURABLE YET SOFT – These colorful stones are lightweight and soft…
This is a great item for kids who love to explore the outdoors, and especially for those who want to catch more than just a glimpse of the wildlife around them.
It's a fun and educational way to encourage curiosity about nature. This is a kit we enjoy.
It includes real, working binoculars, a magnifying glass, a compass, a whistle, a bag, and a flashlight.
Small Discoverer Outdoor Exploration Set…
⏳SPEND TIME WITH FUN AND BENEFIT – Encourages for loving and…
🎁6 GIFTS IN ONE COMPACT SET OF outside toys for kids – this…
🏃‍♂️NO MORE SITTING AT HOME – your child will forget…
A mud kitchen is an indoor-outdoor activity center that's fun for kids of every age. It's a place where children can play with mud, water, sticks, and leaves, and just get plain creative with nature.
Play is about having fun, but it's also about learning, experiencing new things, and experimenting. A mud kitchen provides everything that kids need to do all of these things.
Of course, there is some disagreement on whether play kitchens (indoor or outdoor) are Montessori-aligned. The fact is, Dr. Montessori was not anti-imaginative play at all.
A Mud kitchen provides children with opportunities to practice their Practical Life skills while using their imaginations to learn about the world around them.
Sale
TP Toys Muddy Maker Mud Kitchen -…
IMAGINATIVE PLAY: Mud pies and puddle pops are on the menu at the…
INCLUDES: Wet and dry activity areas, hob and "mud kitchen"…
BACKYARD CHEF: Mix some mud in the plastic sink, cook on the…
A sand and water table is a place where kids learn about the physical properties of materials through play.
For example, they discover that different materials feel different when poured through a funnel or when used to make a sand tower.
While playing in the sand and water, children build early math, science, and problem-solving skills.
When set up for Practical Life, outdoor sensory tables stimulate curiosity about shapes, color recognition, counting, sorting, and so much more.
Whether used for free play or Practical Life, this is a great Montessori-aligned outdoor toy.
Children's Factory Mini Double Discovery…
SENSORY LEARNING: Engage all the senses as part of your…
DURABLE DESIGN: This sensory bin is made from sturdy plastic and…
VERSATILE PLAYTIME: Fill this sensory table with sand, water or…
It's a sandbox. It's where kids play. Kids love sandboxes.
Many of us grew up with a sandbox, but when it comes to setting up an outdoor play space for our own children, we are bombarded with new outdoor items and we tend to overlook the classic outdoor items.
Even though they are just as happy playing in the dirt, it's nice to have something that is specifically made for them to play in.
Sandboxes provide the opportunity for important Montessori work, such as scooping, pouring, and schematic play.
Sale
Best Choice Products 47x47in Kids Large…
COMFORTABLE SEATING: Benches on opposite sides of the sandbox…
SEATS CONVERT TO COVER: Designed with 2 benches that seat up to 4…
CEDAR WOOD: Heat-treated cedar wood helps the sandbox remain…
Dome climbers are great for gross motor development, as well as a child's developing problem-solving skills.
Children have to look up, down, and all around to determine the correct route to achieve their goals.
This is great for physical and mental development, as well as the development of spatial awareness.
Sale
Lifetime Geometric Dome Climber Play…
Assembled Dimensions: 5 ft. H x 10 ft. W | 6 ft. radius safety…
Suitable for children ages 3-10. Weight Capacity: 600 lbs
UV Resistant – Retains Strength and Maintains Color
When we think of setting up an art station for our child, we tend to exclude the outdoors as an area where this can be done. Not so fast, though.
Setting up an outdoor art easel is a great way to get your child's fine motor skills going and stimulate their imagination.
You will find that the process art your child participates in while outdoors is not limited in any way.
They will have access to any art supplies you provide, plus the mediums provided by nature.
Easel for Kids – Discovery Create and…
CREATE AND PAINT – With the Plum Create and Paint Easel little…
CRAFT YOUR CHILD'S INSPIRATION – Children will be inspired by…
EASY CLEAN PAINTING SCREEN: The painting screen is easy clean so…
A balance beam is an awesome, Montessori-aligned way to promote physical activity and brain development in children.
It helps kids improve their balance, spatial awareness, motor skills, and confidence.
Balance, coordination, and confidence are all benefits of learning to ride a bike.
What is so great about balance bikes is that children don't have to wait till they are 3-5 years old to finally experience the joy of bike riding.
Toddlers as young as 12 months old may be able to successfully straddle a balance bike, then slowly move on to riding it.
Many children who have used a balance bike continue straight on to using a regular bicycle with no problems, whereas children learning from an ordinary bike often find that they have difficulty in balancing.
These are quite popular among Montessori parents. My children love their balance bikes. They were gifted to us and they get quite a bit of use on a daily basis. (For years!)
Strider 12" Sport Bike, Blue – No…
12" SPORT BIKE – The Sport is our best all-around model. It…
EASY TO ADJUST – As your child grows, you can adjust the seat &…
WHAT IS A BALANCE BIKE? – A balance bike introduces your child to…
---
Children love playing outside and it's a great idea to allow plenty of unstructured play. These outdoor toys serve as great aids to this type of play.
What Montessori outdoor toys does your child enjoy?
Cheers and don't forget to subscribe!