In this article, you will learn what Montessori spooning activities are, how to introduce them to your child, and get some spooning activity ideas.
What are Montessori spooning activities?
Montessori spooning work is a Practical Life work that is typically introduced in a Montessori classroom in the primary years.
This activity belongs to a special category of Practical Life activities that is introduced early on; Preliminary Practical Life or Preliminary Movement activities.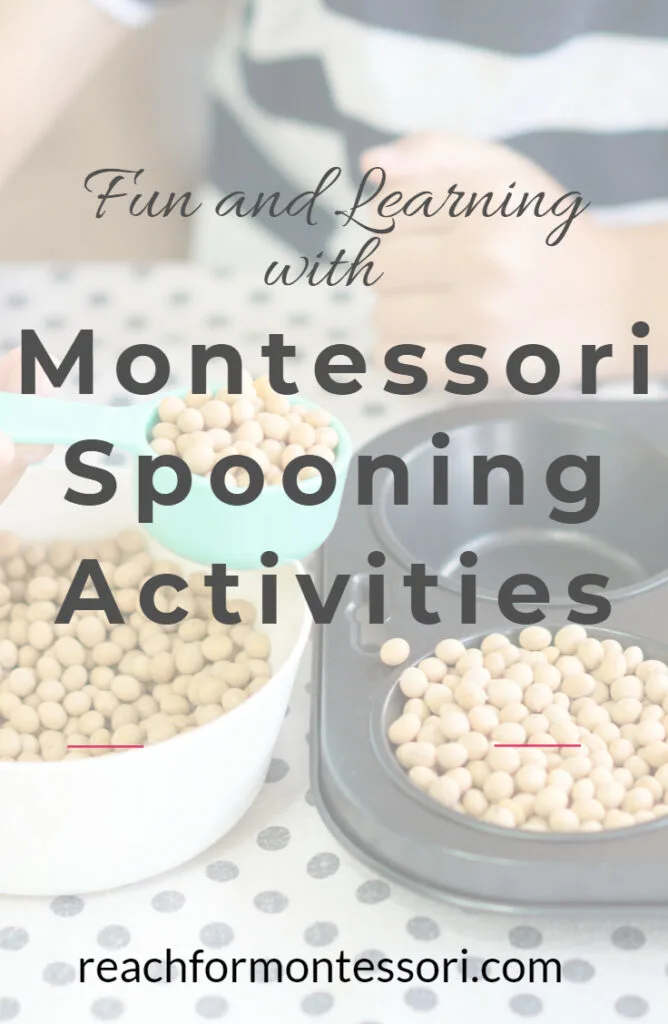 This preliminary Practical Life work is aimed at helping a child master the coordination and concentration needed to interact with the Montessori materials and navigate the Montessori environment.
Some other Preliminary Practical Life activities:
opening/closing doors quietly
gently turning pages of a book
walking a line of painters tape
moving chair quietly away from a table
walking around/between work mats
These activities might seem trivial to those unfamiliar with Montessori, but the importance of these preliminary activities cannot be overstated. They are vital to the success of any Montessori learning environment.
Through activities like this spooning exercise, children learn to be precise in their movements and to take care of the materials.
Taking care of their movements will carry into cosmic lessons throughout a child's Montessori learning career.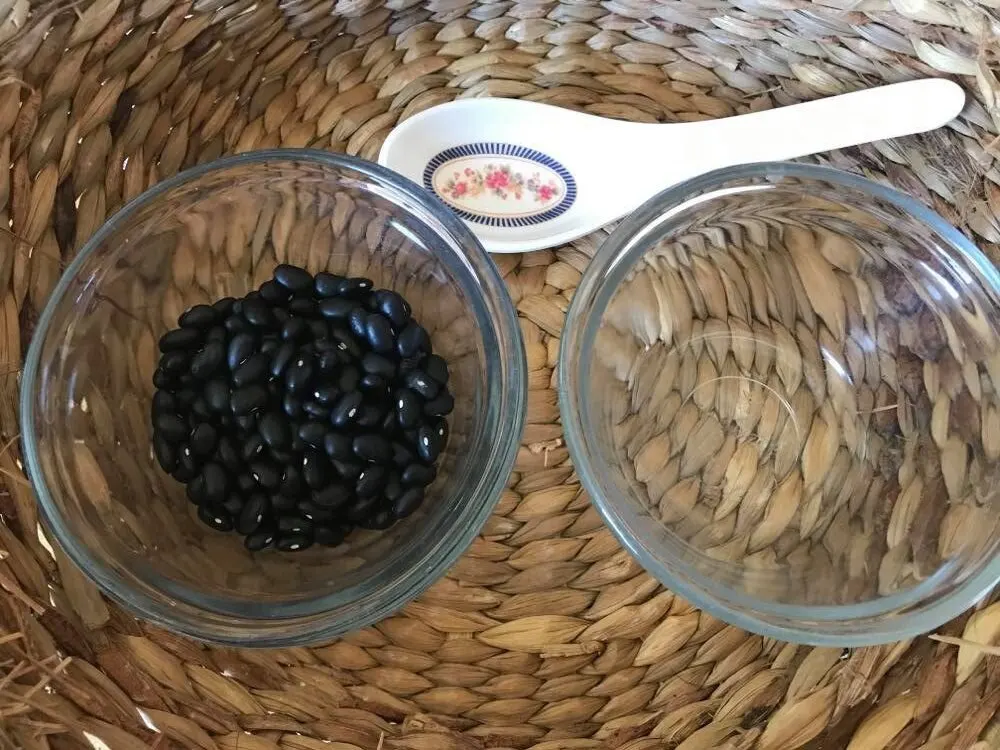 How to introduce spooning activities
Direct and indirect aims of transferring with a spoon
learning how to spoon items from one container to another
measurement and estimation skills
hand-eye coordination
practice making precise movements
refinement of fine motor skills
Points of interest for the Montessori spooning activities
difference between weight of empty spoon and filled spoon
visual difference of empty full bowls
sound of dry beans/rice, ect as they fall into bowl (auditory feedback)
Items you need for activity
dry beans (or chosen item) in a glass bowl
empty glass bowl (make sure to present with identical bowls)
large spoon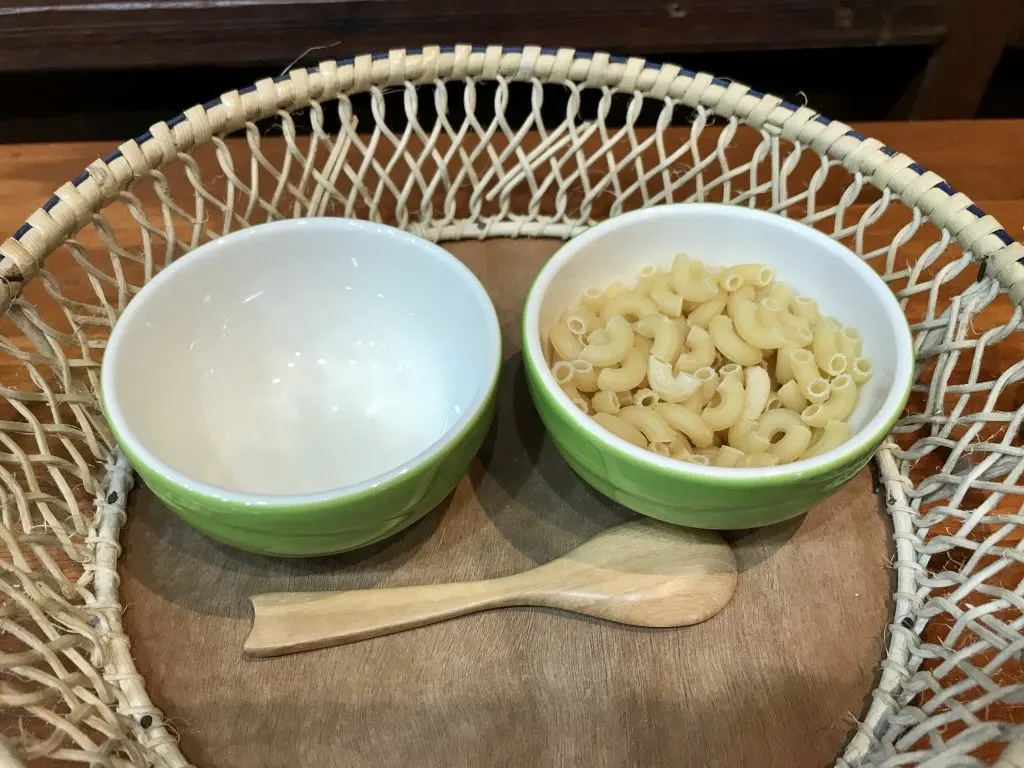 Presenting the Montessori spooning activity
Before, during, and after this presentation, it is important to carefully monitor the dry material chosen for this transferring activity, as they may pose a choking hazard for the child, a sibling, or a pet.
Invite your child to carry the work mat to the table while you carry the activity tray
Place the bowls on the mat, full bowl on the left and empty bowl on the right
Tell your child you are going to transfer the beans from bowl to bowl using a spoon
Grasp the spoon between the thumb and fingers of your dominant hand
Scoop the beans slowly from one bowl to the other until the bowl on the left is empty
If needed, steady the bowl on the left side with your non-dominant hand and tilt it slightly toward you if needed
Now, scoop the beans back to their original bowl, using the same slow and steady motion
Pick up any spilled beans using a pincer grasp and place them into the bowl on the left
Invite your child to try
Spooning activity variations
For a new activity with a new degree of difficulty, you can set your Montessori spooning activity up using different items.
Doing this also helps children maintain interest in an activity. (Food items are uncooked)
The limit is your imagination, but here are some items for you to consider:
Items to spoon:
large piece spices (cloves, ect)
salt
sugar
rice
lentils
paper punch dots
pom poms
seeds
cotton balls
oats
cereal
small variety pasta
barely
Many of these items can be dyed for holiday-themed activities, learning units, or for a color sorting activity.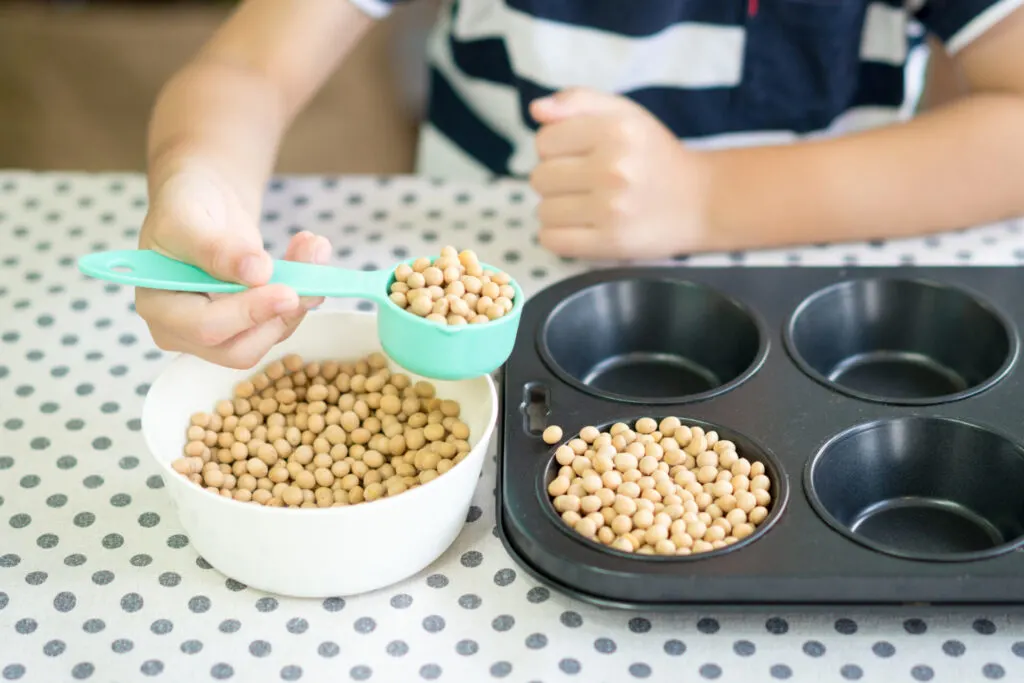 Spoon variations:
jelly spoon
wooden spoon
coffee scoop
ladle
serving spoon
measuring scoop
Bowl variations:
muffin tin
egg carton
wood bowls
metal bowls
ice cube tray
cups
baskets
I hope you enjoy watching your child concentrate on this fun activity!
What spooning activities does your child enjoy?
Cheers and don't forget to subscribe!