Open-ended toys seem to be all the rage right now. What makes a toy open-ended, though? And what are the benefits of playing with open-ended toys for toddlers and preschoolers?
Which open-ended toys are the best?
So many questions!
In this article, you will get some answers. I've compiled a bunch of information on these toys and put together a list of the best open-ended toys on the market.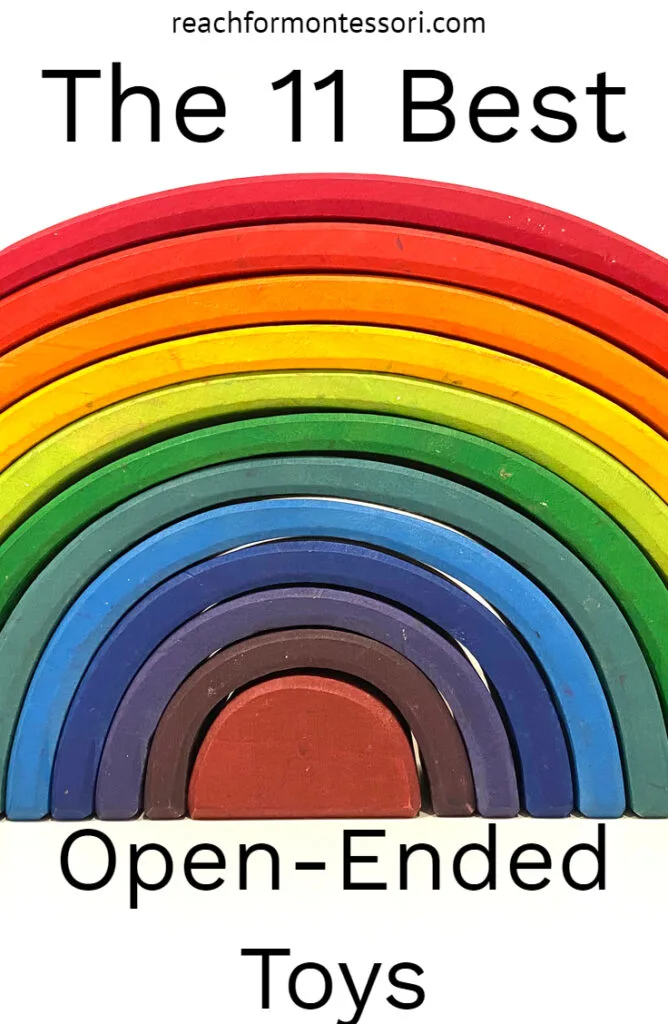 (This post contains affiliate links. Purchasing from these links costs you nothing extra, but helps with our website upkeep.)
What are open-ended toys?
Open-ended toys are toys that have no clear purpose and that can be used in numerous ways. These toys require full-engagement from a child in order for play to happen.
A child must figure out, on their own, what role the toy will play in their game/play scenario – and there is no wrong way to play with it.
Benefits of open-ended toys
The benefits of open-ended toys come with the level of engagement that is required for their use in play. Through play with these simple toys, children develop many different skills.
These skills include:
Increased attention span
Social skills
Increased independence
Storytelling & other language skills
That is quite a list of benefits!
Parents enjoy open-ended toys, too. They provide more play opportunities for the money – you've got to love that.
Examples of open-ended toys
Though I've selected the 11 best open-ended toys for this list, many, many toys can be considered open-ended.
If you are familiar with loose parts play, you will be able to more easily identify which toys are open-ended and which are not.
Here are some examples of toys that are open-ended:
wooden block set
items in nature
dolls
toy cars
Examples of close-ended toys
If you are under the impression that I'm here to convince you that open-ended toys are better than close-ended toys, I assure you I am not.
Close-ended toys serve an entirely different purpose and come with benefits of their own.
Here are some examples of close-ended toys:
shape sorters
light-up toys that give instructions
board games
musical toys
11 brain-boosting open-ended toys
You may have heard of the Grimm's Rainbow before. The large rainbow consists of 12 wooden arches that fit together to form a rainbow.
Fortunately, there are plenty of stacking rainbows to choose from these days, if you don't want to splurge on an authentic Grimm's Rainbow.
They are all great for open-ended play. I do suggest staying away from the plastic rainbow stackers, as the pieces slip off each other, making play frustrating for toddlers and preschoolers.
Wooden blocks don't get enough praise if you ask me. They are simple but so great for brain development!
By playing with simple wooden blocks, young children develop social, motor, cognitive, and language skills.
Another great thing about choosing wooden blocks for open-ended play is that they are often very affordable.
I've found plain wooden blocks at yard sales and thrift stores that were in great condition.
Wooden peg dolls can be used in so many different ways during play.
My children enjoy color matching with their stacking rainbow and imaginative people-play with their peg dolls.
Gross motor toys often get left out of the open-ended play conversation.
So many important skills develop through open-ended gross motor play, though.
Pretend play and problem-solving happen when toddlers climb up a Pikler.
Children also use climbing triangles in concert with their other toys for some really fun activities.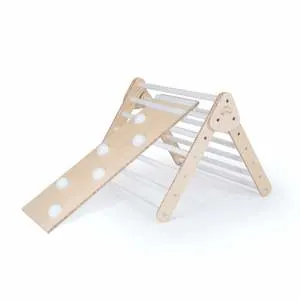 Play silks can be used in so many different ways.
Babies like to pull them from tissue boxes, toddlers enjoy using them as capes, blankets, and sachels, and preschoolers like to practice tying knots with them.
If you are on the fence about investing in a set of quality play silks, I can reassure you that these silks can and will be used over the span of many years and in some super creative ways.
In Montessori homes, we love our wooden toys. Not all open-ended toys are made from natural materials.
Legos, Duplos, and Mega Blocks are actually some of the best open-ended toys out there.
If you are interested in procuring a set of Legos for your child, but you are environmentally conscious, you can find tons of Legos easily on Facebook Marketplace and at yard sales.
A nesting cup set is a great open-ended toy that can be used in a variety of different ways.
In our home, nesting bowls and cups get used for serving make-believe food, mixing potions, stacking, matching, and so many other things.
A balance board is not only great for a child's physical development, but it's also a great toy for imaginative play.
This piece of curved wood can be used by children as young as 1 year old in a variety of ways.
Before children are old enough to balance on it, they often enjoy having it turned over and using it as a bridge, ball run, or race car track.
Magna-Tiles are a must-have open-ended toy in my opinion. They lend themselves well to imaginary play with peg dolls and animal figurines.
If the Magna-Tiles brand is a bit too pricey for your tastes, there are many other brands of magnetic tiles to choose from.
Wooden train tracks are amazing for open-ended play.
We've had the same set of wooden train tracks for nearly 6 years and I'm still amazed at the creative ways in which with they get played.
Young children enjoy reading books about and learning facts about animals.
The personality attributes of wild animals are often left up to a child's imagination, though.
This makes animal figurines a great addition to a child's toy collection.
There are simply too many open-ended play opportunities to mention with these animals.
What are your child's favorite open-ended toys?
Cheers and don't forget to subscribe!
Frequently Asked Questions
Is Lego open-ended?
Yes. Legos, Duplos, and Megablocks are all considered to be open-ended toys. Though many Lego sets come with instructions for specific projects, after those projects are completed, the Legos can be disassembled and used for imaginative building.
Are vehicles open-ended toys?
Toy cars and ride-on vehicles, though they do have a prescribed direct purpose (to push along or to ride on), are considered open-ended toys. This is because they can be played with in numerous imaginative ways.
Are dolls open-ended?
Yes. Dolls are considered to be open-ended toys. When children play with dolls, the dolls have no assigned purpose. They can be whatever the child imagines them to be and do anything up to the limit of the child's imagination.
Is Playdough open-ended toy?
Yes. Playdough is considered to be an open-ended toy. Playdough, just like all other open-ended toys, can be used in a variety of creative ways.