If you are looking for Montessori toys, but you're on a tight budget, you've come to the right place. Here are 10 places to go to find cheap Montessori toys.
First, let's take a look at why Montessori toys cost so dang much to begin with.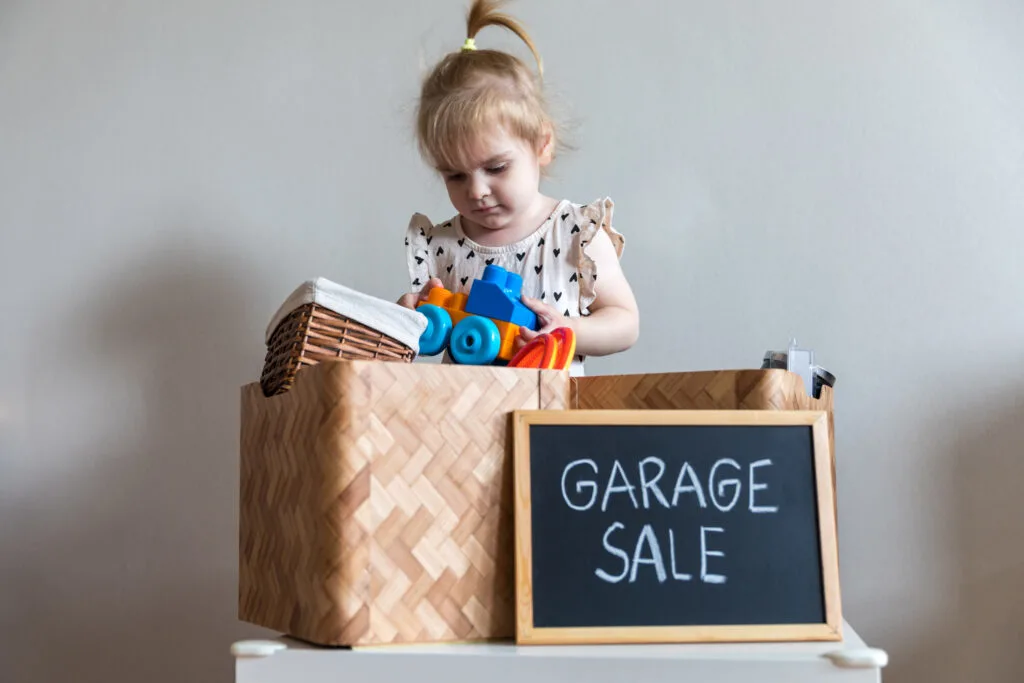 (This post contains affiliate links. Purchasing from these links costs you nothing extra, but helps with our website upkeep.)
Why are Montessori toys so expensive?
Montessori toys are so expensive because parents are willing to pay premium prices for toys labeled "Montessori".
Toy manufacturers and marketers are aware of the impact of adding the name "Montessori" to their product description will have on the amount they are able to charge – and they often take full advantage. (Maria Montessori did not design any toys.)
Many of the toys that are mass manufactured and labeled as being a "Montessori toy" are actually not aligned with the Montessori philosophy.
There are exceptions to this rule, however. There are many honest toymakers who craft Montessori-aligned toys and they also charge quite a bit for their products.
The reason for the price of their toys is simply that they are not mass-produced. This means a single person (or a small number of people) is involved in the purchasing of the materials, crafting of the toys, packaging, and shipping.
This can be quite an expensive operation outside of a factory setting. Add in the cost of wood, which many Montessori families prefer for their toys, and you end up paying a hefty price for each toy.
8 Places to find cheap Montessori toys
1. Thrift shops
If you have the time to shop around for Montessori toys at second-hand stores, you might find that it's more than worth the while.
May people donate wonderful Montessori-aligned educational toys, made of natural materials, and they are sitting there waiting for someone who appreciates their value.
2. Yard Sales
There is nothing like hopping from yard sale to yard sale on a Saturday morning! Yards sales are actually great for finding Practical Life items at a very nice price point.
3. Estate Sales
When we think of estate sales, we tend to think of items for older people, like furniture and silverware. Estate sales are great for finding some amazing good quality wooden toys for young children, though.
Many people from older generations appreciated and took great care of their children's toys, as having a multitude of toys is really only a very recent phenomenon.
The toys that you often find at estate sales are generally of high quality and simple design, promoting open-ended play.
4. Toy libraries
If you are fortunate enough to live near a toy library, you are fortunate indeed. Many of the toys you will find at these special libraries are selected with child development in mind.
This means you can borrow (for free!) toys that encourage fine motor skills, hand-eye coordination, independent play, and a multitude of other skills that are encouraged in pricey Montessori schools.
Many public libraries even have a section within the children's book area where there are toys on the shelves and, if you ask, you will find they are available to be checked out.
5. Zulily
Zulily is a shopping platform that actually has some of the best Montessori toys for the price. You will have to browse around for a bit, but they are there.
On this app, you'll find plenty of open-ended toys and even some affordable Montessori materials (or approximations) if you spend enough time on the website.
The quality of the products might not always be as good as you would want, but for things like wooden blocks and other affordable toys perfect for little fingers, Zulily is pretty great.
6. Amazon
It can be hard to find cheap Montessori toys on Amazon that are true to the Montessori approach, but trust me – they are there.
Here are just a few affordable Montessori toys you will find on Amazon:
7. Target
If you are a Montessori parent, there is a good chance you've seen people rave about the Dollar Spot finds people scored for their Montessori toddler.
If you are looking for an affordable educational wooden toy or an activity that aligns with Montessori principles, you definitely want to check out the small section to the front at Target.
The Dollar Spot isn't the only area in Target where caregivers can find a great toy that aligns with the Montessori Method of education. They even have a fair amount of Lovevery toys.
Here are some examples of cheap Montessori toys that can be found at Target:
8. Ikea
Ikea is a treasure trove of Montessori items – a Montessori parent's dream. From wooden train tracks, play tubes, Montessori-aligned stuffed animals, to art supplies and affordable functional play kitchens – Ikea has plenty of cheap Montessori toys to keep little hands busy.
Read more about Montessori Ikea finds here.
---
Have you found that the places listed in this article are good for buying affordable Montessori toys? Are there any places you have found that sell cheap Montessori toys that are worth the price?
Cheers and don't forget to subscribe!