With the price of Montessori education being what it is, many parents and caregivers are choosing to implement Montessori techniques in their homes. Is it possible to do Montessori on a budget, though?
In this article, you will learn how to bring the heart of Montessori into your home. On any budget.
You will even find out if it's possible to incorporate Montessori learning into your child's life without the materials.
Incorporating Montessori into your home on a budget
Even if you are just getting acquainted with Montessori, you have likely already been bombarded with images of well-manicured, brightly lit spaces filled with premium-priced wooden toys.
The spaces people show online are so beautiful and well thought out. I really do appreciate looking at them and I'm sure their children enjoy those spaces very much.
I am not here to dump on people with picture-perfect children's areas. I am simply delivering the news that your home does not need to look like an Ikea showroom to give your child a Montessori experience.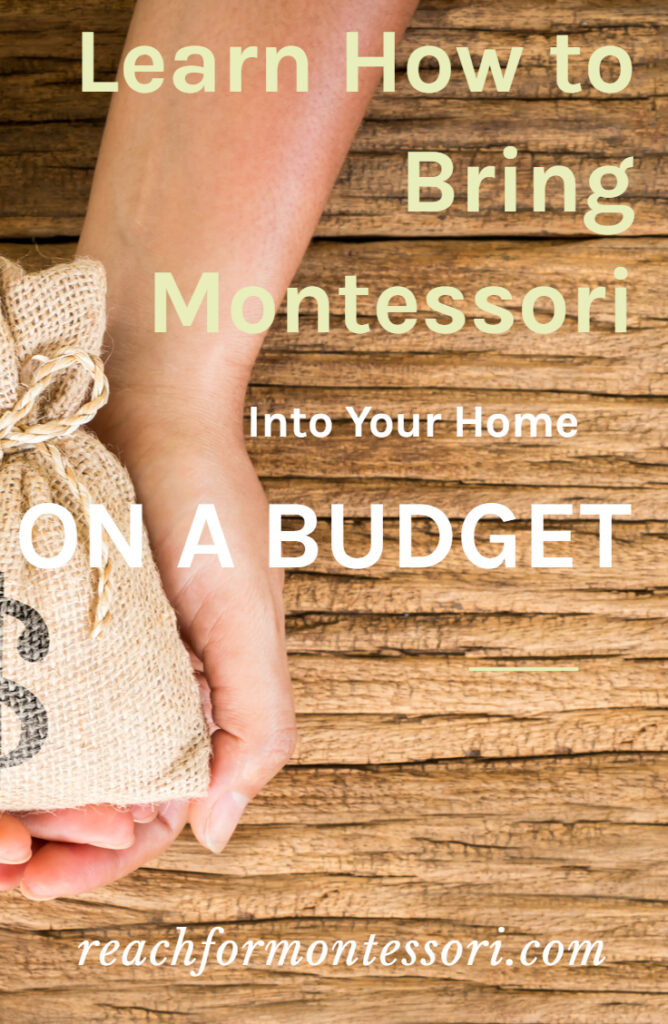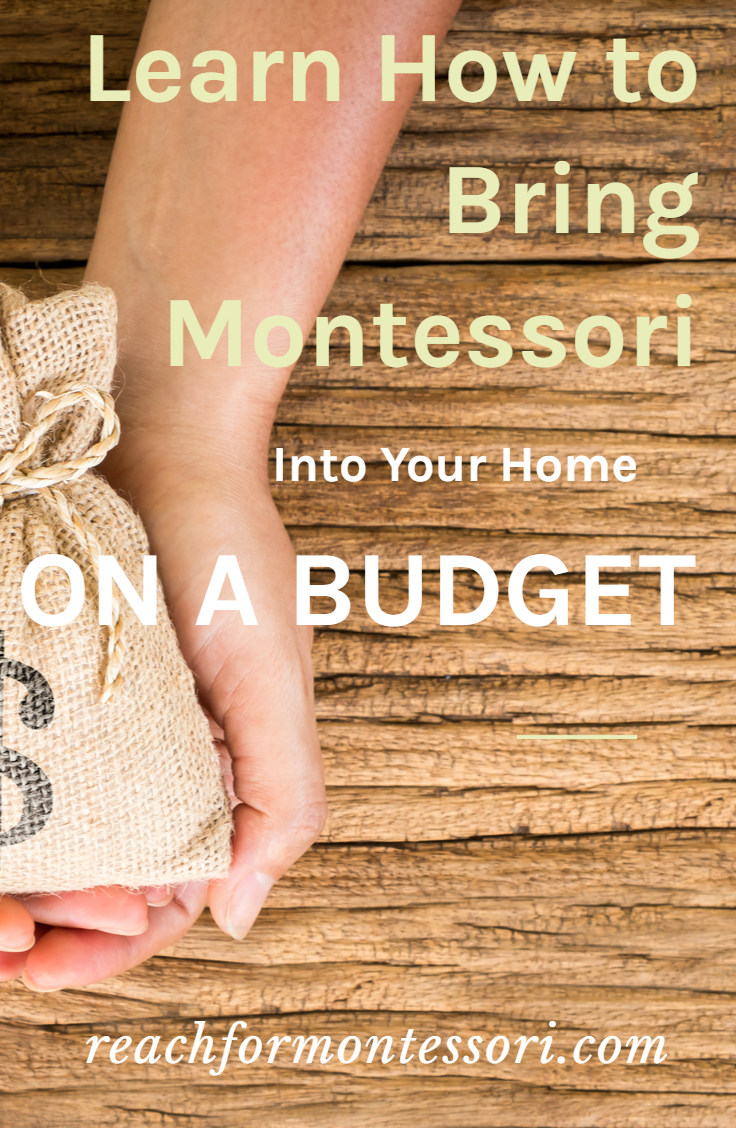 Bringing Montessori into your parenting
This is the most important and least expensive thing you can do if you want to bring Montessori into your home and you're on a budget.
A fundamental aspect of Montessori, arguably the most important, is the respect of children. In Montessori, children are shown respect, compassion, and grace.
Incorporating a more respectful parenting style can take a little doing for some, but after you implement more respectful and gentle parenting strategies, the other Montessori tenets will be easier to follow.
Here are some very basic ways you can incorporate Montessori into your parenting: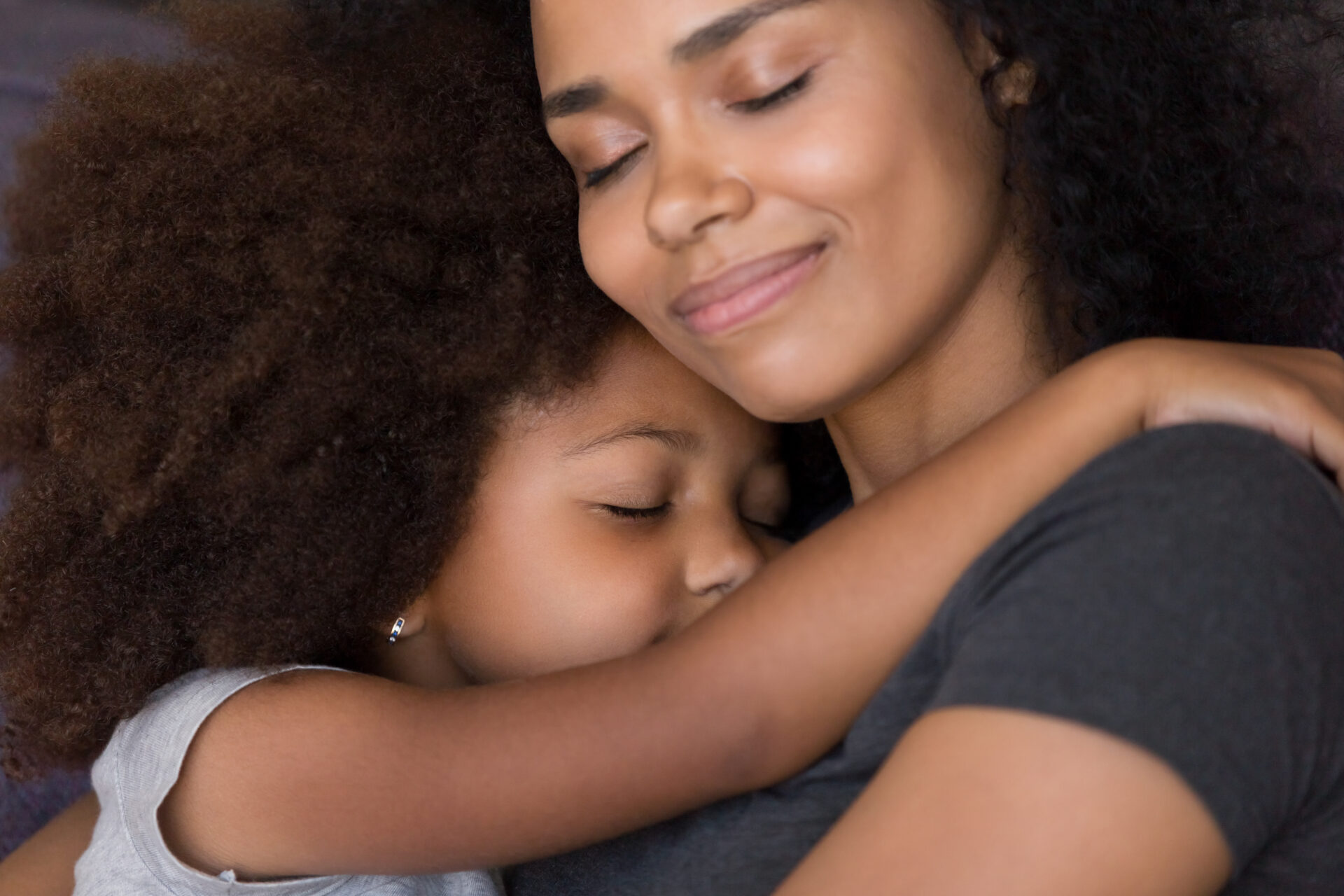 Practical Life activities
Practical Life activities are an integral part of Montessori. If you are looking to implement Montessori on a budget in your home, you will be happy to learn that you do not have to stage a Practical Life area.
Though there are some very neat things on the market, like learning towers and play kitchens that can be hacked for functionality. These items certainly can help make bringing Practical Life into your home easier, they are certainly not necessary.
Involving your child in household tasks helps build their concentration, fine motor skills, gross motor skills, spatial reasoning, and so much more.
Here are some areas in which you can integrate Practical Life into your home:
Click here for a list of 50 Practical Life Activities.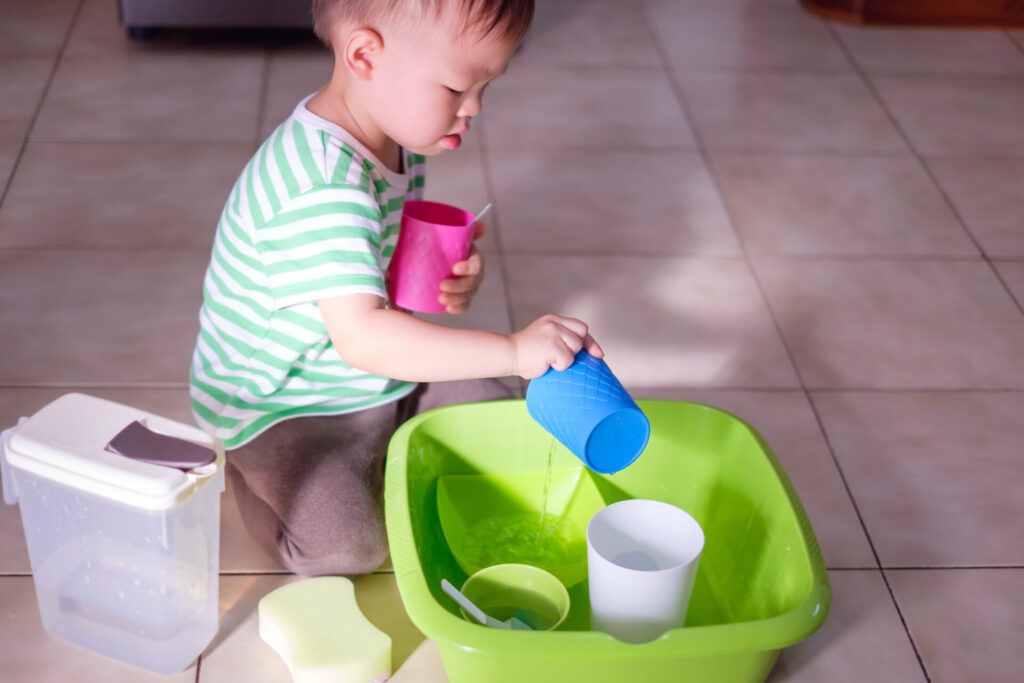 Preparing the environment without spending a ton
The prepared environment is less about a specific aesthetic and more about functionality. Setting up small, child-friendly spaces throughout your house does not have to be expensive.
There is no need to purchase pricey, new small furniture, oftentimes. Small tables, chairs, and even shelving units suitable for displaying toys and activities can be found in abundance at thrift stores, yard sales, and flea markets.
A great time to get free kids' furniture is right after the holidays. People often gift their children with new items and give away the used version.
If you do decide to purchase furniture to prepare your home environment, Ikea is actually a great place to purchase from.
Their furniture is slightly more than what you will pay at other big-box stores, however, it is usually sturdier, which means there's a better chance it will withstand a move or being utilized by multiple children.
Here are some ways you can prepare your Montessori home areas on a budget: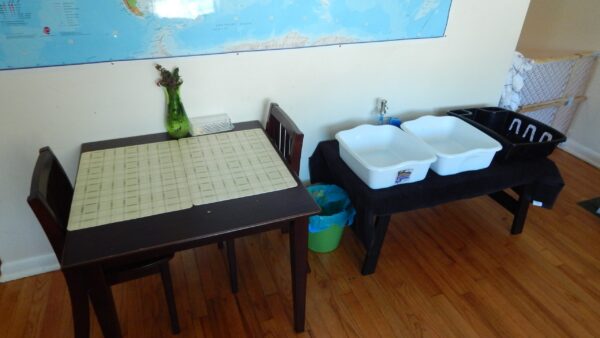 Montessori materials for those on a budget
Finding inexpensive Montessori materials can be a bit of a challenge. If you've got the time, though, thrift stores and consignment shops are great places to find Montessori materials and items that can be used to fashion your own DIY Montessori materials.
It can take some searching, but you might end up surprised at the prices these materials sell for in thrift stores. Often, people are gifted with Montessori materials and open-ended play items and they donate them since they are unaware of their resale value.
Here are some resources to help you secure inexpensive Montessori materials:
Here are some DIY Montessori material guides: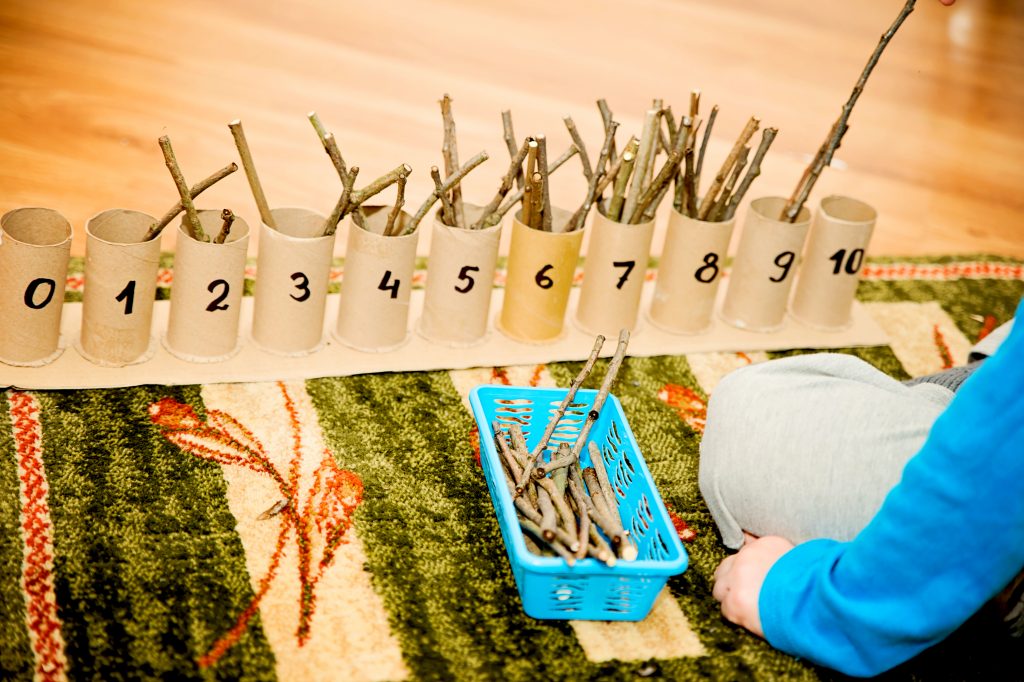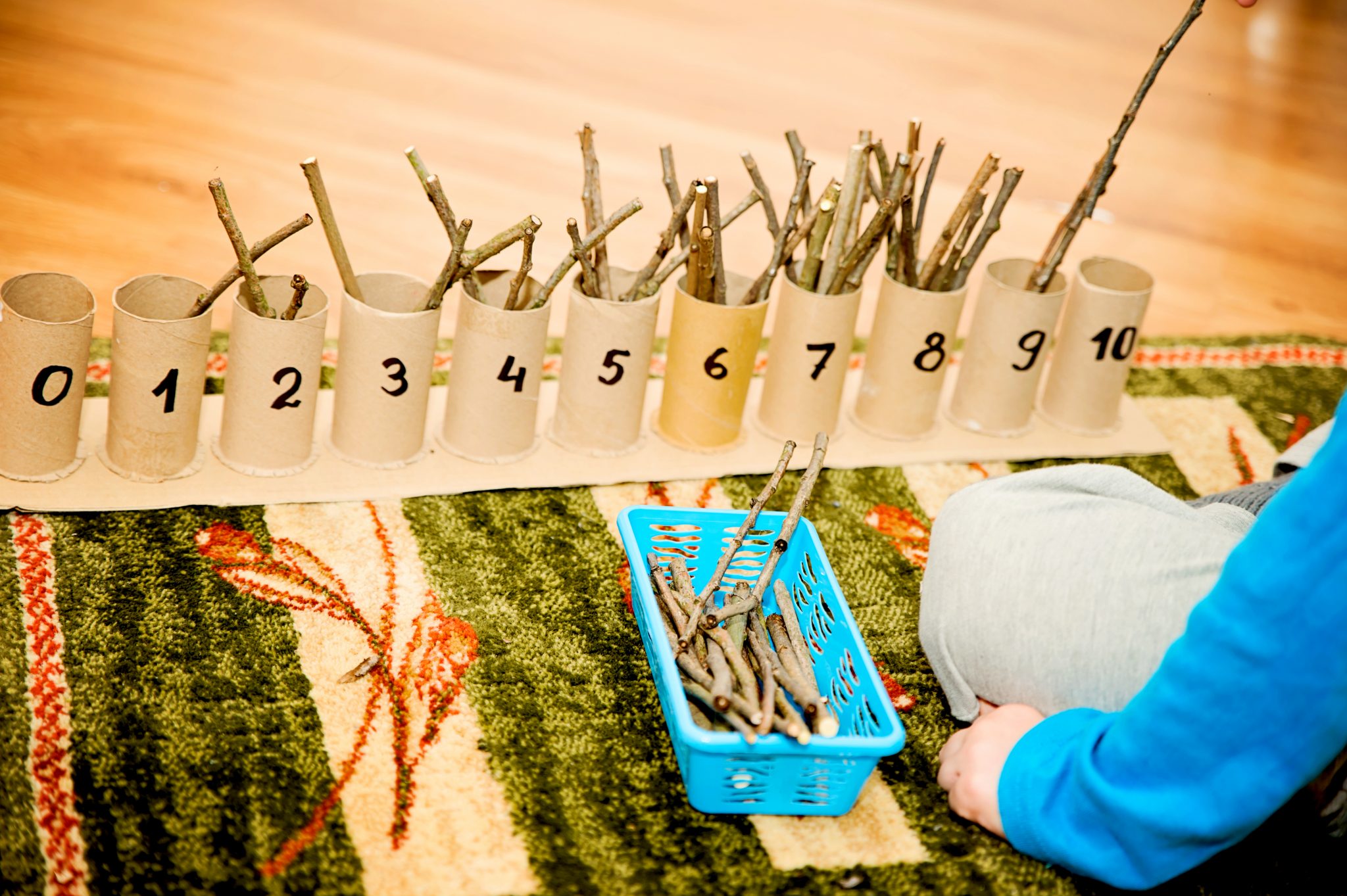 Here are some websites that offer free Montessori printables:
Montessori without the materials: Is it possible?
Finding inexpensive Montessori materials takes time, as does making DIY Montessori materials. Free printables are only great if you have a decent printer and a laminator.
This is the beauty of Montessori: You can do Montessori at home without spending a penny. Montessori is a philosophy based on the respect of children and an appreciation for their developmental needs, not a set of materials.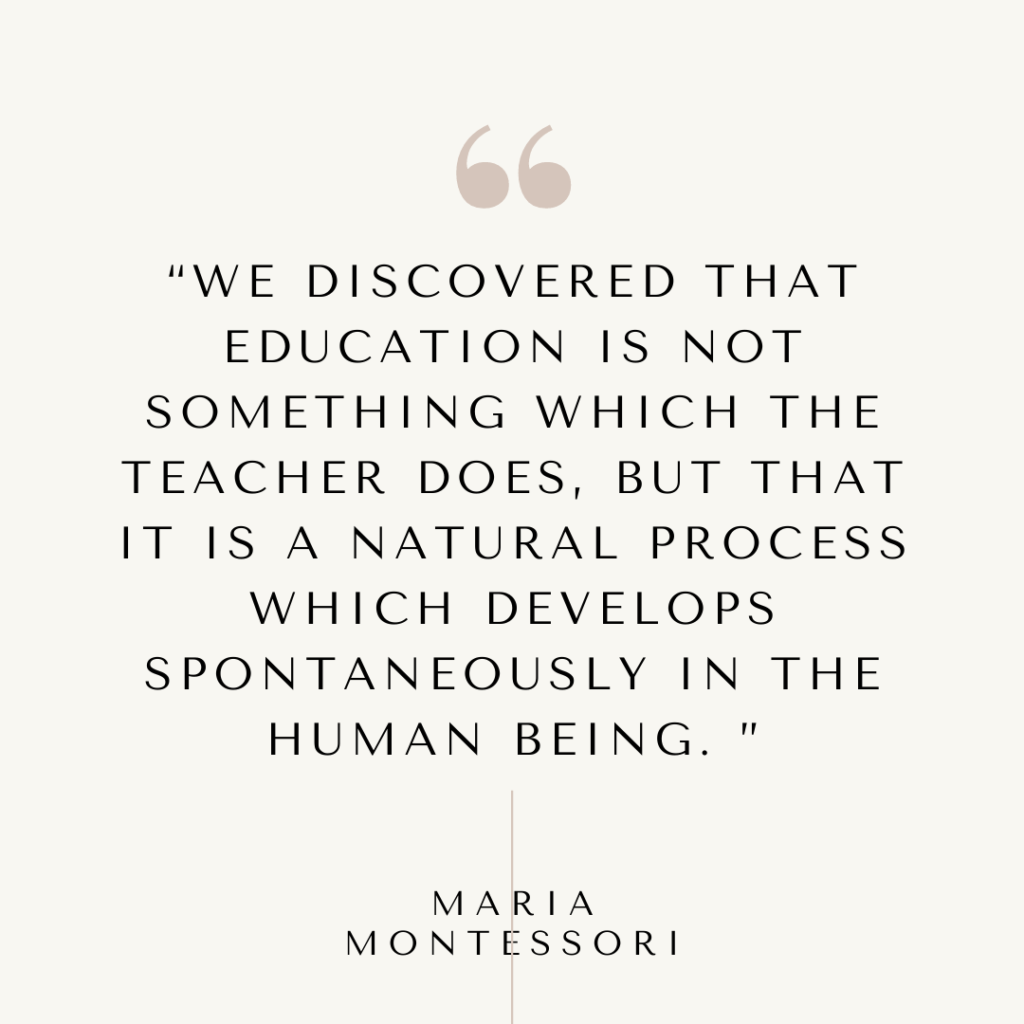 Here are some tips on incorporating Montessori learning into your home without Montessori materials:
---
Remember, someone can have the most beautiful Montessori home spaces, all the materials, and all the time in the world and still not incorporate Montessori as effectively as someone on a tight budget.
As you can see, doing Montessori on a budget is absolutely possible. So is doing Montessori without materials.
What are some low cost ways you incorporate Montessori into your home?
Cheers and don't forget to subscribe!