Whether you are implementing Montessori in your home or you're sending your child to a Montessori school, gardening should be a part of the curriculum.
Not only are gardening activities considered Practical Life work in Montessori, but they facilitate lessons in science, culture, empathy, and more.
Gardening with kids is also just plain enjoyable.
I get pretty excited when I get to write about outdoor Montessori activities.
So, let's get right to it.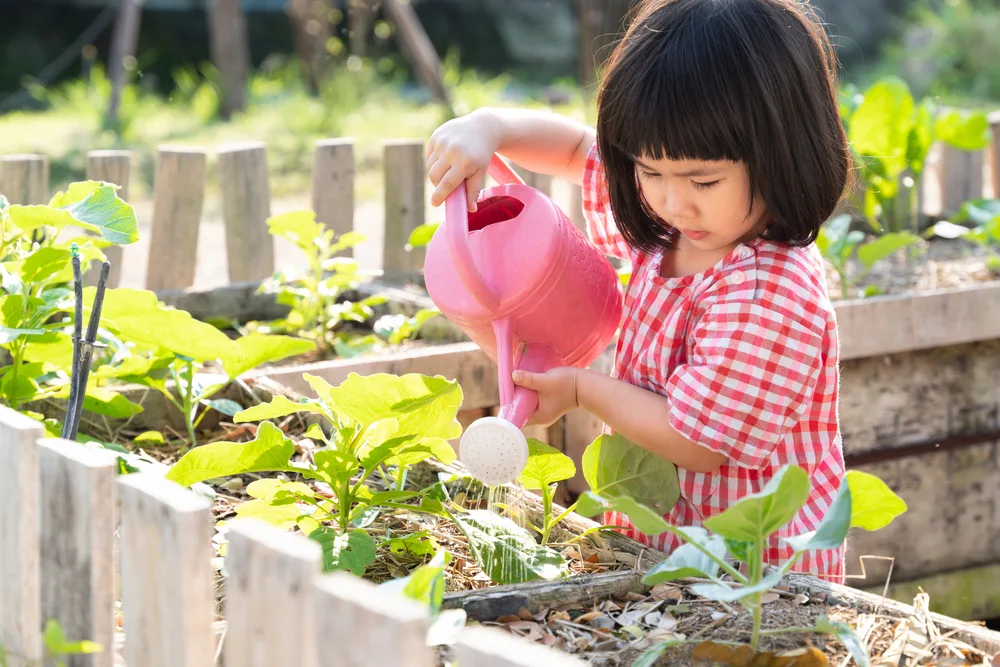 Is gardening part of the Montessori curriculum?
If you've ever had the pleasure of touring a Montessori school, you likely noticed an outdoor area with plant pots, a raised garden bed, or a sectioned-off in-ground gardening area.
Gardening gives children ample opportunities for Practical Life work, including planting, plant care, and harvesting.
Children can also serve the vegetables and fruits from the garden to their classmates – another wonderful Practical Life skill.
So, yes. Gardening is part of any good Montessori curriculum.
How does gardening help child development?
Gardening has so many amazing benefits for children. Through the act of gardening, children gain skills you may not even realize.
Spending time in nature has been shown to increase children's happiness, as well.
Gardening can help children connect with the natural world and gain a greater sense of appreciation for beauty and peace.
What lessons can be taught through gardening?
Through gardening, children learn a variety of lessons. I've listed some of them here.
In addition to the academic lessons listed below, caring for a garden teaches children about the interconnectedness of all living things.
In Montessori, this is referred to as "Cosmic Education".
We take care of plants and they produce food and oxygen that nourishes us and every other living thing.
Language
When you're gardening with your child, rich language is introduced through conversations and explanations.
This helps your child learn new words and gives them an opportunity to verbally express a variety of different ideas.
Math
There's plenty of math involved in gardening, from measuring the depth and spacing that the child will need to plant each seed to planning the number of rows that will fit in your designated gardening area.
Making measuring sticks and measuring the height of the plants is a great way to involve toddlers and preschoolers in math when gardening.
For elementary-age children, more complex math can be practiced, like measuring the rate of growth for each plant.
Science
Through Montessori gardening activities, children learn about the parts of plants, how they get nutrients, and about their life cycles.
Culture
When you garden with your child, there are many topics that will naturally come up in conversation, culture being one of them.
You can talk with your child about how gardening is viewed in different ways across cultures, and how it's done for different reasons – beauty and nourishment being the 2 main reasons.
You can also talk about how different cultures enjoy different types of foods and how geography affects the agriculture of different regions.
Social-emotional
Gardening is a wonderful bonding activity for caregivers to do with their children – caregiver bonding, of course, is important for social and emotional development.
Being outside, around flowers and other plants, has been shown to improve mental and emotional well-being, as well.
How to get started with Montessori gardening
Getting started gardening with your child is not difficult, but it does take some planning.
You will have to first decide where you will be gardening. Will you be using pots (you can garden in pots both inside or outside your home), raised planters, or the direct ground?
When you've picked your gardening area, you'll need to decide what you'll be growing. Will it be plants, flowers, herbs, or all 3 of these?
Next, you'll need pots, soil, wood to build your planter boxes, gardening tools, seeds, etc.
Child-size gardening tools will be an important purchase.
When you've got everything you need, it's time to start planting.
If you're growing your garden indoors, seasons matter less, but if you're growing things outside, you'll need to follow the instructions on your seed packets about when to plant, as well as how.
6 fun Montessori gardening activities for toddlers, preschoolers, and elementary-age children
You don't always need to have a specific activity in mind when you head out to the garden with your child.
There are some pretty fun Montessori gardening activities you can plan, though.
Plant a butterfly garden
Planting a butterfly garden is a fun activity with so many opportunities for learning beyond just botany.
I wrote about how I planted a really cute butterfly garden with my children a couple of years ago. It's a great guide if you're interested.
Grow a salad garden
Growing a garden with your child is not only a lot of fun, but it's a great way to help your child enjoy vegetables.
Spinach, for example, has a mildly sweet flavor and is easy to grow. You could grow some spinach, tomatoes, cucumbers, and carrots – that's a full salad!
Make a mini greenhouse
Making a small greenhouse is a fun Montessori science lesson and you can do it using recycling and other items you have at home.
This guide is a great one.
Make stepping stones
Making a set of stepping stones is a fun activity that gives children an opportunity to create something permanent to add to a space of constant growth and decay.
This is my favorite stepping stones project guide. It's not too difficult and children will enjoy being involved in every aspect of setting up the garden.
After you've planted your garden and things have started growing, there is still work to put in.
From weeding to pruning and cleaning leaves, caring for the plant is an enjoyable daily task for kids.
Start a compost pile
Starting a compost pile might seem like a bit of a gross undertaking at first, but it's not really and it's such a great thing to do.
You can involve your child in selecting items from your cooking projects that are appropriate for composting.
When it's time to "turn" your compost pile, they'll enjoy seeing all the different insects that have come to feast on the organic material.
---
I hope you enjoy starting a garden with your child. Gardens offer so many opportunities for Montessori learning activities.
It's a joy to get outdoors with children.
Cheers and don't forget to subscribe!