It's a great time of year to get some gardening done, and for Montessori parents, that means children will be involved in the outdoor activities right along side us. Lucky for us, there are plenty of gardening sets for toddlers and preschoolers that can help make it possible for our children to garden right alongside us.
In this post, you'll learn a bit about the benefits of gardening for children and why you should choose child-size gardening tools for your little ones. You'll also get 9 great recommendations for gardening sets for toddlers and preschoolers.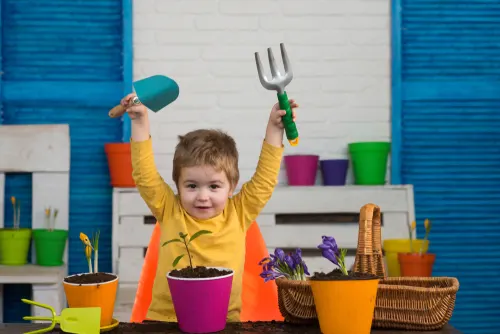 (This post contains affiliate links. Purchasing from these links costs you nothing extra, but helps with our website upkeep.)
The benefits of gardening for kids
Toddlers are always wanting to do things right alongside us. In Montessori, involving children in daily activities is encouraged, as we know it comes with many benefits.
Here are just several:
concentration
self confidence
sense of order
Gardening with your child comes with a whole other layer of benefits on top of those, though. What other benefits, you ask?
love of nature
understanding of scientific concepts
What's the difference between kids' and adult-size gardening tools?
The main difference in kids' and adult-size gardening tools is their size. Many kids' gardening tools have wooden handles and metal tool pieces, just like the adult versions.
It's important to note, though, that child-size gardening tools are often manufactured and marketed as toys, which means the quality is sometimes lacking in comparison to adult-size gardening tools. You might find that the metal pieces are not fastened as well to the handles as well as with the adult-size versions.
Children's gardening tools aren't always similar to the adult versions, though. Child-size gardening tools are sometimes made of plastic, silicon, or even completely made of wood, instead of having a metal tool piece.
Parents should choose a gardening tool set for their toddler or preschooler based on their child's needs and abilities, always prioritizing safety.
For gardening safety tips for kids, click here.
Why choose small gardening tools for kids?
So, now you know why it's important to involve your child in gardening. Why should you purchase a whole new set of gardeing tools just for them?
For many of the same reasons we give our children small furniture and other items.
It helps them feel important
Giving your child small gardening tools lets them know that you are taking their needs into consideration. It also sends them the message that you would like them to help, and so much so that you got them a small set of gardening tools just for them.
It's fun for them
Young children delight when they get to use small versions of items that they see us use – it's just so fun for them.
It's safer
When a child can easily grasp a gardening tool, it's less likely to slip from their hands and injure them. The metal portions of the gardening tools are also smaller, which decreases the amount of sharp surface area that could cause injury.
It cuts down on frustration
There is little more frustrating for a child than having to use a tool that doesn't work for them. Adult garden tools are clunky and awkward for little kids to handle.
When a small child can easily grasp a gardening tool, the tool will be more effective in cutting through the dirt. This can make gardening less frustrating and more fun.
The 9 best gardening sets for toddlers and preschoolers
Last spring, I wrote about how we planted a butterfly garden, my 2-year-old and I. I wrote a little bit about the small tools we used, but this year I want to get into some real (and really cool) gardening tool sets for kids.
Not only are these tools great for gardening, but most of these sets make great sandbox toys, as well.
This gardeing tool set for toddlers is a great gift for any budding gardener! It has everything you need to start gardening.
This set includes a shovel, garden trowel, hand rake, carrying bag, watering can, wooden plant labels, and 5 peat pots.
The tools are all metal with wooden handles, so they are easy to grasp and they really work for digging.
This child-size gardening set is the only one of its kind on this list for the simple fact that many toddlers and preschoolers are not yet mature enough physically and mentally to handle sharp gardening tools while standing.
If your child is ready, though, this is a great gardening set that helps them emulate adults and garden right alongside you.
This set comes with a hoe, rake, leaf rake, and push broom.
If you've already got the kid-size gloves and some of the other gardening accessories and all you need is some gardening tools, this is a great set.
This gardening tool et is perfect for toddlers, as the tools are easy for small hands to grip and the metal tools actually work great for breaking though dirt.
This set comes with a hand rake, gardening fork, trowel, and showel.
This is a nice child-size gardeing tool set. The tools are made from bamboo, which makes this a sustainable, eco-friendly product.
Everything in the set is made just for kids. It comes with an apron, matching cotton hat (cuper cute!), trowel, gardening fork, cotton basket, and plant labels.
This gardening set for toddlers is great because it includes everything you need to start gardening. The tools are easy for little hands to hold, they really work, and it's one of the only set of gardening tools on the market that comes with a child-size wheelbarrow.
The set comes with the wheelbarrow, watering can, child-size gloves, hand rake, shovel, hoe, cultivator, hedge clippers, and apron.
This a really nice eco-friendly gardening set that is perfect for toddlers and preschoolers. The set comes with a hand rake, planter pot, trowel, and watering can.
This set is made by a wonderful company called Plan Toys that makes sustainable, safe toys for children, so you can feel good about your purchase.
This is a really nice, well-made gardening set that comes with a tote. While it only comes with 3 child-size gardening tools (rake, shovel, and trowel), the tote has multiple extra pockets for some gardeing supplies that you may already have.
This is a wonderful baby and toddler-safe gardening set that is made of silicone. If your little one wants to join in on the gardening experience, but it's not safe for them to handle hard wood or sharp metal, this is a wonderful, safe way to get them involved.
The set comes with a hand rake, apron, watering can, and trowel.
If you want to do some gardening with your child, but you don't have an outdoor space, this is a really fun way to accomplish that.
This is actually a great value for what you get. The set comes with a metal planter, soil, seeds packets, watering can, hand rake, gardening fork, gardening spade, wooden markers, paints and brushes, and a paint palette.
I hope you found a gardening set that your toddler or preschooler will love. As I write this, I'm preparing a trip to the nursery for some seeds and bulbs for some gardening fun with my own little ones!
Cheers and don't forget to subscribe!