Pincer grasp activities help your child strengthen their small muscles in preparation for future hand writing. This article gives you 41 fun, Montessori aligned, pincer grasp activities.
Why is this type of grasp important?
Some children are naturally drawn to…well, drawing. (Drawing is one of the most basic pincer grasp activities.) These kids will likely have little trouble getting their final pencil grasp down pat in time for the school years.
But, there are many children that either don't have the interest, or don't have the confidence to attempt a pencil grasp.
This may be due to not having practice with fine motor skills and/or lack of small and large muscle strength in their dominant hand.
Hand strengthening and pincer grasp refinement is built into most early Montessori activities. That's part of the beauty of Maria Montessori's Method.
But, you don't need any Montessori materials to set up some great pincer grasp activities for your toddler or preschooler!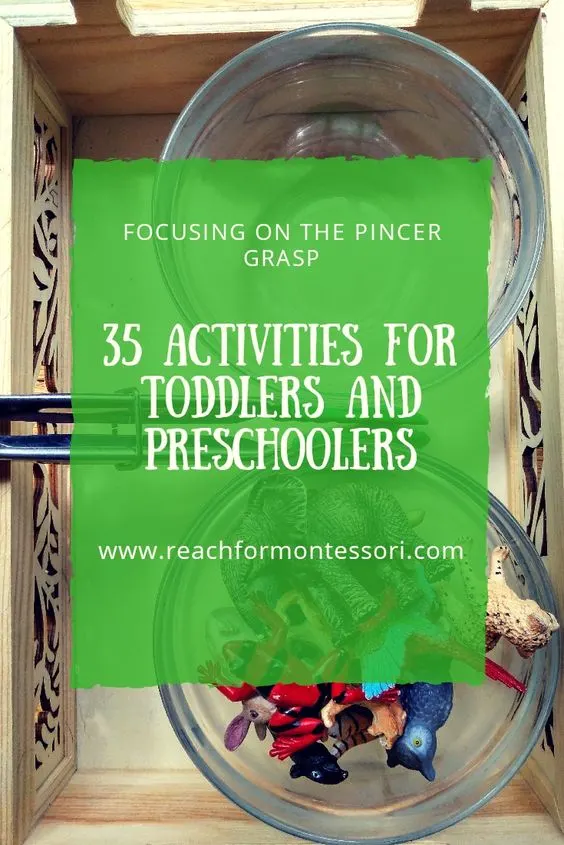 (This post contains affiliate links. Purchasing from these links costs you nothing extra, but sends a few cents our way for website upkeep.)
What is a pincer grasp?
Before we get to the activities, let's talk a little about what the pincer grasp is.
The pincer grasp is the third type of grasp you will notice in the infant period, occurring around 8-10 months.
This is the age when babies become able to pick up small bits of food between their index finger and thumb to more effectively feed themselves.
This is a huge milestone…and a huge stepping stone!
Not only is the pincer grasp important for eating and playing, it is also the first fine-motor building block needed for writing.
Pincer Grasp Activities
Here is a list of 41 fun activities that will strengthen the muscles needed for writing and refine your child's pincer grasp.
1- Knobbed Puzzles. Large knobs for the toddlers. Small knobs for the preschoolers.
2- PlushCraft Purr-FECT Pillow. I actually purchased this not realizing that it is the perfect pre-writing craft activity.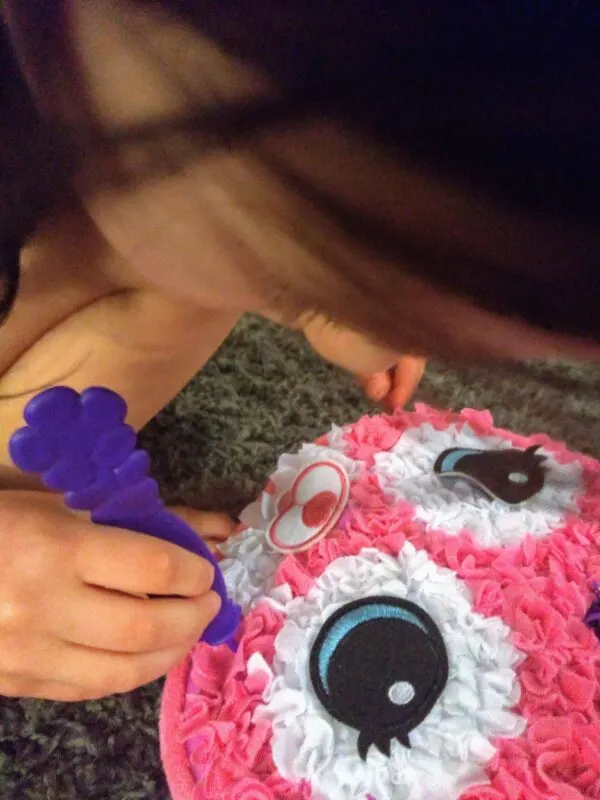 3- Button Sorting. Your child can do this activity using their hands, but a set of tweezers really works those fine motor skills. Here is a link on how to present an easy DIY button sorting activity!
4- Color mixing. You can help your child's pincer grasp by having them use an eye-dropper to color the water with food coloring.
This can be a basic lesson on colors for a young toddler and a lesson on primary and secondary colors for a preschool-aged child.
5- Clothespin activities. Paint several clothespins fun colors. Have them clip the clothespins on the side of a bowl.
You can present it as a sorting game or a pattern activity.
After your child gets the knack of it (and the hand strength), set up a little clothesline outside or in your house where your child can hang a few items to dry. There is nothing kids enjoy more than feeling like a working cog in the family machine!
6- Threading leaves. This activity doesn't have to be reserved for Fall. You can thread leaves throughout the year. What a wonderful lesson in the changing of the seasons!
7- Lacing cards
8- Pushing pom-poms into a water bottles
9- Sticking pipe cleaners through colander holes
10- Transferring marbles with tongs. For this activity, you just need some marbles, a set of tongs, and a Duplo block base turned upside down. It's challenging and fun.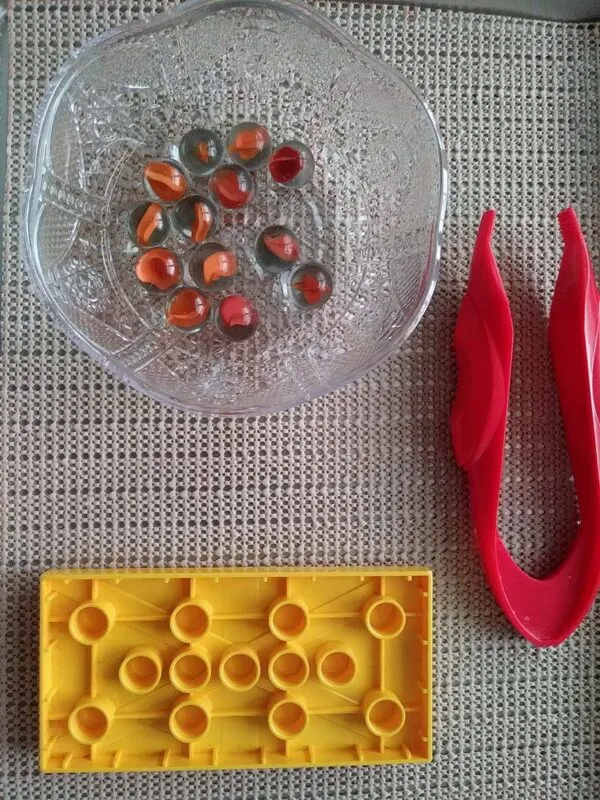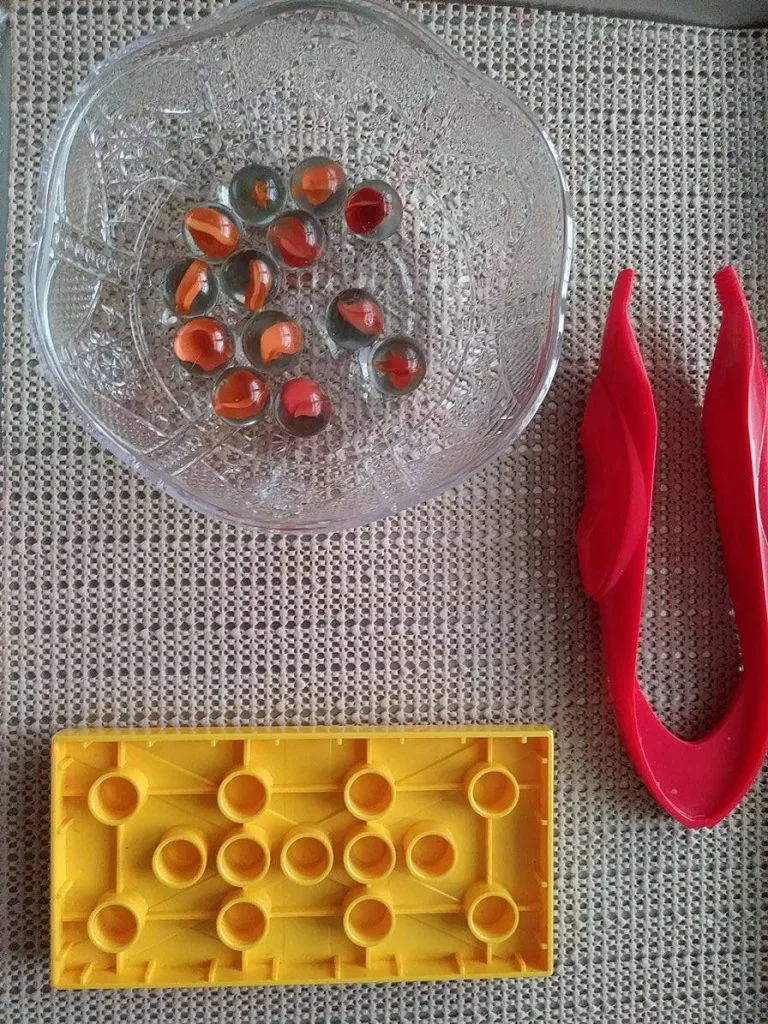 11- Cutting with scissors
12- Painting
13- Coloring (Any process art project will do)
14- Juicing. This is a favorite of my daughter's! She can make her very own fresh squeezed orange juice from start to finish.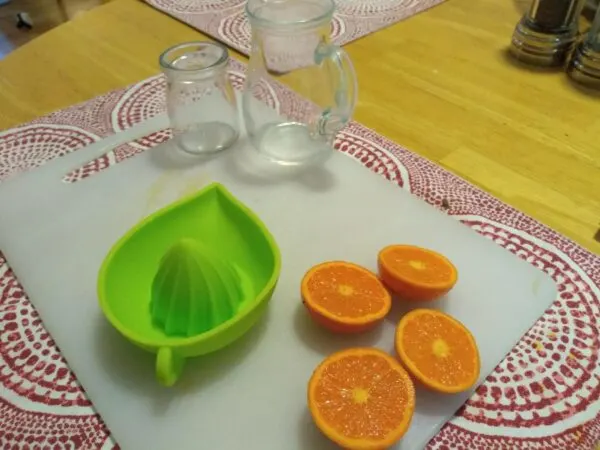 All you need is a cutting board, a hand juicer, some oranges (Clementines are easier for the younger kids.), a child-size pitcher, and a small glass.
15- Bubble wrap. Instead of tossing it or discouraging your kids from playing with it, let them at it!
16- Cooking activities. Anything that requires whisking, chopping, or mixing gets those hand muscles stronger.
17- Learning Chopsticks
18- Window washing. A spray bottle and a squeegee will help strengthen those small muscles used for the pincer grasp. This a classic Practical Life Activity.
19- Playing with Play-Doh
20- Opening and closing tops to bottles and jars
21- Transferring uncooked rice from one bowl to another using fingers or spoon
22- Operation (Hasbro)
23- Etch A Sketch
24- Lite-Brite
25- Sticker books
26- Pick Up Sticks (Game)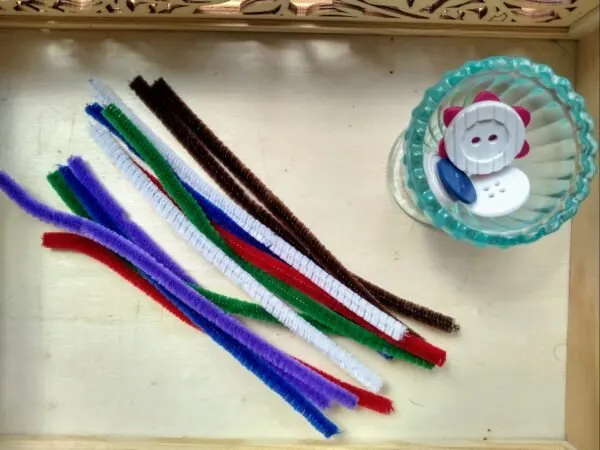 27- Drawing with sidewalk chalk
29- Transferring miniature animals with tongs
30- Threading pipe-cleaners through button holes. I actually can't take credit for this one. I found that my 4 year old had threaded some pipe-cleaners through several buttons and left them on the kitchen table.
I thought I'd pass the activity onto you!
31- Matching locks and keys
32- Planting a small garden. Your child will need to use a pincer grasp to pick up and plant the seeds and using gardening tools is sure to strengthen their hands.
33- Peeling carrots
34- Tying knots
35- Peeling tape from tray/floor/sidewalk
36- Making Oobleck
38- Spooning Beans from bowl to bowl
40- Practicing pouring water
In addition to these activities, Montessori play schema activities and loose part play all involve fine motor elements.
And of course, turn off the TV and tuck away the tablets. Time spent in front of a screen is time lost for refining fine motor skills!
I personally endorse every activity in this article. My daughter was quite resistant to the idea of writing. Getting her pincer grasp strong made all the difference!
Always eager for feedback!
Cheers and don't forget to subscribe!