If you are looking to get started with Montessori in your home, there is no better place than Practical Life activities right in your kitchen. Before you get started, though, you are going to need some children's cooking utensils.
You may be wondering why small-size cooking utensils are preferable over the ones you have in your kitchen currently. Can't you just use what you already have?
Let's get into this and learn why cooking utensils for small hands are so popular in the Montessori community and which ones are the best.
(This post contains affiliate links. Purchasing from these links costs you nothing extra, but sends a few cents our way for website upkeep.)
Why choose children's cooking utensils?
If purchasing small versions of your kitchen utensils is not an option, of course, it is fine to use what you have on hand when you involve your child in cooking activities.
Not having child-size cooking utensils is no reason to avoid Practical Life in the kitchen.
Having small versions of kitchen utensils for kids is preferable, however, for the following reasons:
Easier for kids to access (ex: child can remove and carry small cutting board more easily than regular size)
Easier for kids to grip and use effectively
Safer (knives)
Promotes excitement about helping in the kitchen
Increases sense of self-importance
Increases chances of success in cooking activities
Children's Cooking Utensils: Master List of Montessori Cooking Tools
Every recommendation below is child-size, made specifically for children.
As always, it is important to monitor children closely during cooking activities, as well as teach proper knife, oven, and cooking surface safety.
"Kids Cook! Knife Safety at Home" is a great video that demonstrates how parents and caregivers can help kids use knives safely.
Getting ready
This is a safe piece of furniture that allows children to work safely and comfortably at counter height.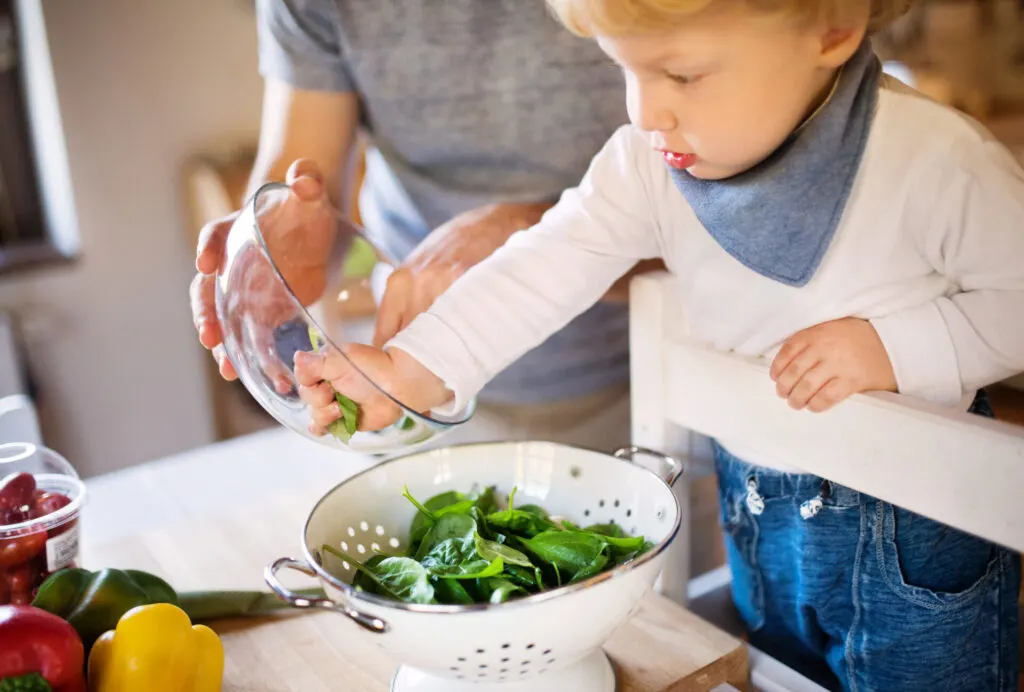 ---
Aprons
The first step when preparing to prepare food (after hand washing) is protecting their clothing with a child-size apron.
Having an extra apron or 2 on hand is always a great idea in case one is washing and another meal needs to be prepared.
Oven mitt
A small oven mitt allows for children to maintain control of the items they are putting into and taking out of the oven.
Cutting board
Having a small cutting board not only helps kids feel special and important, it is easier for them to carry and adjust.
Measuring cups and spoons
Cooking is a great math activity and having easy-to-handle measuring utensils helps kids gain these benefits.
These mixing bowls are equipped with no-skid bottoms and thumb grips on one side for stability.
Chopping
Crinkle Cutter (also called a Wavy Chopper)
This is a great choice of cutting utensil for even the youngest chef. I introduced a crinkle cutter to my daughter at just 17 months.
The Joie brand is quite popular. We've had our Joie cutter for close to 6 years and it is still in use.
Wood knife
This is the safest cutting option. This knife is easy to grip for young children and, believe it or not, it is effective in cutting.
This knife set great. The small size and no-slip grip design is perfect for kids.
Safely cores and slices apples. The handles are no slip, which is great for kids.
Mixing
Whisk
Stirring can be difficult for small children without the right tools. When something needs to be beaten, a small whisk lets kids do it successfully.
These are great tools for stirring, scraping batter from mixing bowls, and for frosting cakes.
Peeling
Veggie peeler
A peeler that reduces the strain on a child's wrist, increasing their chance of completing a peeling job.
This grater is child size and has 3 sides for various cooking projects.
Child size versions of sharp kitchen tools are always preferable because of safety.
Fruit and veggie washing
A vegetable scrubber that fits perfectly in a child's palm will ensure nice clean fruits and vegetables for your recipe.
Herb grinding
Grinding herbs for recipes or teas is a lot of fun for kids and it's great for building concentration and fine motor skills.
Having the child size version only increases the enjoyment and efficacy of the activity.
Juicing
This product is a great tool for kids looking to make a glass of fresh juice or to juice something to add to a recipe.
Baking
Scooping dough for cookies and other bite size baked items can be difficult, even for adults. This ice cream scoop doubles as the perfect cookie scoop for kids.
Rolling pin
Regular size rolling pins are clunky and hard for children to control.
This one is small and has generous space on the handles for children to find the perfect place for their hands.
This is designed for small hands and has a no slip handle.
Cooking
This product make eggs, cookies, pancakes, grilled cheese, and quesadillas.
This is one of the first kids cooking products we purchased for our children and it has allowed for a lot of independence in the kitchen.
If you haven't heard of the Dash Mini Griddle, definitely check it out. It is inexpensive and easy for kids to use.
Kids real cooking sets
If you are looking to purchase some of these items in a set, there are some really great ones available.
Kids cooking sets are a great gift option for someone who is looking to get their child started in the kitchen with children's cooking utensils.
Here are some of the most popular, top-rated kids cooking sets.
Includes: Aprons, 3 recipe cards, cutting board, mixing bowl, measuring cups, measuring spoon, spatula, spoon, and tongs.
Includes a portable reusable tool box For storage, 4 recipe cards, apron, measuring cups & measuring spoons, kitchen timer, pair of tongs, rolling pin, 3 nylon knives, spoon, spatula, wisk, 3 cookie cutters, and a cutting board.
To get your little chef started in the kitchen, The Complete Baking Book for Young Chefs is a great book with over 100 fun and easy recipes.
For more cookbook recommendations for toddlers and preschoolers, click here.
---
Involving your young child in the kitchen is great for their development and it can be a lot of fun for parents and caregivers.
It's important to be prepared with these cooking utensils for small hands.
For some fun, children's book-inspired, cooking activity ideas, check out Melissa's post on cooking activities that are inspired by books.
She gives cooking activity ideas for books including The Very Hungry Caterpillar, Fry Bread, and If you Give a Mouse a Cookie.
Very fun.
What real cooking utensils does your little one use in the kitchen? Do you find they prefer the version made for children?
Cheers and don't forget to subscribe!