If you have heard of Montessori, you have likely heard about the Montessori learning tower. This very neat furniture item is a mainstay in many Montessori homes.
Why should you get one, though? When should you get a learning tower? What is the best brand of learning tower? What about safety?
There are so many questions. In this article, you will get an answer to all these questions and more.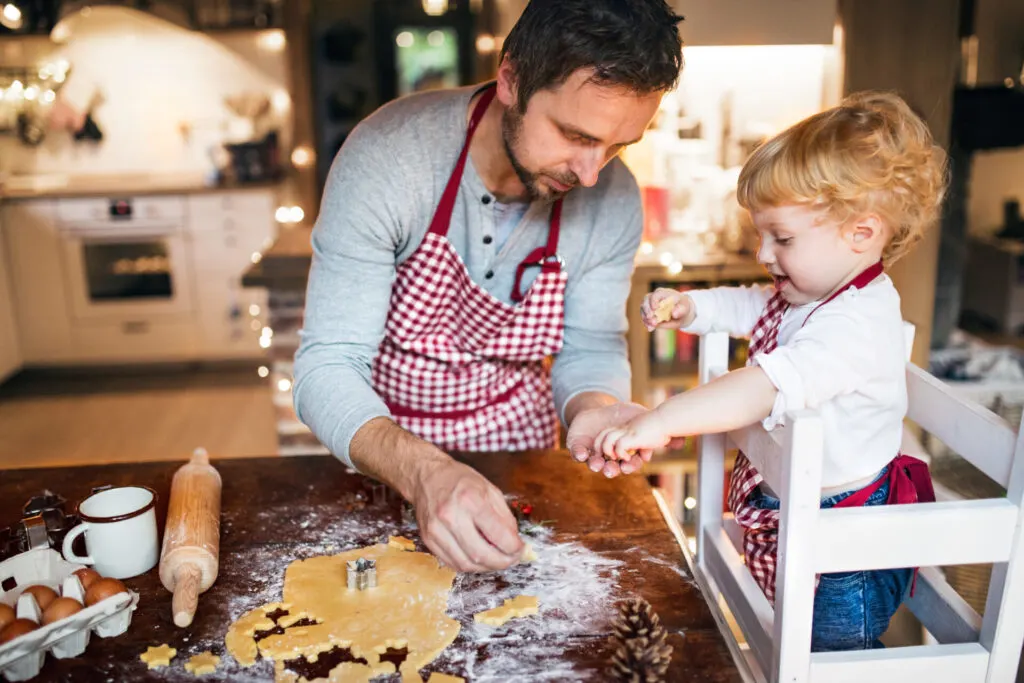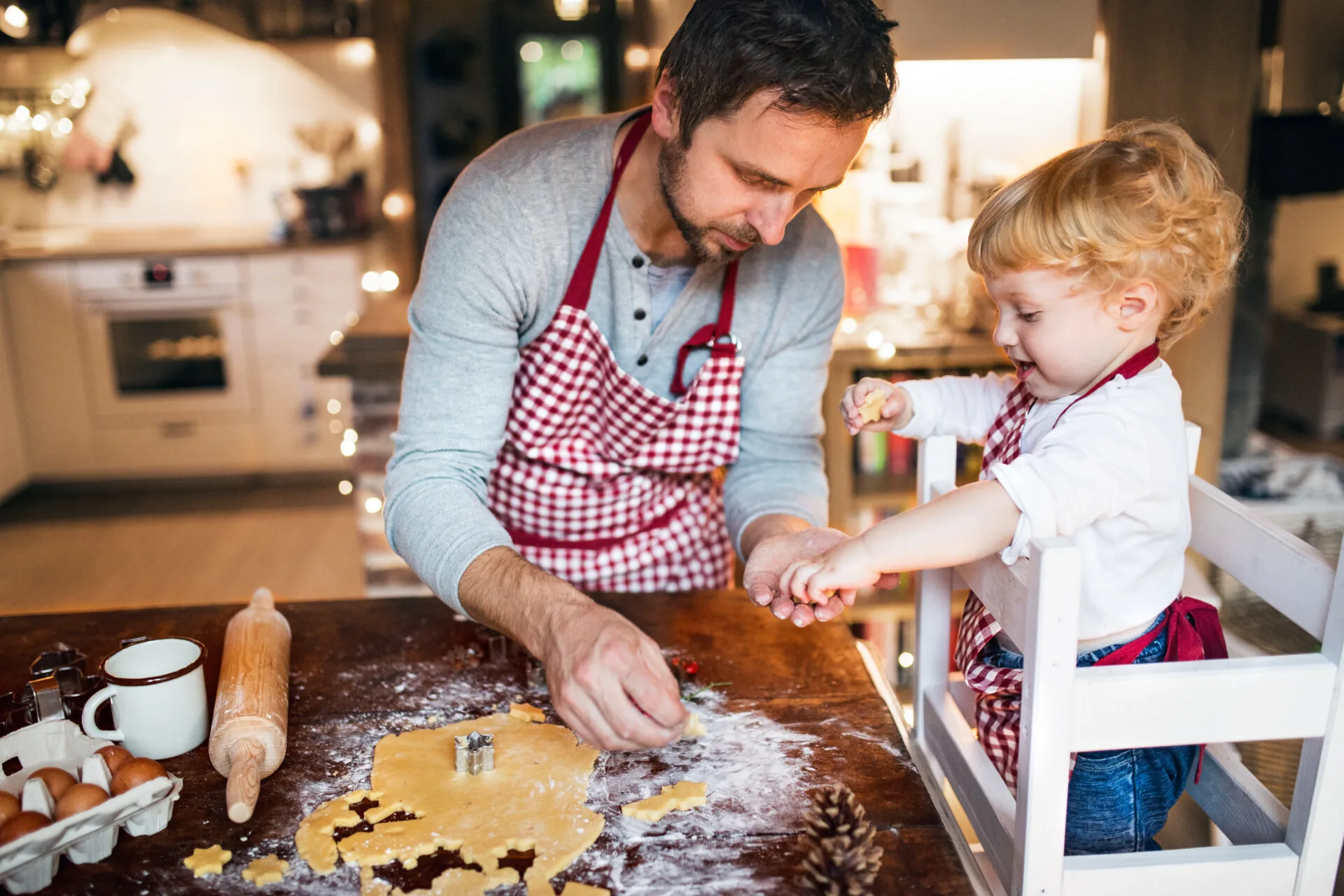 (This post contains affiliate links. Purchasing from these links costs you nothing extra, but helps with our website upkeep.)
What is a learning tower?
Montessori learning towers are a popular item many families choose to use in their kitchens.
A learning tower is a piece of furniture that helps parents more safely and easily involve their children in cooking and other kitchen tasks.
Learning towers go by the following names, for clarity:
So, if you see people recommend getting any one of these things for kitchen activities, they are all referring to the same thing.
Learning tower vs chair/stool: Why choose a learning tower?
While pulling a chair up to the counter or sink is a perfectly fine learning tower alternative for those who do not want/cannot afford a learning tower, there are a few ways they fall short of learning tower-level glory.
Chairs are heavy, they take up a lot of space, and they are easier for young toddlers to fall from.
When you are trying to get some meal prep done with your toddler, it is beneficial to have your child on a safe piece of furniture.
Here are the benefits of a Montessori learning tower for toddlers:
helps young children feel included
boosts self-confidence
gives toddlers independence
increased opportunities for bonding
fosters learning
allows toddlers to focus on the activity, instead of their balance
Here are the benefits of a Montessori learning tower for parents:
piece of mind that your child can participate safely
increased opportunities for bonding
physically easier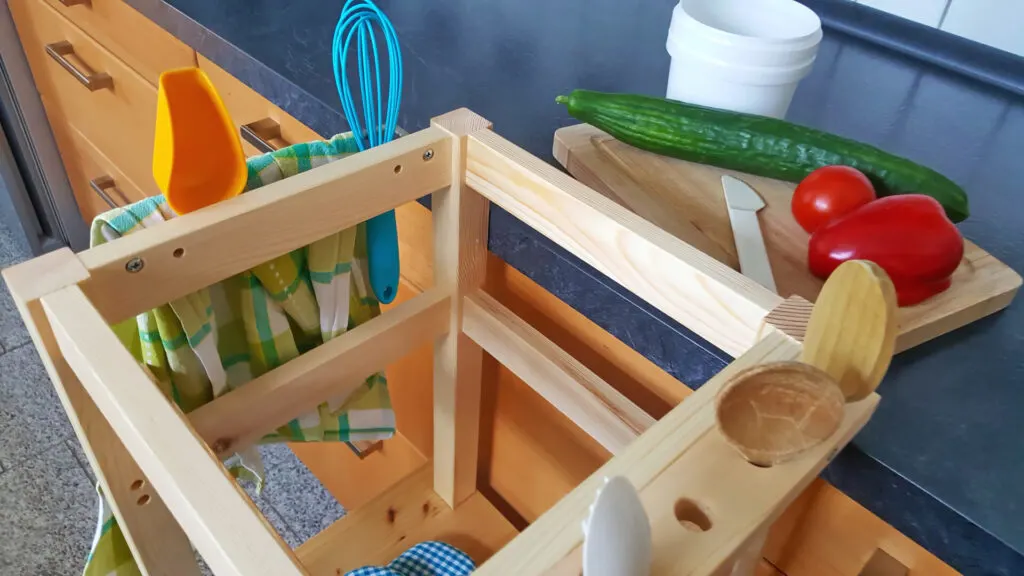 What features to look for in a Montessori learning tower
All learning towers are not created equal. They vary by levels of sturdiness, features, and price.
When you are choosing a toddler tower for your little one, you need to factor in your child's abilities and age, the amount of space in your kitchen, the level of safety you want, and how much use it will get.
Your child's abilities
The features of your learning tower should be based on the abilities, and/or potential abilities, of your child.
Ideally, your learning tower should be able to fit your child's current needs, as well as their needs a couple of years into the future.
*Learning towers can actually be great for children with special developmental needs. Be sure to consult with your child's occupational and/or physical therapist to see how to best incorporate this nifty piece of furniture.*
Factor in space
Some learning towers are slim and fit well in smaller kitchens, while others are taking up a lot of space and can make for lots of stubbed toes for caregivers.
There are also foldable options available.
Always pay careful attention to the size specifications when purchasing your kitchen helper.
Level of safety vs level of autonomy
Montessori learning towers offer different levels of safety. This means varying levels of autonomy, as well.
Some parents and caregivers are looking for safety features, such as a fully enclosed platform.
This type of toddler tower is a bit safer and can be great for a parent's peace of mind, but it limits a toddler's ability to climb in and out.
How much use will it get?
When deciding if a learning tower is right for you, or which learning tower you should invest in, a few factors should be taken into consideration.
(Learning towers can are typically used until a child is 4-6 years old, depending on ability and size.)
How long your child will use it
If it will be used over the years for multiple children
It is important no note, though, that learning towers, when properly cared for, can bring back as much as 60% of the purchase when they are sold used.
Top 5 learning towers
Montessori learning towers (kitchen helpers) come in a variety of styles and have a variety of features. Finding the right one, and the one that fits your budget can be a challenge.
We've put together a list of the top 5 learning towers, based on quality, features, ratings, reviews, and, of course, price.
This toddler tower is definitely my top pick.
Parents and caregivers looking to make the best use of a kitchen helper purchase are going to absolutely love the Piccalio Mini Chef.
After some fun food preparation, this unit converts into a weaning-style table where children can sit and enjoy the fruits of their labor.
Piccalio also has a lovely foldable kitchen helper you can check out here.
Features of this learning tower include:
Durable
Hand-crafted
Converts to a child-size eating table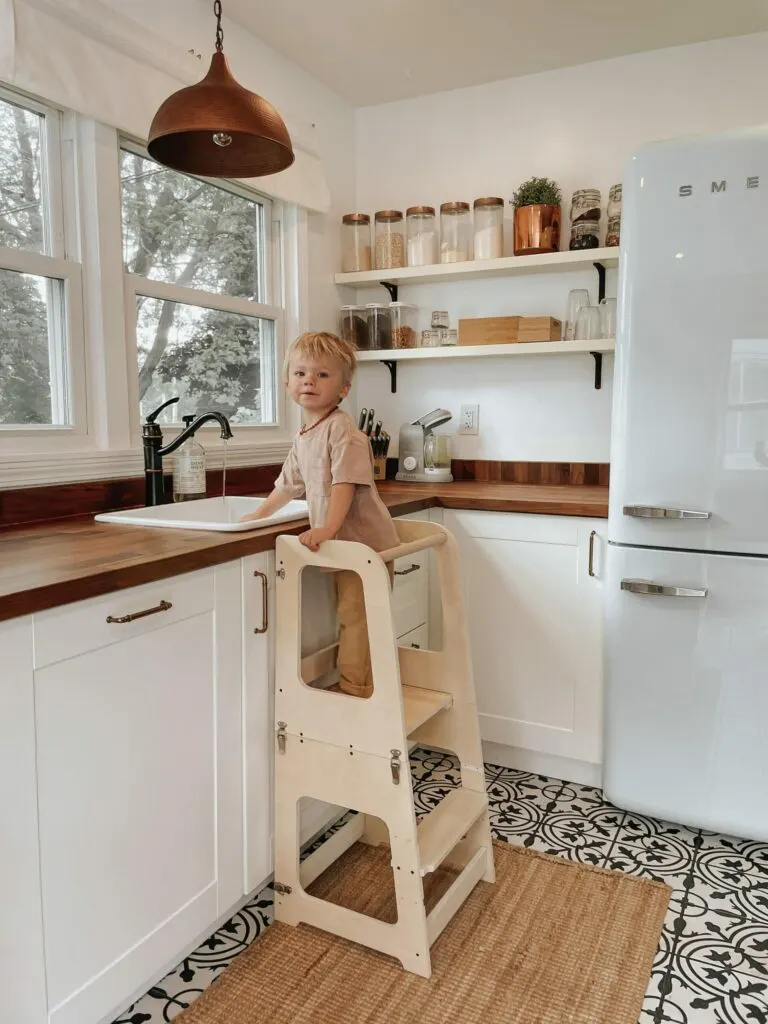 2. Ikea hack learning tower
You've got to hand it to Ikea and to the creative Montessori caregivers out there for all the wonderful Montessori Ikea hacks.
If you've got some handy skills, around $10 for the wood/supplies, and $45 (ish) for the Ikea Bekvam Utility Stool, you can fashion your Montessori kitchen helper on a budget.
Features of this learning tower include:
lightweight (easy to move) and compact
accessible for children
durable
For full instructions on assembly, click here.
---
3. All Circles Wooden Kitchen Tower
The All Circles Wooden Kitchen Tower is a great option if you are looking for something to last through multiple children.
It is only slightly pricier than some of the other options and the reviews for the All Circles Wooden Kitchen Tower let us know that it's "rock solid".
That is a quality you want in a piece of furniture that you are trusting to support your child.
In addition to being sturdy, the design is simple and minimalistic – it doesn't stick out like a sore thumb.
Features of this learning tower include:
rounded edges to minimize the risk of injury
built and finished to withstand wear and tear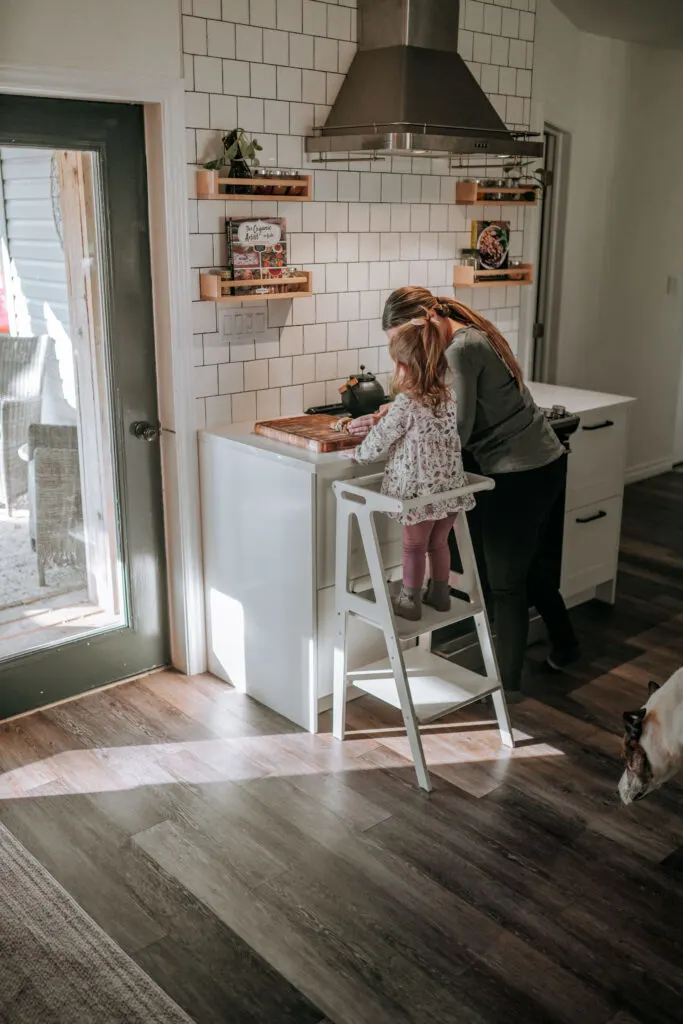 4. Little Partners Learning Tower
The Little Partners Learning Tower is a very lovely option.
This learning tower is the most expensive on our list, however, it has some very nice features and it was actually designed by a Montessori educator.
The reviews on this wonderful kitchen helper are great, with its size being the only real gripe.
If you have a large kitchen, however, this really is an ideal learning tower.
Features of this learning tower include:
supports up to 250lbs
the frame is open on all 4 sides for increased accessibility/independence
---
5. Guidecraft High Rise Step Up
The Guidecraft High-Rise Step-Up Tower is one of the lesser expensive Montessori learning tower options on the market. It is arguably one of the most versatile, as well.
Features of this learning tower include:
adjustable height
handles and tread for safe climbing
200 lb weight limit (can be used as an adult step stool)
---
When to start with a learning tower
Children develop at their own pace, of course. Most children, though, are ready to use a learning tower when they are able to stand flat and steady on their feet.
Many recommend introducing a kitchen helper at 18 months, but as long as your child is properly supervised (they should supervised be at any age), there is no reason to wait.
Many parents start their child on a learning tower as early as 9 months.
This is, of course, a personal choice you should base on your own child and your own best judgment.
Involving a child in activities of Practical Life should happen the moment they are able to participate in even the most minimal capacity.
Whether you do this using a chair, learning tower, or carrier, the important thing is that you are doing it.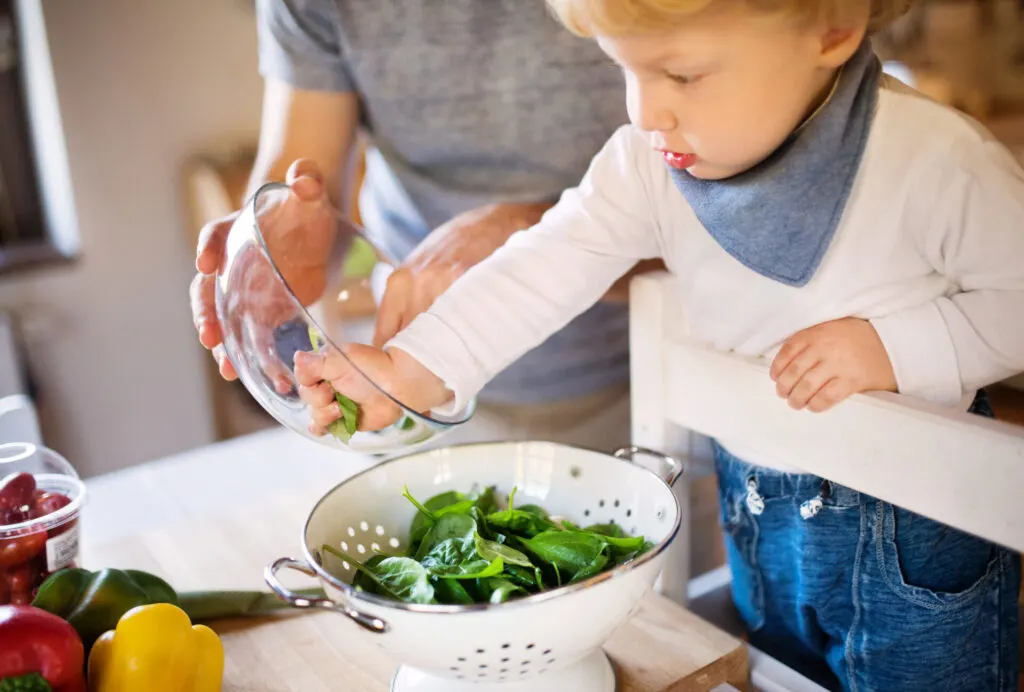 Learning towers and safety
Coupled with good judgment and common sense, learning towers are a safe way to involve your child in kitchen activities.
There are some things you should keep in mind, however.
Here are some tips for safely implementing a learning tower in your home:
stay up to date on recalls
regularly check for splinters, chips in the paint, and loose hardware
never leave a child unattended while in the learning tower
be mindful of items the child has access to when in the learning tower
---
Being able to safely involve my children in cooking activities has heightened everyone's enjoyment of meal prep and mealtime.
Do you have a Montessori learning tower in your kitchen? If so, does your child enjoy it?
For recommendations on child size utensils, click here.
For recommendations on children's cookbooks, click here.
Cheers and don't forget to subscribe!