Cooking is a wonderful Practical Life activity and choosing some great children's cookbooks is the next logical step after you've purchased a learning tower and some wonderful child size kitchen utensils.
Choosing great children's cookbooks is no easy task, though. Many cookbooks geared for toddlers and preschoolers have recipes that are either too complex or too simple. And nearly all of the cookbooks you find for young children contain a bulk load of unhealthy, but "cute", recipes.
As someone who has spent hundreds, if not thousands, of hours in the kitchen with children, I feel confident I have picked 8 of the best children's cookbooks out there.
(This post contains affiliate links. Purchasing from these links costs you nothing extra, but sends a few cents our way for website upkeep.)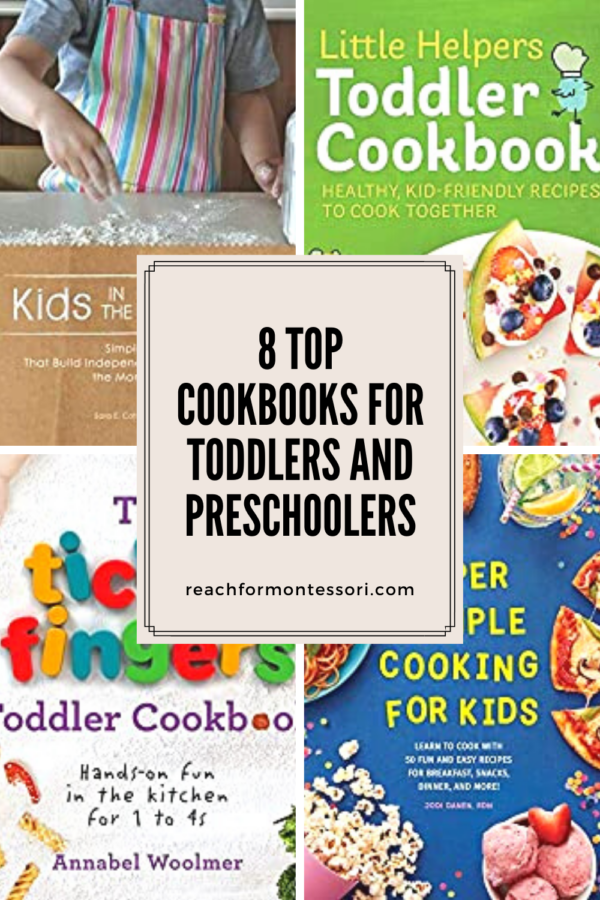 The 8 best children's cookbooks for toddlers and preschoolers
This children's cookbook is ideal for the youngest toddler and will be enjoyed even into the early elementary years. It has 10 step-by-step pictorial recipes that allow kids to prepare dishes with minimal adult assistance when the ingredients are pre-measured and set out for them.
This cookbooks is popular with Montessori families, as it contains information on the benefits of cooking with children, as well as information on the skills needed. It's a great first kids cookbook for both children and caregivers.
This is a very fun first cookbook for kids. The author is quite knowledgeable about early childhood development and it comes through in this book.
The author lays out what you need to do before involving the child, tells you what skills you are developing in each recipe, and offers ways to explain to your children what you'd like them to do.
This book is great, and not just for the sheer number of recipes. This book goes over everything from handwashing to cooking safety.
The recipes are presented in 3 age groups, (3-5, 5-7, and 7-11) when the child has developed the skills needed to complete them successfully. The recipes utilize picture descriptions that guide children while they cook.
This is a cookbook that will get a lot of use for many years.
This cookbook for kids was written by a registered dietician and it's filled with easy recipes. The recipes are mostly assembly-based, which is great for helping kids learn how to follow steps and prepare their own snacks.
This book is wonderful, but it doesn't get too far past mixing and assembling. So, I recommend buying this in addition to the cookbook listed above this one. That way, all your cooking and baking bases are covered.
This is decidedly more complex cookbook than the others on this list, however the recipes are delicious and I can see this book being used into the teenage years. Along with the many ingredients for these recipes, comes many opportunities for learning and for trying new flavors.
This is a children's cookbook everyone needs in their home. These fun recipes expose children to a variety of flavors enjoyed by people in different parts of the world.
Because this cookbook also teaches about different countries and cultures, it is a great tool for culture and geography lessons at home.
This is a cookbook that has some fun and creative recipes. The pictures are enticing for toddlers to pick out which recipe they want to make.
It's also a fun feature that there are spaces to make notes and rate the recipes. So, after the cooking fun, it can be kept as a momento to sit with your child and look back on. Very lovely book and very lovely idea.
No cookbook list would be complete without making sure kids with allergies are included in the fun. All the recipes are free of gluten, dairy, and other allergens.
The recipes are delicious and this cookbook is actually very helpful for giving parents and caregivers ideas for allergy-friendly meals.
---
Which of these children's cookbooks does your family enjoy? Are there any others you suggest?
Don't forget to check out the following posts for some fun cooking ideas to keep your little one occupied in the kitchen while you wait for your cookbooks to arrive!
Cheers and don't forget to subscribe!