In this article, I'll go over how a Montessori weaning table and weaning chair play a role in a child's development, why they are used by Montessori parents, and how to implement these Montessori furniture items.
I have also included a few shopping links and other recommendations.
What is a Montessori weaning table?
When older babies begin showing an interest in eating solid food, it signifies the beginning of the weaning process.
The sensitive period for weaning occurs at around 6 months of age.
Before this time, children are only familiar with their nutrition being served to them via methods like a bottle or breast.
Discovering that they can now grasp foods and have more control over tastes and textures is very exciting for them.
Put simply, a weaning table set is a small table with a chair that a young child is able to freely climb in and out of and sit upright without adult intervention.
There are many things to consider before deciding if a weaning table is right for your family.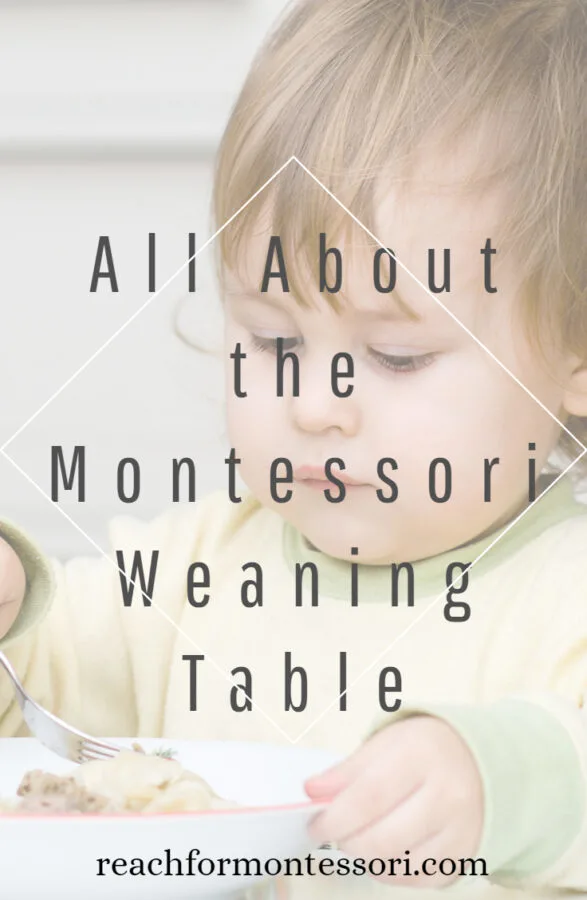 (This post contains affiliate links. Purchasing from these links costs you nothing extra, but sends a few cents our way for website upkeep.)
Why choose a weaning table instead of a high chair?
Young children have an innate desire to be able to do as much as possible independently. Child-size furniture helps fulfill this desire.
Not only does a weaning table allow for independence at mealtime as it relates to being able to independently get in and out of their seat, but it also affords children added opportunities for Practical Life activities.
Here are some Practical Life activities that can be done at a weaning table:
setting the table
making a flower arrangement for the table prior to a meal
clearing the table
washing the table and chairs
Weaning tables also provide the opportunity for early Control of Movement activities:
moving the chair quietly
carrying food to and from the table without spilling or dropping anything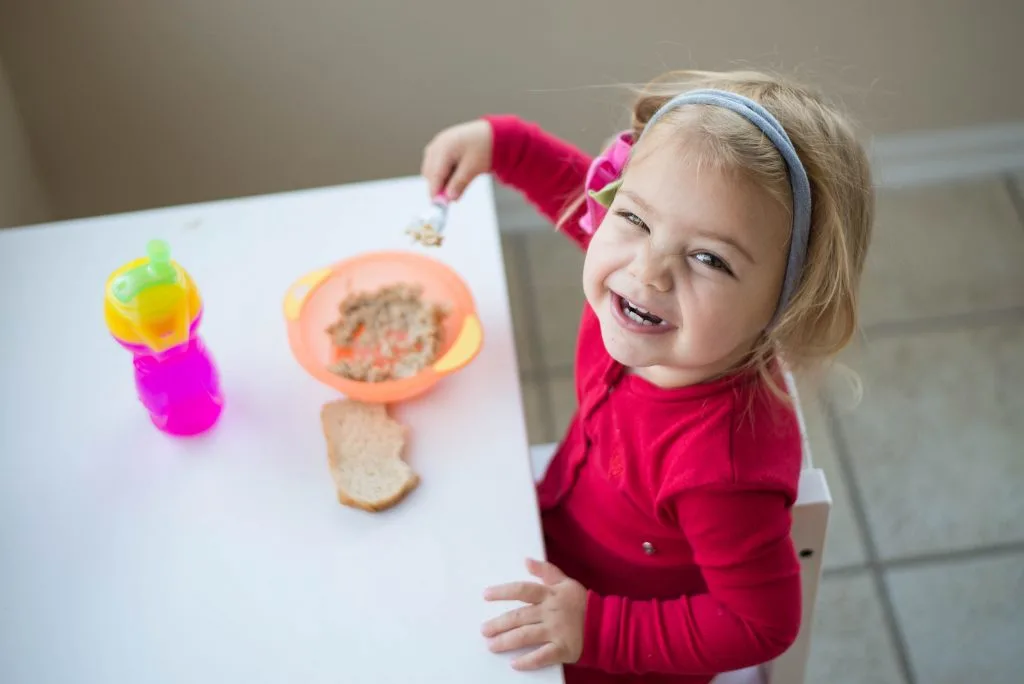 An additional benefit of Montessori weaning tables is that they can be easily repurposed, even between meals.
Many Montessori parents choose to utilize their small table and chairs for activities during the time they are not being used for eating.
After a child has outgrown the weaning table or outgrown the desire to eat at the weaning table, it can take its permanent place somewhere else in the house.
The choice between using a weaning table and a weaning chair instead of a high chair is a personal preference. Ultimately, each individual family will choose the best way for them.
The benefits of using a high chair for babies and a booster for toddlers are that the child is kept safely in one place with no chance of falling and that parents have more control over mealtimes; less redirection.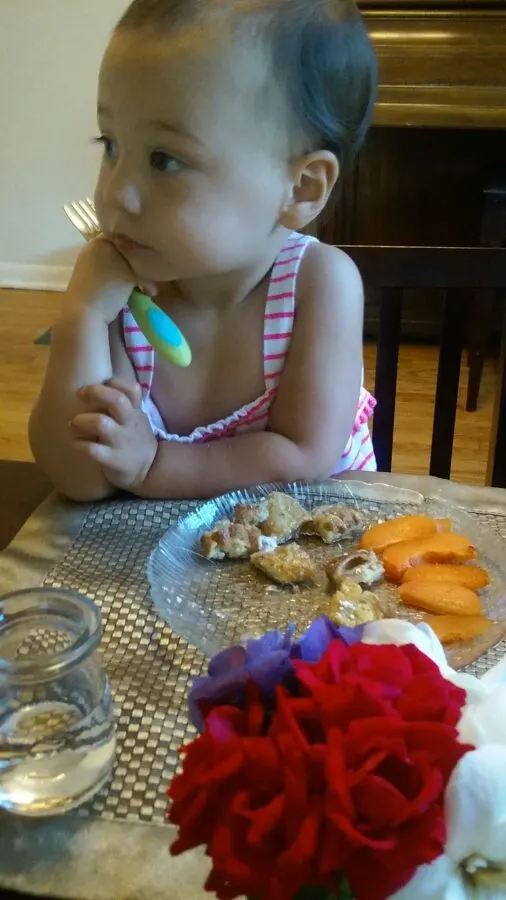 Small furniture and the Montessori approach to weaning
Montessori encourages developmentally appropriate independence in all things. This "early" independence leads to increased enjoyment of activities often considered by children to be tedious.
Enjoyment of meals and a sense of pride and self-worth should be introduced alongside of a child's first finger foods.
Montessori parents often choose a method of weaning called 'baby-led weaning'.
This means that instead of introducing purees when a baby shows all the signs of being ready for solid foods, a baby is introduced to finger foods and utensils.
In Montessori, even the youngest children are involved in meals from start to finish.
Helping to prepare the meal, serve it, and then enjoy it independently is a respectful way to approach mealtimes.
Many parents find that involving their children in meal preparation and giving them independence with serving and eating helps stave off picky eating, in addition to all the other benefits.
In Montessori toddler classrooms, you will find children gathered at a small table for snack and meal times.
The children are happy and enjoying the process and the teacher is simply tasked with assisting where needed.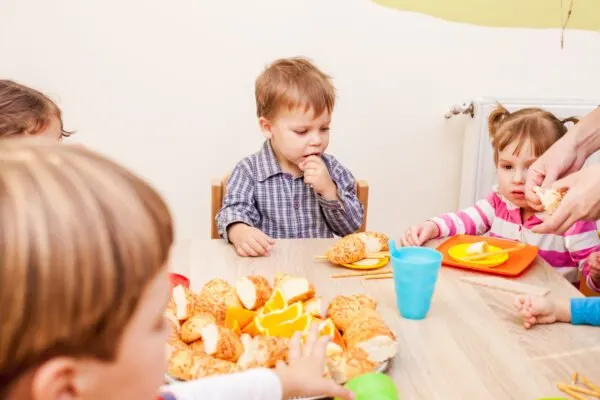 Are real dishes used at a weaning table?
You may have heard that Montessori encourages the use of real dishes at mealtimes; ones made of a natural material, like porcelain, glass, bamboo, or stainless steel. These materials provide a control of error for children.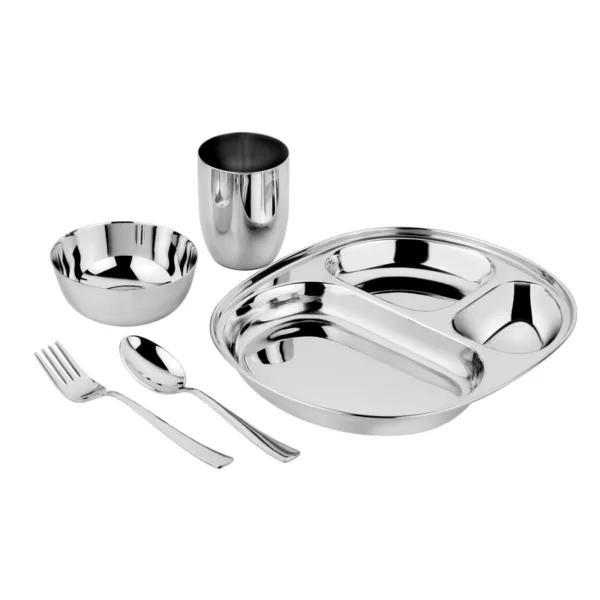 The control of error, when a breakable or natural material item drops to the floor, is that it either breaks or makes a disruptive noise when it hits the floor.
Obviously, this is true when real dishes fall from a high chair, as well.
The difference is in what happens when a real dish falls from a weaning table vs from a high chair.
Strapped into a high chair, a child does not have control over cleaning spills or breaks.
Every time something is spilled or a dish breaks and a child is not able to help, a Practical Life opportunity is missed and ownership over a portion of the mealtime gets transferred to an adult.
When children eat from plastic plates and drink from sippy cups, there is no added risk of breakage involved and therefore, less opportunity for learning.
Along with real, but child-size dishes, regular metal silverware is introduced to children at the weaning table.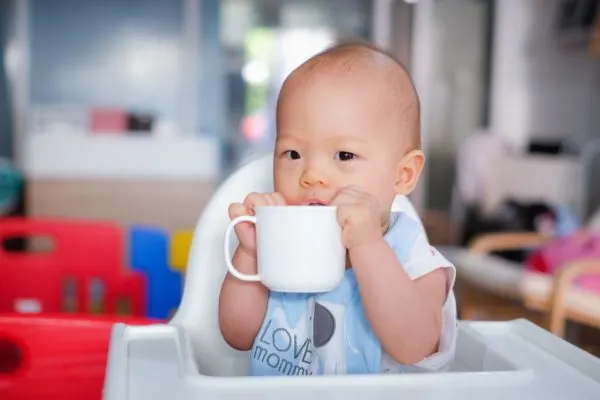 How to get a toddler to sit for meals at a small table
It is a common concern for families who are considering a weaning table that their child will not sit for meals.
Here are some things you can do to help your child's first time at their weaning table be a success.
do not have the child sit until it is time to start eating
eliminate snacking within 1-2 hours prior to mealtime
have consistent meal and snack times every day
see that your child is comfortable in their seat
make sure your child's feet are able to touch flat on the floor (check seat height)
be clear about mealtime expectations (the meal is over if they get up, etc.)
have realistic expectations about how long is appropriate for a child to sit still
When choosing a weaning table and chair set, here are characteristics to look for:
furniture items are heavy (not easily tipped)
made of solid wood, well-made
measurements that suit your child's frame and account for physical growth
cube chairs are optimal for babies and very young toddlers
Many parents are pleasantly surprised to find that if a child is given a higher level of freedom and involvement in meal times, they are happy to sit at their small table and they actually stay seated to finish their meal.
This was my personal experience, as well. Mealtimes were far more pleasant when we switched from a high chair to a weaning table.
They became something the whole family looked forward to.
Can we have a weaning table and still have meals at the family table?
Meal times are important for conversation and bonding. The idea of a weaning table gives many parents the image of children eating separately from the rest of the family.
There is no need to give up family mealtimes when you introduce a weaning table, however.
Not only would it be awkward and possibly upsetting to the parents, child, or both, but it would be unsafe, especially for a very young toddler.
This is not the idea behind weaning tables at all.
Some families choose to implement the Montessori weaning table for certain meals.
Other families choose to only allow snack times to happen at the low table, then meals happen at the main table with the whole family.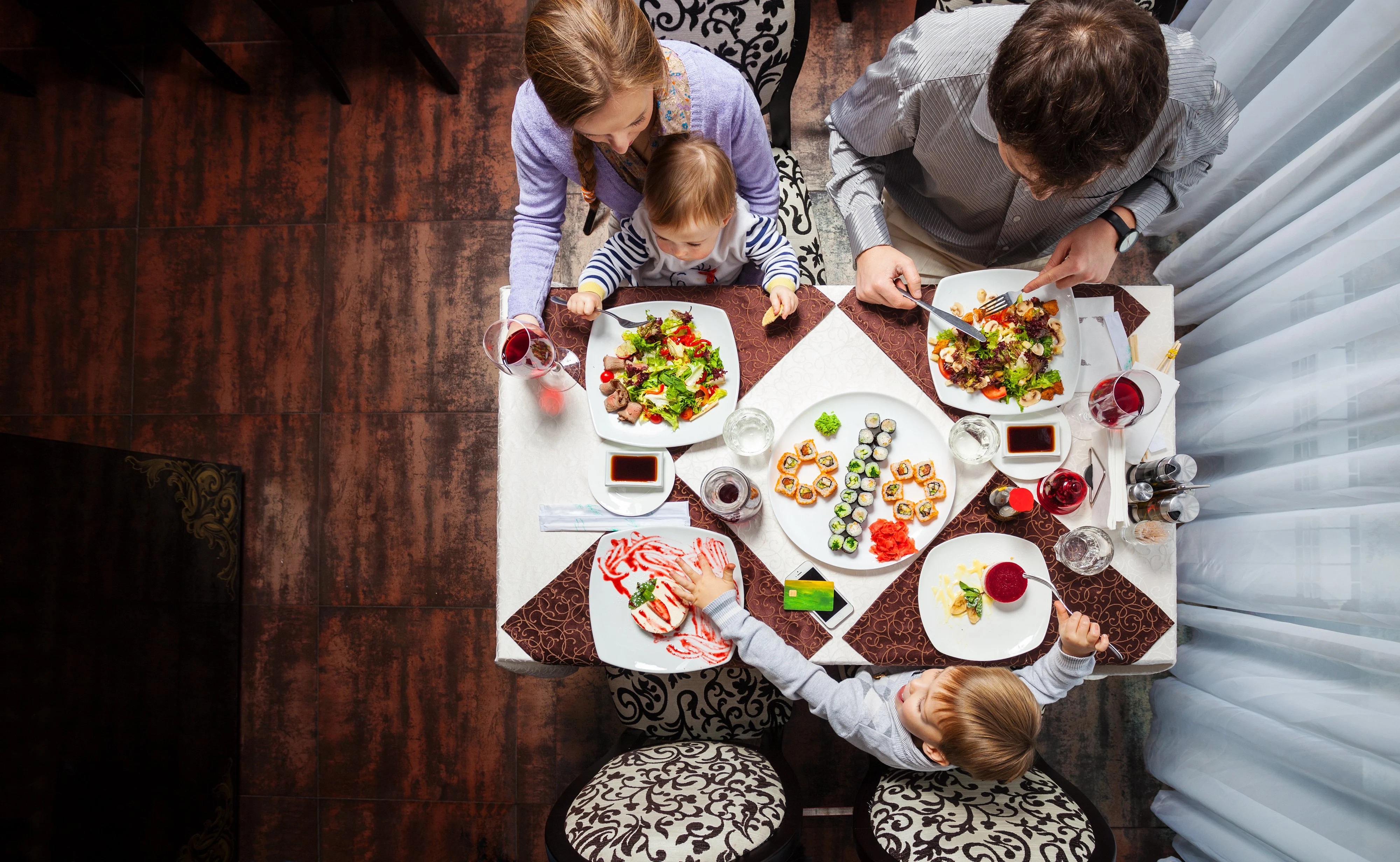 Is there such a thing as a Montessori high chair?
Many Montessori families choose to implement a weaning table and a high chair simultaneously. For many of these families, a Montessori-aligned high chair is desirable.
A trip trap style high chair is a high chair that has steps leading up to the seat portion of the device.
This allows children the freedom to climb up the seat themselves.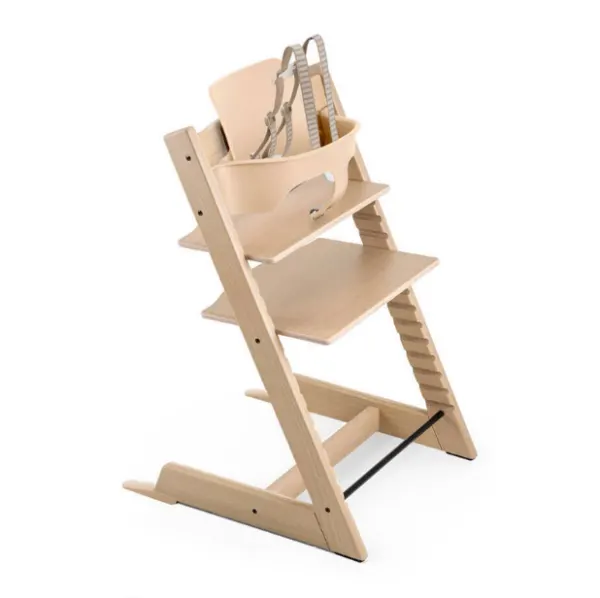 The child can be buckled in for safety and a tray is then clipped on. When the child gets bigger, the trip trap high chair is scooted closer to the table and a tray is no longer used.
For many families, a weaning table is not desired. This type of high chair is a happy medium between a regular high chair and a weaning table.
Where to buy a Montessori weaning table
Piccalio 2 in 1
Piccalio has a lovely option that doubles as a kitchen helper.
While this option does not have the back support that a baby or very young toddler requires, it's a great option for ages 2 and up, or earlier if the child is ready.
This option is not only economical, it's a space saver, as well.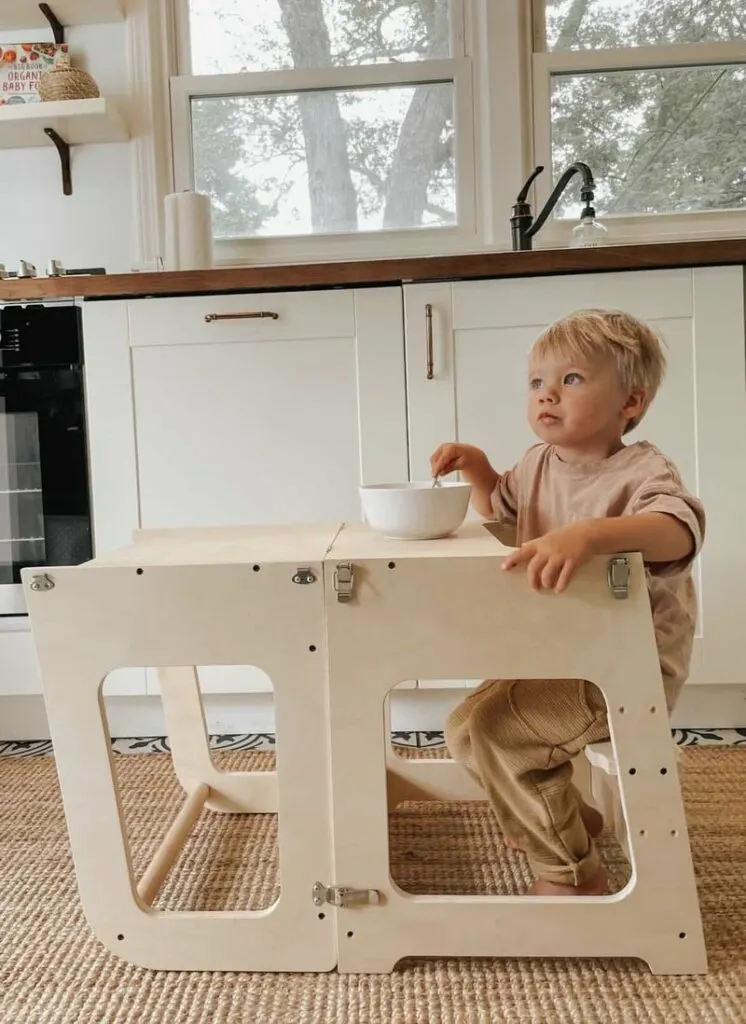 Clearly, I adore the Piccalio brand. They are my go-to for my large purchases.
This weaning table and chair set has a very classic style. The chairs can also be flip upside down when your child outgrows them in the low position, which is really nice.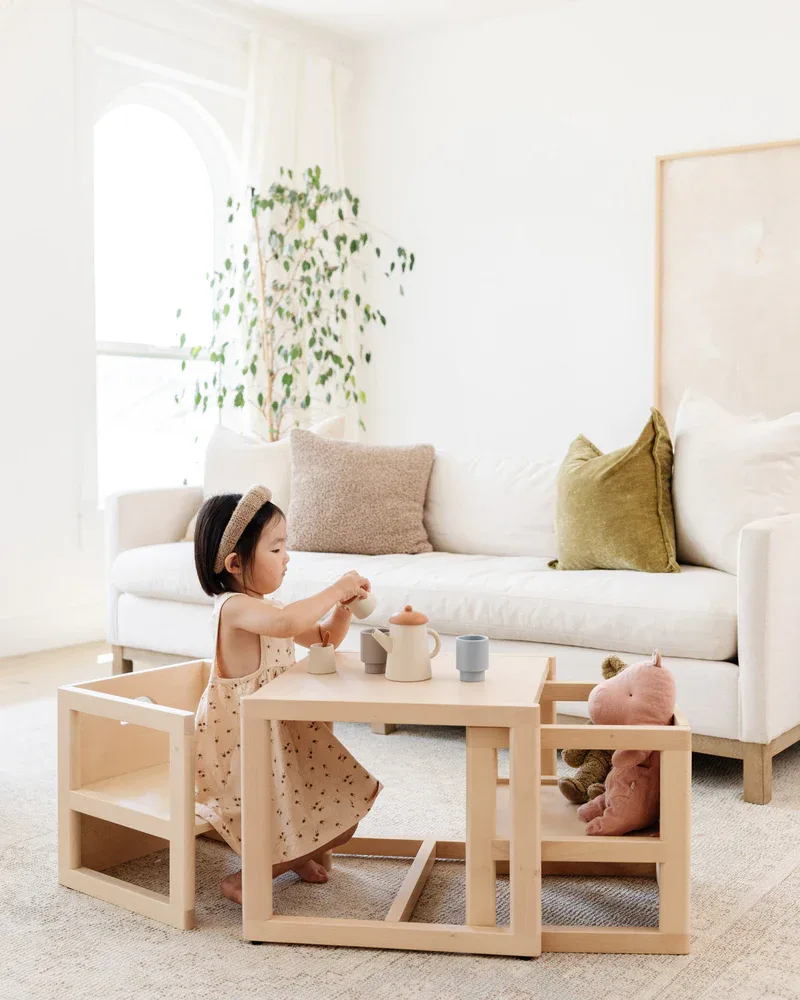 Sturdy Plastic Weaning table and chair set
I really like this weaning table set. It comes with 2 chairs and the table, which are made of durable plastic.
This is a great option for families that are planning to have multiple children and parents who are worried about spills staining wood.
Multi-function weaning table set
Sweet Home From Wood has a lovely weaning table that is great for babies and very young toddlers.
The corners are a bit rounded, which means fewer bumps and scrapes.
This is on the pricey side of the spectrum, but there are so many different configurations for it that you'll be using it for years.
Sweet Home from wood Montessori Wooden…
✅ Show off your love of the Montessori method and give your…
✅ Featuring multiple choices, this toddler table set is ideal…
✅ Give this weaning table fun and interesting way for your…
Many caregivers choose to cut length from the legs of regular toddler activity tables.
This is a great option for those who are introducing weaning tables when children have had plenty of practice sitting on their own.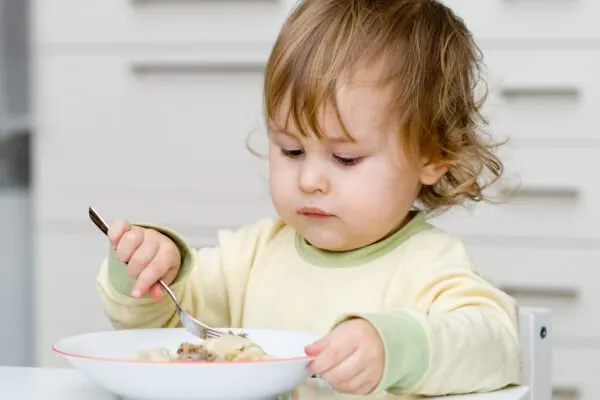 Personal experience and conclusion
When my daughter was an only child, she enjoyed her small table and chairs so much that my husband and I would join her, sitting on pillows on the floor for meals.
When one child became three, she enjoyed serving her younger brothers and encouraging them to try new foods at the small table.
My husband and I would sit at the main table, which was a few feet away.
The children now enjoy sitting at the family table with us and the weaning table is now used for arts and crafts.
---
As previously stated, whether you choose a Montessori weaning table is up to you. I encourage parents to give weaning furniture a try, though.
Weaning tables are really a wonderful way to show a child they are respected, valued members of your household, worthy of furniture that suits their small size.
Does your child use small furniture for snacks or mealtimes? If so, what has your experience been?
Cheers and don't forget to subscribe!