You may have heard the buzz about Montessori – it's an educational philosophy that has gained popularity over the past few decades. But, what is a Montessori school?
In this article, you will learn what Montessori is and a Montessori school operates.
You'll also get information on the Montessori curriculum areas, as well.
---
Today there are more than 20,000 Montessori schools around the world, including 3,000 in the US alone. Its popularity has increased thanks to the hands-on aspect of Montessori classrooms, its student-led curriculum, its real-world-based materials, and its hands-off teaching style.
The Montessori method of teaching has been around since 1907 when founder Dr. Maria Montessori opened the first Montessori school for low-income students in Rome. And it's only grown from there.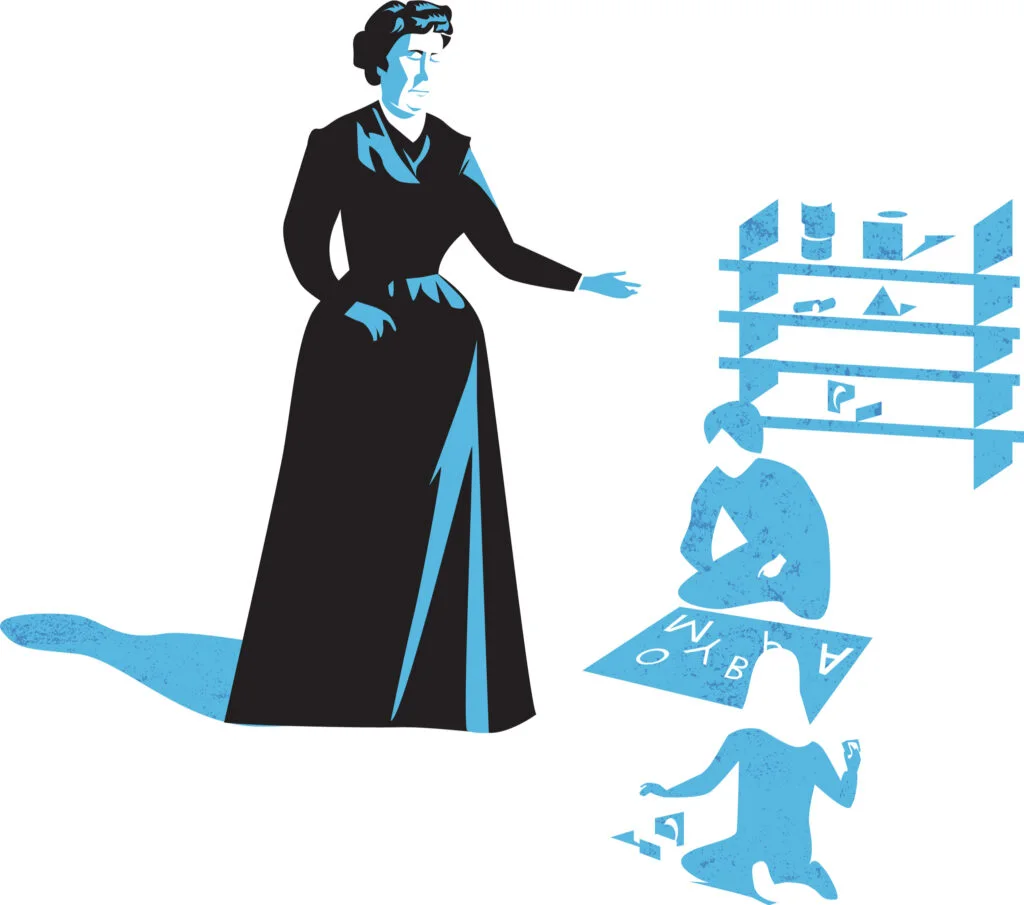 Definition of Montessori
What is a Montessori school? It's an environment where students take the lead in their own learning.
Teachers serve as guiding figures, while children have the freedom to move from activity to activity following their own interests.
Learning opportunities arise from children's natural curiosity mixed with plenty of opportunities to explore, play, and experiment.
Developed after years of observation, Dr. Montessori discovered how children succeeded in a positive, nurturing environment where learning objectives and materials were created with their unique developmental abilities and needs in mind.
Her observations led to the guiding principles that have been put into practice in the modern-day Montessori era.
The Montessori Classroom
A Montessori classroom looks very different from what parents and educators have grown accustomed to. From the outside looking in, it may look unorthodox and unorganized.
But there is an intentionality and order to each of the elements educators incorporate in their classrooms.
A Prepared Environment
The Montessori classroom is a mix of age- and developmentally-appropriate activities. They are created with real-life skills in mind but brought from an abstract level to the concrete (especially in early childhood settings).
A prepared environment means that not only are the activities purposeful, but the materials are also adapted to the size and age of the students.
Think chairs, desks, and tools that are the correct size in correlation to the students who use them.
Furthermore, students aren't "set free" into the classroom for individualized playtime without first understanding how to use the activities available to them.
This leads to intentional play, exploration, and learning.
Mixed-Age Groups
The optimal Montessori classroom involves a mix of ages, known as the three-year cycle.
Students don't all develop at the same time, so this three-year mix allows them to make learning connections at their own pace.
It also allows younger students to learn from older students, and it allows older students to solidify their learning by teaching skills to their younger peers.
The Uninterrupted Work Cycle
This can be up to a three-hour time period in which students are allowed to explore their prepared environment (i.e., the classroom) at their own pace.
Free to move from activity to activity, but understanding that it's their responsibility to respect the space, their materials, and their classmates.
The uninterrupted work cycle means teachers observe—only intervening if absolutely necessary. Whole-group lessons, outdoor time, or other scheduled moments do not take place during this time.
Freedom to Choose
Tied closely with the uninterrupted work cycle is the idea that children have the freedom to choose what activity and for how long they would like to participate in it.
It should look like a free flow of students immersed in one activity before finding another one that suits their interests.
This allows for student individuality and passions to shine through.
Overview of Montessori Curriculum and Materials
The curriculum and materials used in a Montessori classroom are also meant to broaden children's independence, uniqueness, and awareness of the world around them.
In order to achieve those goals, the Montessori curriculum focuses on five key areas.
Practical Life
Just as the title suggests, practical life means teaching and honing real-life, practical skills that children need to live a full, independent life.
This includes everyday activities like getting dressed, handwashing, preparing food, and interacting with their peers.
Hands-on activities that develop the senses are another key component to Montessori education. Here children manipulate things they can (of course, touch) but also taste, smell, hear, and look at.
Moving from concrete mathematical concepts to more abstract, students are given the freedom to master skills at their own pace.
Language
Students are naturally good at absorbing the words and phrases they hear on a daily basis.
The Montessori language curriculum is based on this very idea, which allows students to innately learn language skills from the environment around them.
Culture
The focus here isn't just on different cultures around the globe, but also (eventually) how each child fits into the world around them.
Topics may include music, art, geography, history, and science.
The materials Montessori teachers use while implementing the above curriculum are purposeful and intentionally selected.
Dr. Montessori stressed the importance of materials that are made from natural resources and are developmentally appropriate for a given child.
The idea is that a hands-on approach means children need adequate materials (that they can easily manipulate) to carry their learning through from the concrete to the abstract, and with cosmic education in mind.
The Montessori Method of Teaching
Montessori teachers are trained and qualified to be the guiding hands in the classroom.
Usually, they start off with state teaching credentials and then complete a certification program to become experts in the Montessori method of teaching.
There are a variety of certification programs available to prospective teachers.
Two reputable names are programs that are affiliated through the Association Montessori Internationale, which was founded by Dr. Montessori in 1929, or the American Montessori Society.
These specialized programs give teachers and teaching assistants the skills to successfully implement the Montessori style of teaching in the classroom.
That includes
An in-depth understanding of children's developmental stages and abilities;
How to guide, rather than lead, a student on their path to self-development;
How to respect children as the unique individuals they are;
How to prepare the classroom to be the best possible learning environment for their students;
When to observe students and when to intervene (this is limited to specific instances); and
How to give children independence and freedom of choice in the classroom.
Conclusion
Interestingly enough, while Montessori schools have spread across the globe due to their innovative take on education, it's not a trademarked term.
But, while anyone can open a Montessori school, the definition of Montessori stays the same and they all follow the same guiding principles.
As teachers, administrators, and parents, it's important to understand just what a Montessori school is and whether it's the right fit for a prospective student.
Cheers and don't forget to subscribe!