The Montessori work cycle, also called the 3-hour cycle, is a key component of the Montessori curriculum. It's also one of the major Montessori catchphrases educators and parents hear when researching Montessori education.
A simple explanation is that the Montessori three-hour work cycle is a period of intense, independent immersion when students have the freedom to choose what activity or activities they would like to work on based on their interests.
It is a time of self-guided learning that is not to be interrupted by the teacher, small-group, or individual lessons.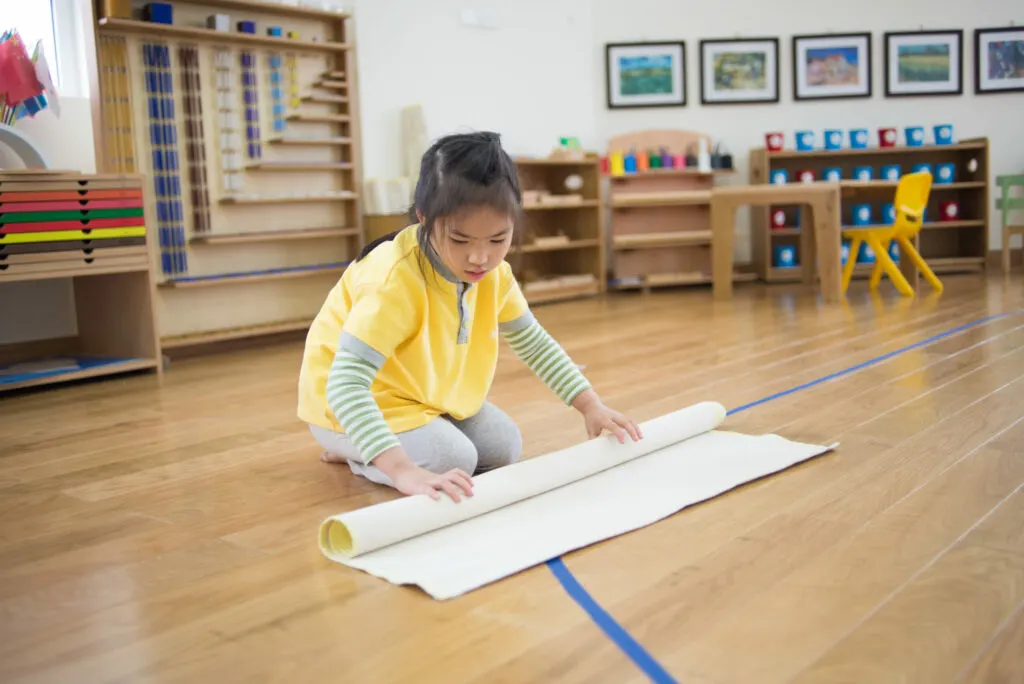 How is the Montessori Work Cycle Organized?
Interestingly enough, the Montessori work cycle emerged from Dr. Maria Montessori's own observations about the natural work patterns of her students.
Similarly, students in the modern-day Montessori classroom follow the same pattern of five distinct stages during the course of the three-hour cycle.
Settling In
In many cases, the three-hour cycle is the first activity of the day following morning circle.
So a typical Montessori classroom involves students, parents, and educators arriving at the classroom, engaging in greetings and circle time, then continuing on to the 3-hour work period.
Repetition of Mastered Skills
Next, students begin to work. Typically this means starting off with an "easy" activity that they are familiar with and have already mastered.
Many children choose to engage in Practical Life activities to start their day.
Think of it as warming up for the tougher-to-manage and newer skills to come later on in the work cycle. This period also lasts for about 30 minutes.

False Fatigue
This is followed by a chunk of time that can look deceiving and disconcerting to the untrained Montessori eye. At this point, students will begin chatting, look distracted, and wander away from their work.
In general, it may look like they are tired and done for the day—but this is only an hour into the cycle!
What's really happening is what Dr. Montessori considered "false fatigue". In essence, it's a brief break and it's important that educators don't cut off the work cycle at this time.
Students are not done learning yet, and they are about to head into the stage of the three-hour work cycle where the most intensive learning happens.
The Great Work
This is where the magic happens. Another coined term by Dr. Montessori is "the great work" and it's when students choose activities that they have yet to master.
This can be a 1.5 to 2-hour block of time in which the classroom is quiet and students are focused on making deep learning connections.
Clean Up
Finally, during the last 30 minutes or so, students begin to wind down as they finish their work.
They are putting away materials, tidying up the room, and preparing for the next phase of the day.
Is the Montessori 3-Hour Work Cycle Really 3 Hours?
Yes and no. It depends on the age of the student. A typical breakdown may look like this:
0-3 Years Old
Infants and toddlers do not partake in the three-hour cycle but are instead encouraged to explore their environment uninterrupted.
Educators will generally follow infant cues to move them about the room.
Toddlers can expect a work cycle of 1 to 2 hours.
3-6 Years Old
Preschool-aged children can expect a cycle of 1 to 2.5 hours.
6 Years Old and Up
Younger elementary students and up can expect a 2.5 to 3-hour cycle.
Can the 3-Hour Work Cycle Be Adapted?
This work time can certainly be achieved in a homeschool setting without any issues.
However, it's important that homeschool parents and teachers ensure that the home is a prepared environment, with developmentally appropriate materials, in which children can independently move from activity to activity.
While the timing of the three-hour work cycle can be played around with at home or school based on the teacher/caregiver, environment, and students, there are a few major no-nos:
Children should not be interrupted
Teachers and caregivers shouldn't take time out of the cycle for individual or group lessons, or any other scheduled activities.
Is Montessori Work Time Beneficial?
Yes, Montessori work time is extremely beneficial to the educational, social, and emotional needs of each child as it allows students to:
Become independent learners
Develop at their own pace
Purse their unique interests/passions
Learn how to focus for long periods of time
Learn how to be respectful of their materials, environment, and other students
In fact, work time—or the three-hour cycle—is often the reason why many parents and educators are attracted to the Montessori philosophy from the start.
If you homeschool in a Montessori fashion, how long do you find your child's work time runs?
Cheers and don't forget to subscribe!