Choosing a baby's first high chair can be very exciting, but there is so much to consider. It's a good idea to include in your considerations a child's ever-blossoming need for independence at mealtime.
A Tripp Trapp-style high chair is the popular choice in Montessori homes and there are a lot of great reasons to consider one for your child.
From the early days of baby-led weaning, through the toddler years, and beyond, these Montessori-aligned high chairs can help foster independence at mealtimes, as well as family bonding.
Let's check out how high chairs are utilized in Montessori homes and go through the top 5 Montessori high chair brands.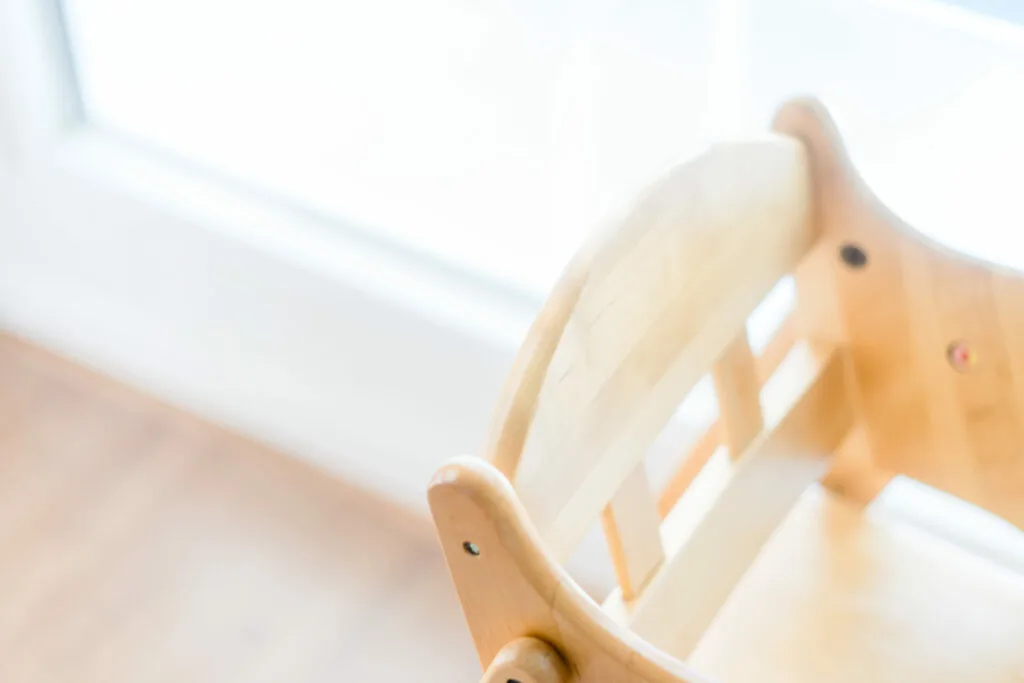 (This post contains affiliate links. Purchasing from these links costs you nothing extra, but helps with our website upkeep.)
Does Montessori use a high chair?
Montessori encourages independence in all things and this leads people to believe that high chairs are not Montessori-aligned. This is not completely true, however.
While Montessori encourages the use of small tables and chairs, commonly referred to as weaning tables, high chairs are not completely out of the question in Montessori environments.
High chairs that allow children to climb in and out independently are widely considered to be Montessori-aligned.
Tripp Trapp-style high chairs are high chairs that have a step that allows a child to climb to their seat independently so they can comfortably eat with the rest of the family.
Many Tripp Trapp chairs come with infant inserts and buckles for safety in the early months of weaning to solids.
Is a Tripp Trapp Montessori?
A Tripp Trapp-style high chair, while not a Montessori invention, is a Montessori-aligned item.
Many Montessori parents utilize a combination of weaning tables and independent high chairs to facilitate mealtime independence.
5 of the best Montessori high chairs to consider
The motto of this company is "You can't outgrow a Keekaroo" and that is definitely an accurate description for this Montessori high chair.
The high chair itself is well-made and sturdy and the infant insert is liquid-proof and easy to clean.
This is a great option for those looking to purchase a single high chair that will get used from infancy through the preschool years and beyond.
Features of this independent high chair:
Comes with comfortable infant insert
Tray is included
Holds up to 250 lbs
If you are looking for an adjustable Montessori high chair that can eventually be used as a regular-size chair when your child gets older, this is the one for you.
This award-winning Tripp-Trapp-style high chair has been popular with Montessori families for years. Just as with the previous option, this high chair can be used from the start of weaning and will get continued use for many, many years.
Features of this independent high chair:
Adjusts very quickly and easily
Tray is included
Has both 3-point and 5-point restraint system
Designed by Peter Opsvic, this is the most popular (and the original) Tripp Trapp high chair. The Stokke Company has been in the manufacturing business for nearly a century, so the quality and craftsmanship in this particular chair are guaranteed.
This high chair is slightly more expensive than the previous items on this list. However, these are so well-built that they are often kept in families for generations.
Features of this independent high chair:
Supports up to 300 lbs
Baby set included
Made of solid wood, not composite
This adjustable high chair is a great option for those looking to transition away from the weaning table and introduce their toddlers to eating at the main dining table, restraint-free.
Priced considerably lower than the others on this list, this is a great option for parents and caregivers who want a Tripp Trapp-style chair, but don't need the infant seats of inserts.
Features of this independent high chair:
Holds up to 200 lbs
Simple and beautiful in design
Adjustable step is deep, which is ergonomic and safe
This high chair is the most expensive on the list, however, it really "wows". This is a high-end and very popular brand of Tripp Trapp chair.
This is the only model of Montessori high chair on this list that has wheels and base extensions. Both of these features help to prevent the possibility of tipping if a child pushes themselves away from a table.
Features of this independent high chair:
Holds up to 330 lbs
Large selection of wood and seat colors
Very lightweight for easy storage and cleaning
There you have it – 5 amazing Montessori-aligned high chair options. All of these options are wonderful and are sure to help facilitate a more "Montessori" mealtime in your home.
Cheers and don't forget to subscribe!