Young children enjoy performing household tasks alongside their caregivers, as well as by themselves. However, when it comes to doing laundry, parents are often (rightfully) worried about safety around washing machines. This leads many parents to purchase a kids washing machine for their home.
This is a fantastic idea and there are so many wonderful washing machine options for kids available – and some of them actually work, believe it or not!
In this article, you will learn about the benefits of getting a toy washing machine for your child and whether or not this is a Montessori-aligned play item.
You'll also learn the top 5 brands for real and pretend kids washing machines and dryers.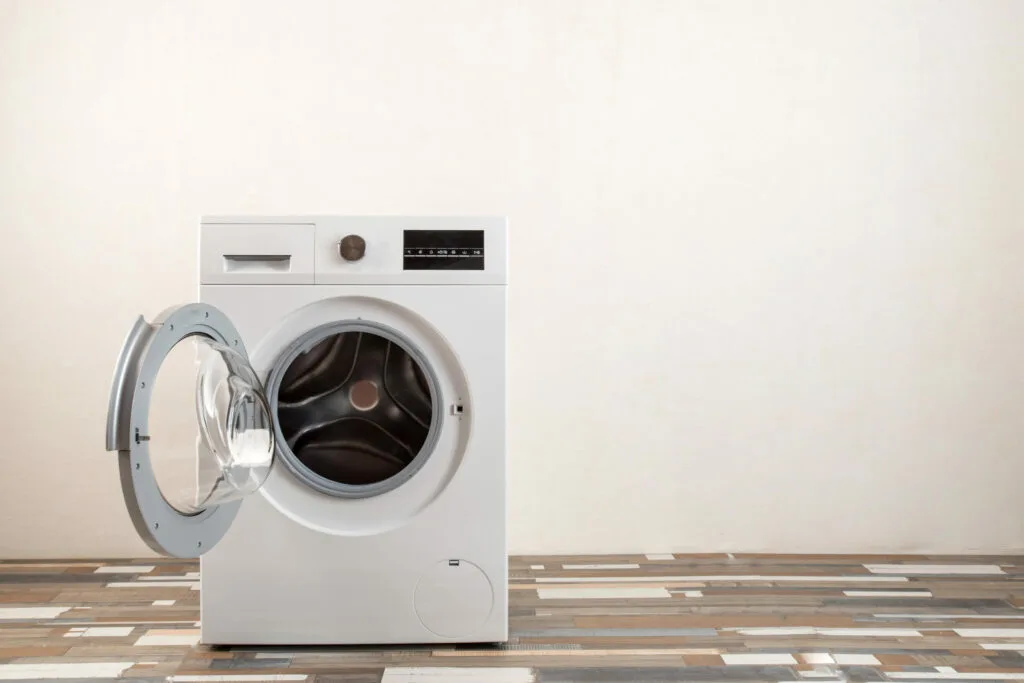 (This post contains affiliate links. Purchasing from these links costs you nothing extra, but helps with our website upkeep.)
The benefits of pretend play
Imaginative play has many benefits for kids – its importance really cannot be overstated. Children gain a variety of crucial skills through pretend play.
Here are some skills that are developed through imaginative play.
social-emotional skills
language and literacy skills
critical thinking skills
problem solving
fine and gross motor skills
caregiver-child bonding
creativity
self-confidence
Is imaginative play Montessori-aligned, though?
There is a common misconception that children being raised in Montessori homes are, or should be, discouraged from engaging in pretend play.
This is simply untrue. Maria Montessori was not anti-pretend play at all. She simply did not agree with fantastic and imaginative play as a primary means of education.
Children in Montessori homes and classrooms develop wonderful imaginations through participation and emulation of real-life tasks, such as doing laundry.
Giving a child a safe alternative to a real washing machine is a fantastic way to encourage their imagination and is welcome in Montessori households.
The best options for a kids washing machine that works
The first 2 washing machines this list use water and washing powder – and they really work. These are great choices for having children wash their hand towels or kitchen towels following a Practical Life activity.
The third option on this list will not wash items, however, it does simulate the cycles and make the noises of a real washing machine.
Note: These kids washing machines are small in size. Please watch the available videos to get a feel for what you are purchasing.
The Miele mini-washing machine is by far the most popular working toy washing machine for kids that works – that's right, it actually works!
Just add water and laundry soap and your child can load a few small items for washing.
After the items have washed, your child can hang them on a child-size drying rack, which is another wonderful Practical Life activity.
If you are curious about what this kids washing machine looks like in action, here's a great video you should watch.
2. Mini Electric Washing Machine
This washing machine was designed for washing make-up brushes and other small items, however, it makes a great working washing machine for kids, as well.
If you have a top-loading washing machine in your laundry room, this is a great choice, as your child can watch how you load the family washing machine and easily copy the process.
3. Casdon Electronic Toy Washer
This kids washing machine is not functional, however, it does load like a real washing machine and make the "swishing" and "spinning" sounds of a real washing machine.
This is a great option for children who enjoy feeling like they are doing a real load of laundry, but are not quite ready for the responsibility of using real water or washing powder.
Here's a great video that demonstrates the capabilities the Casdon kids washer. The model featured in the video is pink in color, however, the color of the model I have linked in this post is white.
The best toy washing machines and dryers for pretend play
KidKraft is a great brand for Montessori-aligned pretend play items. This wooden kids washer and dryer has a nice little storage basket underneath, as well as a folding table and pretend ironing board.
This option is great for toddlers and preschoolers.
This kids washing machine toy is a bit shorter than the previous item on this list, which makes it great for babies who are new to standing, as well as young toddlers.
What I love about this model is that the doors are magnetic, giving them a similar feel to a real washer and dryer.
There is also a functional towel rack on the side for towel-hanging practice, as well as a mock ironing board.
Whether you choose a toy washing machine or a pretend washer and drying set, you are making a great purchase for your child, as either of these items provides wonderful developmental benefits.
Cheers and don't forget to subscribe!