Young children are often fascinated by how things can be put together and taken apart. Nuts and bolts toys are great for encouraging their understanding of this concept.
If you have observed that your child is interested in building or connecting things, it's a great idea to follow that interest and give them toys and other items that help them build their skills.
In this article, you will learn about the benefits of this type of toy and get 7 awesome ideas for Montessori-aligned nuts and bolts toys for kids.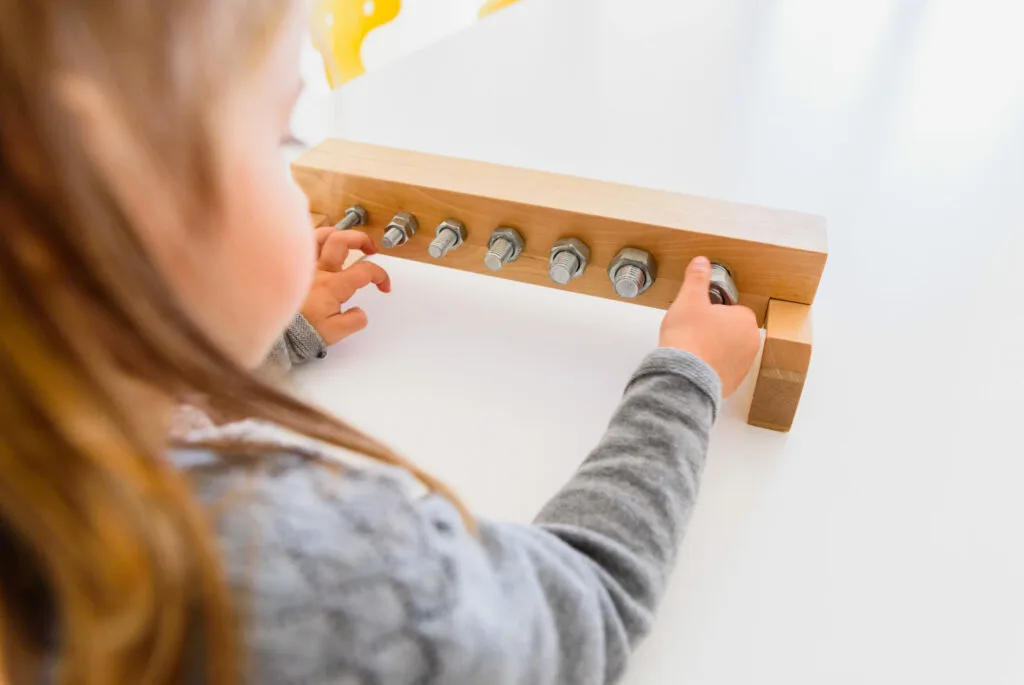 (This post contains affiliate links. Purchasing from these links costs you nothing extra, but helps with our website upkeep.)
The benefits of playing with nuts and bolts toys
Parents often wonder what types of toys are the most beneficial for children. It can be confusing to choose, with so many toys being marketed as "educational".
It's often the simple building toys that offer the most brain and body-boosting benefits, however.
Parents and caregivers who are raising their children in a Montessori fashion often opt for STEM toys (Science, Technology, Engineering, Mathematics) over light-up, noisy toys.
Simple building toys like wooden blocks and toys with nuts and bolts are considered STEM toys.
Nuts and bolts and construction toys come with many benefits. Here are several areas in which these toys benefit children:
spatial reasoning
concentration
hand-eye coordination
self-esteem
independence
creativity
These toys are also great for satisfying children in the connection play schema. If you have a child that enjoys screwing and unscrewing caps and joining things together, your child might really enjoy nuts and bolts toys.
7 awesome nuts and bolts toys recommendations
Whether you are looking to set up a nuts and bolts activity in your Montessori learning space or you're simply looking for a fun and engaging toy for your child, this list has some wonderful nuts and bolts toy options.
Melissa and Doug is a popular brand of toys in Montessori households. For the money, the quality is really good.
This wooden construction comes with 48 loose parts, as well as a screwdriver. Kids can screw and unscrew the nuts and bolts and build their own creations.
We love, love, love this Skoolzy nuts and bolts set in our house. The pieces are large enough for toddlers to grip and the colors entice my children to create matching and sorting activities.
If you are looking for a Montessori nuts and bolts activity for your preschooler, this is a great one. This toy lets young children work with real tools, as well as standard-size nuts and bolts.
This is perfect for a construction-themed shelf or just for pincer grasp preparation.
This wooden nuts and bolts board is slightly more advanced than the previous options as far as the dexterity needed to screw the items together.
This is a great option if you are shopping for a child ages 4 and up.
This wooden nuts and bolts construction set comes with some pretty neat tools, as lots of loose components a child can use for creative building.
The beautiful neutral aesthetic of this toy is appealing to children and caregivers, as well.
If you have an avid builder and are looking for a larger construction toy, this is a great option.
It comes with a variety of wooden tools and loose parts for building. It allows children to work with their hands, while still satisfying their gross-motor needs.
Miniland is another brand Montessori parents are likely familiar with.
This toy nuts and bolts toy allows for loose parts play, but it also comes with activity cards for shape matching activities.
I hope your child enjoys learning and building with these nuts and bolts/construction toys.
Many of the toys on this list are suitable for both toddlers and preschoolers, however, some are not.
Use your best judgment and remember to always supervise your child with items that are small enough to swallow.
Cheers and don't forget to subscribe!