If you are interested in implementing Montessori at home, you may be wondering about the benefits of bringing child-size furniture into your home.
What items of Montessori furniture do you actually need?
In this article, you will learn about the benefits of child-size furniture for kids and get ideas for Montessori-aligned furniture for each room of your home, so you can set up your home the Montessori way.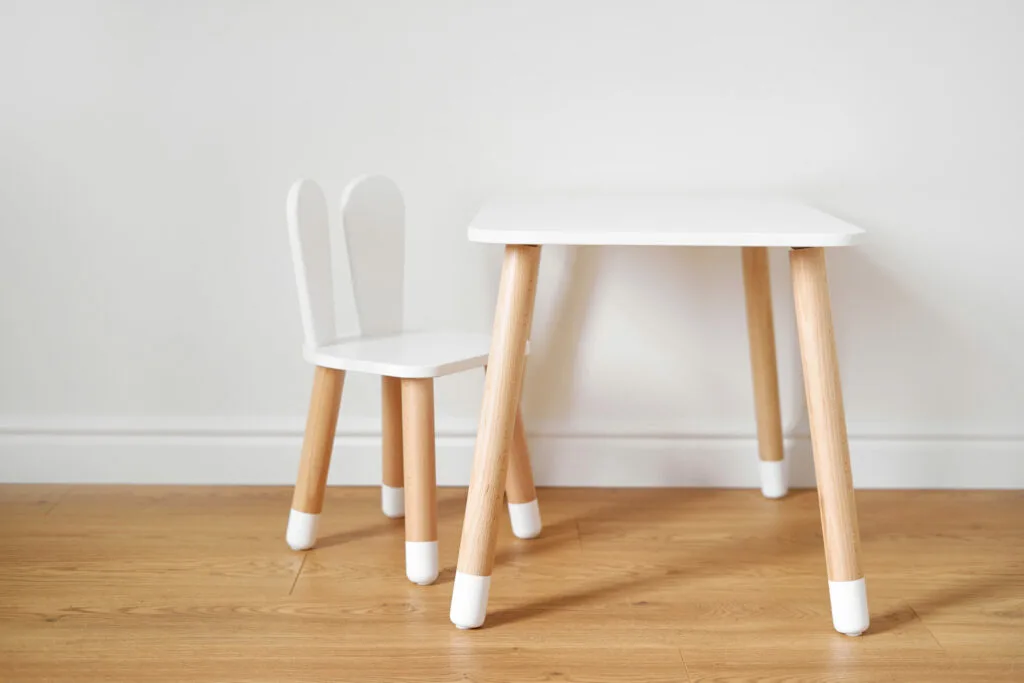 (This post contains affiliate links. Purchasing from these links costs you nothing extra, but helps with our website upkeep.)
What is Montessori furniture?
Montessori furniture pieces are child-size versions of regular adult furniture. There is typically nothing that sets Montessori furniture apart from adult furniture except for the size.
Furniture for Montessori homes differs from some of the other kids' furniture that you will see in department stores because it lacks bright colors and cartoon characters, which can be distracting for children.
What is the benefit of child-size furniture for kids?
The ultimate goal of implementing Montessori furniture into your home is to help your child feel respected.
How does child-size furniture accomplish this?
Implementing child-size furniture into your home gives your child the opportunity to experience household life at their developmental level – physically, emotionally, and cognitively.
Imagine walking into your own home day in and day out to a dining room table or living room couch that is child-size. It would not feel welcoming and you'd find yourself having to put a lot of extra work in just to be comfortable – imagine the frustration!
Now, imagine being used to this level of discomfort, then one day coming home to find someone has purchased furniture that was the right size for you. How would you feel?
You'd probably feel welcome, comfortable, important, and respected as a member of the household.
Other benefits of Montessori furniture
Child-size furniture has many other benefits, as well, as it often allows for greater independence and participation in household activities.
Here are several of those benefits:
In addition to all these benefits to children, Montessori furniture is simply more practical for caregivers.
When children have the furniture they need to participate in their household in meaningful ways, it can mean less work for caregivers – and often less grief.
Essential Montessori furniture pieces – listed by room
Below is a list, room-by-room, of Montessori furniture pieces that will help give your child independence and make them feel welcome and special in their own home.
Kitchen
If you are implementing baby lead weaning, you will be happy to know that this piece of Montessori furniture aligns wonderfully with your choice of solid food introduction.
If you are past that process and now have a toddler, it's definitely not too late to introduce a weaning table and chair to your child. They will appreciate the independence at mealtime.
If you are not interested in or have no room for a weaning table, there are plenty of Montessori high chair options out there, as well.
Learning towers are the most popular Montessori kitchen items.
These nifty furniture items allow children to safely stand at counter-height so they can participate in cooking activities, as well as dishwashing.
Playroom
Having a child-sized set of tables and chairs in your Montessori playroom is important. Small tables and chairs give children the ability to comfortably craft, draw, and do Montessori shelf activities.
Unlike wooden tables and chairs, like the ones used in kitchens and dining rooms, parents often prefer an easy-to-clean plastic option for their playroom, as paint, pen, and crayon markings are likely to make their way onto the surface.
Montessori shelves are important for displaying prepared learning activities, as well as toys.
Many Montessori caregivers enjoy utilizing their shelving units for weekly or monthly themes.
Having a large gross motor toy in your child's playroom is important. This is because children have the innate need to climb, jump, and experiment with movement.
We adore our rainbow rocker and I highly recommend this item to other families.
A rainbow rocker can be used for different types of gross motor play, as well as open-ended imaginative play.
Piklers are a very popular item for Montessori playrooms. These triangular-shaped climbers can be introduced as early as 6-months old and used up to the age of 6, as they are relatively safe and often very sturdy.
The 3 top brands of Pikler triangles are:
Featured below is the Piccalio Mini Climber. It's called "mini", however, it's a standard size for a Pikler Triangle.
Montessori-aligned bookshelves are ones that allow children to see the limited selection of books their caregivers have set out for them.
On the subject of books, providing your child with a comfortable small reading chair is a great idea if you are looking to add a reading nook to your child's playroom.
Bedroom or Nursery
When setting up your child's bedroom, having a low bed or a floor bed, which children can easily climb in and out of, is important.
Floor beds give children greater independence at bedtime.
Another important Montessori furniture item for the bedroom is an accessible wardrobe.
Children enjoy being able to wake up and choose their own outfits for the day.
Having a child-size wardrobe also gives young children the opportunity to have greater participation in laundry activities, like folding and hanging their own clothes.
Bathroom
A safe, non-slip, stool is a great item to aid in your child's independence in the bathroom.
It gives them the opportunity to easily wash their hands after pottying, as well as have greater independence when it's time to brush their teeth.
Foyer/Mudroom
Coming and going from the house can often be stressful for both children and caregivers – as almost all transitions can be.
Giving your child a place of their own to sit and put on and remove their own shoes is a great idea.
A Montessori-friendly coat rack is a wonderful piece of furniture to keep near your child's shoes bench.
These can be tricky to find, however, I was able to find one and have linked it below.
What is your child's most utilized piece of Montessori furniture?
Cheers and don't forget to subscribe!