Before I discovered Montessori, I just sort of went with the flow as far as toys go. I had no clue people used shelves for toy storage and display.
My first child was young and we were lucky enough to have a family and friends that gave us lots of hand-me-down clothes and toys…lots and lots of toys. Did I mention toys?
In this article, I will take you on my journey from "toys are everywhere" to "your toys look so nice in their cubbies".
The secret: Montessori shelves.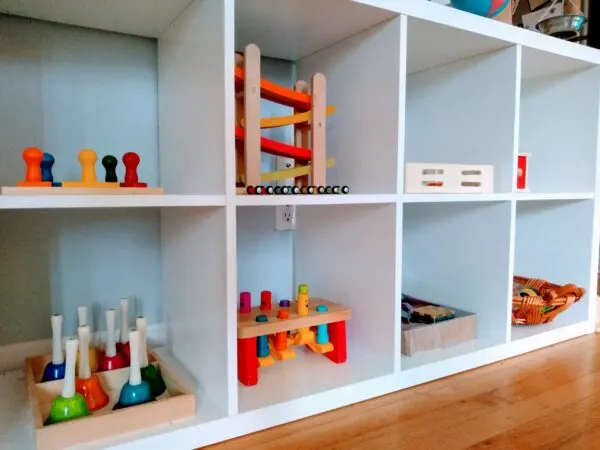 Montessori shelves can help you with your "too many toys" problem
Toys filled the toy box in her bedroom, toys were in bins in the living room, and toys were on the floor all over the house. Lots of plastic, stuffed animals, lots of light-up toys, characters, and lots of noise!
The mess drove me nuts and the noise drove me even nuttier.
I'm sure what I'm describing is the norm and not the exception.
Now, before I try to sell you the idea of tossing your toy box in exchange for a shelving unit, I want to say something important: Not every child is the same.
My daughter has always been very focused and creative with her play, and I didn't see the toy box interfere with that.
Every single, seemingly useless, little plastic McDonald's toy that was lumped in with the mounds of toys that we're gifted her, did get played with…and in some pretty creative ways.
I am a big fan of loose parts play.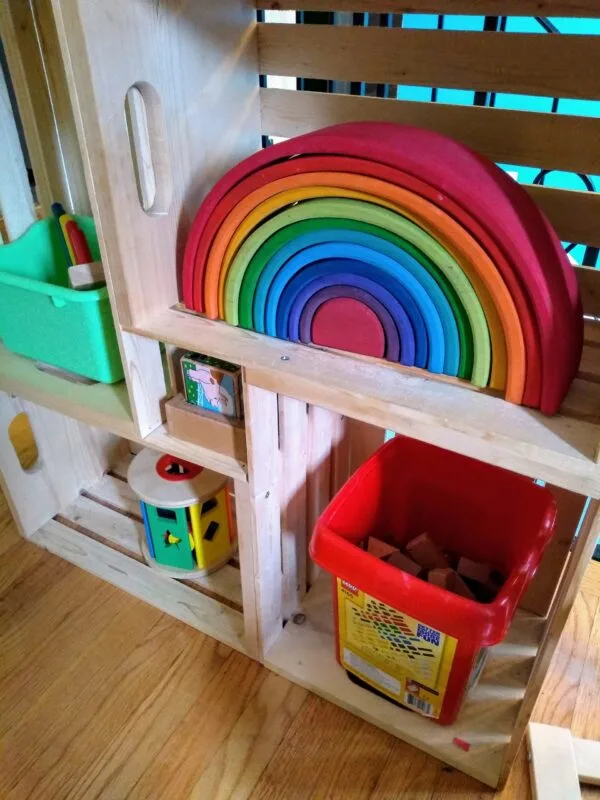 Calmer kids and a cleaner house
I don't hate toy boxes, by the way. But since learning about Montessori, and implementing our shelves (after re-gifting a ton of toys), our home is calmer and cleaner, and my kids, (who have since multiplied in number), are more calm and focused than ever!
10 reasons to use Montessori toy shelves
1) It makes putting things back in their place more appealing, maybe even fun; part of the activity.
2) It is easier to teach kids to be tidy when everything has a place, helping a child develop their sense of order.
3) Kids can see the toys this way; no favorite toy gets lost or forgotten about at the bottom of a toy box.
4) Toys are easier to rotate out... keep things feeling new and interesting.
5) It is easier to see what your child is interested in, and follow up on it with other activities.
6) Your house will be cleaner. Even when I end up doing the cleaning, I find it's easier when things have an assigned space.
7) Small parts are more likely to stay together, encouraging longevity for toys that come in sets.
8) It is more visually appealing. For everyone.
9) It allows you to take easy stock of how many toys you have, decreasing the feeling of needing to buy more.
10) Your kids will play more on their own. A well-prepared, beautiful, clean space that is set up with their needs in mind won't go unrewarded if you catch my drift. They will be drawn to it, I promise.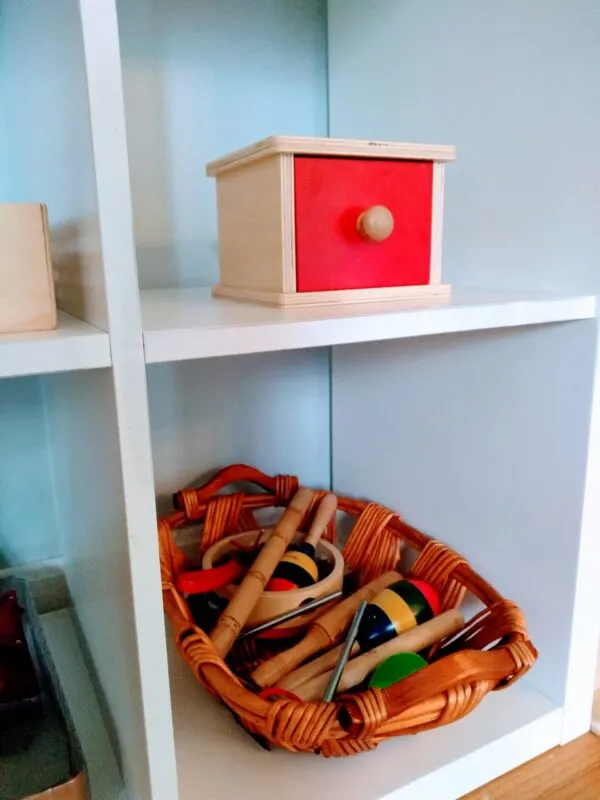 Toy shelves for toddlers are a Montessori thing, but I would encourage everyone to use them instead of a toy box.
A cleaner house and busier kids – goals, am I right?
And you don't have to give up the idea of a box of random toys altogether. We have a small bin next to one of our shelving units with all the randomness kids crave in it.
Did you make the switch to shelves and see a difference in your child's play?
Cheers and don't forget to subscribe!
*sponsored links below*