Have you noticed that your child likes to "hammer" things – or hit things downward to see how their position changes? If so, hammering toys are something you should look into.
In this article, learn why children enjoy hammering and pounding things, what the benefits of hammering toys are, and get 9 awesome suggestions for hammering toys for babies, toddlers, and preschoolers.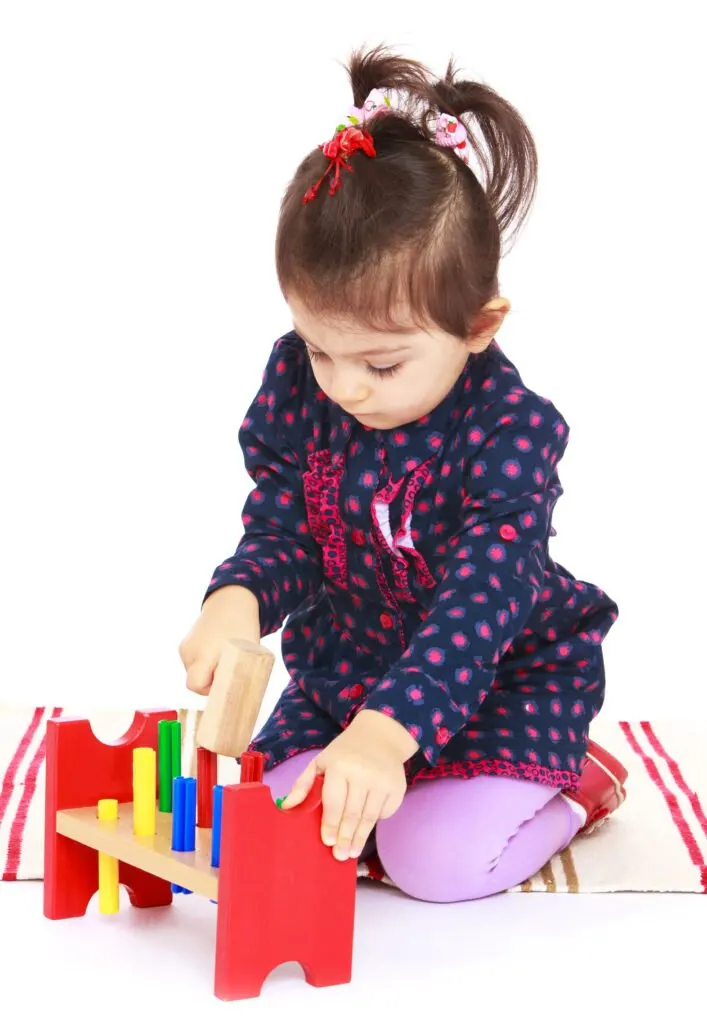 (This post contains affiliate links. Purchasing from these links costs you nothing extra, but helps with our website upkeep.)
Why do kids like to hammer things?
If you've observed that your child enjoys hitting objects with other objects (as a nail would be hit with a hammer), they may very well be in a play schema, such as the rotation or positioning schemas.
Children often play in ways that make little sense to adults, such as hammering and pounding things, but have important meaning to the child and their development.
If you notice that your child enjoys this type of play, it's a great idea to redirect their desire to items that are appropriate for hammering.
Since hammering nails unsupervised is certainly not safe, providing a child with hammering toys is the next best option.
The benefits of hammering toys
In addition to satisfying your child's need to hammer, hammering toys come with some other awesome benefits.
Listed below are just several.
hand-eye coordination
fine motor refinement
pincer grasp practice
self-confidence
teaches cause and effect
development of problem-solving skills
The 9 best hammering toys for babies, toddlers, and preschoolers
Below is a list of 9 fun and developmentally beneficial hammering toys. Some toys on this list are geared toward babies, while others are more appropriate for toddlers or preschool-age children.
This Melissa and Doug pounding toy is popular in Montessori homes, likely because it is wooden and fits with the Montessori aesthetic.
It is quality-built and lets toddlers and preschoolers hammer the balls and watch them roll down the ramps and out of the tower.
Sale
Melissa & Doug Deluxe Pound and Roll…
CLASSIC POUNDING TOY: The Melissa & Doug Pound & Roll Tower is a…
HIGH-QUALITY CONSTRUCTION: This wooden pounding toy is made from…
BRIGHTLY COLORED PIECES: The Melissa & Doug Pound & Roll Tower…
This hammering bench is a personal favorite of mine. My children have gotten a lot of enjoyment from hitting the colored pegs with the hammer.
Another thing they enjoy about this toy is that the pegs are not attached to the bench, which allows them to be used for matching games and loose parts play activities.
Sale
Melissa & Doug Deluxe Wooden Pound-A-Peg…
Durable Construction: This classic toy is made from top-quality…
Helps Develop Multiple Skills: This wooden pounding bench…
Great Gift for Ages 2 to 4: The Melissa & Doug Deluxe Pounding…
Hape is a great brand of well-made toys, and this is one that I really like a lot. This toy is appropriate for toddlers, as well as older infants.
Children can pound the balls down and listen to the sounds as they roll or they can slide the xylophone out and play it on its own.
Sale
Hape Pound & Tap Bench with Slide Out…
MULTIFUNCTIONAL MUSICAL INSTRUMENT: This kids xylophone can be…
FINE MOTOR SKILLS DEVELOPMENT: Promotes dexterity, hand eye…
ESTABLISH MUSICALITY: This pounding toys for toddlers encourages…
This hammering toy can be used by different-age children in a variety of ways.
This toy has a musical element to it, which is really nice.
TOWO Wooden Hammer Ball and Xylophone…
New beautiful design with lovely singing owls made of high…
The xylophone has very good tunes in F# major scale and it can…
Hammer and balls toys are great pound toys for kids to pound and…
With this toy, children get to hammer the balls and watch them roll down the slides and tubes.
This hammering toy is appropriate for babies and it's bright and colorful, which is appealing to young children.
WALA – Pound a Ball Dinosaurs Toy -…
POUND BALL AND HAMMER TOY : Your kids will love this multi-color…
IMPROVES FINE MOTOR SKILLS: The pounding toy is not only for fun…
MULTI-COLORED AND SMILEY HAMMER: The bright colorful balls and…
6. Pounding Bench Toy
This hammering and pounding toy is similar to the traditional Montessori hammering toy (#7 on this list) you may be familiar with, however, the house shape adds an extra element of fun.
This is a great hammering toy that has an element of object permanence learning to it.
Fisher-Price Toddler Toy Tap & Turn…
Double-sided activity bench toy for babies and toddlers
5 colorful shape pegs to grasp, twist, pull, and tap—flip the…
Comes with easy-grasp toy hammer to pound the pegs
7. Wooden Hammer and Ball Toy
You've likely seen this hammering toy before if you've been interested in Montessori for long enough.
Similar to the previous toy on the list, this one allows children to pound the balls and watch them roll out of the door.
PlanToys Wooden Hammer Balls Pounding…
Wooden Hammer Balls hammering set consists of a bench, 3 balls,…
Children tap the balls though the holes in the bench and they…
The bench is designed for small hands and measures 9.5 x 4.5 x…
8. HABA Tapping Toy
Geared toward preschoolers, this is one of the hammering toys that comes with some of the benefits of risky play, as it does include the use of tacks.
The cork board that is included with the toy provides a different type of sensory feedback from the other toys on this list, which some children find very satisfying.
HABA Geo Shape Tack Zap Large…
This classic HABA favorite allows children to learn to hammer…
Includes suggestions for designs, including a flower in a pot, a…
Because of the open-ended nature of this activity, children can…
This is a lovely Montessori-aligned toy set that includes a hammering activity, as well as a nuts and bolts activity.
This is a great hammering toy for preschool-age children. For the price, this is a great find, as it's two toys in one.
2 Toys for 1 Price – Montessori…
【MONTESSORI SCREW BOARD】- Great For Multiple Ages! Great Fine…
【HAMMER PEG GAME】- Take 10 Nails (Pegs), One Hammer And An…
【PRESCHOOL GAME】- This "Screw Toy" and "Hammer Peg Game"…
There you have it – the 9 best hammering toys for babies, toddlers, and preschoolers. Hopefully, something on this list will fulfill your child's need to hammer things!
Cheers and don't forget to subscribe!