Preparing your baby for mobility can be so exciting! There are so many products on the market that target mobility in babies – including push walkers and push wagons.
Aren't push walkers dangerous, though? Certainly, this is not a Montessori-aligned item…right?
Let's get some answers.
In this article, you will learn if a push walker is a safe choice for your baby, whether these toys are Montessori-aligned, when to introduce a push walker or push wagon, and you will get recommendations on the 5 best push walkers for babies and toddlers.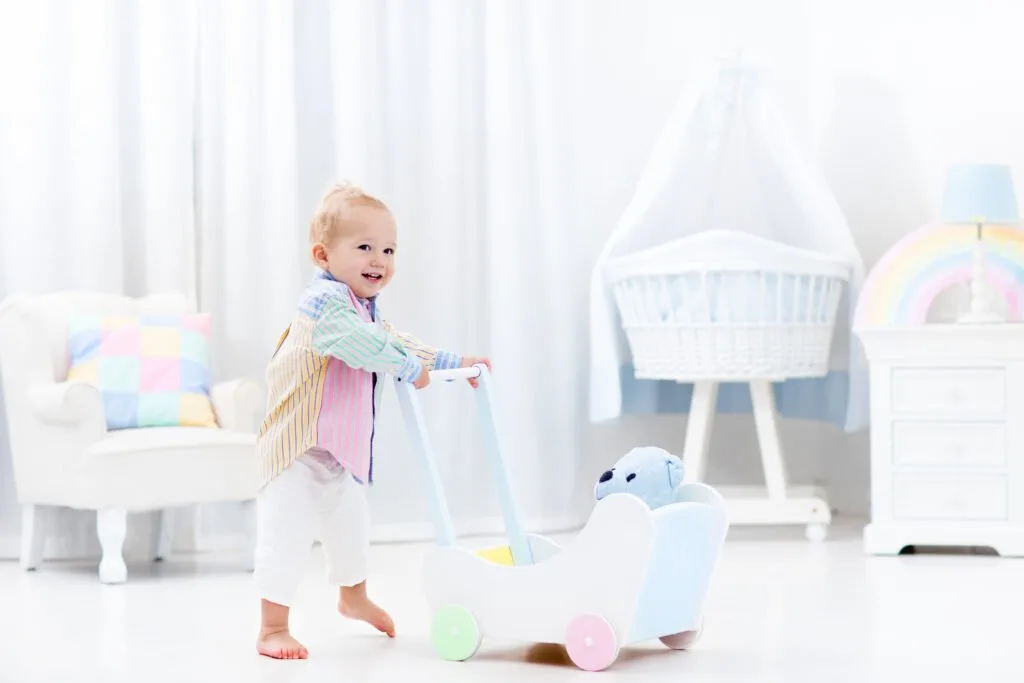 (This post contains affiliate links. Purchasing from these links costs you nothing extra, but helps with our website upkeep.)
Are push walkers safe?
There is a lot of chatter in parenting groups on social media about the safety of baby walkers. The sit-and-roll type of walkers are the ones where you place the baby in them and they kick around with their feet to make the walker roll.
These types of walkers are not only dangerous, but they can cause muscle and tendon issues, as well as unnatural hip rotation.
In fact, these walkers have actually been banned in many countries.
To be clear, this is not the type of walker we are talking about in this article.
Baby push walkers, the type of walkers that children use to pull themselves to a standing position, then push, when used with supervision, are safe.
Are push walkers Montessori aligned?
While the sit-and-roll baby walkers are certainly not Montessori-aligned, as they restrict movement, push walkers and push wagons align well with the Method.
Push-along walkers give babies and toddlers the opportunity for increased mobility and freedom without any detriment to their development.
When to introduce a push walker
You can introduce a push walker to your baby as soon as they show interest. This will typically happen around the age of 6-12 months.
It's wise to choose a push wagon that has features a young baby can enjoy, in case your child is not yet ready to stand and try pushing it yet.
Many push walkers have spaces for blocks or other toys and some even have activity centers on them.
When my first child was around 6 months, she would sit and enjoy the activity center on her push walker. Then, over the course of a few months, she began to become curious about its rolling capabilities and what the handlebar might be used for.
Eventually, she used the walker to help herself stand up. Shortly after that, when she was a month away from walking on her own, she would push the walker around the house.
How long to children use push walkers?
There is no hard and fast answer to this question because every child is different. However, many children enjoy their push walkers and push wagons well into the toddler stage, and long after they are able to walk on their own.
Push walkers with activity centers allow children to easily take their "play stations" to different locations.
Push walkers with a wagon feature tend to get used for longer because children as old as 5 or 6 often enjoy transporting their toys from room to room.
Which push walker is best? The 5 best push walkers for babies and toddlers
Now that we've gone over a bit about push walkers and push wagons, let's get to the fun part – choosing the right one.
Below are 5 of the best push walkers for babies and toddlers based on safety, features, and aesthetics.
From the pastel-colored blocks inside to the gears on the front wheels, there is so much to love about this push wagon.
Another wonderful feature of this wooden push wagon is the second bar. Babies and young toddlers can use it for support as they pull themselves to a standing position.
Prior to the ability to pull-to-stand, babies can sit next to the wagon and practice their fine motor skills using the blocks – love it!
Sale
ROBUD Wooden Baby Walkers Push Toys for…
[ Wooden Baby Walker & Wooden Building Blocks 2IN1 ] ROBUD baby…
[ Multifunctional Educational Activity Center]- This baby wooden…
[ Design for 10-24 Months Babies Learn to Walk ]- It's suitable…
I love this push wagon so much. It's a set of blocks and a push walker all-in-one.
This is a wonderful purchase that will give a child many opportunities for imaginative play starting at the age of 6-months and going well into the preschool years.
Le Toy Van – Petilou Wooden Walker Toy…
COLORFUL UNIQUE DESIGN: A great toy for a toddler finding their…
CREATIVE WOODEN EDUCATIONAL TOYS FOR TODDLERS: Le Toy Van's range…
GREAT GIFT FOR TODDLERS : Educational toys make perfect presents…
This HABA wagon is absolutely lovely. The space in the back of the wagon is perfect for babies to put their toys in and pull them back out and the seat on the wagon is a lot of fun for pushing stuffies around when the baby is interested in walking.
Sale
HABA Walker Wagon – First Push Toy with…
Aids children taking their first steps and doubles as a doll…
Wheel speed can be adjusted depending on the walking skill of the…
Silicone wheel treads allow this to be used indoor or outdoor….
4. Hape Block and Roll Cart
This Hape push wagon is great if you are looking to introduce a push walker to a taller baby or a young toddler.
It doesn't have all the functionality of some of the other walkers on this list, however, it is extremely well-made and will get lots of use for years to come, as the wagon is a bit more spacious than the others on the list.
Sale
Hape Block and Roll Cart Toddler Wooden…
Makes your child's first steps unforgettable and engaging.
Great for early stages of walking while also providing a fun…
Improve motor skills, balance, and coordination
5. Wooden Baby Push and Walker
While busy boards are not widely considered to be Montessori-aligned, this push walker/busy board combo is one of my favorites.
This one is great because younger babies can exercise their trunk muscles by sitting up and reaching for the activities.
It's heavier than the plastic push toys with this feature. So, when your little one decides it's time to give walking a try, there is less chance of tipping.
It's also beautiful and has a high contrast front, which is great for development.
Sale
Wooden Baby Push Walker, Pull Learning…
💪[PREMIUM QUALITY MATERIALS] – Baby walkers made of premium…
⚙️[MULTIFUNCTIONAL & FUN] – Push walker comes with Rotating…
✨[BEAUTIFUL DESIGN] – The walker's wheels are protected with…
A word on push walker safety
While push walkers and wagons are widely considered to be safe, caregivers should take precautions so that babies do not inadvertently push them down the stairs or flip them upward, as this can cause injury.
When you first introduce a push wagon to your child, it's important to help them steady themselves and get a feel for the weight of the walker.
This will help them learn what type of pressure they can safely exert upon the handlebar.
My children all enjoyed their push walkers well into their preschool years. So, though the prices can be a little staggering, this is likely an investment that will get a high return.
Cheers and don't forget to subscribe!
Frequently Aksed Questions
Are push walkers worth it?
If you purchase the right push walker, it can be well worth the money. Push walkers are often used throughout the toddler years to support various types of play.

Push walkers with busy boards featured on the front side or those with wagons or containers may even get used throughout the preschool years.
Do push toys delay walking?
No, push toys do not delay walking. In fact, push toys can benefit toddlers by giving them the chance to visualize their legs and feet moving in a walking stance while they feel the safety and security of holding onto a walker.
Are push walkers good for babies?
There's no solid evidence to support the statement that push walkers are either good or bad for babies. However, push walkers do provide babies and young toddlers access to safe exploration of the world around them – exploration they otherwise would not have easy access to.