Most caregivers are aware of how entertained toddlers are by keys. Lock and key toys are so much fun for toddlers and preschoolers because they are more than just toys – they are functional, just like the keys of ours that entertain them so much.
Lock toys aren't just fun, though. They have a lot of developmental benefits for toddlers and preschoolers.
In this article, you will learn about the benefits of gifting your child a lock and key toy and get 7 great recommendations for lock and key toys for toddlers and preschoolers.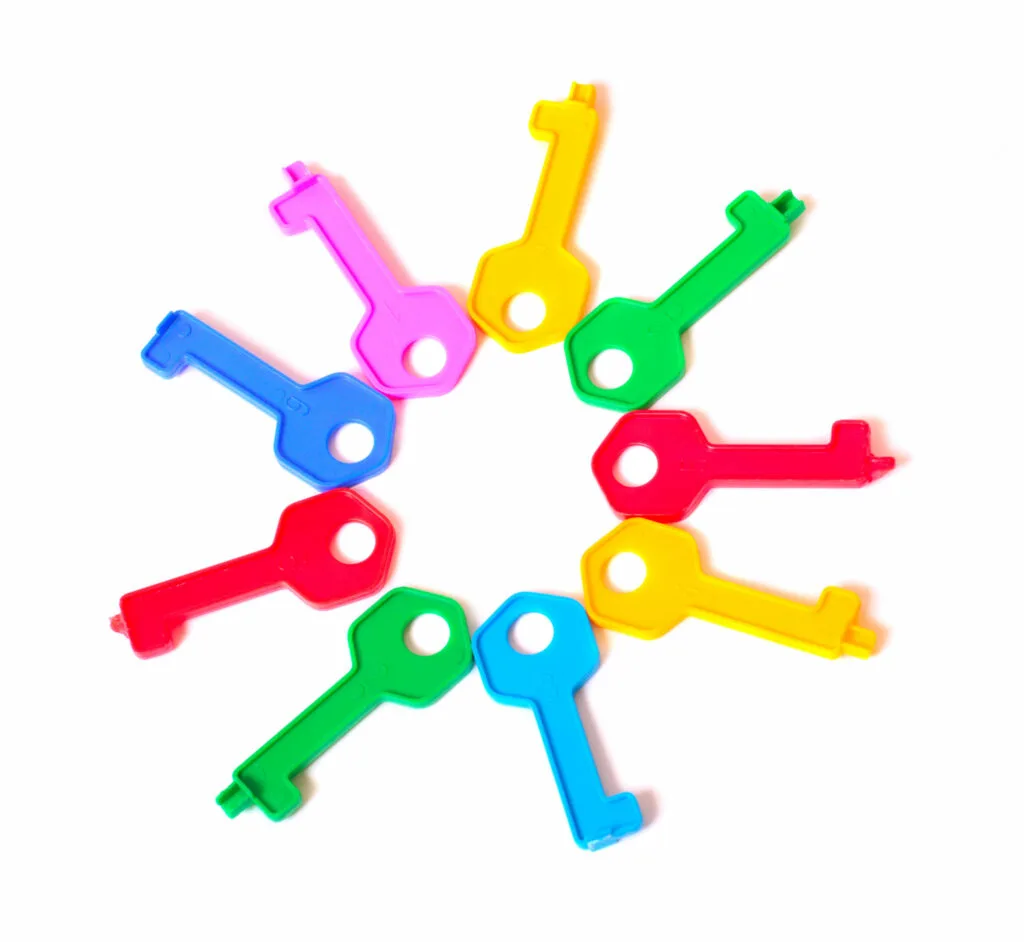 (This post contains affiliate links. Purchasing from these links costs you nothing extra, but helps with our website upkeep.)
The benefits of lock and key toys for toddlers and preschoolers
Lock and key toys are not only engaging, fun, and satisfying, but they provide children with lots of benefits.
Here are a few benefits of lock and key toys:
Lock and keys toys are also great for children in the enclosure and connection schemas.
The 7 best lock and key toys for toddlers and preschoolers
The Melissa and Doug Doorbell House was gifted to my first child on her 3rd birthday and I have to say that I was (and still am) impressed by this lock and key toy.
Each door on the house has a matching real key, which children must figure out, as the keys are not color-coded.
Inside each doorway is a doll that is wearing clothes that match the door. This makes for a fun matching game, as well.
If you are looking to introduce some lock and key shelf work to your preschooler, this Montessori color matching lock and key set is beautiful and sure to keep your child engaged.
This is a really fun set of lock and key toys. This toy set is great for fine motor skills, math skills, and color matching.
If you have small learning objects, as many Montessori parents do, those can be used with the numbered chests for other activities, as well.
4. Montessori Practical Life Lock & Key Matching Game
This is another great lock and key tray activity that's wonderful for a preschooler's shelf.
This is similar to the second item on our list, however, this one has different types of keys, which adds an extra element of sensory exploration.
This toy also lacks the bright colors of the #2 toy on our list, which some children can find a little distracting and overwhelming.
This is a nice lock and key set that helps teach preschoolers the concept of 1:1 correspondence while also giving them the skills they need for a proper pencil grasp.
Another neat feature of this lock and key toy is that the locks are functional, which children find fun.
If you've got a toddler that likes to keep their hands busy, this is a great toy that includes locks and a key set.
This toy also functions as a shape sorter and it has a handle. This makes it a good travel toy or waiting room toy.
This is another personal favorite of mine. When purchased new, this is inexpensive, but I was still tickled to find this at a consignment store when my first child was a toddler.
This lock and key toy is geared toward toddlers, as there are only 3 color-coded keys to match the corresponding locks. The plastic keys are also large and easy to grip.
The wooden vehicles that come with this toy are also a lot of fun for toddlers to play with in other ways.
As you can see, there are so many different options of lock and key toys for both toddlers and preschoolers.
Some of these options make great take-along toys for traveling or doctor's office visits and some of them make great shelf-work.
Whichever toy you choose, the lucky child in your life will reap the amazing benefits that lock and key toys offer.
Cheers and don't forget to subscribe!