If you are looking for some great Montessori bookshelf options, look no further. In this post, I have put together a list of 9 awesome bookshelves for you to choose from.
In this post, you'll learn a bit about what type of bookshelves align with the Montessori Method of education.
If you are setting up a Montessori playroom, you will find some great choices right here.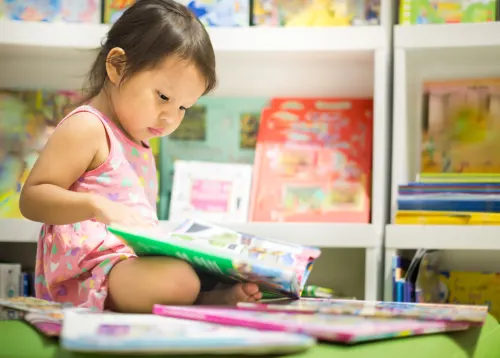 (This post contains affiliate links. Purchasing from these links costs you nothing extra, but helps with our website upkeep.)
What is a Montessori bookshelf?
A Montessori-style bookshelf is generally front-facing, easy for children to access, and displays a manageable selection of books.
Displaying books for children to easily see and access isn't a practice specific to Montessori homes and classrooms, though.
Preschools, libraries, and children's home reading nooks all over the world utilize front-facing bookshelves.
Front-facing bookshelves provide children with the following benefits:
Helps children choose books by giving them a peek at the contents.
Makes books more enticing to children.
Helps caregivers keep track of what books are out, so they can rotate them and replace them.
The 9 best Montessori bookshelf options
If you are setting up a Montessori nursery, this is a wonderful bookshelf option. All of the books you place on this shelf will be low enough that they can be accessed by very young toddlers and even babies.
The shelf can be easily moved, as well, due to the handles on each side.
This wooden front-facing bookshelf is similar to the previous option, but it's a little bit bigger. This is a great option for parents that are looking for a Montessori bookshelf that can be used for multiple age groups.
This is a great bookshelf option if you are looking for a bookshelf with a little bit of storage. The storage bins can be used for book rotation or toy storage, which is a really nice feature.
Having a bookshelf on the floor is wonderful. However, if space is an issue or wall-mounted bookshelves are preferable, this is a beautiful set.
This is such a lovely space-conscious bookshelf/reading nook. If you are setting up a reading nook for your little one, this is a nice all-in-one option.
The cubbies can be used for book displays, as well as toy displays.
This is another set of wall-mounted bookshelves that matches the aesthetic of many Montessori play spaces.
If you are opting for Ikea Kallax shelving units for displaying your toys, this will match quite nicely and save you some space.
This is a forward-facing bookshelf that has a small display shelf below it. On the bottom shelf, you can display puzzles, like in the below photo, or you could have activity baskets on display.
This is such a lovely milt-purpose bookshelf. The bottom cubbies are perfect for toy storage, while the upper shelves and top are great for book and toy display.
9. Ikea
Ikea has some of my favorite shelves. The Kallax shelves can be used to display books, toys, and Montessori materials.
Montessori parents lay this shelving unit on its side, where toys are often displayed in the cubbies, while books are displayed on the top of the shelf.
This is also a nice option as it doesn't have any features that are specific to a child's shelf. So, when your little one outgrows it, you can use it elsewhere in your home.
How do you make a Montessori bookshelf?
If you are handy, building your own Montesorri-style bookshelf is a great option.
Here are 3 websites that have some easy-to-follow instructions on how to make your own awesome front-facing bookshelf.
Cheers and don't forget to subscribe!