Babies and toddlers loved fiddling with things, and exploration is so great for their development. Busy boards are a great way to help toddlers satisfy their desire to manipulate gadgets with their hands.
In this article, you are going to learn a bit about busy boards, safety, at what age they should be introduced, and get recommendations for the 7 best busy boards for toddlers and babies.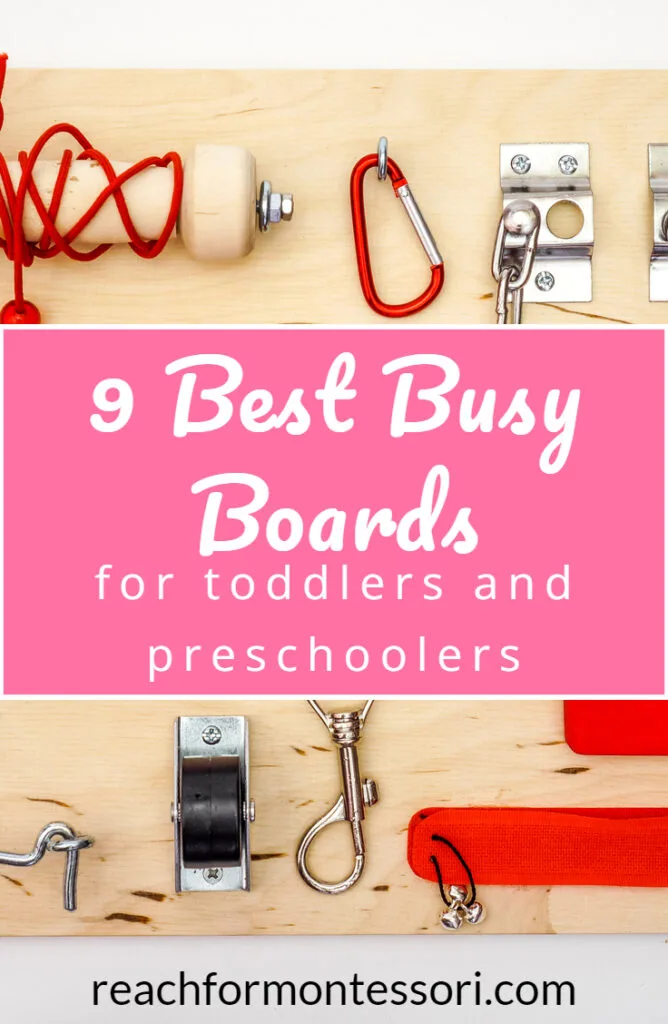 (This post contains affiliate links. Purchasing from these links costs you nothing extra, but helps with our website upkeep.)
What is a busy board?
A busy board is a board or cube with a variety of different activities attached to it. Some activity boards can are meant to be stationary, while others are small enough and light enough to be taken for travel.
The activities contained on these motor skill activity centers provide sensory experiences and help to build important skills.
A traditional busy activity board would be mounted to a wall or a stand. However, many other activity centers and carry-along activity items are referred to as "busy boards".
What do busy boards do?
Busy boards can feature a number of activities, ranging from light switches and keys and locks to snaps and gears. Here are some things you will find on a toddler sensory board.
If you are planning on fashioning your own DIY busy board, this list will be of help you come up with some fun busy board ideas.
padlocks, latches, and keys
light switches
knobs
door latches (different types)
buckle
shoelaces
clocks with movable hands
zippers
fabric with buttons
garden spikets
gear wheels
fabrics of different textures
fidget spinners
The sky is the limit when it comes to what can be put on a busy board. Everyday items and things found at a hardware store make great additions to a homemade busy board.
What are the benefits of busy boards?
When a toddler plays with a busy board, they aren't just having a good time engaging in different activities, they are developing important skills, as well.
Here are some areas busy boards help develop:
logical thinking
hand-eye coordination
One other benefit to these boards is that they provide a downtime activity for little ones, which can provide relief for parents. They actually make great quiet-time toys.
They can also be made at home fairly affordably.
Another great thing about a busy board is it can provide a safe place for autistic children and other children with special needs to come and quietly engage in quiet sensory activities when they feel the need.
A busy board is actually a great item to keep in a peace corner if your child finds fidgeting calming or comforting.
Are busy boards safe?
Whether or not a busy board is safe depends on the type of board you choose for your child, the age of your child, their skill level, and your child's personality and temperament.
Some things to consider when choosing a busy board or if you plan to make your own:
Does the busy board have any small items or loose pieces that could detach and pose a choking hazard?

Will it be carried around by the child? (It's best to smooth down sharp edges.)
Do any of the items contain lead? (Brass latches and keys may contain lead. Lead Safe Mama is a good resource for this. This is important to keep in mind, especially if you are building your own busy board.)
Children should always be supervised while playing with busy boards.
Are busy boards worth it?
If you choose the right busy board, you can get quite a bit of mileage out of it. Activity cubes and "busy houses" are likely to go further for the price than a wall-mounted busy board.
This is because there are more activity options on activity cubes.
Another type of busy board then many folks find worth the price is one that a child can take with them when they go places.
Children often get bored during travel and anything they can find to do while in a car seat is often welcomed.
Are busy boards Montessori-aligned?
The short answer to this question is no. Busy boards are not Montessori-aligned as they do not allow for the isolation of senses or concepts.
Not everything has to be Montessori-aligned to be beneficial for children, however. It could also be argued that some of these multi-activity boards are more Montessori-aligned than others.
Some boards have Practical Life work attached to them, like zippers, buttons, and buckles. Some boards are less "busy" than others and are without the distracting, bright colors, which Montessori parents tend to prefer.
Many caregivers see busy boards as being Montessori toys, especially the simple, wooden ones.
The 7 best busy boards for toddlers
Now that you've got some information that will help you choose a busy board, let's get to the list.
I looked at over 50 different activity boards and, if I can be honest here, I did not like most of them. Most of the boards you will find are simply too "busy" and don't allow toddlers to focus.
I put the work in, however, and I found 7 great ones, though. Honestly, these are fantastic!
I really like this busy board. It's just not appealing, but it doesn't have too much going on.
Some of the activities are suited for babies, like the gears and switch. The buckle and zipper are great practice (and fun) for toddlers and the lacing shoe is great for older preschoolers.
My 7-year-old would even play with this – super fun.
This might be a surprising choice for a trained and certified Montessorian, but here it is on this list.
I adore a wooden cube busy board. My children got so much use and enjoyment out of theirs.
This has a ton of activities on each side, but it still gives off a calm aesthetic, which I appreciate a lot. I love that there are auditory activities on this cube, too.
This cute and simple busy board is unique, as it has a shape-sorting activity on it. This is a great board for the home and it's small enough to take in the car or to a restaurant.
This busy board house is pretty adorable. It is a little bit smaller than the other one on the list, which is great for those with limited space or those looking for something a little lighter in weight for easier transport.
This is a wooden busy board with some unique features. This one has a horn, a rotary music box, and a light that actually works, which is pretty neat for a toddler.
There are also 2 sides to this board, so there's a bit more for toddlers to do than with a one-sided board.
This wooden activity board option does have some bright colors, but it's not overwhelming at all.
This option has some shape-matching toddlers can engage in, as well as some Practical Life work.
This is one of my favorite sensory busy boards that is full of Practical Life Activities.
It's large enough to where a young child can steady it to complete the activities but small enough to where it can be easily transported.
It's not made of wood, so if sharp edges are a concern of yours, this is a good option.
I hope you found a busy board that's perfect for your toddler on this list. Montessori-aligned or not, these boards are serious fun for kids.
If you already have a favorite busy board, tell us about it!
Cheers and don't forget to subscribe!