If you are considering a marble run for your little one, you should definitely give wooden marble runs a look.
These marble runs are generally sturdier than plastic marble runs. Plus, they are more earth-friendly – a win-win!
In this article, you will learn about marble run safety, which type of marble runs are the sturdiest, and you will get a list of the 7 best wooden marble runs on the market.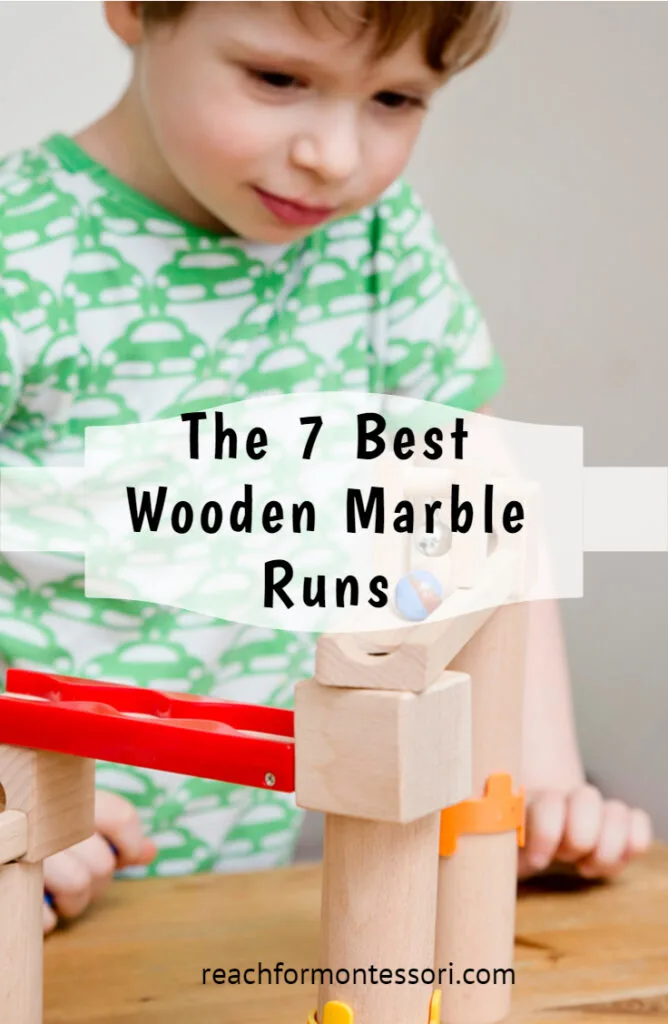 (This post contains affiliate links. Purchasing from these links costs you nothing extra, but helps with our website upkeep.)
What is a marble run?
A marble run, like the wooden marble runs I will show you later in the post, is an open-ended toy with which children build in different ways in order to direct a marble in different directions.
What are the benefits of marble runs?
Through playing with marble runs, young children learn important engineering skills, like spatial reasoning and problem-solving.
Marble runs also provide satisfaction and sensory feedback for children in various play schemas, especially the trajectory schema.
Are marble runs safe?
Marble runs, the type with the traditional-size marbles, are not safe for babies or very young toddlers.
Children ages 3 and up can use marble runs, but still under the supervision of an adult until they no longer put things in their mouths out of curiosity and exploration.
Children grow out of this phase at different ages and often parents believe their child is past the age of oral exploration only to be surprised when their child is discovered with a marble or coin in their mouth.
Always follow the age recommendations on toy packages and err on the side of safety when it comes to marble runs.
What is the sturdiest marble run?
Marble runs can be a whole lot of fun for kids, but many of them fall over easily, causing frustration for little explorers.
The first marble run we purchased for our children seemed so promising at first, but toddlers and preschoolers lack the coordination to prevent knocking their creations over. So, every joyous marble run building session would inevitably end up in tears.
A wooden marble run, it turned out, was a much sturdier option and allowed for longer and happier play sessions for my children.
The wooden pieces were also easier for my toddlers to grasp and stack, which was a big bonus for me.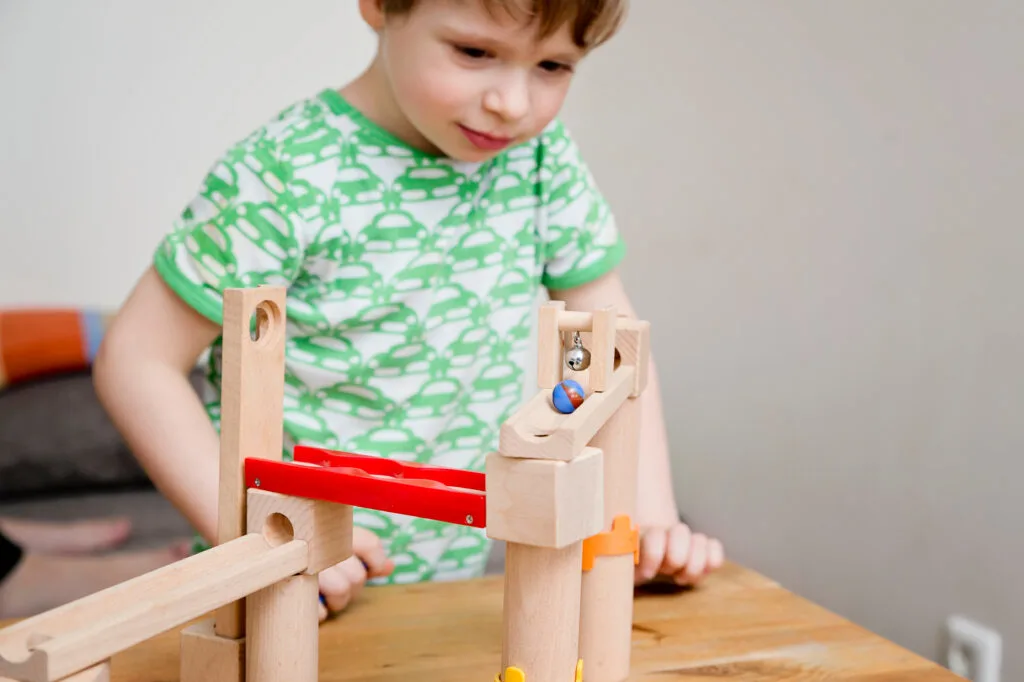 The 7 best wooden marble runs for toddlers & preschoolers
This wooden marble run is one of the most popular. It's high quality and made by Hape, a trusted brand in Montessori households.
There are several variations of the Quadrilla Marble Run available and multiple sets can be purchased to build onto your original set.
Sale
Award Winning Hape Quadrilla Wooden…
Provides Quality Time Together – The Whole Family Playing…
German Engineering Design Inspired by Da Vinci circles with…
Each of the Seven Different Color Blocks has a different Function…
This is a wooden ball run that is great for young toddlers and even babies – youngsters that are too young for a real marble run.
The ball is safe for little ones to handle and they still get the same satisfaction older kids experience with a marble run. This is also a great toy for toddlers who like throwing things.
Sale
Hape HAP-E0430 Roller Derby
DOUBLE SIDED FUN: Colorful wooden balls, peek-a-boo holes and…
BELL CHIMES INSTRUMENT: When the colorful wooden marble balls…
DEVELOPMENTAL SKILLS: Encourages parents to talk with their…
Fat Brain Toys is another brand Montessori parents are familiar with. Their toys are all generally educational and very sturdy.
This wooden marble run is a spin on traditional marble runs. Toddlers and preschoolers will enjoy sending both shapes and balls down the ramp.
The calls that come with this toy are toddler-safe and not small enough for choking.
Fat Brain Toys Roll 'n Go Wooden Marble…
BEAUTIFUL DESIGN, BEAUTIFUL PLAY! A classic wooden back-and-forth…
SEND THE EIGHT WOODEN BALLS AND SHAPES rolling down the tracks;…
GREAT FOR AGES 18 MONTHS AND UP; High-quality solid wood;…
My children all love this wooden ball run. They still play with it even though there are a couple of other marble runs we have fallen in love with.
This is a great choice for toddlers who are not quite ready to be playing with marbles.
HABA Kullerbu Windmill Playset – 25…
This adaptable and expandable ball track is a great introduction…
Nothing can easily shake the Kullerbu tracks. The ramps, straight…
Kullerbu is the perfect combination of wood and plastic parts and…
If you are looking for a wooden marble run without the bells and whistles – something that is simple and quality-made – then you may be interested in this one.
This one is great because you can use it along with your regular wooden blocks for limitless building opportunities.
6. Wooden Tree Marble Ball Run
You may have seen this wooden tree marble run here and there in Montessori parenting groups online.
This is a neat toy because children really enjoy inserting the "leaves" and watching the marble roll and "clank" as it goes down.
Beware, though, that there are smaller versions of this wooden tree marble run available. The smaller versions are often poor quality and a lot less fun.
If your toddler loves watching things roll, but they are not ready to be handling something small like a marble, this is a great choice.
Babies and toddlers are drawn to this toy. You will likely find that your toddler will place the balls at the top of the wooden run and watch in full concentration as they roll down to the bottom.
Elite Montessori Ball Tracker
🌱It consists of four different coloured wooden balls in…
🌱The light-weight wooden ball moves slowly enough for the…
🌱The child learns to grasp and he is able to place the ball in…
What is your child's favorite wooden marble run?
Cheers and don't forget to subscribe!