Open ended toys fit their description. They are toys that don't have a specific goal or outcome to the child is meant to achieve. The Grimm's Rainbow, as well as all other Grimm's toys, are a perfect examples of this concept.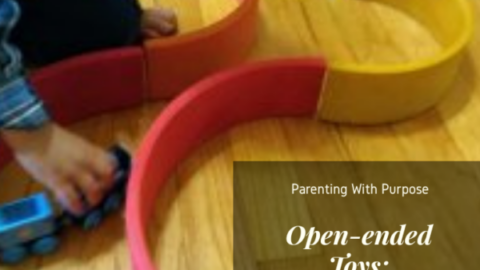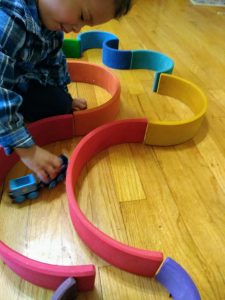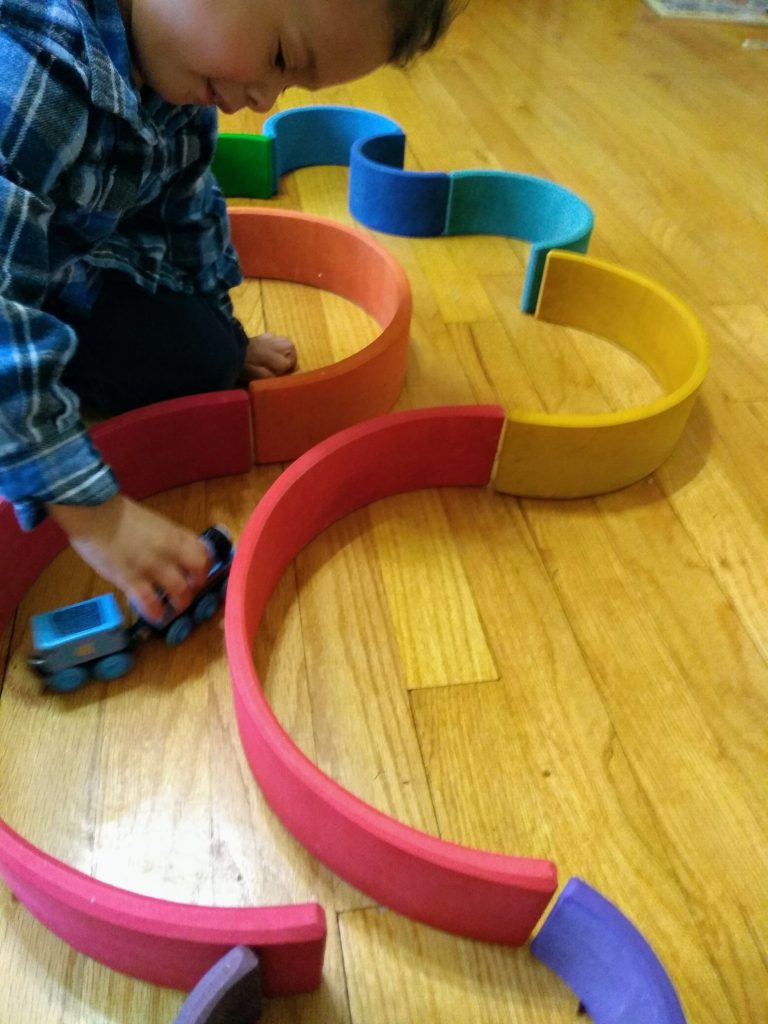 The main, most noticeable component, of open ended toys is that they don't do anything. They require the child to do all of the thinking and all of the doing, from start to finish.
Some examples of open ended toys are blocks, climbing structures, many STEM toys, kinetic sand, peg dolls, and anything your child finds to play with in nature. And, of course, the Grimm's Rainbow, which is one of our favorites.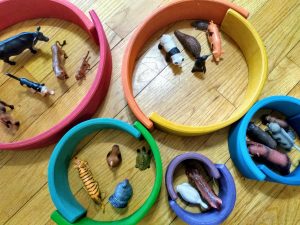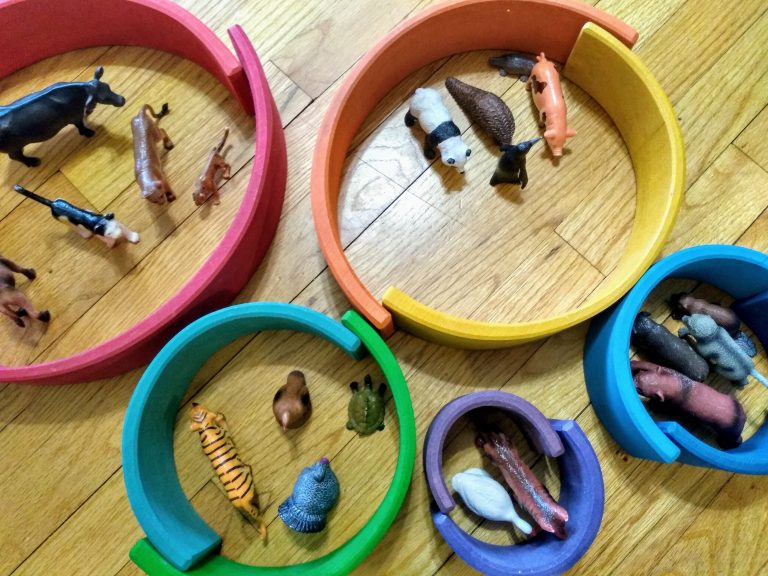 There are some toys that can be open ended if you omit giving your child the instructions or the box featuring a picture of the desired end product.
For example, you will notice many building toys come with instructions for building a certain structure and only the pieces needed for that specific structure are included in the set.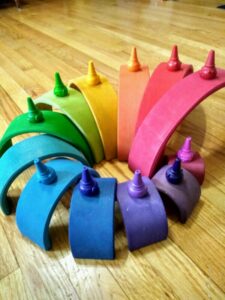 Simply repackage or removing the instructions can take the structure out of their use.
Why open ended toys?
Open ended toys provide kids with the opportunity to make the decisions about what they are going to create.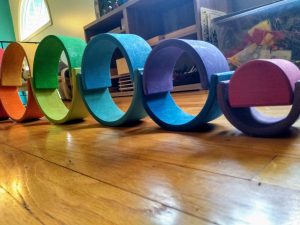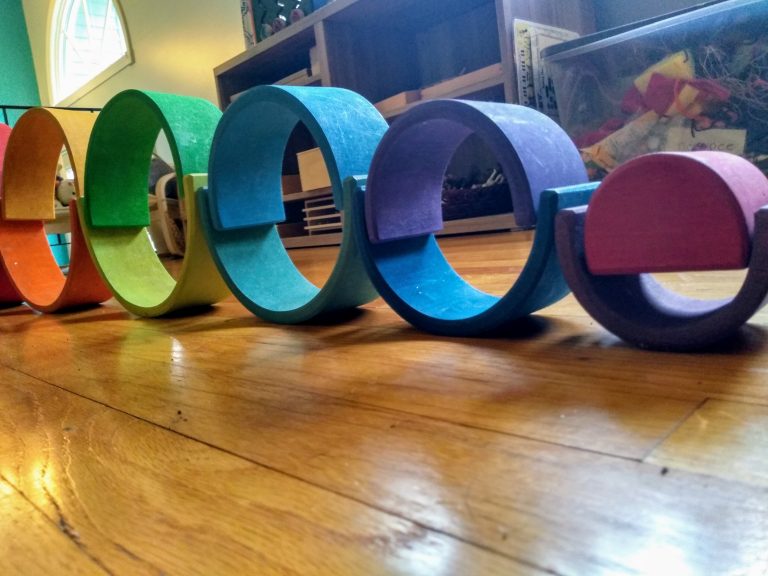 The absence of an assigned outcome takes away the pressure from a child's play. They feel free to experiment and there are no "mistakes", just opportunities to figure out better ways to do things.
When kids play with open ended toys, they really get into it. They are immersed in concentration, trying to make the things in their imaginations come to life.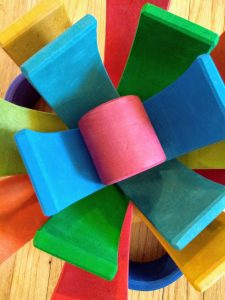 Also, open ended toys, when played with in a group setting, provide an opportunity to share ideas, learn social cues, and learn to compromise and work as a team. Along with this social aspect of open ended toys, comes language and conversation skills.
Open ended, independent play with the Grimm's Rainbow
I am an advocate of independent, open ended play. So, I could go on and on about open ended toys. The problem solving skills they foster, the attention spans they build…what's not to love!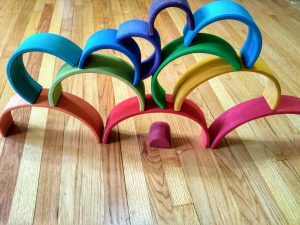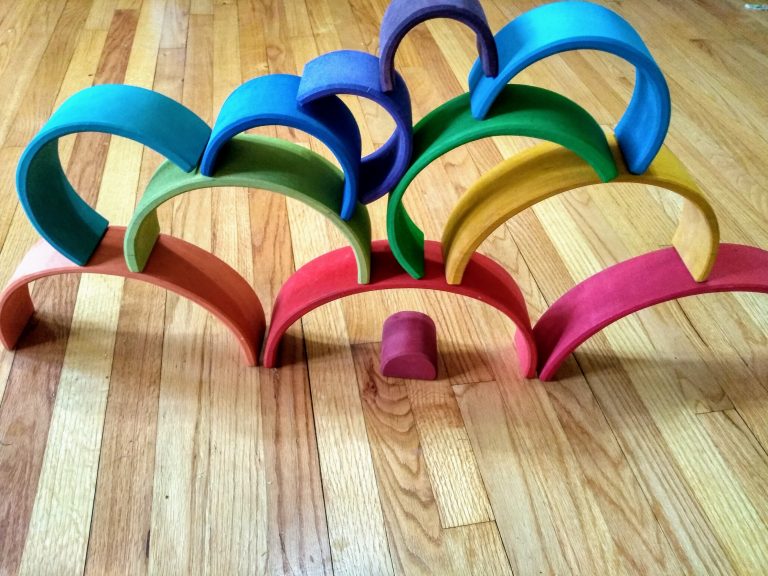 Right now, though, I want to shout the praises of Grimm's toy, particularly the stacking rainbow!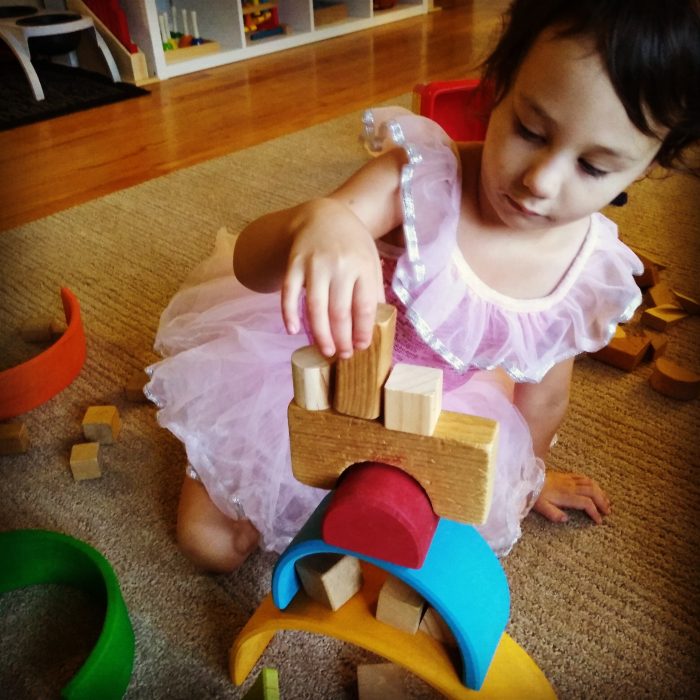 This toy is so versatile. I've seen my children make "cloud castles", habitats for their miniature animals, ramps for toy cars, mazes, and… sometimes I have no idea what they are creating, but they are working hard and having fun!
I would definitely recommend these for your children! And if the 12 piece stacker is a bit more than you were hoping to spend, there is a 6 piece stacker that I have heard people rave about!
There are cheap imitations available online, but I urge you sincerely to steer clear of those. The original Grimm's Rainbow is cut from a single piece of wood. Wood vs plastic in this case, is crucial.
This is because wood (unpolished, as Grimm's Rainbow's come) is stackable. Plastic slides and doesn't have the same ability.
The Grimm's Rainbow is quality built and will last a lifetime
Basically, there is no replacing the Grimm's Rainbow! Grimm's also has other open ended toy options of impeccable quality for you to choose from.
They have Peg Dolls, Building Blocks, Baby Rattles, Nesting Bowls, Pull-along toys, and other quality, well-built items that will inspire your child and get their mental juices flowing!
These are built with quality in mind. Our Grimm's Rainbow has withstood three children and will be in great shape to pass on to another family!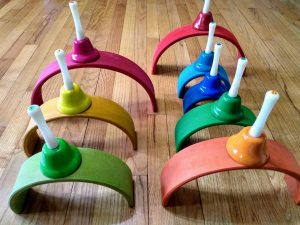 I want to add that this is not a Montessori material. It is considered by most to be a Waldorf material.
It is a lot of fun and it helps to build critical thinking skills, creativity, and attention span, though. And there is nothing anti-Montessori about that!
The best rainbow stackers
This is a great rainbow stacker for babies, as it is safe to gum and great for teething, as well as building. Toddlers and preschoolers enjoy it, too.
So, if you have an infant and you're worried about purchasing a stacking rainbow for your older children, this is a great option.
Cheers and don't forget to subscribe!