If you are wondering if Maga-tiles are a Montessori material, you've come to the right place.
Our set of Magna-tiles is one of our longest-lasting and played-with open-ended toys.
How do these magnetic toys align with the Montessori Method, though?
Let's find out.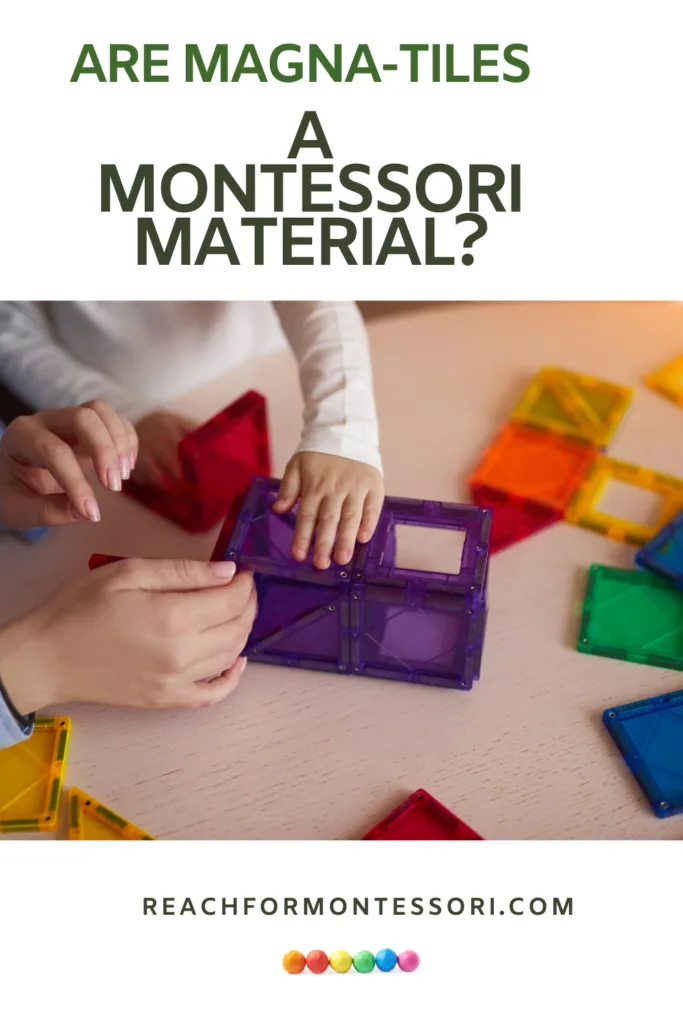 (This post contains affiliate links. Purchasing from these links costs you nothing extra, but helps with our website upkeep.)
Last Spring, while I was in the low-energy end stages of pregnancy with our third child, we enrolled our daughter (3 at the time) in a lovely Montessori Primary program.
The admission process had a few requirements.
One of them was that parents observe the classroom in action for an hour prior to enrollment. This is common for Montessori schools.
As I sat and watched all the children engrossed in their work, one young boy caught my attention.
The reason he caught my eye is because the material he was working with didn't look very Montessori.
It was plastic and didn't, at a glance, appear to serve any educational or Practical Life purpose.
But he was completely consumed by those plastic shapes for the entire hour – constructing and deconstructing.
I asked one of the guides what material he was working with. "Magna-tiles", she said, "The kids love them. We consider them a pre-geometry work."
I thought that was interesting, but there was so much other amazing stuff going on in the classroom that I didn't give it any more thought.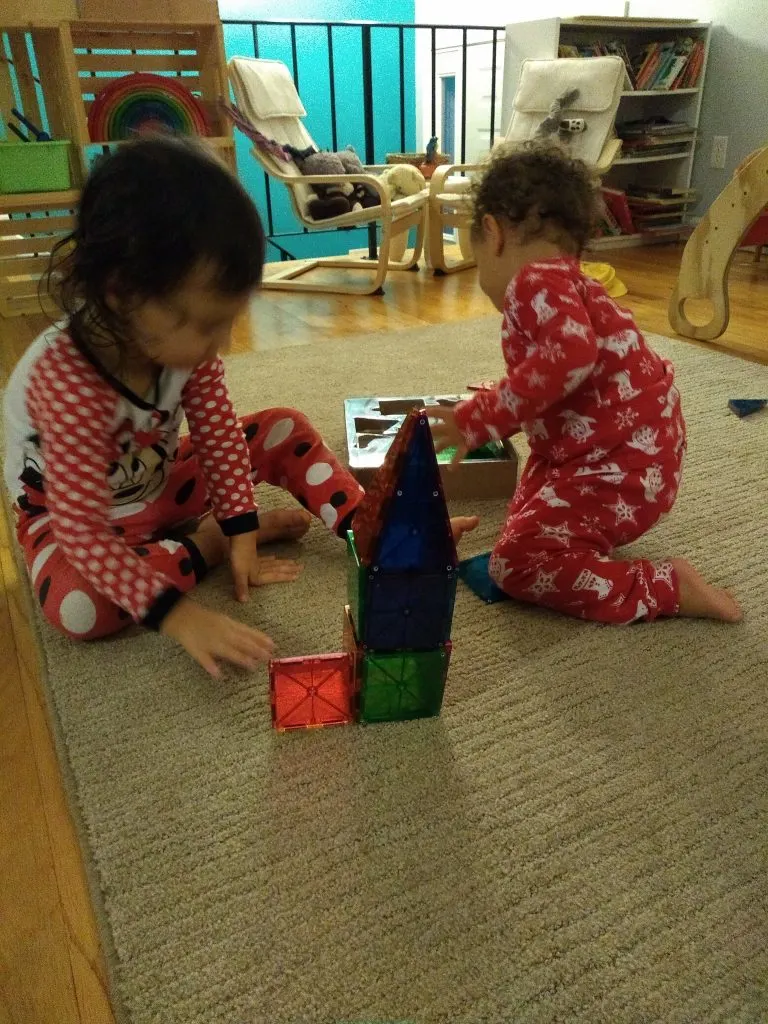 6 months later, our children received a box of Magna-tiles from a family member.
I can't say enough great things about them. Our kids take them from their shelves several times a day – every single day.
What are Magna-tiles?
Magna-tiles are plastic shapes, generally squares, rectangles, and different types of triangles.
The shapes have magnets built into the corners so the shapes are able to stay together.
Magnatiles are used for building a variety of structures by children ages 3 and up.
What are the educational benefits of Magna-tiles?
Magna-tiles have a lot of educational benefits, whether or not you consider them a Montessori material.
Some of the reasons you should keep them in your toy rotation are as follows:
Fine motor improvement
When a child plays with magnetic tiles, the small muscles are heavily involved, which strengthens them and helps prepare them for future writing.
Problem-solving & critical-thinking skills
As with any open-ended building toy, Magnatiles encourage the development of problem-solving skills.
Children must figure out how to achieve their goals by adjusting and readjusting the tiles.
Encourages creativity
Magnetic tiles encourage creativity by challenging young kids to come up with their own ideas about what to build and how to go about building it.
Pre-geometry skills
Magna-tiles come in large shapes, as well as the smaller shapes that form them.
When a child runs out of squares to build their structure, they learn that 2 right triangles can be placed together to make a square shape.
There are plenty of other geometric replacements that happen when children play with Magna-tiles, as well.
Are Magna-Tiles a Montessori material?
This post was originally written prior to my becoming a certified Montessori teacher.
Since that time, I've had years to gain a deeper understanding of the importance of construction toys like Maga-tiles to child development.
I find that Magna-tiles aligned very well with Montessori, though they are not a Montessori material.
Many, if not most, Montessori classrooms will not have Magna-tiles in them.
As we discussed above, Magna-tiles do have educational value, but they are open-ended, which means many would argue that they lack the control of error of a proper Montessori math material.
They can be used for Montessori homeschooling, though, as a Constructive Triangle-type activity – or simply as an open-ended toy with developmental benefits.
I highly recommend these for toddlers and preschool-aged children. They are not a proper Montessori material, but they are wonderfully Montessori-aligned.
You can get them in small sets, with 32 pieces, but you'll probably find yourself purchasing multiple add-on sets in the future.
I recommend skipping the smaller sets and just getting a large one – it will save you money in the long run.
MAGNA-TILES Classic 100-Piece Magnetic…
What's Included: 100 translucent geometric shapes in 6…
What Makes It Unique: You're looking at the original and most…
Developmental: Certified STEAM toy, per Dr. Gummer's Good Play…
If you decide to purchase Maga-tiles for your home or classroom, I suggest keeping the plastic case the tiles come in, even if you decide to ditch the box.
My kids actually enjoy putting their Magna-tiles away. My daughter says it's like putting a puzzle together.
Are magnetic blocks Montessori?
Magnetic blocks, like the Quibix Blocks below, are used in a similar way as Magna-tiles.
Like Magnatiles, magnetic blocks are Montessori-aligned and are great for development, but they are not a material that is common in Montessori classrooms.
The Quibix Blocks below are the ones we have at our home and they are regularly used alongside our Magna-tiles.
MAGNA-QUBIX 29-Piece Magnetic…
29 translucent, colorful 3D shapes including 4 square pyramids, 8…
Sparks hours of imaginative free play in children. Anything they…
Develops math, science, spatial and tactile skills. STEM…
I'm curious about your thoughts on this.
If you're a Montessori teacher, does your classroom have Magna-tiles or other open-ended play options apart from open-ended play with the standard materials?
What are your thoughts on a teacher including Magna-tiles as a pre-geometry material?
Cheers and don't forget to subscribe!