Are Magna-Tiles a Montessori material?
Last Spring, while I was in the low-energy end stages of pregnancy with our third child, we enrolled our daughter (3 at the time.) in a lovely Montessori Primary program. The admission process had a few requirements.
One of them being that parents observe the classroom in action for an hour prior to enrollment.
As I sat and watched all the children engrossed in their work, one young boy caught my attention.
The reason he caught my eye is because the material he was working with didn't look very Montessori.
It was plastic and didn't, at a glance, appear to serve any educational or Practical Life purpose. But he was completely consumed by those plastic shapes for the entire hour; constructing, deconstructing, rinse and repeat.
I asked one of the guides what material he was working with. "Magna-tiles", she said, "The kids love them. We consider them a pre-geometry work." I thought that was interesting, but there was so much other amazing stuff going on in the classroom that I didn't give it anymore thought.
Montessori toys for multiple age groups
Fast forward to 6 months later…
Our children received a box of Magna-tiles from a family member.
I can't say enough great things about them. Our kids take them from their shelf several times a day…every single day!
Our 22 month old enjoys naming the shapes and colors, and our 4 year old creates buildings for their miniature animals to live in, garages for their toy cars, and making shapes from other shapes!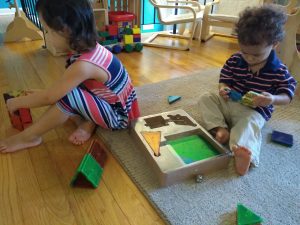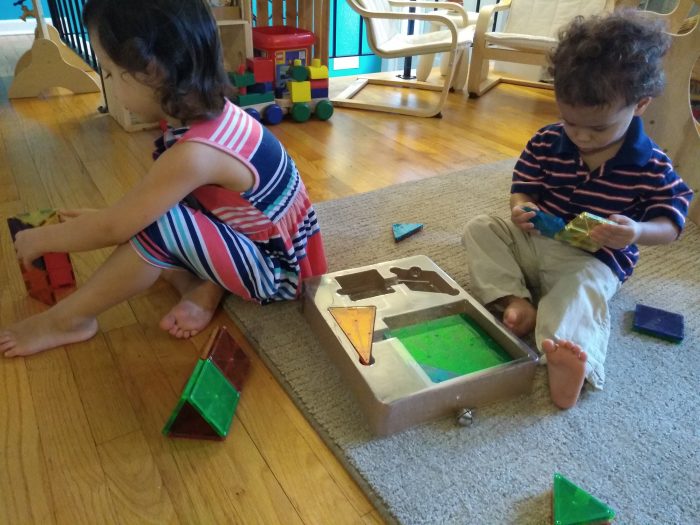 I highly recommend these for toddlers and pre-school aged children. I can imagine these can be enjoyed by children of all ages, though!
Also, I suggest keeping the plastic case the tiles come in, even if you decide to ditch the box. Our kids actually enjoy putting their Magna-tiles away! Our daughter says it's like putting a puzzle together!
Cheers and don't forget to subscribe!